Attractions: Tiki Time in Tavares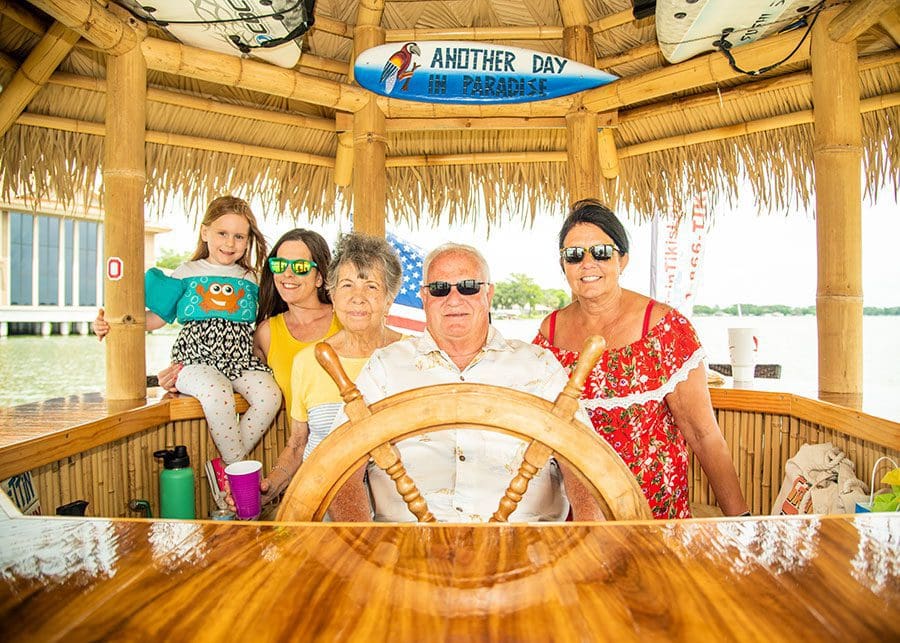 Exploring Lake Dora aboard a floating tiki bar is a fun, cool attraction to enjoy with friends, family, colleagues.
Photos: Nicole Hamel
Style magazine covers a lot of fun attractions throughout Lake and Sumter counties, and cruising on Lake Dora on a floating Tiki bar is one of the coolest ways to enjoy the waterways. 
DeeAnn Squire, Jessica Remillard, and Sara Squire are the owners of the family-owned and operated Cruisin' Tikis Lake Dora, which they started in January, and they invite residents and visitors to come aboard. 
Up to six passengers can sit comfortably around the tiki hut bar boat to savor their favorite foods, snacks, drinks, and playlist, all while enjoying scenic views during a relaxing boat ride on the Dirty Merty.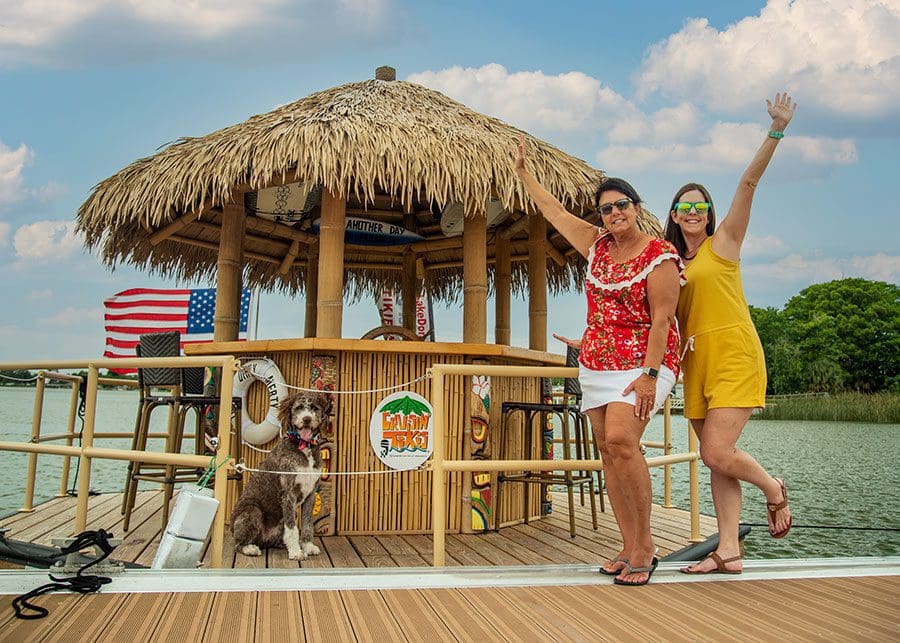 Yes, Dirty Merty is the vessel's name. "My mom's name is Marie, and her nickname is Mert," explains DeeAnn. "My dad called her Merty, so my daughter-in-law, Sara, who is one of the owners, said how about we call the boat the Dirty Merty?"
"People love it," DeeAnn says of being aboard the handcrafted Tiki boat, which is part of the Cruisin' Tikis franchise based in Fort Lauderdale. Each Tiki vessel is built to specifications of the American Boat and Yacht Council and is steered by a U.S. Coast Guard-licensed captain. 
"We've had a bachelor party, a bachelorette party, and birthday parties. We had a guy bring his wife, daughter, and granddaughter for his wife's 80th birthday, and we even had a 15-year-old say that it was relaxing," says DeeAnn, adding the Dirty Merty is available for private charter. 
The vessel is expected to be in demand this month for summer night dates, Father's Day, graduation parties, family gatherings, anniversaries, girls' day out, and more. 
Santa Claus gave a thumbs-up approval when he hopped on the Tiki boat during a practice session last December before the cruises were open to the public. Since then, Cruisin' Tikis Lake Dora has generated buzz as a new experience to explore in Lake County. 
"The captain always lets people drive the boat, too, which makes it fun," says DeeAnn. "And when the weather is nice, that's when the phone rings. We're getting people from The Villages, which is great, and we are pet-friendly, so people can bring their dogs on the boat, too."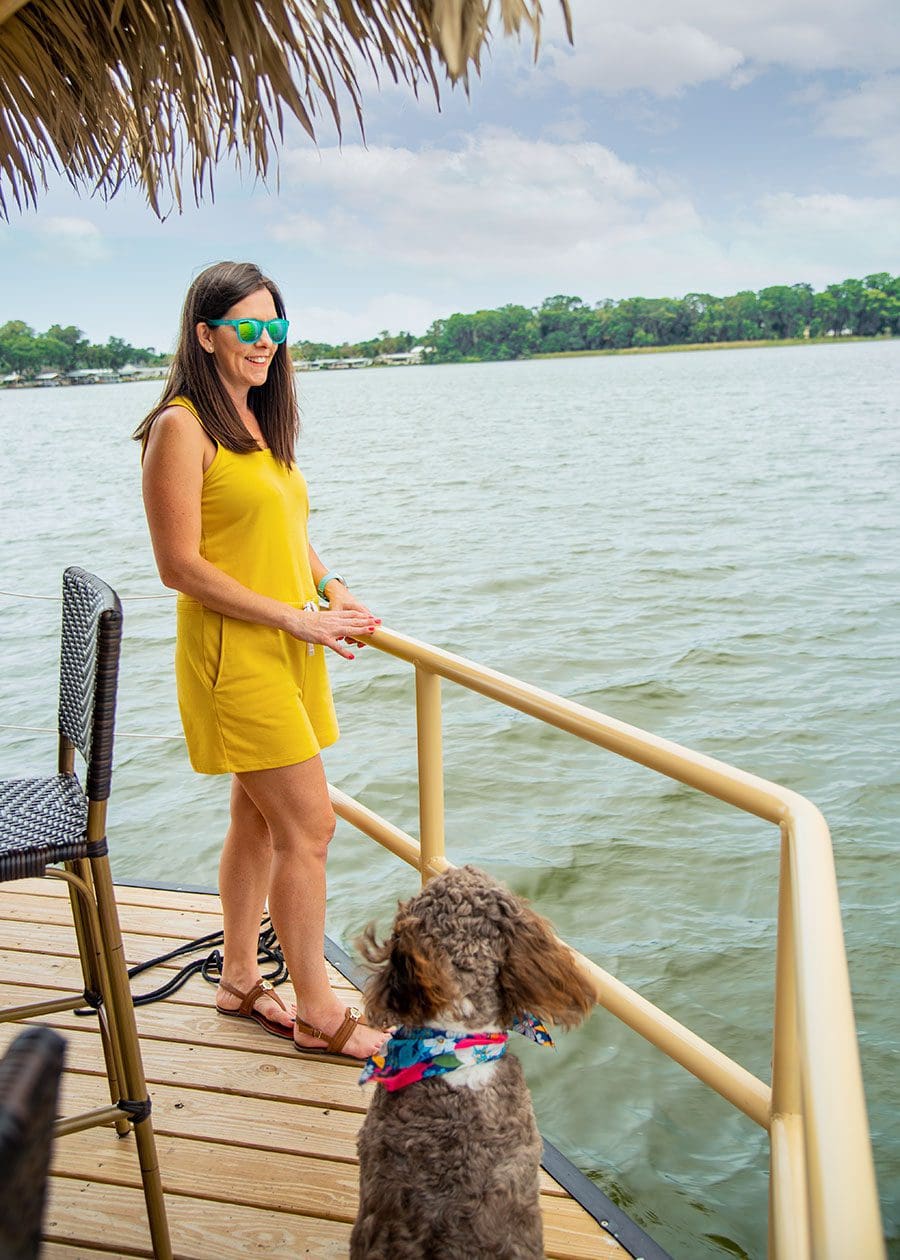 The first boat cruise of the day goes out at 11:30 a.m. for a two-hour trip. 
"And we just started doing a stop-over at the sand bar, which is another fun cruise that runs three hours," says DeeAnn, who knows the words "a three-hour tour" sparks some to start humming the "Gilligan's Island" theme song.
The sunset cruise is another popular attraction, which starts at 7 p.m., and usually runs 1.5 hours. Guests are encouraged to bring their own favorite beverages to enjoy around the Tiki bar for the evening sunset tour. 
Captain Tom Marx says he enjoys seeing the smiles on people's faces as they have fun cruising on the picturesque Tiki boat. "People love it, they really enjoy it," says Tom, adding the cruises have also been pleasant for him. "I go out every time I get a call." 
---
Cruisin' Tikis Lake Dora
150 East Ruby St., Tavares
1.866.845.4386
Phone hours for booking: 9 a.m. to 9 p.m. 
First cruise of day starts at 11:30 a.m. 
Last cruise runs 7 to 8:30 p.m.
Cost: $59.95 per person for two-hour tour; the boat also can be booked for private charter.
cruisintikislakedora.com
info@cruisintikislakedora.com
Originally from Anderson, Ind., Theresa worked for The Herald-Bulletin for many years. After experiencing a winter with 53 inches of snow, her late husband asked her to get a job in Florida, and they headed south. Well known in the area, Theresa worked with The Daily Sun and The Daily Commercial prior to joining Akers.
Share This Story!