Attractions: Travel back in time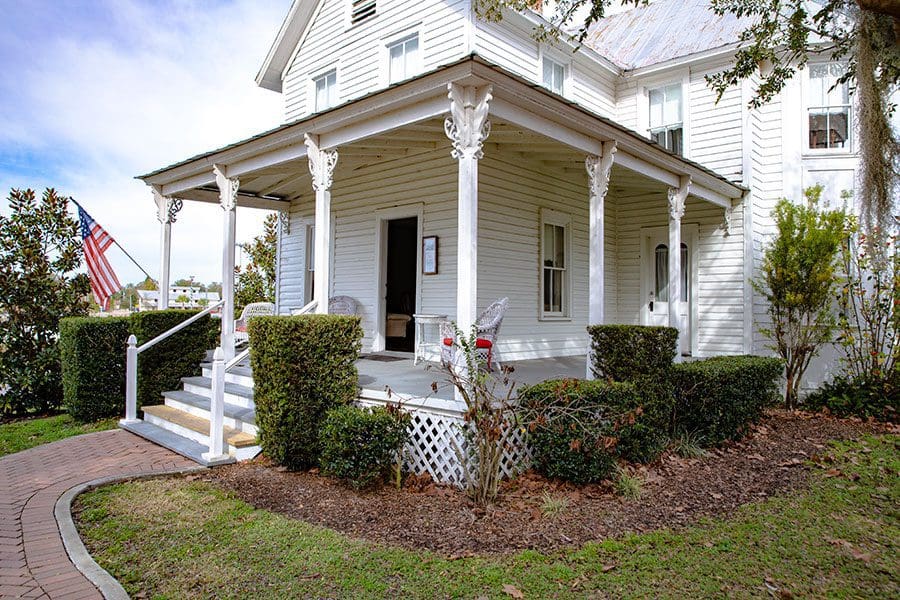 Add Clermont Historic Village to your list of places to visit.
Photos: Nicole Hamel
Whether you are a local Clermont resident or an out-of-town visitor, the Clermont Historic Village is a definite must-see.
In 1996, the City of Clermont purchased property for the historic village, and the attraction has since obtained various local historical buildings to fulfil the Clermont Historical Society's mission to preserve, maintain, and share the history of South Lake County's pioneering families. 
The Clermont Historic Village, which officially opened as an attraction around 2005, is now a "cluster of buildings that have been moved in from parts of town that give them a good cross section of what life was like around 1900," says Clermont Historical Society President Jim Briggs, who has served as president of the organization's board for four years and recently got re-elected for another term. 
The operation of the historic village as a nonprofit is overseen by Jim, Vice President Devon "Pete" Cole, Recording Secretary Donna DiGennaro, Treasurer Karen Miller, Board Chair Micki Blackburn and Board Members Larry Rescoe, Dieter Grube, Carole Fernandes, and Larry Oskin.
They oversee repairing buildings and adding donated items to buildings in the historic village. A manager oversees operations, social media, special group tours, field trips and handles building rentals for weddings and other events.
According to clermonthistoricvillage.org, the Clermont Historical Society and the City of Clermont have a cooperative agreement allowing the Historical Society to operate the historic village, which consists of six historical buildings filled with artifacts that tell the exciting and unique stories of Clermont and the fascinating leaders who helped build it into the city we know today.



Historical society volunteers previously conducted extensive tours of the historic village, but due to COVID-19, volunteers are limited to demonstrating certain features and answering questions. Audio recordings activated by push buttons tell the stories of each building.
COVID-19 also affected hours of operation. Clermont Historic Village is now open Saturdays and Sundays from 1 to 4 p.m. Jim says they can accommodate anywhere from a handful of visitors up to 75 people. 
"Thanks to the internet, we're getting a lot more people from out of town, even out of state and out of the country," Jim says. A review of the guestbook at the historic village indicates that about one in five visitors is local. 
Volunteer docent Maureen Potter in the Townsend House sitting room.
Volunteer docent Sarah McCullough in the Kern House kitchen.
In 2018, the Clermont Historic Village registered a total of 2,553 visitors from 35 states, Puerto Rico, and 11 countries, including Costa Rica, Brazil, Germany, England, Canada, Venezuela, the Netherlands, Scotland, Israel, Norway, and Slovakia. In 2019, the number of visitors rose to 2,731. In 2020, visits dropped considerably to pandemic related closures. Luckily, the Clermont Historical Society was able to receive a relief grant from Lake County to make up for revenue lost from admissions and donated funds.
Most buildings at the historic village were moved there from other parts of town, and some were repaired and refurbished. 
Clermont Historic Village is home to the very first Cooper Memorial Library, built in 1914 and nicknamed the Little Cooper.  
The only building that is a replica is the Herring Hooks one-room schoolhouse, recreated by volunteers using old photographs of the actual building.
The schoolhouse is the most recent addition to the historical village, and was dedicated on April 13, 2013, thanks to many generous donations from the community and local builders. The original building, built in 1881, was located on the east side of US 27 near Jack's Lake. It originally served as Herring Hooks' Hunting Lodge, until Mrs. Thomas J. Hooks took it over to teach neighborhood children. Later, Lake County formed a school board and created a traditional school system, giving Mrs. Hooks a true classroom for her students. 
The gem of the Clermont Historic Village is the Townsend house, originally built in 1895 by the first Black family to settle in Clermont. James and Sallie Townsend's family was so well-respected that members of the business community paid to move and restore the house, Jim says. It was the first building to be moved to the historic village property in 2002. It has been open for public tours since 2005.
The other family home is the Kern House, built in the traditional New England style of homes in 1885 on Montrose Street by Alexander Kern from New Jersey. It was moved to the historic village in 2008 and opened for tours. Years later, Mr. Kern was one of the signers when Clermont was incorporated.
Jim likes to point out the differences between the Kern House and the Townsend House, "because that's what the Clermont foundation was; a mix of people from all over with different interests and different financial situations," he says. He calls the Kern House a "Yankee house," whereas the Townsend House represents Florida "Cracker" architecture, and was built with local lumber. 
Between the Kern and Townsend houses you will find a typical outhouse, which was built as part of an Eagle Scout Project by Jamaal Anderson Reid and the historical village.
Other buildings at Clermont Historic Village are an original Quonset hut, built on site by the U.S. Military in 1943 during WWII, which now serves as a WWII museum, and Clermont's Train Depot, which also stands at its original site. The train depot was refurbished in 2011. 
Admission to the museum is free, but a suggested donation of $5 per adult for a tour is appreciated. If you would like to make additional donations to keep the Clermont Historic Village open and running, you can do so at the village. Donations help with insurance, maintenance, and special events, including an annual Heritage Day Festival the historical society hopes to resume in November.
---
Clermont Historic Village Museum
490 West Ave., Clermont
For more information, call 352.432.3496 or 352.242.7734.
You may also visit www.clermonthistoricvillage.org or Clermont Historic Village Museum on Facebook.
Hours (subject to change), are Saturday and Sunday 1-4 p.m.
---
You know of a cool place you'd like us to feature in Attractions? → Contact us at least three months in advance and provide all the details to victoria@akersmediagroup.com.