Attractions: Treasure trove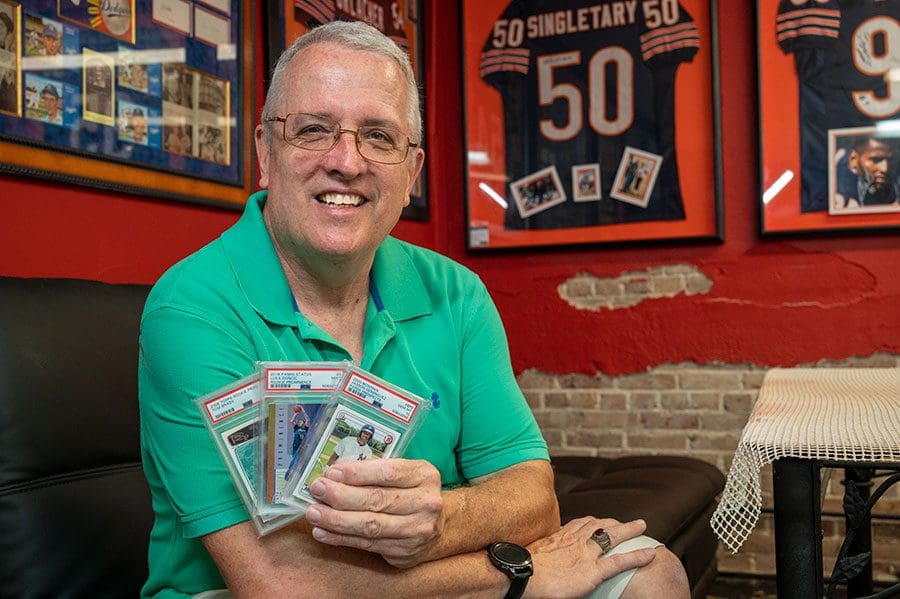 Leesburg man finds joy in collecting for the collectors and giving gamers a place to do what they love.
Photos: Cindy Peterson
Mark Roberts, an avid Boston Red Sox and New England Patriots fan, has been collecting baseball and football cards since he was a kid all through the 1970s and '80s, and now, at the age of 58, he's still at it. 
The only difference is that today, he's not eagerly tearing open brand-new packs with high hopes a card with one of his own heroes materializes but keeps an ongoing collection of cards he trades and sells at "Not Just Cardboard" in Leesburg.
"The name of my store came from when parents would come in and say, 'How come this card is $100 when it's only cardboard?' and I'd say, "You know, it's not just cardboard, it's about teaching your person, whether it's a kid or adult, to get a lifelong affinity for a team, or a player, no matter what."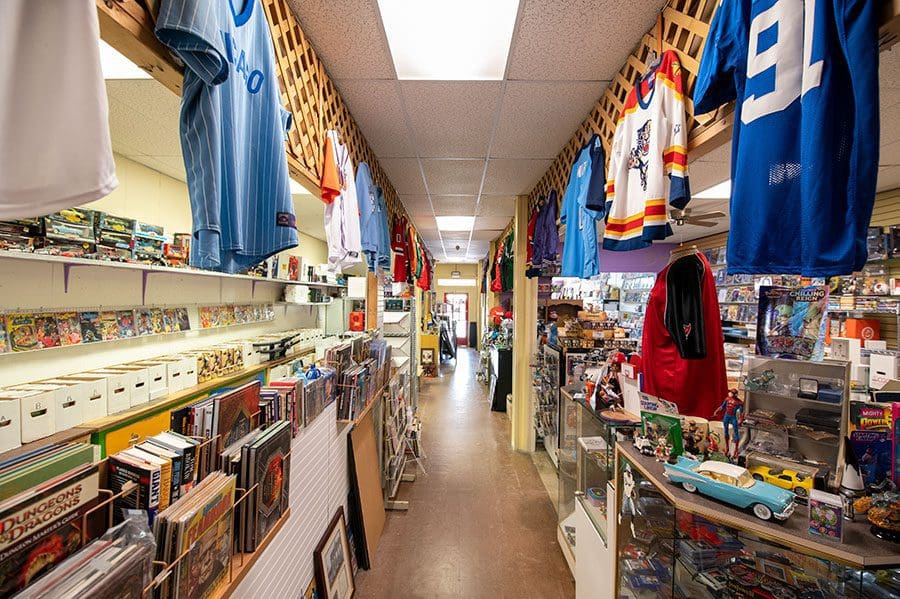 Mark continues, "In the 70s, we used to throw the cards up against the wall and flip them, or put them on our bike spokes so they'd make noise when we rode, but people don't do anything like that anymore, because they are too valuable, the packs cost too much. They're an investment."
For card collectors, Not Just Cardboard is already an attraction considering the large selection Mark has available at any given time, but that's just a fraction of what one can find once they walk through the doors and into 7,000-square-feet of what could be considered a collector's heaven.
Everywhere you look, there are comics, figurines and toys of every imaginable character, vintage to current, vinyl records galore, retro video games, DVD's, jerseys and sports memorabilia, and much more.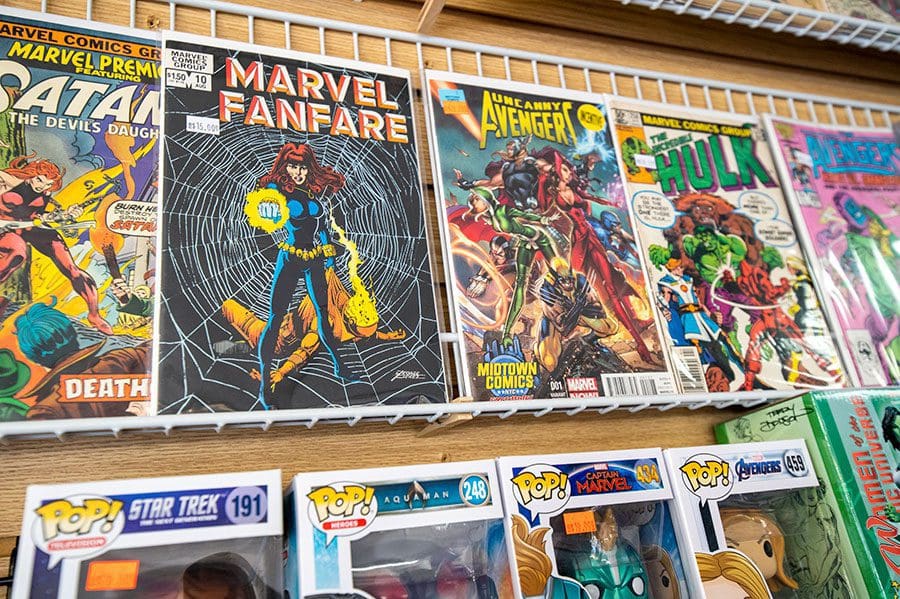 Besides that, Mark has recently transformed the bottom half of the multi-level storefront into a movie buff and gamer's paradise, accented with sports, movie and music related furnishings, décor and memorabilia.
Coming soon, customers will be able to hop onto an elevated stage for karaoke on various nights each month, sit and watch one of about a thousand old DVDs, listen to records or just chill with a comic in hand while enjoying a drink, popcorn and pizza fresh out of the pizza oven, before returning upstairs for more shopping. 
"I thought now is a good time to do this so people can get out of the house and have a place to do something different that's not very expensive," Mark says. 
Most of all, people into card games like Magic: The Gathering, Pokemon, Yugioh, or any board game for that matter, can play with like-minded friends for as long as their hearts desire, or until it's time for Mark to lock the doors, whichever comes first.
Mark says his main gaming night is Friday, starting at about 8:30 p.m. after his store closes, but additional nights are always an option.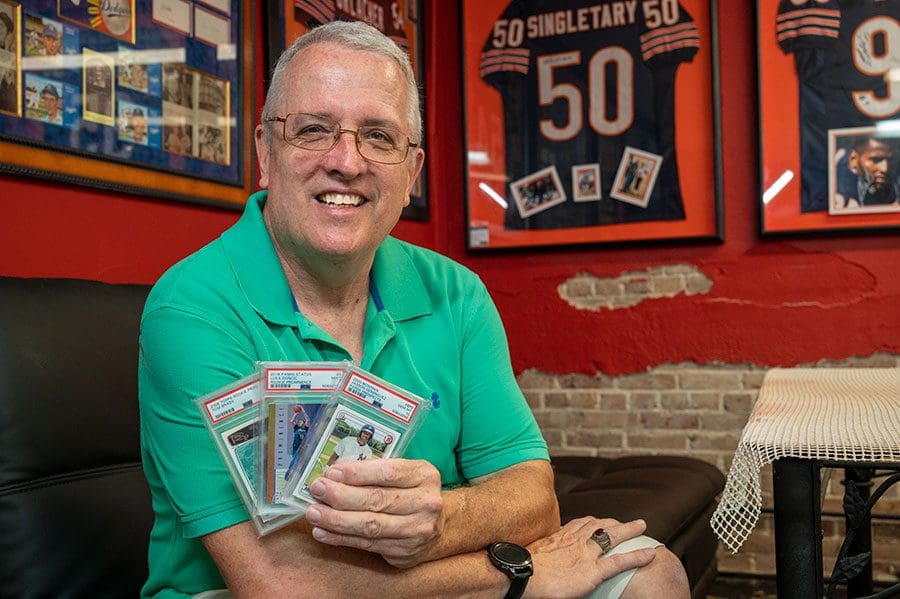 "Local guys complain about having to drive to Clermont, Mount Dora or Ocala for gaming nights when I'm right here in Leesburg," Mark says, explaining that he plans on working his way up to paid tournaments. "I'm putting a table on the stage so that the gamers can have their championship games up higher, so people stand around the stage and watch them play." 
In all, Mark talks passionately about everything he's doing at his newest place in downtown Leesburg on Main Street, opened in October 2020.
Mark's actual business, however, is going on 11 years, having started in a 600-square-foot building on U.S. Highway 27 near Leesburg High School. Before that, Mark only sold baseball and football cards, alongside his father Jim Roberts (now deceased), who dabbled in other collectibles at the Webster Flea Market where they rented space together.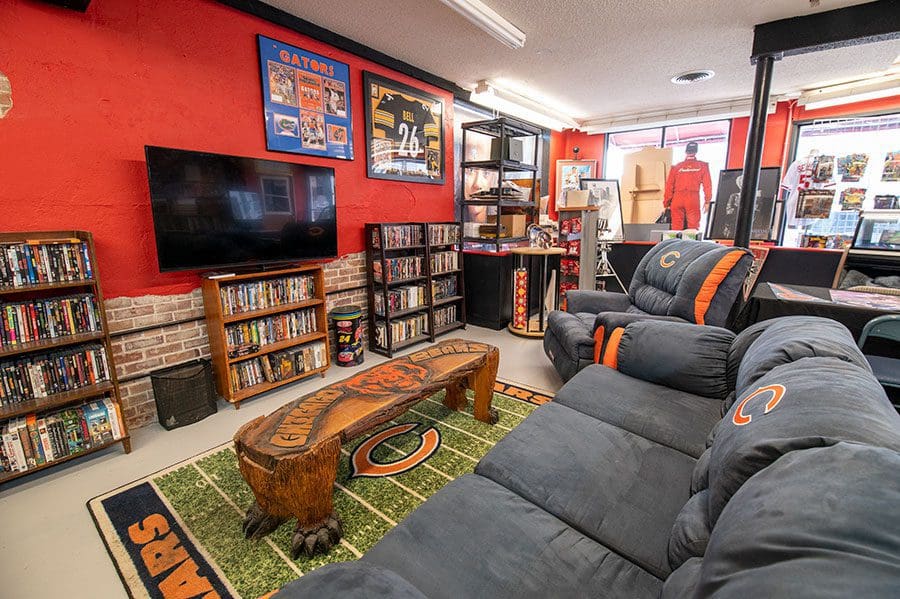 It was also Jim who got Mark into the card business in the first place. Mark says after he finished college, joined the Marine Corps, and was awaiting deployment oversees to Japan, his dad suggested he take cards with him.
Service members would come to Mark for individual cards, then trade with each other, and later, he began selling cards at a military exchange. When Mark was shipped home to North Carolina, he brought more than 500,000 of the handheld treasures with him.
In Leesburg, where he once served as a police officer for nearly six years, Mark says he wants to get more involved with the downtown partnership, local events, and the community, and most of all, wants to continue feeding his every customer's passions.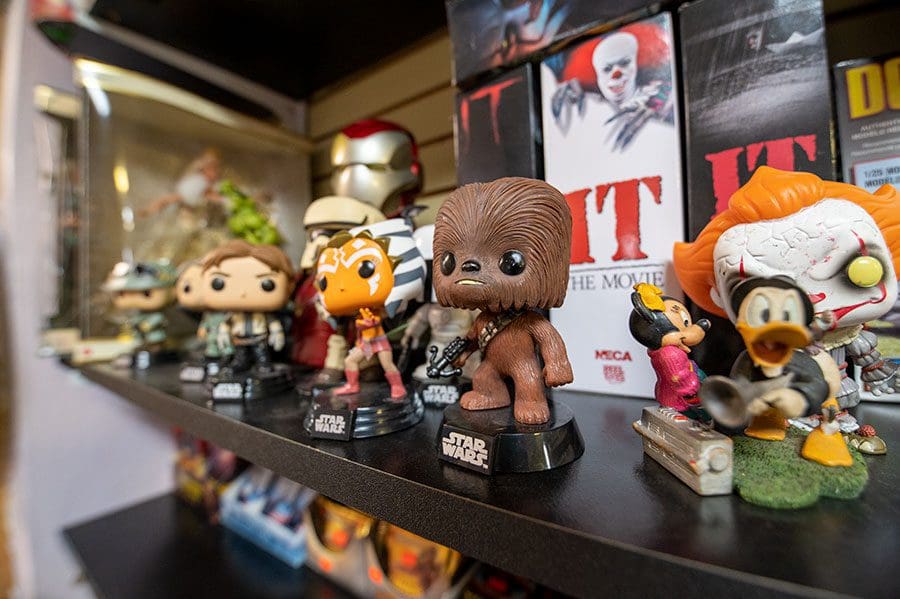 Mark says purchasing old treasures people no longer want, excites him because he's bringing relics back to life in the hands of new owners.
"Collecting is something people enjoy, and I saw the need for what I am doing. They invest their money and hearts into it and I invest in what I call 'kitsch,' because I have fun finding things people want to have for their collections," Mark says. "People like coming in here because it makes them feel good." 
[separator]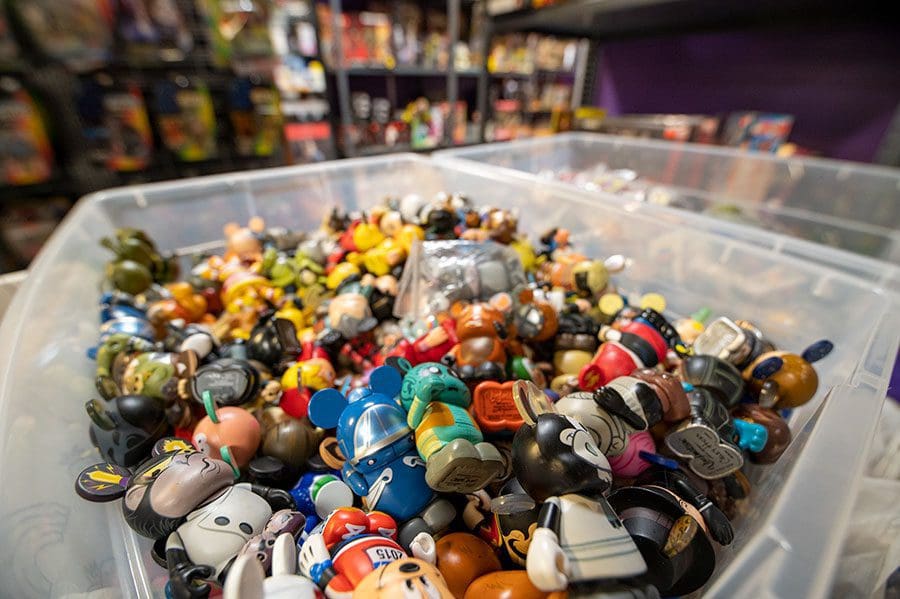 Not Just Cardboard
208 W. Main Street, Leesburg
Hours: Mon.-Fri. 11a.m.-8p.m. and Sat. 10a.m.-6p.m., with special hours for gaming and special events as posted.
For more information, visit leesburgcolletibles.com or call 352.431.3494.
Originally from Nogales, Arizona, Roxanne worked in the customer service industry while writing independently for years. After moving to Florida in 1999, Roxanne eventually switched her career path to focus more on writing and went on to become an award-winning reporter for The Daily Commercial/South Lake Press newspapers for 16 years prior to coming on board with Akers Media as a staff writer in July 2020 – her dream job come true.
Share This Story!