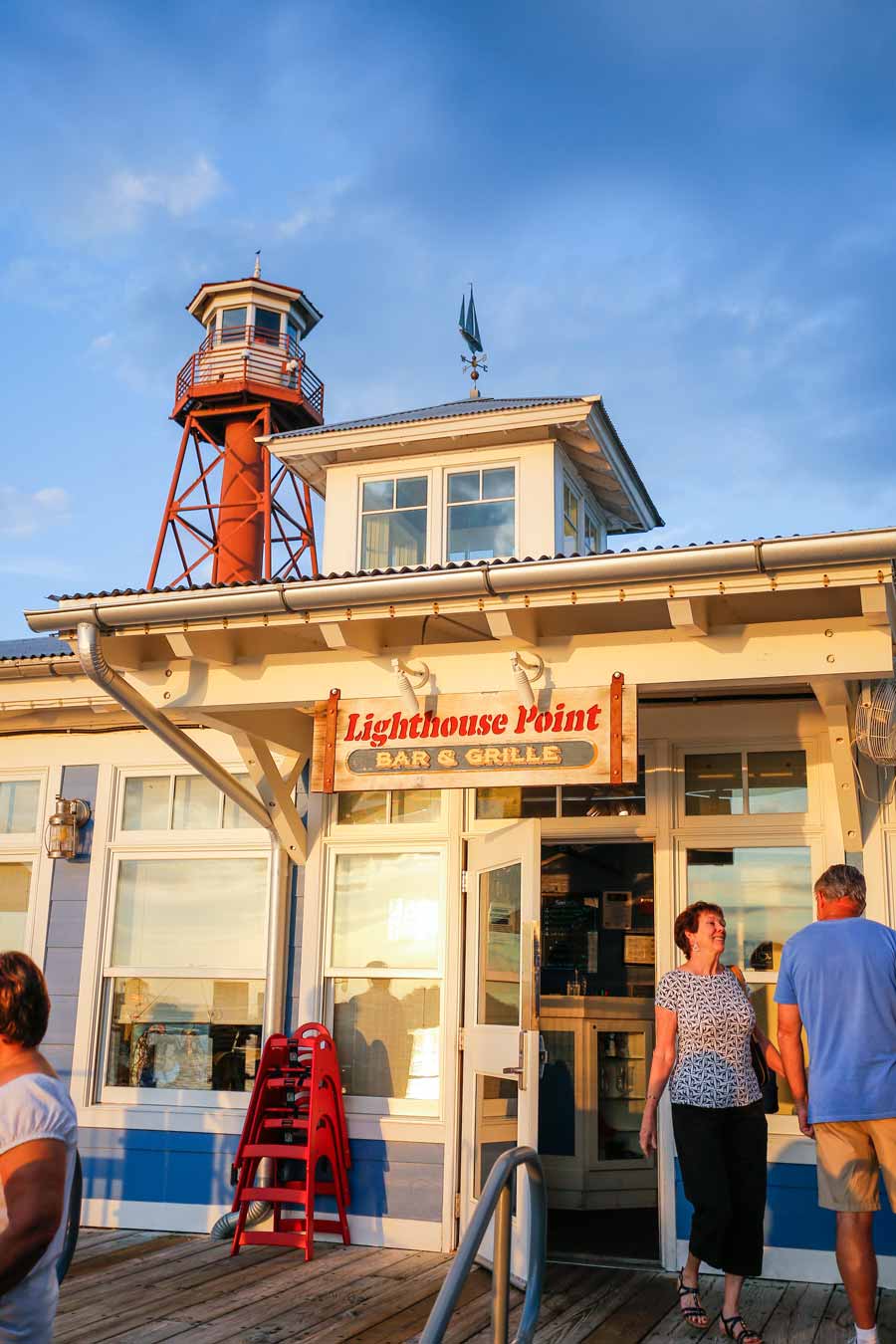 Lighthouse Point Bar & Grille beckons your patronage, again and again.
---
The enormous lighthouse, New England design, and lakeshore location draws people in. The food and ambiance at Lighthouse Point Bar & Grille keeps people coming back.
I had the pleasure of lunching at Lighthouse Point on a picture perfect day. The restaurant was lively but the wait was short. The nautical décor complimented the blue and white color scheme to perfection. Anyone familiar with New England would understand.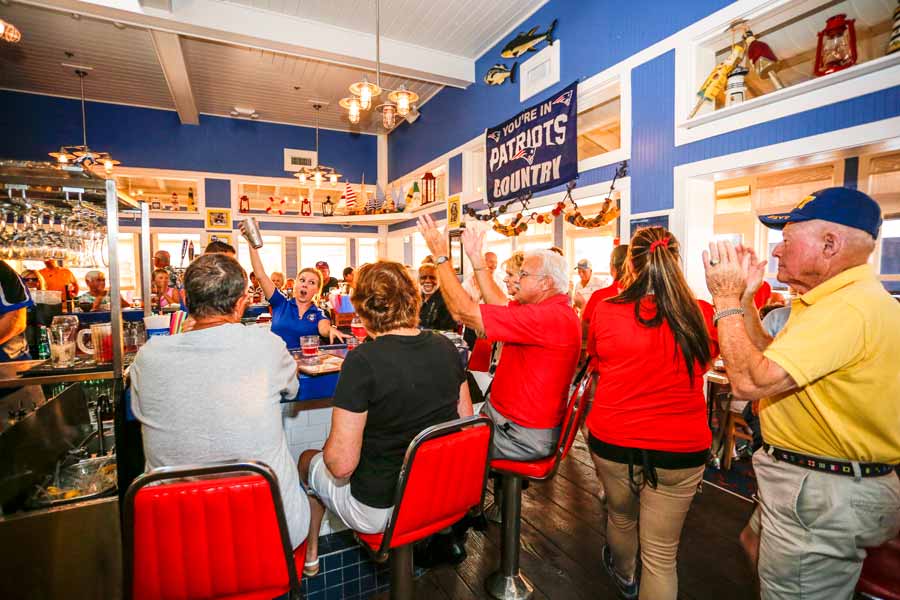 Seating options are plentiful. My guest and I chose indoor seating rather than the outdoor lakeside deck. We were offered booths, tables, high tops and bar seating. We selected a table and were seated at the center of everything.
Everything on the menu looked and sounded delicious. For starters, we ordered the Shrimp Abyss as an appetizer. Sautéed shrimp, fresh mozzarella, parmesan, capers, and diced tomatoes served on grilled flatbread and finished with fresh basil and balsamic glaze. Whoever invented this was a culinary genius. Must order.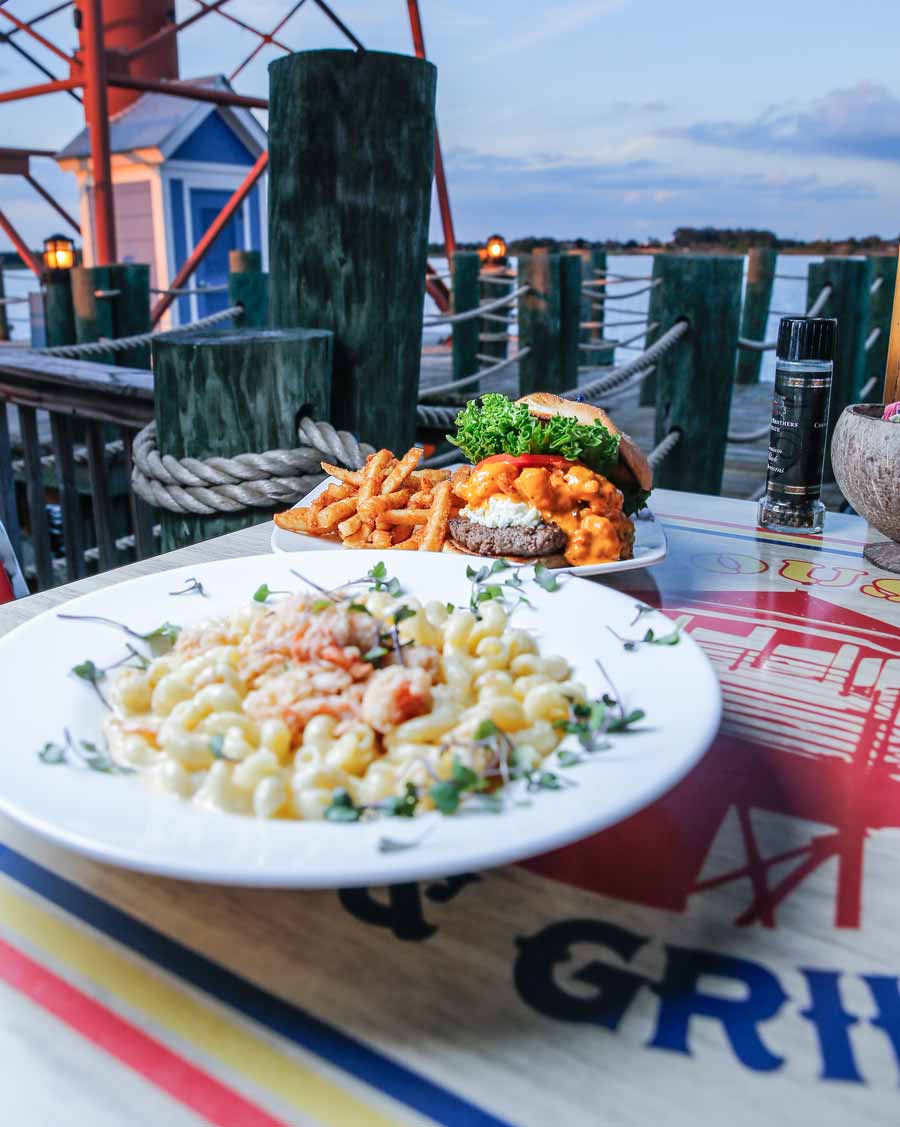 I then selected my entreé from the specials. I was drawn to the artisan burger—the "Boom Boom Burger," topped with shrimp on a Kaiser roll. This nod to the surf and turf lived up to its name—a party for the taste buds.
My guest ordered the Truffled Lobster Mac & Cheese, which was sautéed lobster, truffled Mornay, and cavatappi pasta, served with a side salad. Her expression was sheer delight. I must go back and when I do, I'll have what she had.
---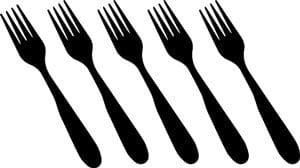 4 FORKS (OUT OF POSSIBLE 5)
Lighthouse Point Bar & Grille
925 Lakeshore Dr., The Villages
352.753.7800
Sun. –Thurs. 11 a.m. – 9 p.m.
Fri. & Sat. 11 a.m. – Midnight
lighthousepointbarandgrille.com
---
Fork Report
Casual dining // $$ // Seated immediately // Wait for meal was less than 15 minutes.
Appetizers:
Haddock Avocado Tostada—fried Haddock medallions with smoky avocado mousse and lemon gel
Shrimp Abyss—Grilled flat bread topped with sauteed shrimp, fresh mozzarella, parmesan, capers, and diced tomatoes. Finished with fresh basil and balsamic glaze.
Salads:
Spinach and Kale—Fire roasted zucchini, squash, corn, and radish with a side of pesto vinaigrette
Caprese Napoleon—Tri-level heirloom tomatoes, fresh mozzarella, basil oil and balsamic glaze
Mesclun—Spring mix, walnuts, blueberries, stilton cheese and a side of thyme vinaigrette
Soups:
New England Clam Chowder
Island Chowder
Homemade Chili
Entrees:
Truffled Lobster Mac & Cheese
Orange Scallop Risotto—Seared scallops, orange pancetta sauce in a creamy rosotto. Topped with sauteed asparagus.
BLT Pasta—Rendered bacon, leeks, and oven dried tomatoes in a white wine parmesan sauce. Blended with cavatappi pasta.
Butterfish—Pure white swai fish, lightly floured and seasoned then pan seared and topped with a jalapeno hollandaise sauce, diced tomatoes and green onions. Served with coconut rice and heirloom zucchini and squash.
---
How Fork on the Road works
Our reviewers are objective and unbiased. This is not a paid advertorial. Our reviewer makes two unannounced visits and we pay for our meals.
---
PHOTOS: Fred Lopez
---