Beating Cancer, Winning Championships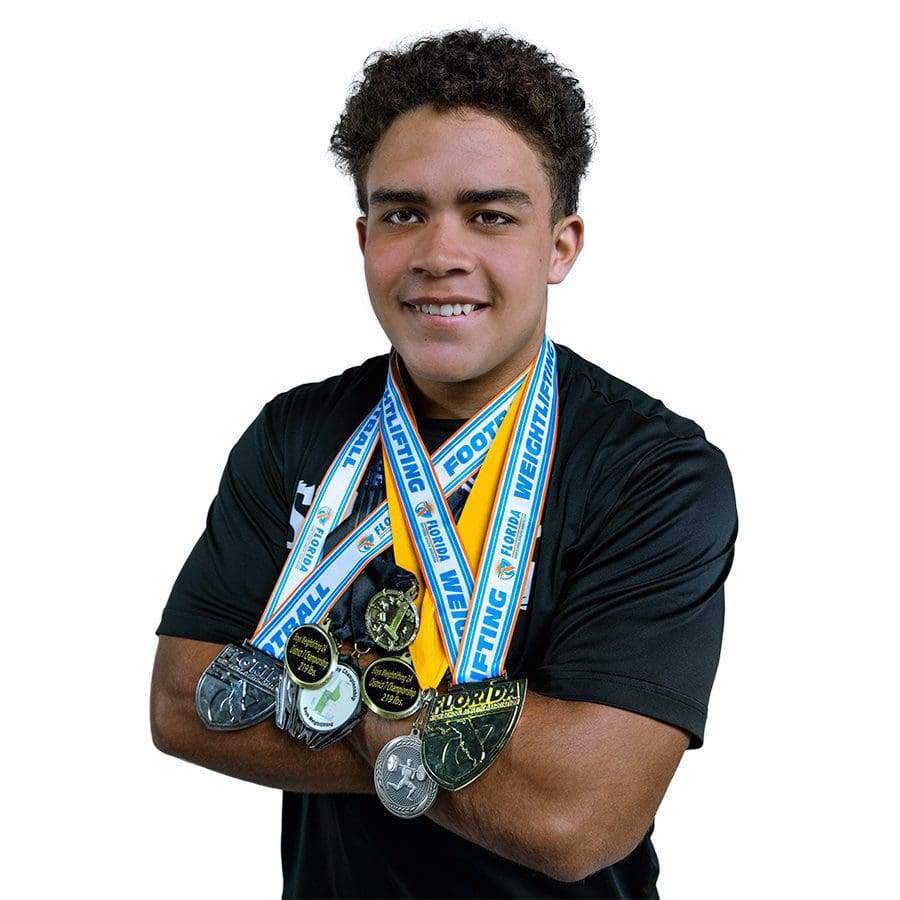 Teen beats cancer while winning weightlifting championship.
Roy Wiggins, 17, of Lake Minneola is an inspiration to everyone around him.
 While maintaining a weighted 4.8 GPA, he tops his class in weightlifting, is a defensive linebacker for the Lake Minneola Hawks, earned superior ratings playing the saxophone in band, throws shot put in track, and works a part-time job at Papa Johns. 
On top of all that, Roy is a cancer survivor. Last year, he went through treatment for a rare case of lymphoma located behind his left ear and intertwined through his nerves and salivary glands. 
 "Thankfully we caught it in the early stages," Roy says. "At first, we thought it was just a cyst, so I finished out football season. But after more testing, I had to go to a specialist for head and neck surgery." 
Roy was unable to train for three months but was determined to return to his weightlifting team and win the championship. In February, he earned the title of Florida High School Athletic Association 2-A State Individual Weightlifting Champion. 
"Each match I kept achieving my personal best, ending with 355 pounds on bench press and 305 on clean-and-jerk," Roy says. "It's the fastest I've ever progressed."
 Roy also received the Hawk of the Year award for football and is a member of the National Honor Society. He hits the gym twice a day and rotates between cardio, weightlifting technique, squats, and bench. 
Roy lives with his grandparents, who are his biggest fans. 
"He is just an amazing young man," his Grandmother Dona Dorton says. "He refuses to fail and has set that example. During his treatment, it was a very scary time.
You never want to hear the word cancer, but I swear he didn't blink
an eye. His only comment was, 'Let's get rid of it.'"
 Roy is working hard so he can afford medical school, a goal he set while undergoing treatment. 
"After what I went through, I want to go into the healthcare field and become a neurosurgeon," Roy says.
"I hope to one day go to Duke University. They have an amazing medical program."
 Until then, Roy will be getting regular checkups, dominating the line in football, and looking for his second weightlifting championship in the spring. 
Originally from the small town of Berryville, Arkansas, Cindy has become a multimedia specialist in journalism, photography, videography and video editing.
She has a B.S. in Communications from the University of Central Arkansas and is a correspondent for The Daily Commercial, LakeFront TV and Beacon College's PBS talk show, "A World of Difference," where she received an Anthem Award and Telly Award.
When she isn't working, Cindy spends time with her husband, Ryan, and son, David, traveling and taking photos of landscapes and wildlife.
Share This Story!