Behind The Scenes of Lake County's Scariest Haunted House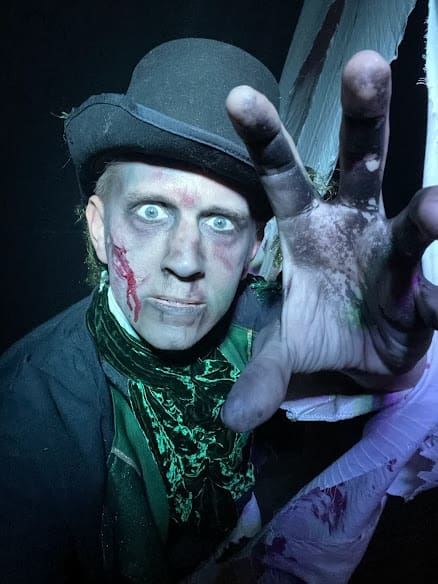 Last year was the inaugural year for the haunted house at Lake Square Mall. What started off as an idea, quickly turned into one of the scariest haunted houses in Lake County! But how did this experience grow and get popular so quickly? Well, that is due to the amazing creative decisions by Josh Blake.
Josh is the Creative Arts Director at Lake Square Mall. He has a ton of experience as a scare actor, with eight years as a professional scare actor at Halloween Horror Nights at Universal Studios in Orlando. He gained valuable experience and knows what works. He has also worked the Polar Express train in Mount Dora and has elevated the Lake Square Mall creatively the past few years.
"I earned 'Scare Actor of the Year' when I worked on Halloween Horror Nights in Orlando multiple times," he says. "I picked up a lot of tips and tricks on what 'gets' people and I enjoy training new scare actors at the mall and teaching them different approaches to their scares. Every guest scares differently, so it's important to be creative and learn what works for different people so they can have the best scare experience while walking through our haunt."
Blake created the set and hired real scare actors. There is a difference between scaring people with props and dummies, but there is an added element when a human being is acting out the scare. That human element is one of the reasons that Hollowbrooke Haunted House has been so successful. It's like watching a practical effect during a movie. The reason the 1996 Titanic movie has held up over all these years is because James Cameron used practical effects that looked real.
The same thing goes for Halloween Horror Nights and Lake Square Mall. They use actors to scare people and that creates more of a personalized experience.
"I enjoy being a Creative Director because I can see the growth of the actors from when they first start, to the end of the run," Josh says. "I also see the passion they have in trying new things and the enjoyment they get in their faces as they discuss the funny stories we encounter during the haunt in the after chats while everyone takes their makeup off. Just stop, do it all again the next night!"
Many of the actors involve students and young adults from the community, who reached out to Josh the second they announced another year of the Leesburg Haunted House. This particular haunted house was put together in about 3 weeks. All the sets are made on property and Josh made it his mission not to use any automated scares.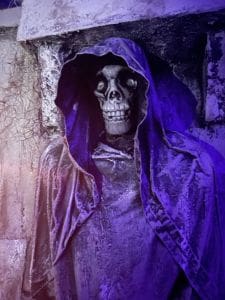 "I tried to keep everything organic and done by an actor," he says. "We had people literally running out last year leaving shoes, phones, hats, clothing behind because of how well done it was. This year the Haunted House is called Scream Scenes – Abandoned" and there is a backstory that goes into this year's haunted house which we will provide below."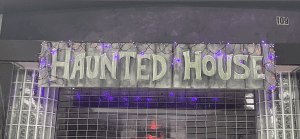 Dare to venture into the eerie tale of Hallowbrooke, where a once-revered pastor's life unraveled in the shadow of his wife's sinister secrets. Step beyond the threshold, where the air seems to shift as you navigate the tight corridor that ushers you into the heart of this twisted narrative. Legend speaks of a man who led a congregation in a simple town, just past the cornfields. Unaware of his wife's malevolence, as he would pray, she also would prey…on her victims. Hidden from his sight, her dark deeds unfolded. Congregants were silenced forever and their remains were offered to her ravenous arachnid companions. Spare bones and body parts found their way into crates and suitcases, stashed beyond his gaze. Some say they still see souls wandering in the graveyard, and can even be seen in the old chapel itself.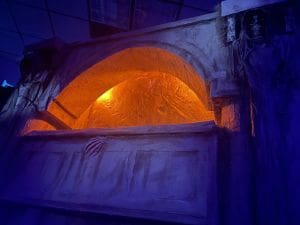 The town has long been abandoned, but the few who managed to escape the clutches of Hallowbrooke, carry with them the chilling account of the spirits that still roam the grounds, seeking retribution for the atrocities committed by the pastor's wife.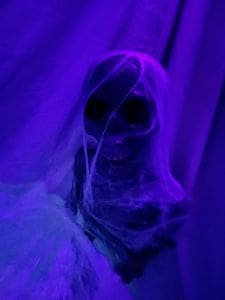 To this day, the pastor's fate remains shrouded in the chilling mysteries of Hallowbrooke. Can YOU make it out alive?
Opening night is September 30 and the Haunted House runs every Fri/Sat/Sun throughout October as well as Oct. 31. Tickets are $10 for teens and adults and $5 for 12 years and younger. We do not suggest it for really young kids as it is definitely a scary experience.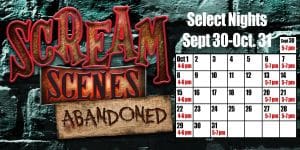 Photos Provided By Joshua Blake
Kyle Coppola was born in Newton, Massachusetts and received his Bachelor of Fine Arts in Communications from Curry College in 2016. After traveling to Florida on a family vacation, he decided he could not get enough of the warm weather and made the move from snowy Massachusetts to central Florida 8 years ago.
For the last decade Kyle has gained valuable experience in social media content creation, marketing and sales, writing, video production, sports announcing and even broadcasting for local radio stations, such as FM 102.9 in The Villages and FM 91.5 in Massachusetts. Every year he volunteers at The Villages Charter High School as a play-by-play sports announcer for the football games as well as a public address announcer for the basketball games, including the annual Battle at The Villages Tournament.
Outside the office Kyle is a husband and father to two beautiful girls along with their cat. In his spare time he likes to spend time with his family, travel, play golf and swim. He is also a huge sports junkie and even bigger motorsports fan and loves to attend racing events when he can.
Share This Story!