Brownwood's Island Fin Poké Co. Offers Delectable Flavor Combinations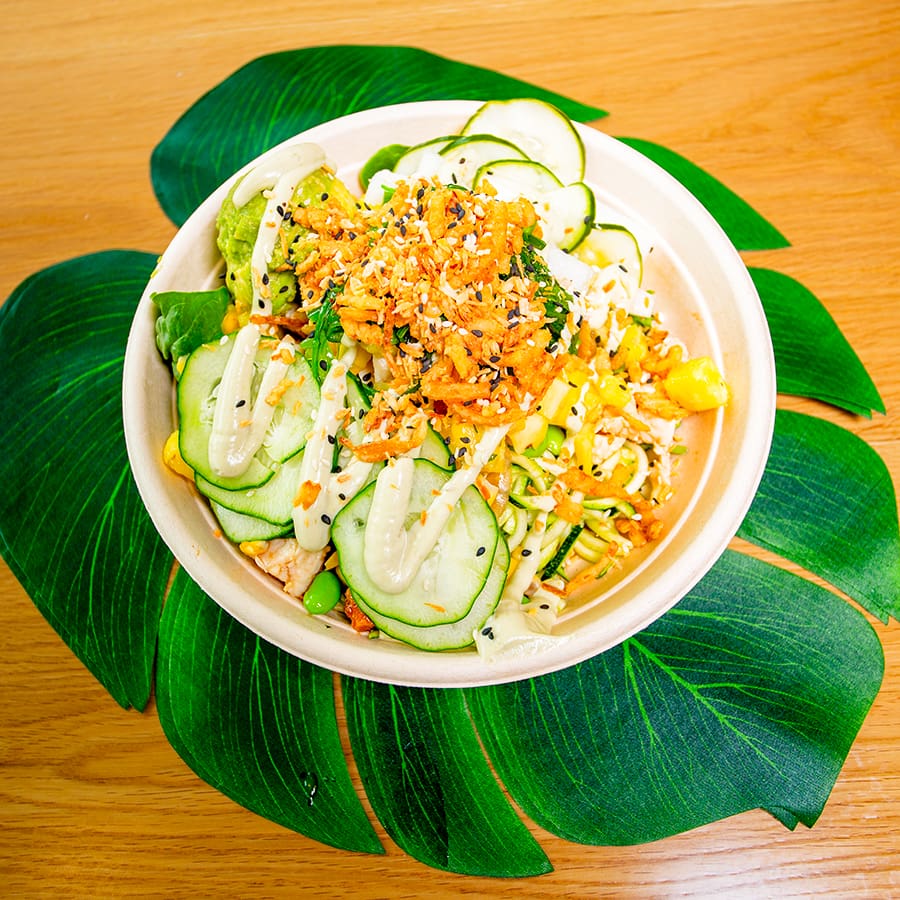 Brownwood's Island Fin Poké Co. Offers Delectable Flavor Combinations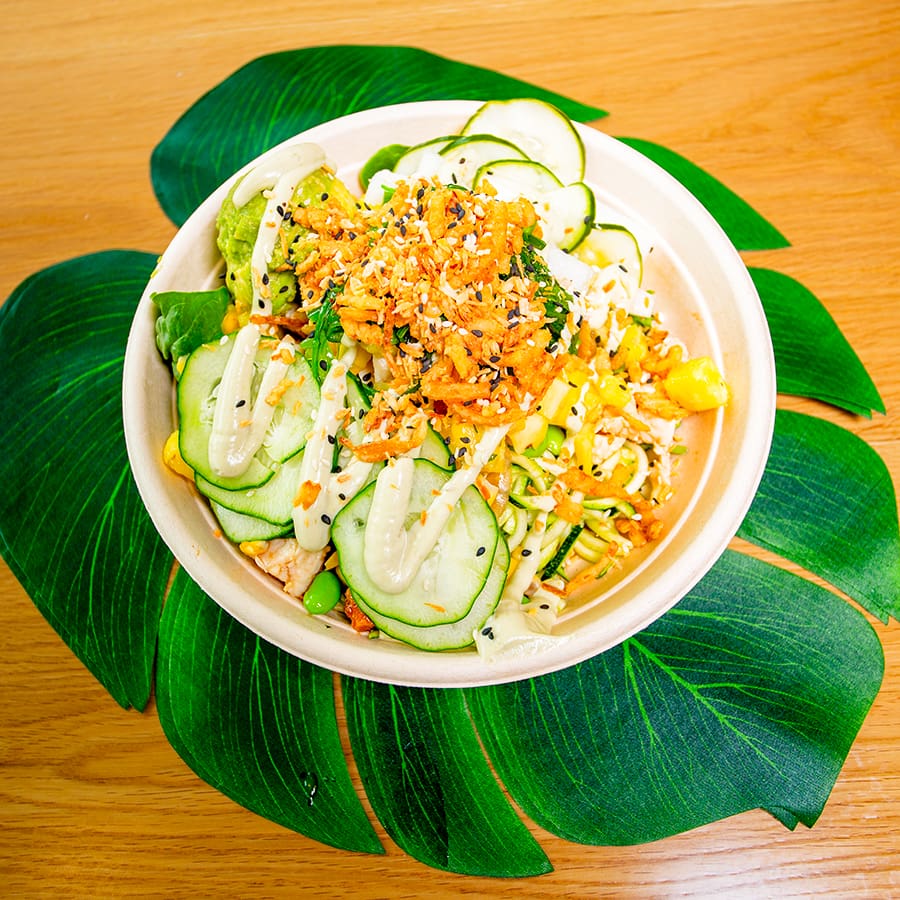 Brownwood's Island Fin Poké Co. offers bowls loaded with delectable flavor combinations.
Healthy? Check. Made with only the freshest of ingredients? Check. Affordable? Check.
Delicious? Check, check, and check again.
Yes, you need to try the food at Island Fin Poké Co., a restaurant at Brownwood Paddock Square in The Villages®. 
"You can tell all the food here is extremely fresh, and for somebody who is super health conscious, tracks her food and pays attention to what she's putting in her body, that's really important," says Orlando's Nicole Freeman, who was visiting Island Fin Poké with friend Ann Rose from Ocala. Both ladies traveled halfway for lunch and a visit. "I love how they actually measure things out in their bowls as opposed to just plopping food in there. It makes a real difference."
Nicole's comments are like soothing ocean waves breaking gently on the sand for Island Fin Poké Co. owners Frank and Jodi Michienzi, whose primary goal is making sure customers feel welcome, and by the time they leave, full, satisfied, and proud of themselves for choosing one of the healthiest options for eating out in the area.
"We love every person who comes in here and we want people to experience the same thing we did on our first visit to Island Fin Poké Co. in Rhode Island," says Nicole. "The minute we tasted the food, that was it, we were hooked, and now that's our slogan: 'One bite and you're hooked.'"
For those unfamiliar with poké, it is a 'build your own' type dish featuring small bites of protein. In Hawaiian, poké means "to slice" or "cut crosswise into pieces." The name refers to the slices or cubes of raw fish served in a bowl with rice, dressing, vegetables, and seasonings.
At Island Fin Poké, a bowl starts with a base consisting of white or brown rice, mixed green salad, or premium options like zucchini noodles seasoned with a mild, medium, or spicy gluten-free soy sauce marinade. The next layer consists of different fruits and veggies, including seaweed salad, then 3.5 ounces of protein, either sushi grade salmon or tuna, cooked chicken, ceviche shrimp cooked with orange-lemon-lime juice, Korean BBQ chicken, blanched octopus, spam, or tofu. Lastly, you choose a finishing sauce, some crunchy toppings and seeds, and viola: a poké bowl is served.
Island Fin also serves beer and wine, plus mimosas made from the Dole Whip concoctions available for dessert.
Another highlight is that almost everything on the menu is gluten-free and Vegan friendly.
"I come here often during my workday because my job brings me to The Villages area. It's always fresh and consistent, it's a light lunch, which is nice, and it's affordable. Plus, the owners are awesome. They really take care of their customers," says Chris Wilson, a physical therapy assistant and home health agent based in Lady Lake.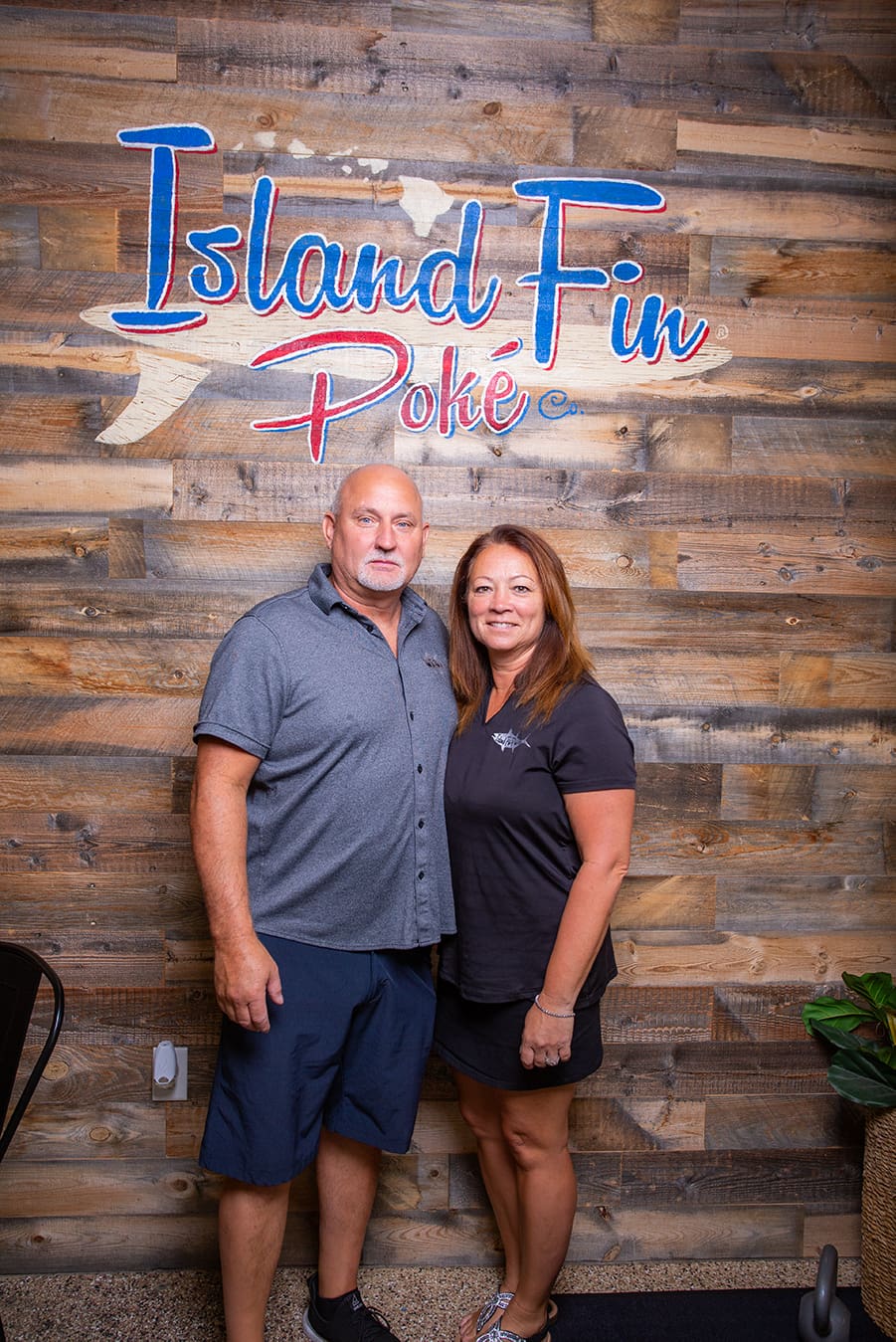 After hearing good things about the place, Style Photographer Nicole Hamel and I stopped by to taste Island Fin Poké's bowls for ourselves. We were not disappointed. 
Nicole ordered sushi, but I stuck with cooked proteins, though I did sample the seaweed salad and ceviche shrimp. Both were rather tasty. And both hit the spot. After eating our Poké Bowls, we felt satisfied, but not overly full.
We also shared a Dole Whip freeze and mimosa.
Our satisfaction was enhanced by impeccable cleanliness throughout the restaurant, the freshness of all the ingredients, and the friendly and welcoming atmosphere created by Frank, Jodi, and all their employees. 
"Another slogan we live by here is, 'No friends, Ohana,' and it really is that way. We treat everyone that comes in here like family," says Jodi. "Our employees are on a first-name basis with most of our regular customers and they're like that with each other too."
"We love serving great food, but the best part of the whole restaurant are the relationships we build on every day."
While friendships grow, waistlines shrink. Since Jodi learned that some customers lost 20 or more pounds each in just a few months by eating poké for lunch every day, the restauranters are trying to partner with area gyms to offer meal plans and reciprocal discounts. They are also in talks with the Villages Grown to bring some of their micro greens into the Island Fin Poké kitchen.
Big on community, Frank and Jodi oftentimes take their pop-up poké tent to events and markets in the area so that more people experience the world of poké. And, whenever possible, they involve themselves with area schools and fundraisers associated with various organizations. 
If that's not enough, Jodi, an art enthusiast and 30-year sign language instructor, puts those skills to use at Island Fin Poké by offering occasional Mod Podge and paint pour classes as announced.
On Sundays, you may spot Winnifred—her beloved '67 Mustang—parked outside for pictures.
Island Fin Poké also hosts an American Sign Language (ASL) night from 5-7 p.m. on the first Sunday of every month and in November, will host/participate in a 5K race for the Tunnel to Towers Foundation, a not-for-profit organization that benefits veterans and first responders. 
Originally from Nogales, Arizona, Roxanne worked in the customer service industry while writing independently for years. After moving to Florida in 1999, Roxanne eventually switched her career path to focus more on writing and went on to become an award-winning reporter for The Daily Commercial/South Lake Press newspapers for 16 years prior to coming on board with Akers Media as a staff writer in July 2020 – her dream job come true.
Share This Story!