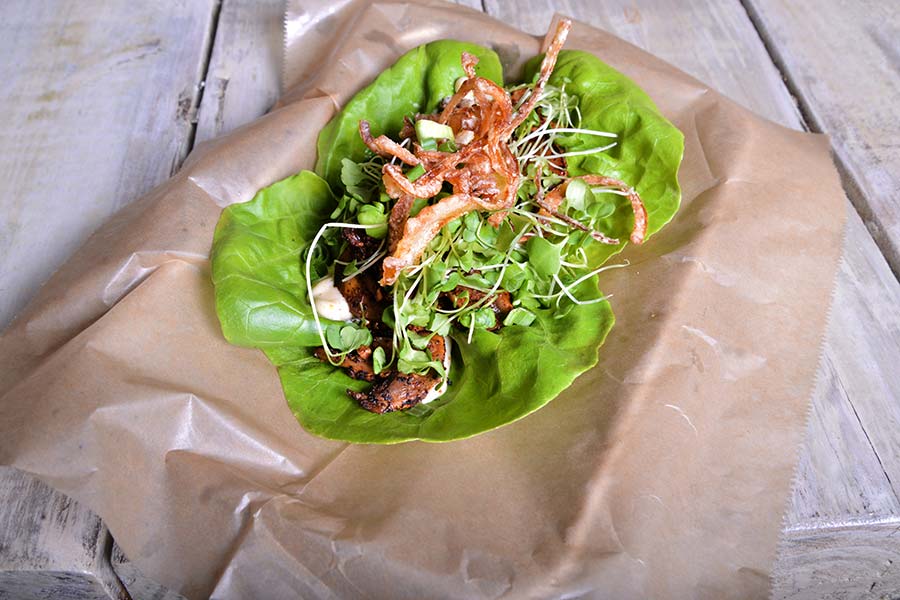 Burgers, tacos, waffles, oh my!
This may be a bad place for a diet, but it's a great place to eat!
Grab plenty of napkins because BTW—Burgers, Tacos, Waffles—is a darn fun place to eat in downtown Tavares. Just know that you may get a little messy savoring the yummiest burgers, tacos, and waffles down to the last bite. 
I was joined by two friends for lunch, and we found the restaurant's funky industrial décor inviting, and BTW's menu filled with unique items, such as fried cheese curds, charro beans, tater tots, and smashed Brussels sprouts.
Taco lovers like me are bound to find BTW elevates tacos to a new level—beyond the traditional Mexican fare—and with catchy, cute names. I chose the Trailer Park taco of crack chicken with cabbage, cilantro, and homemade ranch; the Gringo, a chorizo and beef blend with lettuce, tomato, sour cream, and shredded cheese; and the Yolo, filled with warm mac and cheese, beef, chorizo, thick bacon crumbles, and scallions.
Tacos can be ordered in soft flour, soft corn, or a lettuce wrap. I enjoyed the taste sensation of all three. 
My dining companions couldn't resist going the burger route (and, fortunately, I had a delicious sample). These burgers are deliciously made of Angus beef mixed with brisket and short rib, and with toppings of your choice. One friend raved over the Southerner, a super thick burger topped with pimento cheese, honey mustard slaw, stout (the beer), and sriracha barbecue. 
BTW's waffle offerings include chicken and waffles, of course, yet we chose My Secret Lover waffle for dessert. Oh, it's heavenly and worth every single calorie of red velvet goodness. It was drizzled with Nutella and topped with cream cheese mixed with whipped cream, white chocolate chips, and fresh berries. 
It's amusing to note the hashtag for BTW is #thisisabadplaceforadiet. It may be, but BTW makes it fun to forgo dieting for a meal of tasty tacos, burgers, and waffles. 
5 Forks
(Out of a possible 5)
BTW
1115 E. Main St., Tavares
352.508.5202
Hours: Noon-10pm Tuesday-Thursday; noon-11pm Friday-Saturday; noon-10pm Sunday. Closed Mondays. 
Fork report: 
Casual dining. $$ // Seated immediately (lunch hour)
Wait for meal: 12 minutes
OUT-OF-THE-ORDINARY STARTERS: ($5-$10): Smashed Brussels sprouts, gigantic pretzel, fried cheese curds, poutine.
ENTREES: ($7-$13): Fry baskets, variety of burgers, tacos, waffles, and desserts.
Originally from Anderson, Ind., Theresa worked for The Herald-Bulletin for many years. After experiencing a winter with 53 inches of snow, her late husband asked her to get a job in Florida, and they headed south. Well known in the area, Theresa worked with The Daily Sun and The Daily Commercial prior to joining Akers.
Share This Story!