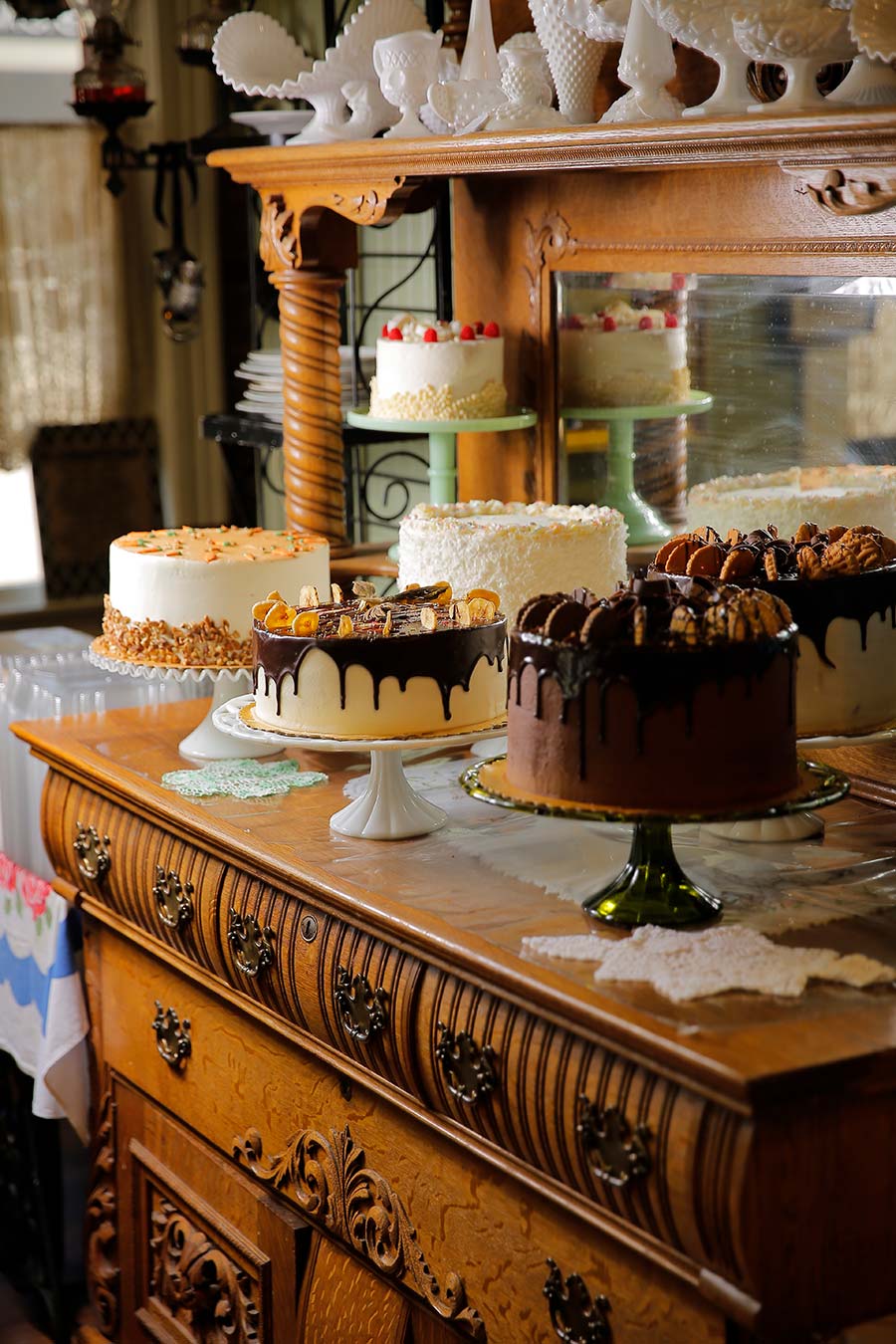 Among the charming appeals of Miz Kathi's Cotillion Southern Café and Sweetery are beautifully decorated cakes lined across an antique buffet and the words "Cakes Y'all!" on a blackboard that lists cakes of the day.
Photos: Fred Lopez
Southern cuisine reigns at the 101 N. Main St., Wildwood eatery, for lunch or dinner at Miz Kathi's wouldn't be complete without a slice of one of her delicious fresh-baked cakes. Of course, there are enticing pies and other sweets, but those layered desserts sitting on old-fashioned pedestal plates really do take the cake.
Kathi Hall Vincent, a ninth-generation Floridian and owner of the establishment that bears her name, notes 35 different cake batters are whipped up and baked, but not all on the same day.
"My favorite cakes are the coconut and the lemon pineapple coconut, which is my mother's recipe. She always made it, and it was my favorite growing up," Kathi recalls. "When I'd go visit her, she would make it in a sheet pan, and I would sit down with the whole pan and a fork!"
The sweet lemon treat was Kathi's comfort food.
"It was important to me to have it here," she says of opening the café in February 2008. "And there are other specialties of my mother and my grandmothers."
Among customers' favorite cakes are the coconut, chocolate, and carrot cake, while a white cream cake with strawberry slices in the middle is a popular order on Mother's Day.
"My mother was a big baker, and all of my grandmothers and great-grandmothers were bakers; they were always baking," recalls Kathi, who was also baking as a stay-at-home mom raising her six children.
"There was always cake on the cake plate, cookies in the cookie jar, and homemade candies in their Easter baskets," she says.
She honed her culinary skills on her own.
"I didn't work, so I had time to teach myself," Kathi says. "I decided when the kids were raised and gone that I would have a career."
She began by catering events for Gloria Austin at the Continental Acres Equine Resort, which evolved to catering private parties and weddings at the resort.
"It really does blow me away how Gloria trusted this little housewife," Kathi says, adding that compliments and requests from others inspired her to open her own restaurant.
After several searches, Kathi and her husband Jimmy were drawn to the former Bank of Wildwood building that is more than 112 years old.
"We took a mortgage out on our house, saved money from catering, and thought if it doesn't work, we'd have to move in with one of the kids," she says. "I felt like it was a chance that we could take."
The café opened with great fanfare, and an eager crowd wrapped around the block. Now, nearly 10 years later, the café remains so popular that reservations are a must. It is open daily except Sundays.
"A lady from Ocala who was in here for the first time said, 'I felt like I was in my grandmother's dining room!' And that was such a compliment, because that was what I set out to create," Kathi says of the eatery that is filled with antiques and vintage accents.
Operating a busy café required an adjustment, however, especially since Kathi and her husband had no restaurant experience.
"The first two years, we didn't have time to breathe. We would be here at 6 in the morning and until midnight, and then up again early, and it was exhausting," she says. "It was just run, run, run."Her youngest son, Joel, and his wife, Brittany, oversee more of the business now, especially at times when Kathi, a grandmother of 22, is called away on family matters.
She's proud that the café continues its traditions from the early years, including their own cakes, pies, and other sweet treats.
"Dessert was the one thing I had to fight for," she says. "My husband wanted to buy stuff off the truck. Everybody [else] has the stuff that comes off the truck, and because I am a dessert fanatic and my sister is, too, we will drive two hours to go to any place that has good desserts, I felt it was important. From the beginning, people went so crazy for our cakes that it kind of took a life of its own."
Even after raising the cost of cakes ($60) and individual slices ($6.95) to slow down the demand, Kathi was amazed.
"They were still buying it like crazy," she says. "We can't make them fast enough."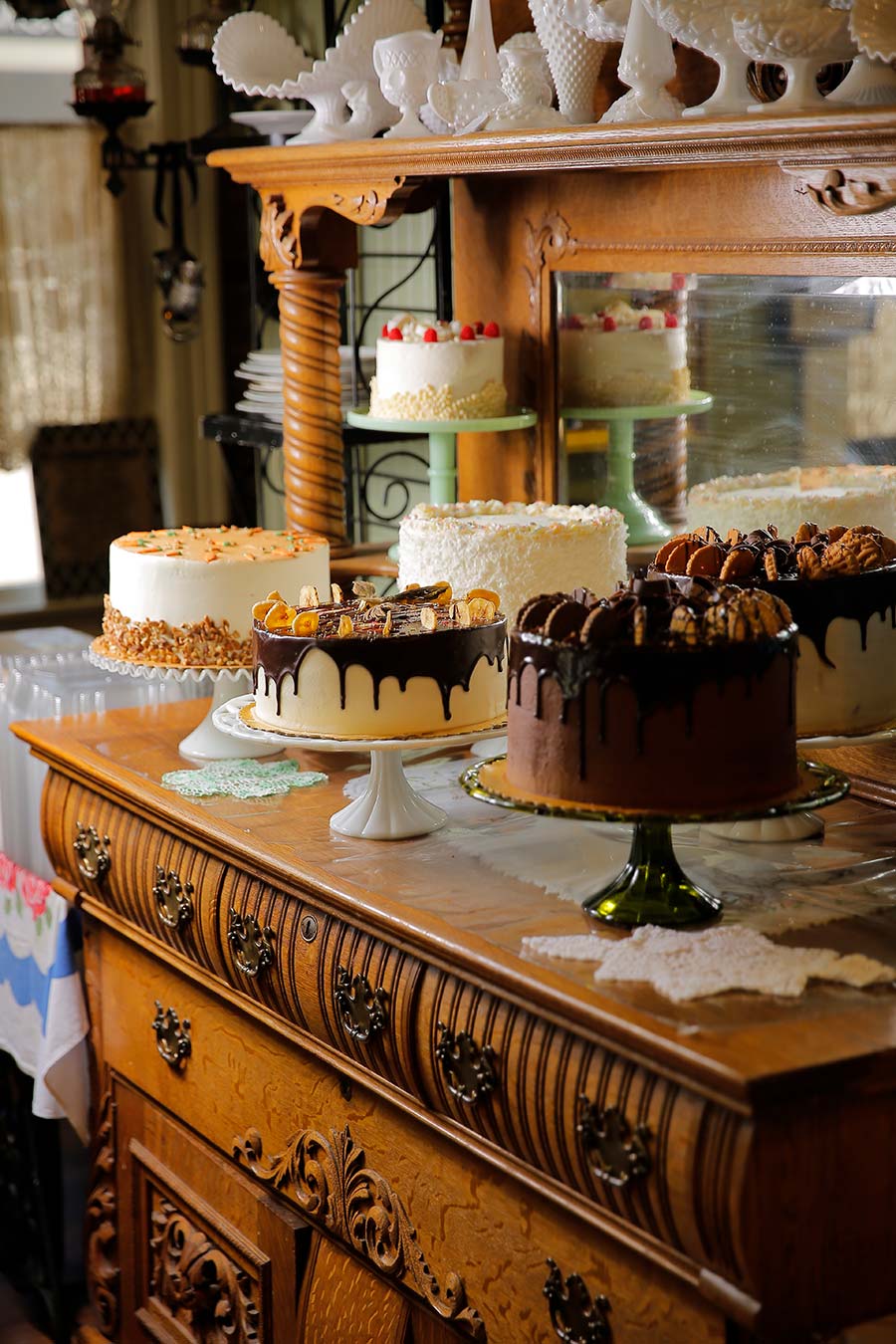 Miz Kathi's Southern Cake
Ingredients
1 Duncan Hines cake mix, any flavor
1 cup Martha White or White Lily all-purpose flour
1 cup sugar
¾ teaspoon salt
1 cup sour cream
1/3 cup canola oil
4 eggs
1 teaspoon Miz Kathi's Homemade Vanilla (recipe on website)
1 1/3 cups water
Directions
Grease and flour two 10-inch pans, three 9-inch pans or four 8-inch pans. At the café, I double this recipe and make four-layer 10-inch cakes, or a single recipe will make one four-layer 8-inch cake. Put all ingredients in large mixing bowl and mix for 30 seconds. Scrape side and beat for two minutes on medium. Bake at 350 degrees for 25-30 minutes for 8-inch pans, and 30-35 minutes for 10-inch pans.
Note: I always use Duncan Hines cake mix. I use this as a base and add the other ingredients to it. This gives me a lot of flavor and color. The sour cream makes it moist. Cut the domes off the layers so they will lay flatter. You can lay the top layer upside down for a flatter, nicer finish.
Miz Sylvia's Lemon Pineapple Coconut Cake 
Ingredients
1 Duncan Hines lemon cake mix
1 6-ounce package lemon Jell-O
¾ cup oil
¾ cup milk
4 eggs
Filling
1 stick butter
1 (1-pound box) confectioner's sugar
1 can crushed pineapple
1 lemon, juiced
Coconut
Directions
Drain pineapple when making the batter. Mix all the batter ingredients together and beat for 2 minutes. Pour into two (9-inch) or three (8-inch) pans. Follow package directions for baking. Cool layers completely. 
Filling:
Put butter, confectioner's sugar, pineapple, and lemon juice in pan and cook until filling goes from white to clear looking. While hot, pour filling over cake layers and sprinkle coconut over each layer. Stack and repeat, ending with filling and coconut.
Note: This was my favorite cake growing up. I still love it. One day I made the cake and filling and got busy and didn't have time to finish the cake. The filling cooled and got put in the refrigerator overnight. The next day I spread the cooled filling over the cake and iced the sides with cream cheese frosting. It was a hit. Now I make it by using Miz Kathi's Southern Cake recipe and adding lemon Jell-O. I use the filling cold. My mom's version is still best!
Miz Kathi's Butta Cream
Ingredients
2 sticks butter
½ cup sour cream
2 teaspoons Miz Kathi's Homemade Vanilla
¼ cup milk
1 2 -pound bag confectioner's sugar
Directions
Beat butter until light and fluffy. Add sour cream, vanilla, milk, and half of the confectioner's sugar and beat until light and fluffy. Spread on cake. You can cut this recipe in half if you are using filling.
Originally from Anderson, Ind., Theresa worked for The Herald-Bulletin for many years. After experiencing a winter with 53 inches of snow, her late husband asked her to get a job in Florida, and they headed south. Well known in the area, Theresa worked with The Daily Sun and The Daily Commercial prior to joining Akers.
Share This Story!