Caleb Bevis The Ultimate Comeback Story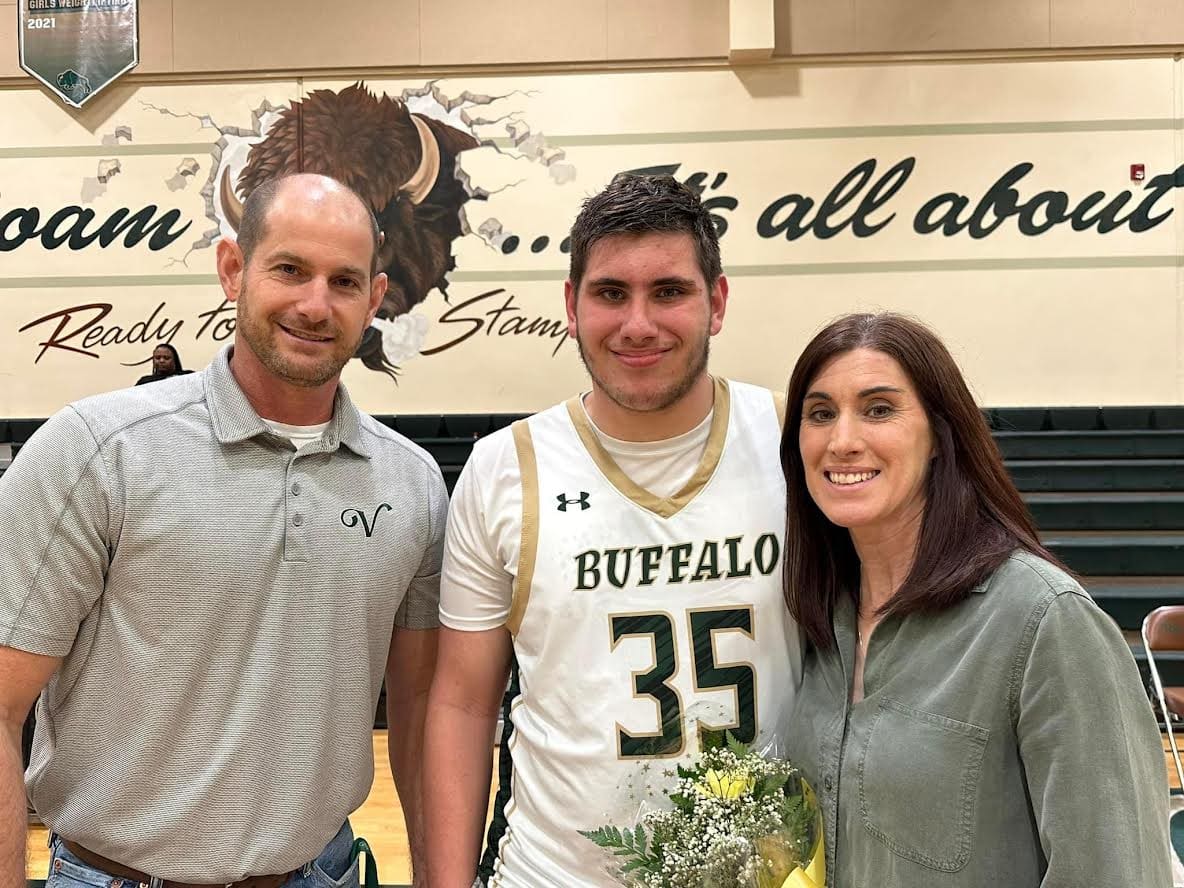 It was April of 2020 during peak Covid. At this current time Caleb Bevis would usually be working out at the school or gym, partaking in off season activities as he hoped to play varsity football and basketball in the fall of that year. Unfortunately Covid was in full swing and opportunities for team activities were severely limited. In fact there was no contact from people at all at this time which led many players to work out on their own at home. Such was the case for Caleb Bevis. During the summer, he would workout in the garage of his parents house. He had weights, homemade equipment, the setup was not ideal but it worked. Until it didn't…
Due to the ongoing pandemic Bevis decided he would go out to the garage and workout like he had been. However this fateful April day turned into a nightmare quickly. Caleb was doing step ups on a soft plyo box while holding a metal dumbbell in his hand. All of a sudden the plyo box shifted and tipped causing Caleb to fall forward. As Caleb tried to brace his fall, he unintentionally landed with the full force of his body weight and caught himself with his pinkie finger. The finger got smashed between the ground and the 25 lb dumbbell. The injury was so graphic that I cannot show the picture, but Darrin Bevis, who is Caleb's father, sent us the x-ray of the actual injury and it looks gnarly.
Assessment & Emergency Surgery
Caleb's mom Cheri was at the house at the time of the accident. Immediately upon seeing the injury to her son, Cheri immediately rushed Caleb to a local ER and they transferred him by ambulance to Shands. During this time, the stress level for the Bevis family was at an all time high. All the Bevis family could think about was if Caleb was going to be alright. No one had even thought about his playing career yet let alone what long term impacts this brutal injury would have.
As Caleb arrived at Shands, he underwent a 6 hour surgery on his hand. The surgeon worked to try and save the finger. The doctors were not sure they were going to be able to. Up until this point Caleb had played Football and Basketball with relative ease. Now the doctors were telling his mother Cheri and his father Darrin that he might lose his finger? It was a thought that the parents didn't take lightly and Cheri had to put all her confidence in the surgeons hands.
Later on, the surgeon said that "they considered amputation because of the extent of the damage. However because he was a young man, they made every attempt possible to save the finger since he was a young athlete." As Caleb woke up, much to his surprise he was told his finger was saved. The extent of the damage however was severe enough that playing sports that he loved were completely up in the air. It was a long road ahead for Caleb including re-learning how to do some everyday functions.
As Caleb worked through his recovery an external fixator was attached to his finger to help the bones remain in an optimal position while healing. It was attached for 8 weeks and then he had a 2nd surgery to remove it. The surgeon was hopeful he would regain full use of the finger. Unfortunately it was found that during physical therapy, Caleb's bones had fused together during the healing process.
This meant that his finger would remain locked in a curled position. Although this was ok for Football, this would not be the case for Basketball. Having been given that news, Caleb never relented. He never gave up on his pursuit of resuming normal playing activities. He battled for over a year, he learned to adapt to the changes that were now a part of his everyday life. He learned how to block in football, he learned how to dribble a ball and shoot with his disability. All the practice and all the re-learning of how to do things eventually lead to redemption.
In November of 2020 Caleb was cleared just a few days before basketball tryouts to begin physical activities involving physical contact sports. Although Caleb still has his finger, it is not deemed functional in any way and he has limited grip strength in his left hand due to the injury.
This did not deter Caleb from his ultimate redemption! As time moved on Caleb improved mightily. His strength and endurance got better as he became one of the best offensive lineman The Villages ever had. He was named captain of the football team his senior year. Bevis was also invited to the FACA All-Star Game this season. Caleb ultimately ended up being the Last Villages Buffalo high school football player ever to play on the original home field of The Villages in the All-Star game as The Villages moves to a new home next season.
Caleb's real athletic accomplishments happened on the football field and he certainly deserves all the accolades because he is a terrific lineman. Football is one thing, Basketball is another. Basketball requires more hand skills. This is something Caleb had to adjust to as he began his road to recovery. Caleb got a great start at recovery playing Junior Varsity Basketball his Junior Year and he had a decent season at that level. But Caleb wanted to keep playing basketball at the Varsity level. That is a task that would not be easy, but Caleb never relented from the challenge.
All of this led up to the moment everyone had been waiting for. Although Caleb was not a starter and was more of a football athlete, he was going to get his moment to shine. It is a moment that everyone will remember as The Villages Rudy Moment or the Caleb chant.
It was January 13th 2023. Approximately 2 years and 9 months to the day that Caleb had his injury. The Villages were playing at home against rival Trinity Catholic. The stands were full and the atmosphere was great! As The Buffalo began to pull away late in the game a timeout was taken with 2 minutes left in the game. The Villages were up by nearly 35 points and chants began to fill the arena… Caleb, Caleb, Caleb. The chants got louder and louder.
After the timeout was over Caleb still remained on the bench. He is the kind of kid who is not going to beg to get into the game. He waited his turn until it was time. The chants got so loud that it was like a scene out of the movie Rudy. Coach McDowell made the decision and sent Bevis to the score table where he checked into the game during the final minute of action.
As the clock ticked down in the game, Bevis got a rebound and was fouled with just 10 seconds remaining. This was the moment everyone wanted to see. The moment Bevis would score a Varsity point after having gone through so much. Being told he could lose his finger, being told he may never play the game of basketball competitively again, all leading up to this moment.
As Caleb made his way to the free throw line, I can only imagine what was going through his head. All the memories of what he went through, all the physical therapy, all the blood, sweat and tears he put into his recovery to be handed an opportunity like this. The teams gathered at the line and the entire arena of close to 1,000 people strong came to their feet to watch.
Caleb shot his first throw out of two and it bounced off the rim and was no good but he had one more chance to make a basket. The crowd now drew silent. Caleb looked up as if to envision exactly where he was going to put that shot. There was absolutely no way in Caleb's mind that he was going to miss. He dribbled twice, took one final look and the ball left his hand.
The arena shook with a thunderous roar. The place went crazy! Caleb Bevis, the comeback kid, just scored his first Varsity point on his home court. He only scored one point that night but that's all he needed. Again in a scene straight out of Rudy, Caleb was mauled by his teammates and the entire arena was gleeful at the chance to have witnessed this. Many people had no idea why this moment was so special.
I will admit even I was looking around a bit confused as to why this was such a big moment. But then I learned the story about Caleb Bevis, and I thought his story deserved to be told to the public. Caleb isn't just a good athlete he is a good person. He is kind and humble. He has some great parents who raised a terrific young athlete who will go far in life.
Although Caleb had scored a few points during away games, Caleb would go on and score his first live basketball layup at home during senior night against Mount Dora High School. It was another proud moment and people were absolutely going crazy after he hit this layup that is shown below. Bevis would go on to play a good portion of his senior night along with the other seniors including Sam Walters, Josh May, Landon Dickerson, and Gavin Eaton.
In closing I will say this. No matter what you are going through in life. Never give up. You can make a difference. Caleb made a difference and despite what his disability is with his hand, he found a way to score a varsity basketball point in one of the most difficult places to play in the USA. Central Florida Basketball is hardcore. Some of the best of the best play here and they go on to play in the NBA. For Caleb to do what he did, deserves an enormous amount of respect. Caleb is part for the team that made it to the Final Four this year in Lakeland which is another incredible accomplishment.
I want to say thank you to the Bevis family for letting us share this story, and thank you to all of Celebs, doctors, physical therapists, coaches, teammates, family and friends who believed in him and allowed him to have a senior moment. We wish Caleb the best of luck as he continues his academic and athletic career later this year. Caleb remains un-committed to college as of now but no matter where he goes, he will be a success.
Photos Provided By –
Cheri Bevis
Darrin Bevis
The Villages High School
Kyle Coppola was born in Newton, Massachusetts and received his Bachelor of Fine Arts in Communications from Curry College in 2016. After traveling to Florida on a family vacation, he decided he could not get enough of the warm weather and made the move from snowy Massachusetts to central Florida 8 years ago.
For the last decade Kyle has gained valuable experience in social media content creation, marketing and sales, writing, video production, sports announcing and even broadcasting for local radio stations, such as FM 102.9 in The Villages and FM 91.5 in Massachusetts. Every year he volunteers at The Villages Charter High School as a play-by-play sports announcer for the football games as well as a public address announcer for the basketball games, including the annual Battle at The Villages Tournament.
Outside the office Kyle is a husband and father to two beautiful girls along with their cat. In his spare time he likes to spend time with his family, travel, play golf and swim. He is also a huge sports junkie and even bigger motorsports fan and loves to attend racing events when he can.
Share This Story!