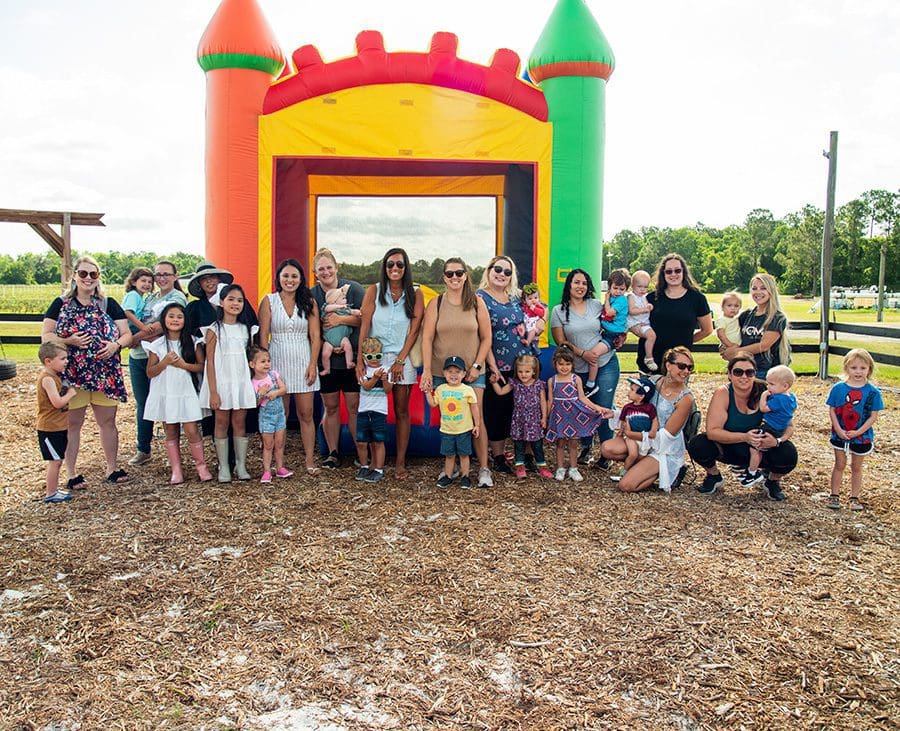 Both moms and their toddlers are enjoying camaraderie and socialization through a Lake County Facebook group.
A cool breeze blows across the 1,400-acre Far Reach Ranch in Tavares. Rays from the morning sun radiate through white, puffy clouds, illuminating endless rows of blueberry bushes that stretch as far as the eye can see.
In the backdrop of this natural beauty, a group of enthralled toddlers engage in pure, self-directed, free-flowing fun.   
The light-green sunglasses that Camden Krull, 3, wears make him look super cool while he moves back and forth on a tire swing.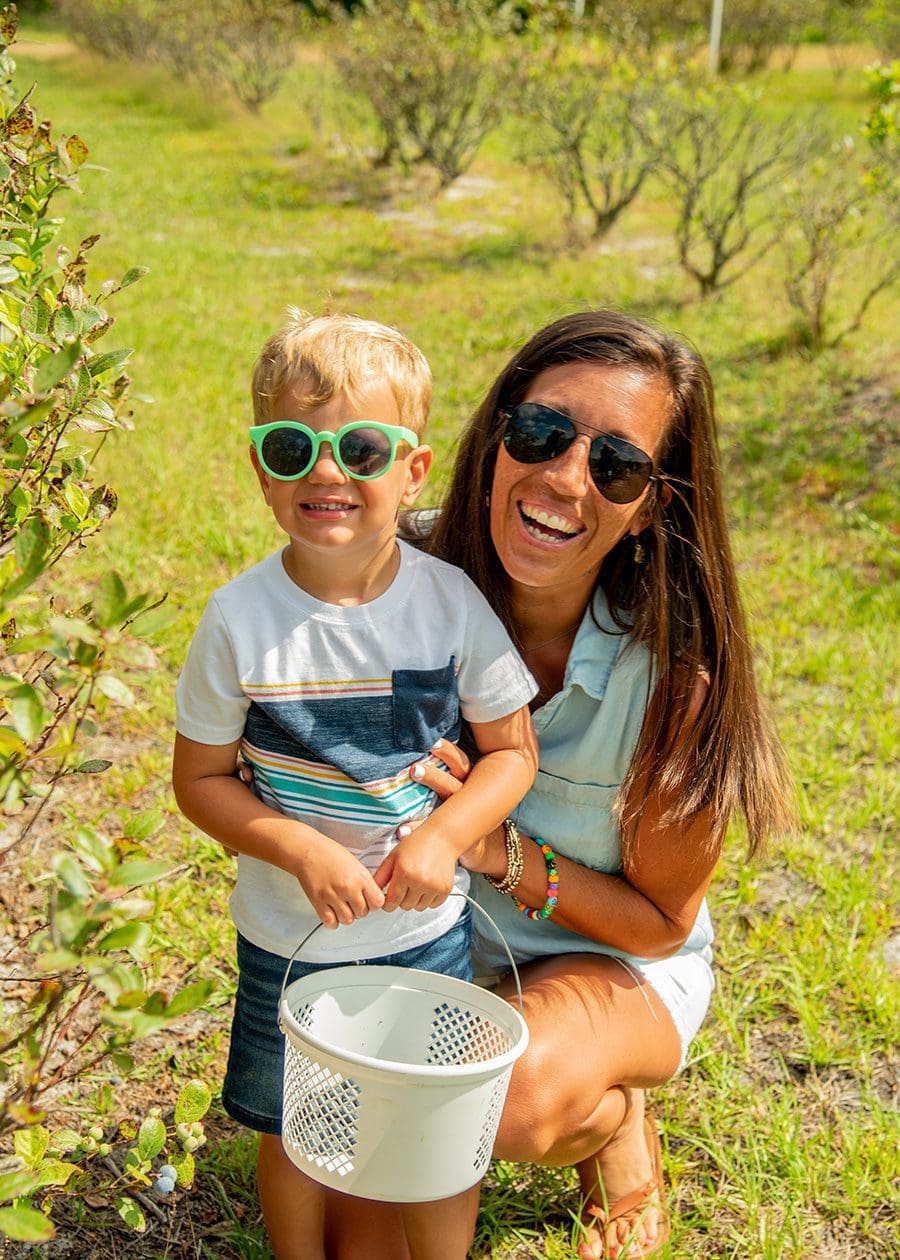 Four-year-old Henry Abbott enjoys some serious airtime as he jumps up and down in an inflatable, castle-shaped bounce house. 
Remington Marcelino, 3, sports a big smile as she picks blueberries off a bush and carefully places them into a white bucket. 
These children have something in common. Their moms are part of a popular Facebook page called Toddlers of Lake County. Several times a week, the site administrator posts announcements of planned events specifically for toddlers. The events are held at local restaurants, libraries, parks, and farms.  
For toddlers, defined by the group as ages 5 and under, the outings provide a great way to bond while stimulating their minds during this important age of development. For mothers, the gatherings present a rare opportunity to build friendships during this time-consuming and hectic child-rearing stage. 
Tess Marcelino, a resident of Umatilla, launched the Facebook page in February 2022 after growing frustrated over a lack of toddler-related programs for her 3-year-old daughter, Remington. The 36-year-old mother has five daughters ranging in ages from 3 to 16. 
"I have been a toddler mom several times over," Tess says. "The majority of toddler activities are in larger areas like Orlando, or they're very expensive. As a toddler parent, the last thing I want to do is spend a fortune to go somewhere and have my daughter hate it or melt down. I figured that the money I'd spend commuting and enrolling Remington in activities would be better served by putting the money here and involving other families. Starting the Facebook group was an opportunity to create for Lake County what I was personally missing as a parent."
Word about Toddlers of Lake County spread quickly. As of this writing, the page has 1,226 followers representing several Central Florida counties.  
Additionally, the events Tess has organized are well-attended. In April, she partnered with Craig Dolan, parks and recreation director of Eustis, to organize an easter egg hunt in Ferran Park. During the event, City Commissioner Willie Hawkins dressed in an Easter bunny costume, and Jeannie's Place donated 100 hot dogs that were given to attendees for free. 
"We were anticipating 40 families, and then we did some promoting and 500 people came," Tess says. "I was really amazed by the outpouring of support from the community." 
Bubbles with Blippi, also held at Ferran Park in April, attracted an equal amount of fanfare. Tess hired an impersonator to play Blippi, the popular American children's entertainer and educator on YouTube. Toddlers had their photographs taken with the character, and some even dressed like him. Tess also invited small businessowners to serve as vendors. 
"We don't charge vendors to come to our events," Tess says. "I have made a firm stance that anything that has Toddlers of Lake County's name attached will not have a vendor fee."
Smaller-scale activities such as toddler lunches, arts and crafts, and trips to u-pick farms are held each week. Although organizing these activities is time-consuming, Tess sees the fruits of her labor through Remington. 
"Since she has been coming to these outings, Remington has learned to create and appreciate relationships," Tess says. "In fact, she recently spent 35 minutes talking on the phone to one of her friends, Henry. As toddler parents, we put our kids in a bubble. When they're at home all the time, they don't learn from anyone else but their parents. Now, Remington is learning from other kids, other parents, and other families. She's growing and becoming more of a whole person rather than my little vision of who she should be."
Henry's mom, Tabitha Abbott of Eustis, has been part of Toddlers of Lake County since the beginning. Her son's socialization skills have improved dramatically in just a few months.
"He wakes up every morning asking if he's going to see Remington today," Tabitha says. "Henry is definitely more talkative and much happier since we've been going to these outings."
Bethany Drennan-Fairbanks, of Astatula, says being part of Toddlers of Lake County is every bit as beneficial for her as it is her 17-month-old daughter, Avery. 
"I'm a stay-at-home mom, and that can get a little lonely sometimes," Bethany says. "When I'm at these events, I get to be somebody other than a mom. I can be myself and engage in adult conversations while the kids are playing together."
Mothers constantly visit the Facebook site in anticipation of what Tess is organizing next. In fact, one mother excitedly made a post that read: "Do we get a sneak peak of the summer schedule? I feel like I'm waiting for an album to drop!" 
"My whole point in doing all this is to create a safe space for families and support them," Tess says. 
For more information, search Toddlers of Lake County on Facebook or visit toddlersoflakecounty.com 
Akers Media Group's James Combs has been a staff writer for several local publications since August 2000. He has had the privilege of interviewing some of Lake County's many fascinating residents—from innovative business owners to heroic war veterans—and bringing their stories to life. A resident of Lake County since 1986, James recently embarked on a journey to lead a healthier lifestyle. He has lost 60 pounds and walks nearly five miles a day. In his spare time, he enjoys target shooting, skeet shooting and watching his beloved Kentucky Wildcats!
Share This Story!