City of Eustis Takes Home Five 2022 FFEA SunSational Awards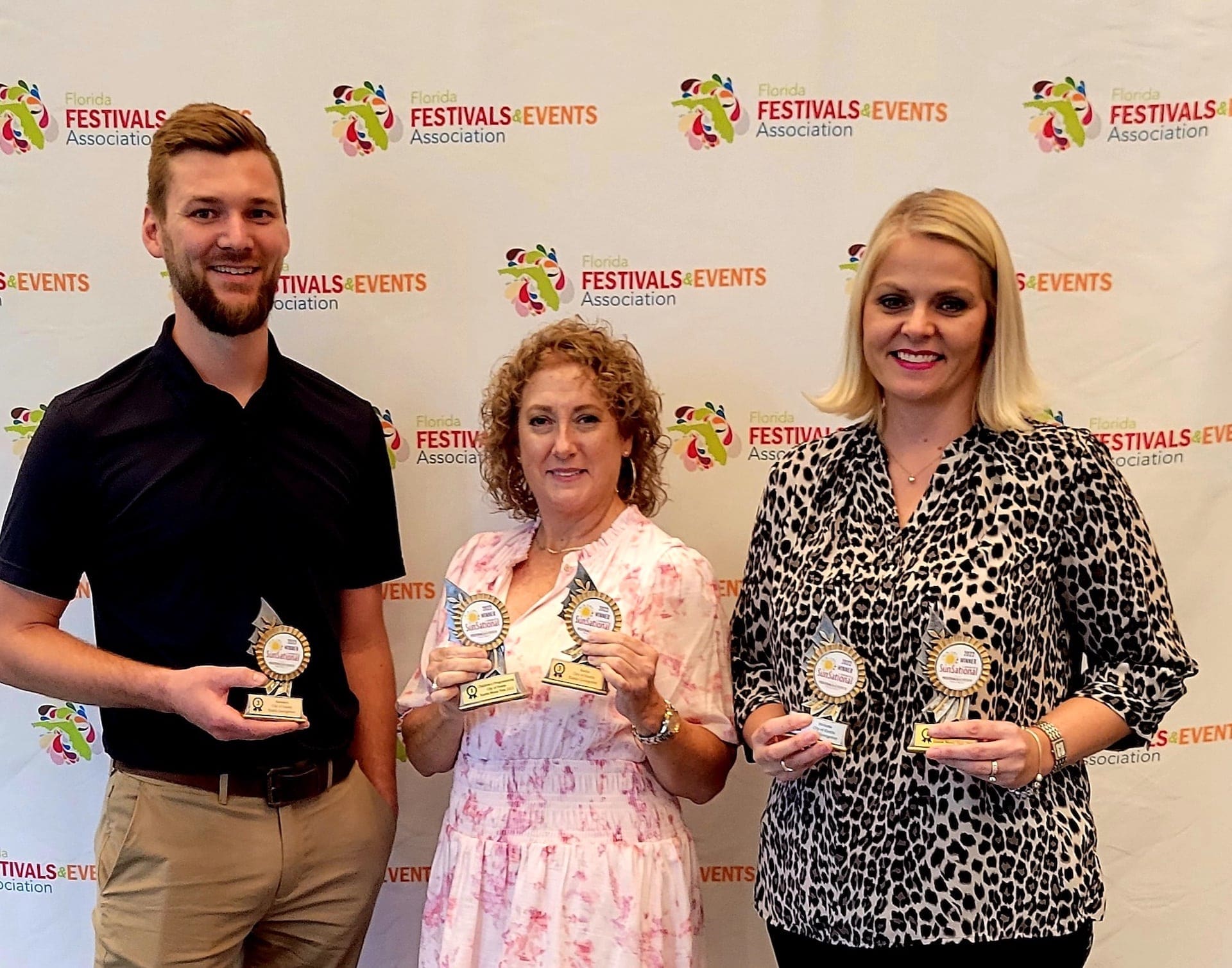 The Florida Festivals & Events Association (FFEA) recently announced the winners of its annual SunSational Awards during their 28th annual convention and tradeshow in Orlando, Florida. The Program recognizes members' innovation, individuality and creative collaboration.
Nominations were accepted in ten categories, including Printed Materials; Outdoor Advertisement; PR / Media Campaign; Photo; Promotional Item; T-shirt; Broadcast Media; Multimedia Marketing. Adapted and Virtual Events and Programming. Each category included three budget levels. In 2022, over 200 events submitted more than 500 materials for consideration, the largest field of competition to date.
TheCity of Eustis' Events and Tourism Department was proudly recognized in multiple categories;
1st Place – Eustis Music Fest for Children's Programming
1st Place – Eustis Music Fest T-Shirt Design
2nd Place – Georgefest Website Design
3rd Place – Georgefest Banners
3rd Place – Georgefest Radio Advertising
Eustis Music Fest is held annually in April and welcomes the motorcycle community to "ride the loop" around beautiful Lake Eustis, while enjoying both the Leesburg Bikefest and music, vendors, and food in Downtown Eustis.  More than 7,500 individuals attended the 2021, two-day event.
The Eustis Georgefest will celebrate its 141st year in 2023 making it the longest continuously running event of its kind. Honoring the nation's first President, George Washington, it is a celebration of community and Americana.
For a complete list of winners, visit www.ffea.com/sunsational-awards.  
Nominations were judged by a blue ribbon panel representing media outlets, printing companies, website designers, photographers, promotional marketing professionals and social media experts.
"The SunSational Awards have recognized and celebrated the talents of our members for more than two decades," said Suzanne Neve, CEO of the FFEA.  "We're proud of our members and their events – and excited to recognize them in this way each year. This year in particular was incredibly rewarding as we showcased the innovation and resilience of festival and event organizers throughout the state during this unprecedented time."
About the Florida Festivals & Events Association (FFEA)
Celebrating 28 years, FFEA is a not-for-profit association dedicated to supporting and promoting more than 5,500 festivals, events, and fairs in the state of Florida through education, networking and dissemination of information and the cultivation of high standards. For more information about FFEA, visit www.ffea.com