WOOTON WONDERLAND PLAYGROUND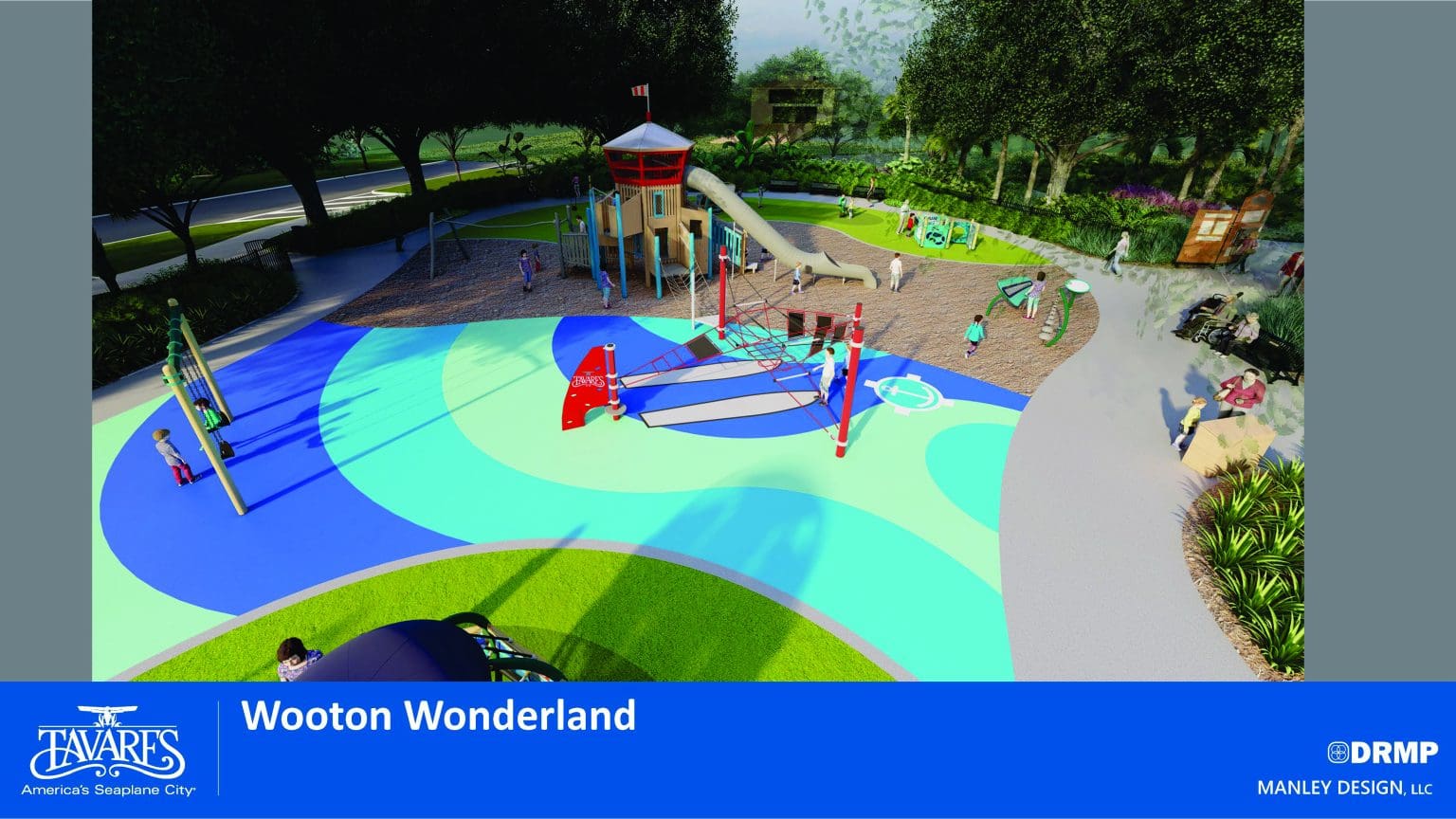 Wooton Wonderland in downtown Tavares, located at 100 E. Ruby St. within Wooton Park, is now temporarily closed to make way for construction of a whole new playground that will emerge early 2023 in this beautifully shaded park for all to enjoy, and it has been a long time coming!
The entire process started January 2020, when a Request for Proposal was advertised for the redesign of the Wooton Wonderland Playground to meet modern-day "Design Element Guidelines & Play System Specifications" that specifically outline ADA accessibility inclusiveness, quality of equipment components, quality of design, play value, cost, and appropriateness to the location.
In May 2021, the City Council approved the schematic design and authorized the project. Public Works engaged engineering and architectural firms to meet modern-day playground standards.
Fast forward to June 22 (2022), and the construction bid process was concluded when City Council awarded the bid to Marbek construction.
Wooton Wonderland was closed July 5 to begin construction and with that, the Children's Splash Pad and Wooton Park remain open, including all entrances to Wooton Park.
Additionally, please note that the Splash Pad will be refurbished as part of this project, with an announcement of those dates to come later.
Historically speaking, Wooton Wonderland has been an important part of Wooton Park and Tavares for decades. Years ago, the Tavares Junior Woman's Club and the Kiwanis Club inspired the community to raise donations of materials and tools to build this playground. The community rose to the occasion and built the playground we celebrate as Wooton Wonderland. A playground built by the community, for the community.
Wooton Wonderland was opened in 1992 and has been enjoyed by children from Tavares and visitors from around the county and afar during its thirty years of  life.
For more information, contact Public Works Director James Dillon at 352.742.6221, email jdillon@tavares.org, or visit www.tavares.org/1156/Parks-Management-Divison.
Originally from Nogales, Arizona, Roxanne worked in the customer service industry while writing independently for years. After moving to Florida in 1999, Roxanne eventually switched her career path to focus more on writing and went on to become an award-winning reporter for The Daily Commercial/South Lake Press newspapers for 16 years prior to coming on board with Akers Media as a staff writer in July 2020 – her dream job come true.
Share This Story!