Clermont Elementary student co-writes book about pandemic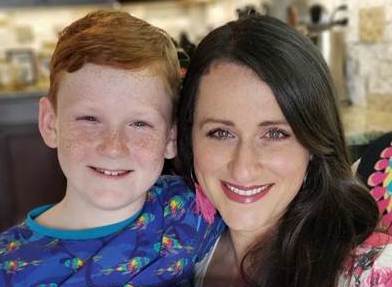 A Clermont Elementary School student and his mother have written and illustrated a book to promote family discussions about the coronavirus. 
Nine-year-old Aiden Whitley and his mother, Kelly Whitley, came up with the idea for "Together, We Can Say," after talking about the virus. Kelly wanted to discuss with Aiden how he was processing the pandemic, especially with the closing of his school, which meant not seeing his friends. 
Kelly created a list of questions, and she and her son discussed the answers one by one. Later, they decided to create the book. In it, the main characters, a mother and son, both talk about their concerns, including the mother's worries about her own parents and the stress of distance learning. In the end, the two focus on the things which they are grateful for, including their health and the extra family time at home. 
"I'm grateful for doing some things in the past week because I've been getting really, really bored," Aiden writes. "I guess I have a lot of time with my family while I'm on break." 
Kelly describes the book as "a psychological journey through the mind of a child when everything is changing all around him."
The main takeaway for other children who read the book, Aiden said, is that they are not alone. "We are here with you," he says. "We have the same feelings as you." 
With the number of coronavirus cases rising, Aiden and his mom say their first book remains relevant. "Together, We Can Say" is available through Amazon for Kindle or paperback or free with a subscription to Kindle Unlimited. 
The two are busy working on their second book, this time, with a lighter subject matter. It's about Jack, a superhero dog who stops monsters and saves orphans and cities.