Clermont PD honors their own in long overdue public ceremony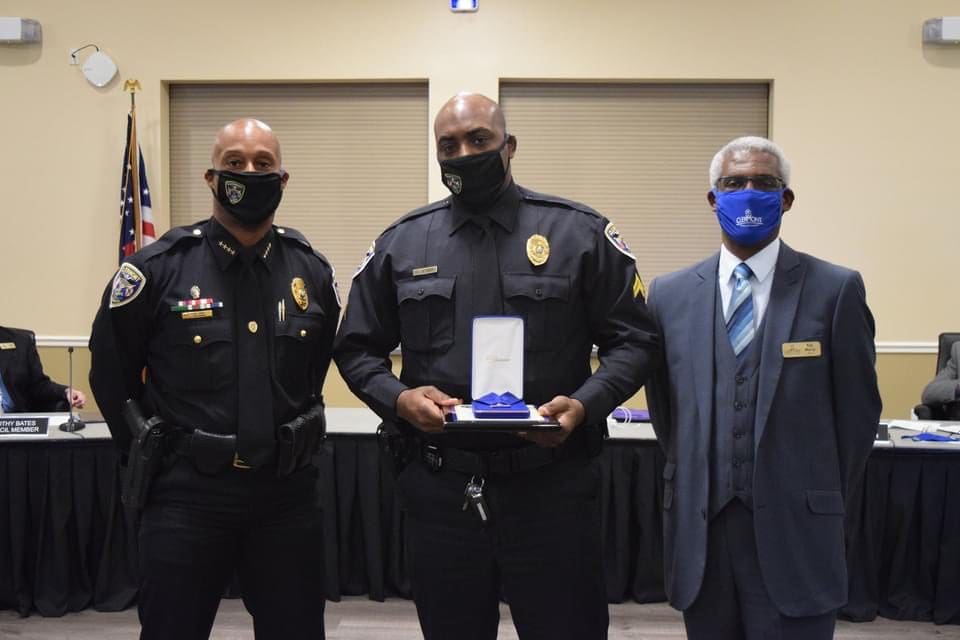 Clermont Police officials announced that on January 26, several members of the Clermont Police Department, as well as some residents of the City of Clermont, were recognized in front of city council members and the public for their exemplary service in the year 2019.
Due to Covid 19 safety concerns, this recognition ceremony, originally scheduled for the beginning of 2020, had been postponed.
Chief Charles Broadway recognized the efforts of Lt. Shane Strickland and Accreditation Manager, Desiree Cicco, for their efforts to work towards the reaccreditation of the Clermont Police Department with Commission for Law Enforcement Accreditation. This is an accreditation program that has long been recognized as a means of maintaining the highest standards of professionalism in law enforcement. This accreditation process occurs every three years and the Clermont Police Department had to comply with 239 standards. The Clermont Police Department received its sixth consecutive accreditation since 2004.
Chet Wells was awarded Outstanding Citizen of the Year for his efforts to improve our community by picking up trash.
Robert Lederhandler was awarded Civilian of the Year for his efforts as a school crossing guard in our community from 2017 to 2020.
Debbie Arroyo was awarded Meritorious Service. In her position as police quartermaster, she was instrumental in obtaining vital personal protective equipment for police officers and staff during Covid. She has performed her assigned position with exemplary service and dedication.
Sergeant Chris Martin was awarded Meritorious Service. During the year 2019, he has filled in as an acting supervisor and has provided excellent training to new supervisors.
Corporal Philip Pollen was awarded Meritorious Service. During the year 2019, he made a tremendous impact on the community through the community policing unit as well as the mobile crisis unit.
Sergeant Melissa France was awarded Meritorious Service. During the year 2019, she conducted exemplary investigations and was awarded the ASIS International Peers Award, the LEO Community Service Award, the Florida Police Chief's Association Officer of the Year, and the Leesburg Rotary Club Service Above Self Award.
Sergeant Mark Marshall was awarded the Life Saving Award. He was on duty and at a local restaurant when he observed a subject choking. He performed the Heimlich Maneuver and dislodged the obstruction saving her life.
Lieutenant Nicholas Bloom was awarded Supervisor of the Year. During the year 2019, displayed exemplary leadership and quick decision making. He also planned, coordinated, and supervised a multi-agency DUI checkpoint. He is also the committee chair for the 3rd Annual Clermont Walk Like MADD event.
Corporal Justin Latimer was awarded Police Officer of the Year. During the year 2019, he has taken on the role of acting supervisor and has demonstrated exceptional leadership. This was evident in his role as a supervisor responding to a homicide, an armed robbery, and a vehicle pursuit.
Captains John Graczyk and Brent Joyner were recognized for their continued leadership leading to crime reduction as well as the agency's response to the Covid-19 pandemic.
"Congratulations all!" reads a shout out on the Clermont PD's Facebook Page to all who were honored.