Clermont's Florida Cancer Specialists & Research Center breaks ground on new facility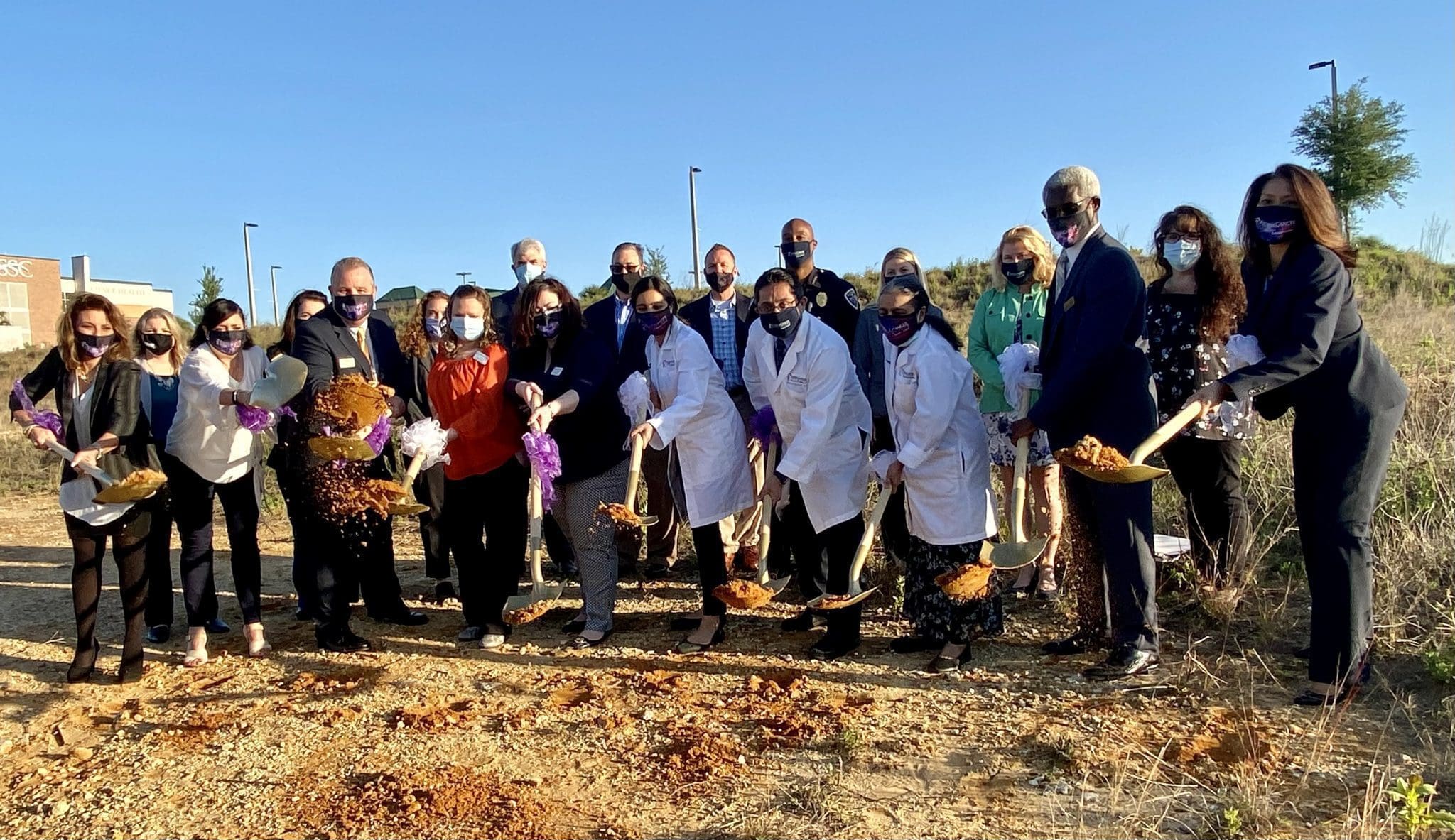 Clermont's Florida Cancer Specialists & Research Center breaks ground on new facility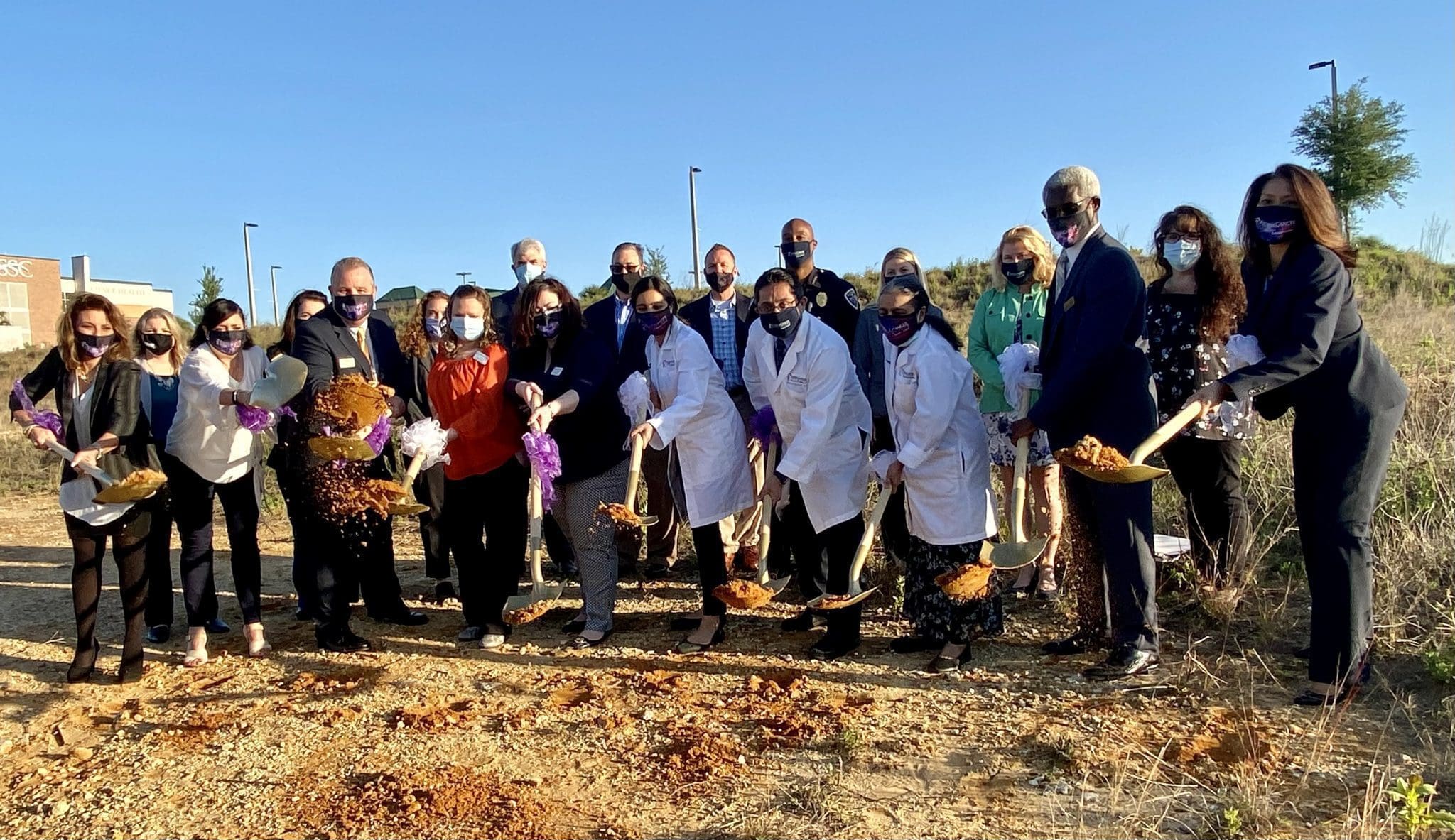 The Florida Cancer Specialists & Research Center in Clermont is anticipating that in one year, its staff will be moving out of its current facility on Don Wickham Way and into a brand new, bigger and better home more than double the size.
On Tuesday morning, city, county, and South Lake Chamber of Commerce officials joined the medical group for a groundbreaking ceremony marking the start of the project.
The first turns of dirt were made at the new site, located at 1305 N. Hancock Road, next to Lake Sumter State College.
"Next April, where we stand today will become a brand new, state-of-the-art cancer center to serve the residents of Lake County," FCS' Chief Administrative Officer Joyce Nelson says, explaining that despite advancements, an estimated 148,000 Floridians will be diagnosed with cancer this year, according to the American Cancer Society.
"We're excited that this greatly expanded space will offer great comfort for our patients, staff and visitors to enhance the patient experience and enable us to keep pace with the ongoing growth of this community," she adds.
The doctors at the new facility will be the same ones people have come to know at FCS for more than 10 years, including Dr. Ahmed Al-Hazzouri, and the group's first and only mother and daughter physician team of Dr. Vasundhara Iyenger and Dr. Meera Iyenger.
One main difference however, will be that all the services FCS offers, including clinical trials and certain advanced treatments, will be available under one roof – meaning patients will no longer have to travel to one of its other 100 locations to get them.
"We want to make sure that the people of the greater Clermont area, Lake County in general, have access to the best there is in the world, in the nation, and we want that access close to home," says Dr.  Al-Hazzouri, a medical oncologist.
Additionally, Dr. Al-Hazzouri says the new building is being designed completely with cancer patients, their comfort, safety, and overall well-being in mind.
"The ambiance, the soul of the building, we get to dictate what it is. The building we're in right now was obviously made for an all-purpose medical office building, but not geared toward cancer patients," Dr. Al-Hazzouri says. "Studies have shown time and time again that things like the layout of the building, colors, and incorporating natural sunlight, eliminates depression, alleviates moods, releases endorphins and in turn, improves your quality of life."
"So, it's not just a building that looks good; it's a functional building that makes patients feel better, and that's what I'm in the business of doing."
When construction is complete, the new one-story 7,500 square foot building, will include eight exam rooms, 25 infusion chairs, and will offer medical oncology/hematology, infusion therapy, mobile Pet/CT (Radiology), lab services, and an oral oncolytic pharmacy, also known as "Rx to go."
The new building will also incorporate advanced technologies and a state-of-the-art electronic medical record system.
"We hope that we can bring a sense of peace and comfort to patients going through some of the most difficult times in their lives," says Dr. Meera Iyenger.
Community leaders at the groundbreaking were thrilled at what the new facility will mean for area cancer patients and caregivers.
"We are confident that Florida Cancer Specialists will not not only expand our citizens' options for high-quality care, but also further enhance their quality of life," Clermont Mayor Tim Murry says. "We look forward to joining you for the ribbon cutting next year."
Chamber President David Colby adds, "I know based on their history in the community, that FCS physicians, clinicians, and support staff will ensure that patients have access to the most advanced treatments, including cutting edge therapies, supportive services, and and other vital resources in a warm and welcoming environment."
"On behalf of our chamber board, our trustees, our staff and your 700 fellow chamber members, I congratulate you and thank you for providing these services in our community. I look forward to a continued partnership and a bright future together," he closes.
Officials at the groundbreaking say the new facility, being built by Schmid Construction, is expected to open in April, 2022.
Originally from Nogales, Arizona, Roxanne worked in the customer service industry while writing independently for years. After moving to Florida in 1999, Roxanne eventually switched her career path to focus more on writing and went on to become an award-winning reporter for The Daily Commercial/South Lake Press newspapers for 16 years prior to coming on board with Akers Media as a staff writer in July 2020 – her dream job come true.
Share This Story!