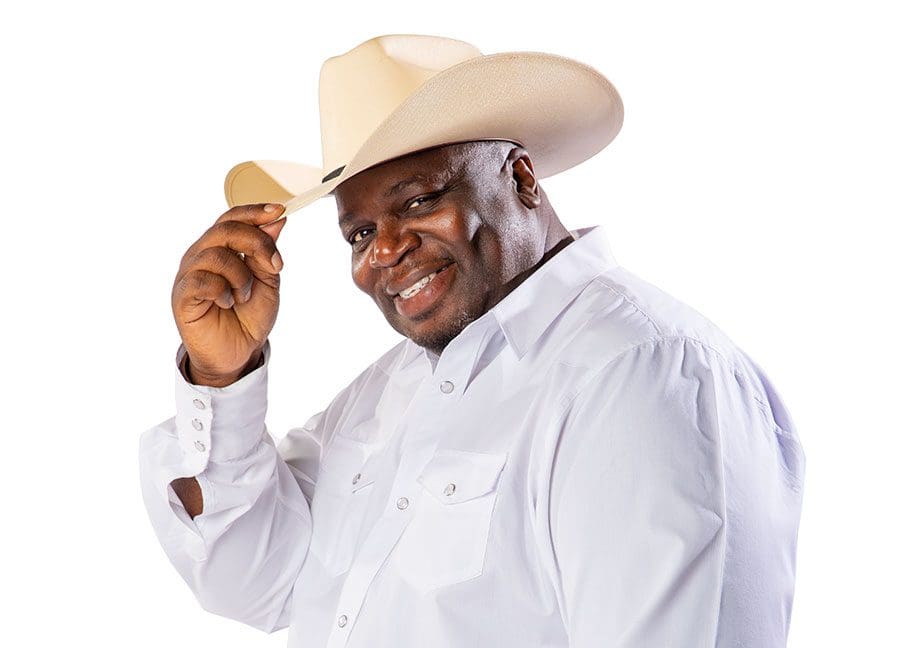 African American Villager Bill Williams, is known around Central Florida as a talented country music singer.
Photos: Nicole Hamel
Outside of Charley Pride, few could name a black country artist. That's because there hasn't been too many in the musical genre's history. 
Country music has been the domain of white men—those Stetson, cowboy boot-wearing country boys who sing about driving trucks and guzzling beer with a Southern drawl. 
Rather than accepting country music's closed doors, Bill D. Williams has pried them open. 
For the past 25 years, Bill, whose nickname is "Black Country," has made money in the music business by performing at gigs throughout Central Florida. He is now a household name in The Villages, where audiences judge him on his talent rather than his race. 
"If I'm singing in a restaurant, some people like my voice and approach from a different area in the restaurant to see who the singer is," Bill said, "Every now and then, I hear a person say, 'Look, he's black.' And those same people will wait until I've finished singing and tell me that I have a gift. They hear me sing and listen to the quality of my voice. It's about the voice; not what I look like."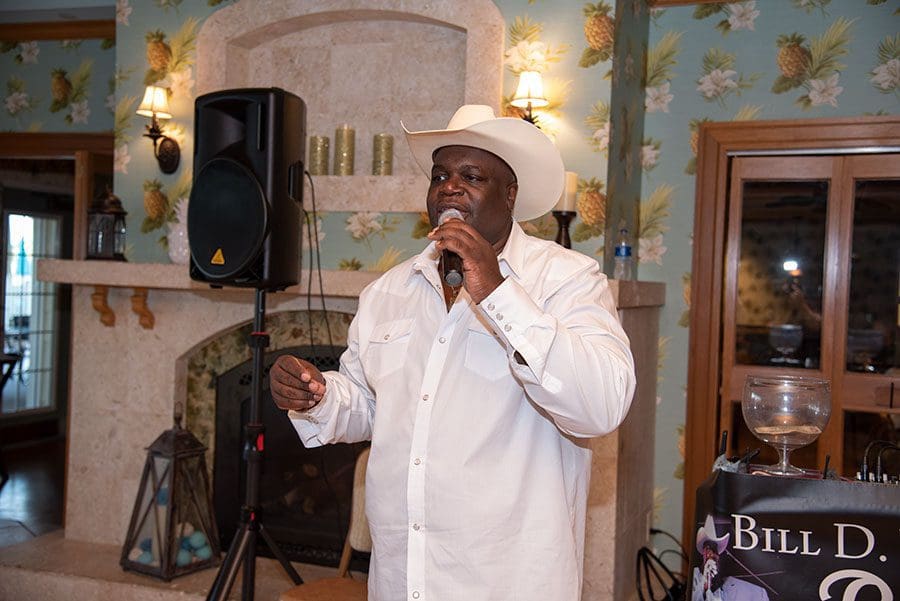 Bill doesn't rely solely on his beautiful voice to keep crowds entertained. The fun-loving, 55-year-old native of Connecticut puts on quite a performance by mixing music with showmanship. 
He connects with spectators at the start of each show. 
"I start off joking with the audience by saying Johnny Cash sounds just like me," Bill says. "And then I tell them, 'As you know, me and Johnny Cash almost have the same motto: Johnny Cash is known around the world as the man in black, it just so happens I'm running around here with a black man.'"
Later in the show, he grabs the attention of both men and women using this line: "The next song is dedicated to all the ladies from all the men." Both sexes wait in anticipation of what the song might be. Then he sings the lyrics to a Bellamy Brothers' song: "What you need is a sugar daddy."
Laughter erupts. 
He also likes to take his audience down memory lane. He'll sing a Dean Martin song and then suddenly sing the same song using the voice of Jerry Lewis. That rekindles memories of Jerry's numerous appearances on the Dean Martin Show. 
"I think it's important to have a connection with your audience," Bill says. "They gather to listen to music, but they are also looking for an experience. It is my job to create an opportunity for that to happen."
His manager, Holly Brand, describes Bill's performances as "three straight hours of music and laughter without a break."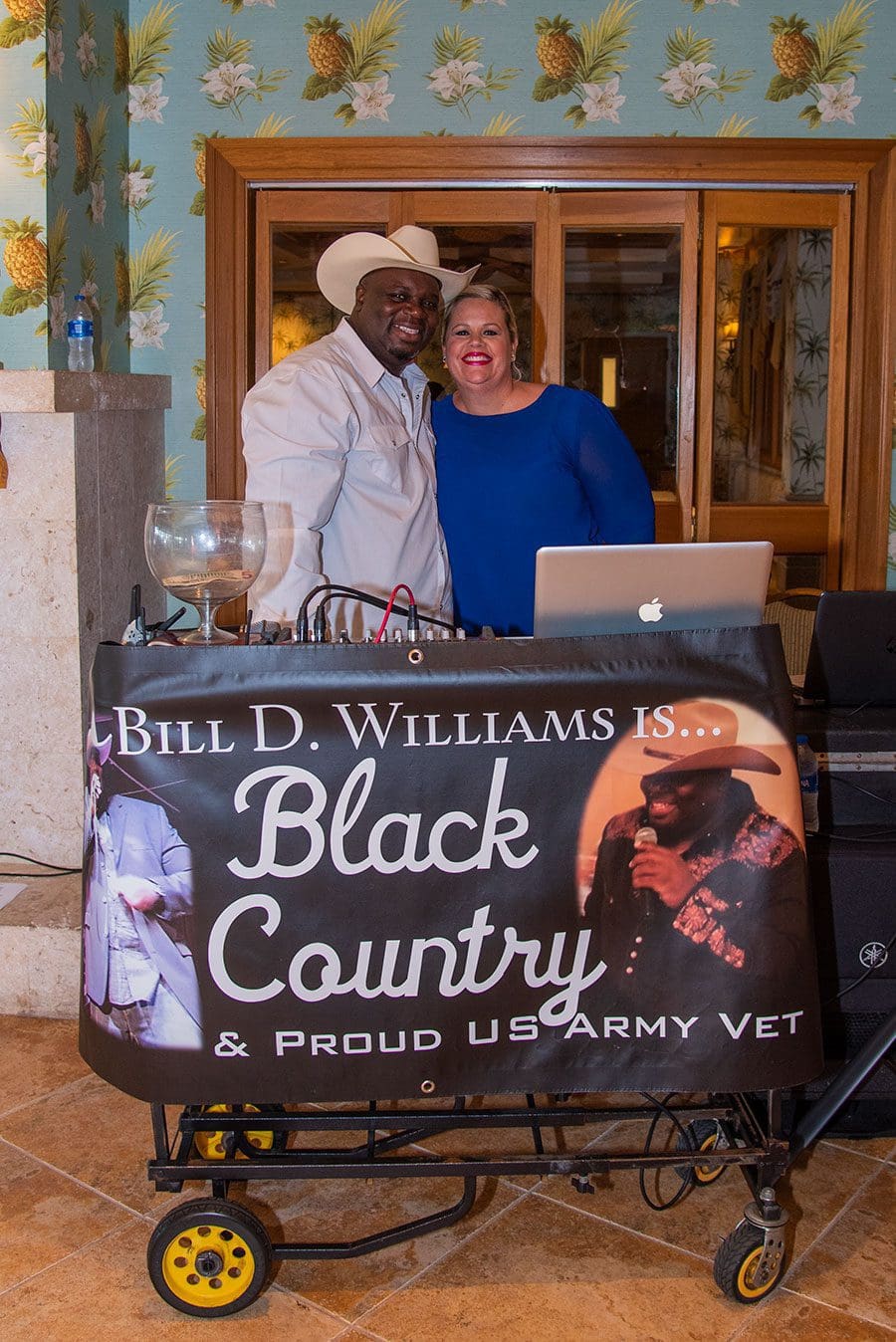 "He feels that energy when people are grooving along with him," Holly says. "He does not stop. He loves interacting with the crowd, and they love him for the personal touch he brings to each show through personal jokes and side stories about his life." 
Bill's love affair with country music began as a small boy growing up in Derby, Connecticut. His parents had a record collection of country music's greatest stars of that era—George Jones, Tammy Wynette, Merle Haggard, and Charley Pride. Bill would meticulously clean the records and then play them on a record machine. 
"I'd listen to both sides of the record," Bill recalls. "If I liked a record, I wrote "G" on it for good. If I didn't like a record, I'd write "B" on it for bad. That way, I knew what records I should listen to again and which ones I would never listen to again."
His first live performance came during a high school Christmas show. Bill dressed up and sang an Elvis Presley medley from the songs "Blue Christmas, "White Christmas," and "Here Comes Santa Claus." When his performance concluded, he walked backstage without receiving a reaction from the audience. 
"Nobody was screaming or clapping," Bill says. "I was like, 'What's going on?' Then, when the next act was called, everyone started cheering and stomping the floor. Next thing I know, everybody started chanting, 'We want Bill!' 'We want Bill!'" 
After serving eight years in the U.S. Army, Bill moved from Connecticut to South Florida and formed a reggae band. The band performed at venues such as Mango's Tropical Café in South Beach, Seminole Hard Rock Hotel and Casino in Hollywood, and the Miccosukee Reservation, located in parts of Broward and Miami-Dade counties.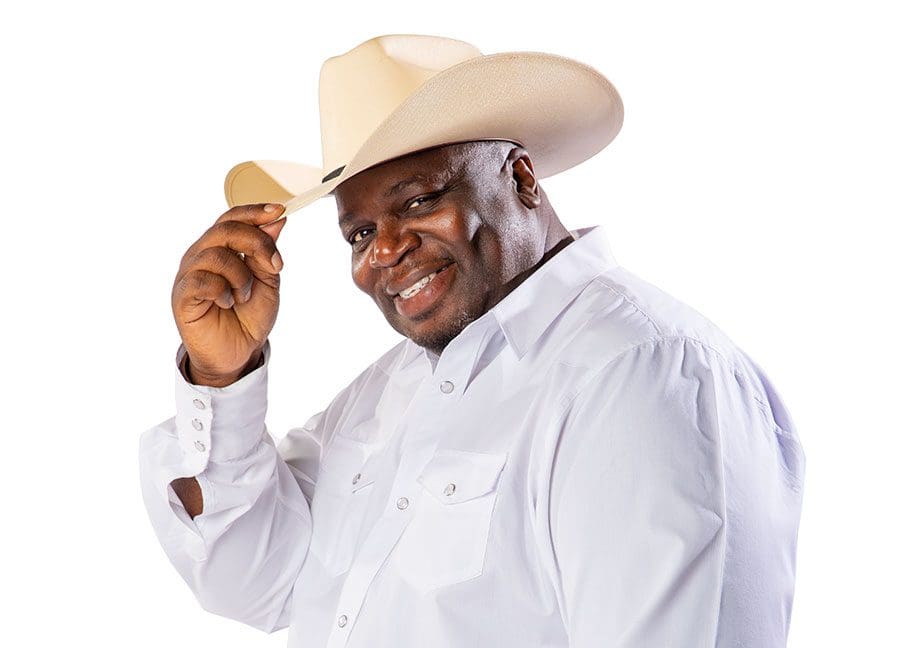 The band disbanded after seven years. Bill moved to Longwood and made the decision to perform solo. He also transitioned from reggae to country music. 
"Reggae music isn't as hip in Central Florida," Bill said. "It's more popular where you have tropical atmospheres." 
He has no regrets. For him, performing songs from country music legends is a privilege and comes with a responsibility. 
"When I'm up on that stage singing a popular country song, I'm really feeling that artist and I do the best I can to represent that artist," Bill says. "I don't put my own twist on their music. If it's a Conway Twitty song, I'm going to sing like Conway Twitty. If it's a George Jones song, I'm going to sing like George Jones." 
Bill has particularly enjoyed performing in The Villages at destinations such as Redsauce Italian Restaurant, Havana Country Club Restaurant, and The Waterfront Inn. There's no shortage of old-time country music fans in the nation's largest retirement community. 
"They recognize my songs, and the songs bring back a ton of memories for them," Bill says. "The songs might make them recall special memories with their parents or memories with a spouse. I interact with Villagers and try to give them the attention that people in the older generation are used to getting. But at the end of the day, performing for me is all about making other people happy and putting some sunshine into their lives."
That's especially true when Bill takes his talent to the VA Medical Center at Lake Nona in Orlando twice a year. His music brings some cheer to permanently disabled veterans who are bedridden or confined to wheelchairs. 
"They're merely surviving," Bill says. "To see them smile brings me such joy. I shake hands with every veteran there and thank them for their service. They sacrificed so much for our country."
While Bill is popular in the Central Florida music scene, there's a chance that his voice will reach households throughout the country. He recently filled out paperwork to compete on NBC's hit show "The Voice." Producers granted him virtual audition on Dec. 7. 
"I have one song to sing," he says. "I haven't picked out the song yet. However, if I can make it onto the show that would be great."
There might be one drawback, though. Bill doesn't embrace the possible fame that comes with appearing on the show. 
"I don't want to be so famous that I have a large crowd surrounding me when I walk out my front door to go get a cheeseburger," Bill says while laughing. 
---
Want to see Bill live? Here's a list of his upcoming performances.
 11/9 @ 6pm-9pm
Redsauce Italian Restaurant
11/10 @ 5pm-8pm
Glenview Country Club 
11/22 @ 4:30pm-7:30pm
Havana Country Club
11/29 @ 6pm-9pm
Redsauce Italian Restaurant
11/30 @ 5pm-8pm
Glenview Country Club
12/2 @ 5pm-8pm
Legacy Pool Bar
12/5 @ 5pm-8pm
Glenview Country Club
12/9 @ 6pm-9pm
Redsauce Italian Restaurant
12/20 @ 4:30pm-7:30pm
Havana Country Club
12/21 @ 5pm-8pm
Glenview Country Club
12/28 @ 6pm-9pm
Redsauce Italian Restaurant
Akers Media Group's James Combs has been a staff writer for several local publications since August 2000. He has had the privilege of interviewing some of Lake County's many fascinating residents—from innovative business owners to heroic war veterans—and bringing their stories to life. A resident of Lake County since 1986, James recently embarked on a journey to lead a healthier lifestyle. He has lost 60 pounds and walks nearly five miles a day. In his spare time, he enjoys target shooting, skeet shooting and watching his beloved Kentucky Wildcats!
Share This Story!