Community Raises $28,000 for Local Pharmacist Battling Cancer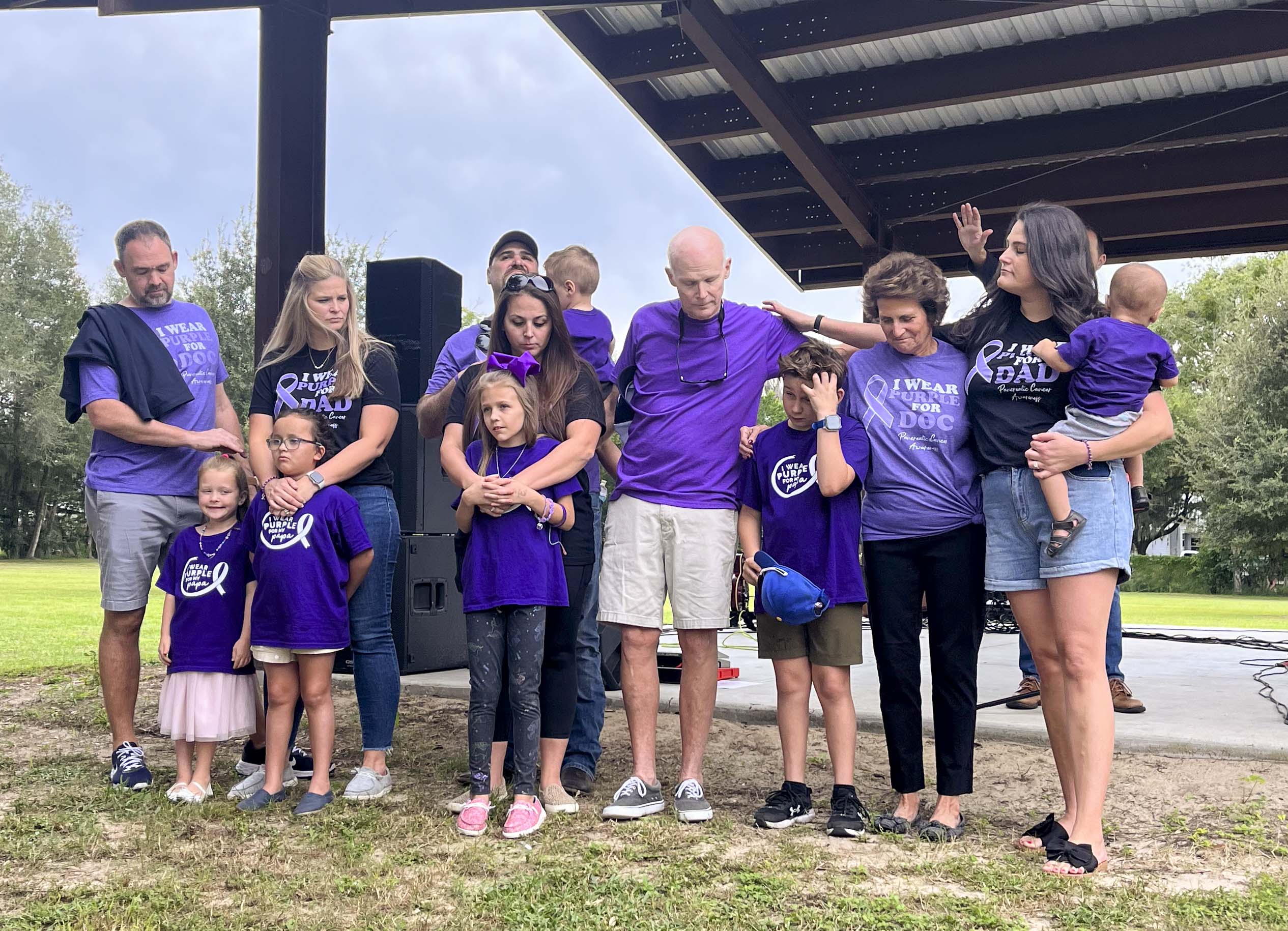 Community spirit soared in Umatilla last Sunday as residents united to support one of their own, pharmacist Richard "Doc" Greer, recently diagnosed with stage 4 pancreatic cancer. The fundraiser, organized by locals Lisa Neuman and Jenny Bryan, drew an estimated 1,000 attendees throughout the day and raised nearly $28,000 for Richard's treatment and expenses.
Richard, owner of Umatilla Drug Store and author of "Crossing Paths, Finding Hope," is a pillar in his community, known for his compassionate service and engaging storytelling. His diagnosis prompted action from the community, resulting in an outpouring of support reflective of the many lives he's touched.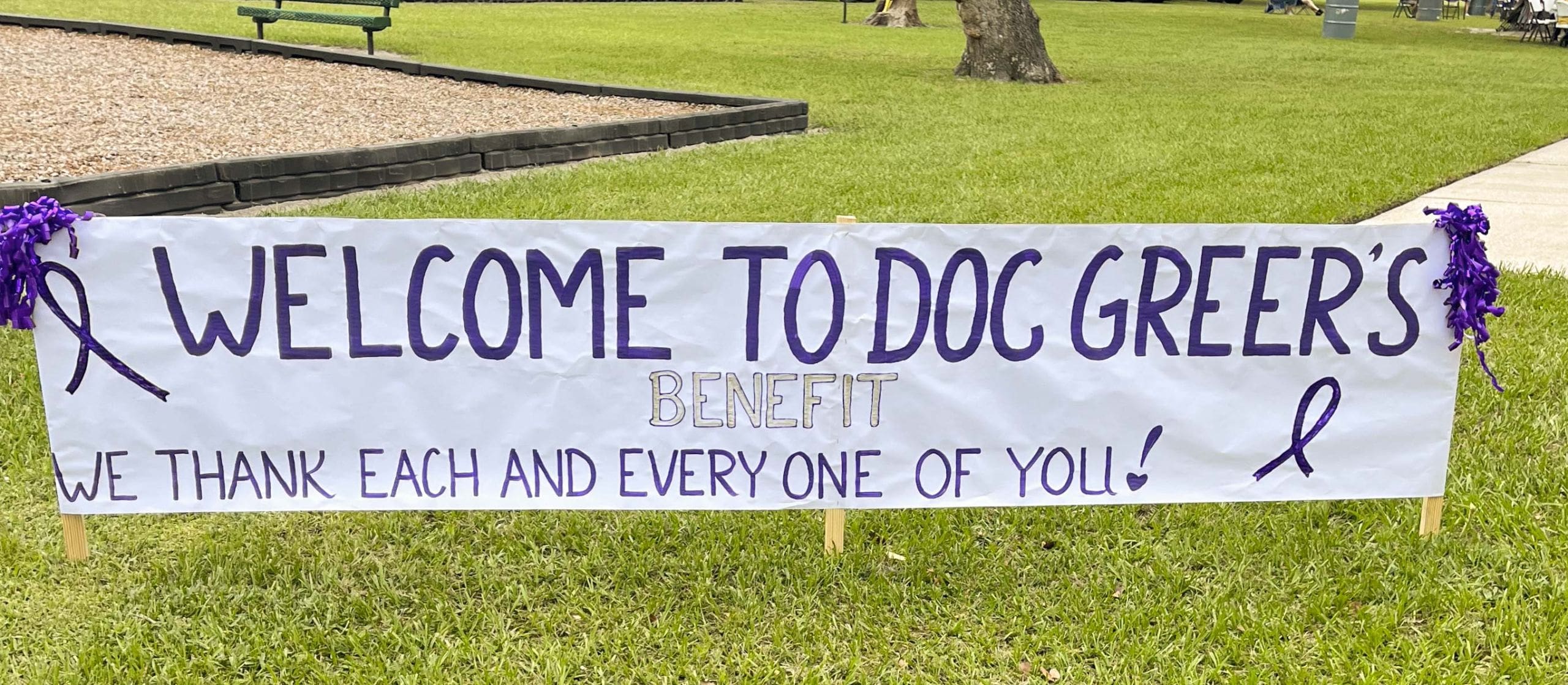 The fundraising event featured an array of food, including pre-sold BBQ sandwiches and chicken dinners, a hot dog stand, and a variety of donated goods. They held live auctions and raffles, with items donated from across Lake, Citrus and Volusia County.
Purple T-shirts and bracelets, the color symbolizing pancreatic cancer awareness, were sold with proceeds contributing to the cause. Additionally, local band Time Machine donated their time and talents, providing live entertainment.
"Seeing the community come together for Doc makes our hearts so full," Lisa expressed, highlighting the widespread affection for Greer within Umatilla. Jenny added, "It's about love and support, which is why we do what we do."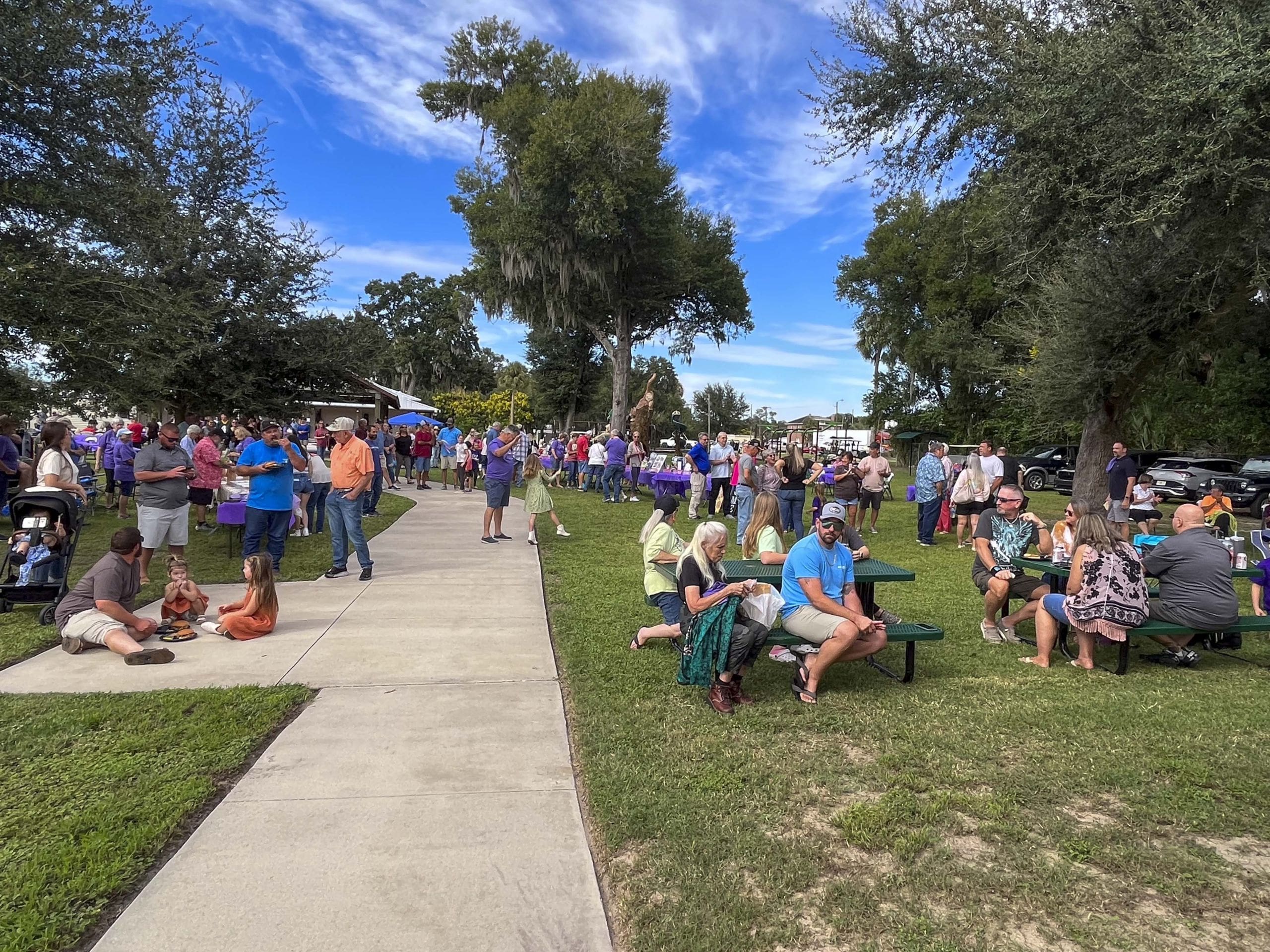 Richard, who could not believe the incredible amount of people who showed up, had this to say:
"Neither Claudia nor I got any sleep the night before the benefit! Claudia keep saying how undeserving we were and I kept telling her that no matter what happens at the benefit we need to give all the credit to The Lord!!
That day we were overjoyed with the news that our three daughters, their husbands, and all six grandchildren were going to be there – a family reunion; the likes of which will be celebrated in our hearts over and over again through the years!

Our first step outside that day- the gift of a magnificent fall days surrounded us and we knew it was a gift from God; not only to us, but the entire community!

Pulling into the parking lot almost a hour before it started found a parking place… and said another Praise to The Lord!! There were already cars everywhere!!
Walking toward the pavilion area, Claudia read the sign that declared 'We Love You' and we both started to cry!
I looked over at her and confirmed what she had said over and over (We don't deserve this). Looking in her eyes I told her, "You're right, we don't deserve this… but God sure does! Let's make it His benefit and give Him all the praise!!

Looking up at the beautiful sky, lined with white clouds, I raised my arm and pointed my hand toward heaven, "Let this be your day Lord! We give you all the praise and glory for all you've done!! Now let us shine out and shout out Your Praise all the day long!!"
We have no idea how much was given that day, and we are totally undeserving, but every dollar is a dollar we didn't have that can be used toward my medical expenses- which now total over 1 million dollars!!

In our wonderful, caring mini-town, God showed up in a mega- way!! Pouring His love and blessings on us all!! As for all our loving friends and neighbors…. words can never describe the depth of how much We Love Y'all!! Every day since we moved here, over thirty years ago, you have always been there for us; loving us, caring for us, blessing us – you have given us hope and joy overflowing again and again!!
Praying God blesses this community and each of you in mighty ways!!!"
Beyond the event, the support continues through established funding campaigns. Donations for Greer's ongoing needs can be made at any United Southern Bank branch under Richard Greer's benefit account or via electronic transfers. Online contributions can also be facilitated through platforms like GoFundMe.
For further information or to contribute, contact Lisa Neuman at 352-516-3013 or Jenny Bryan at ‭352-636-4893. ‬
Originally from the small town of Berryville, Arkansas, Cindy has become a multimedia specialist in journalism, photography, videography and video editing.
She has a B.S. in Communications from the University of Central Arkansas and is a correspondent for The Daily Commercial, LakeFront TV and Beacon College's PBS talk show, "A World of Difference," where she received an Anthem Award and Telly Award.
When she isn't working, Cindy spends time with her husband, Ryan, and son, David, traveling and taking photos of landscapes and wildlife.
Share This Story!