Congressional Candidate Laura Loomer to appear in Wildwood tonight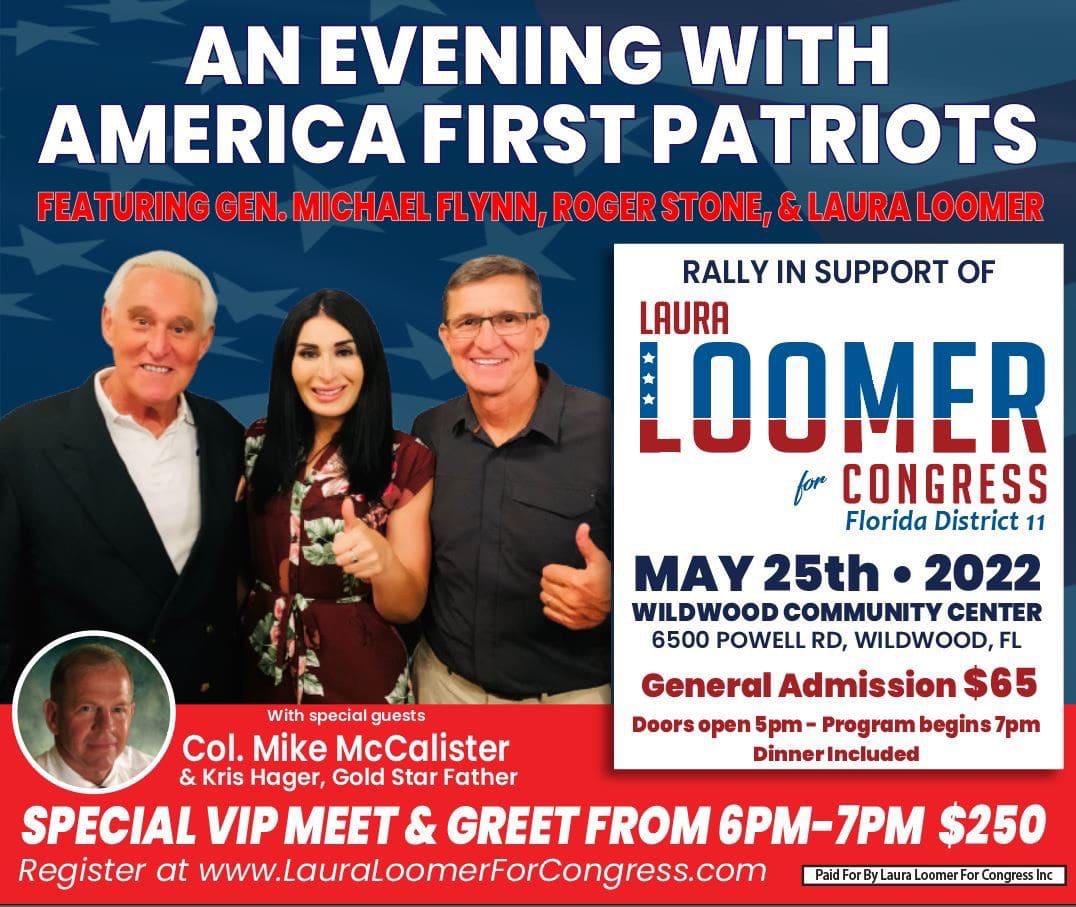 With Florida's primary election less than three months away, candidates are hitting the campaign trail to schmooze over voters.
One campaign event is happening tonight in Wildwood.
Laura Loomer, who is running against incumbent Dan Webster for Florida's 11thCongressional District to the U.S. House of Representatives, will speak tonight at the Wildwood Community Center. Doors open at 5 p.m. and the program begins at 7 p.m. Admission is $65.
Laura, an investigative journalist and America First activist, will appear alongside former Donald Trump advisors General Michael Flynn and Roger Stone.
On her website, Laura, 29, touts herself as a candidate who believes in "America First" values. Her policy initiatives include supporting veterans and police, ending vaccine and mask mandates, ending the tax on social security, and stopping big tech's suppression of free speech.
In 2020, Laura ran unsuccessfully against representative Lois Frankel in Florida's 21stdistrict. That district spans from Miami-Dade's suburbs to West Palm Beach.
Laura is known for her unique brand of journalism. She often conducts ambush interviews on live stream, which is known as getting "LOOMERED." Popular politicians she has confronted on camera include Hillary Clinton, Maxine Waters, Ilhan Omar, and Alexandria Ocasio Cortez.
Unseating Daniel Webster will be no easy task. Daniel, who was first elected in 2010, received 66.7 percent of the vote when he defeated Democratic challenger Dana Cottrell in 2020.
Florida's 11thCongressional District includes Citrus, Hernando, and Sumter counties and parts of Lake and Marion counties.
Akers Media Group's James Combs has been a staff writer for several local publications since August 2000. He has had the privilege of interviewing some of Lake County's many fascinating residents—from innovative business owners to heroic war veterans—and bringing their stories to life. A resident of Lake County since 1986, James recently embarked on a journey to lead a healthier lifestyle. He has lost 60 pounds and walks nearly five miles a day. In his spare time, he enjoys target shooting, skeet shooting and watching his beloved Kentucky Wildcats!
Share This Story!