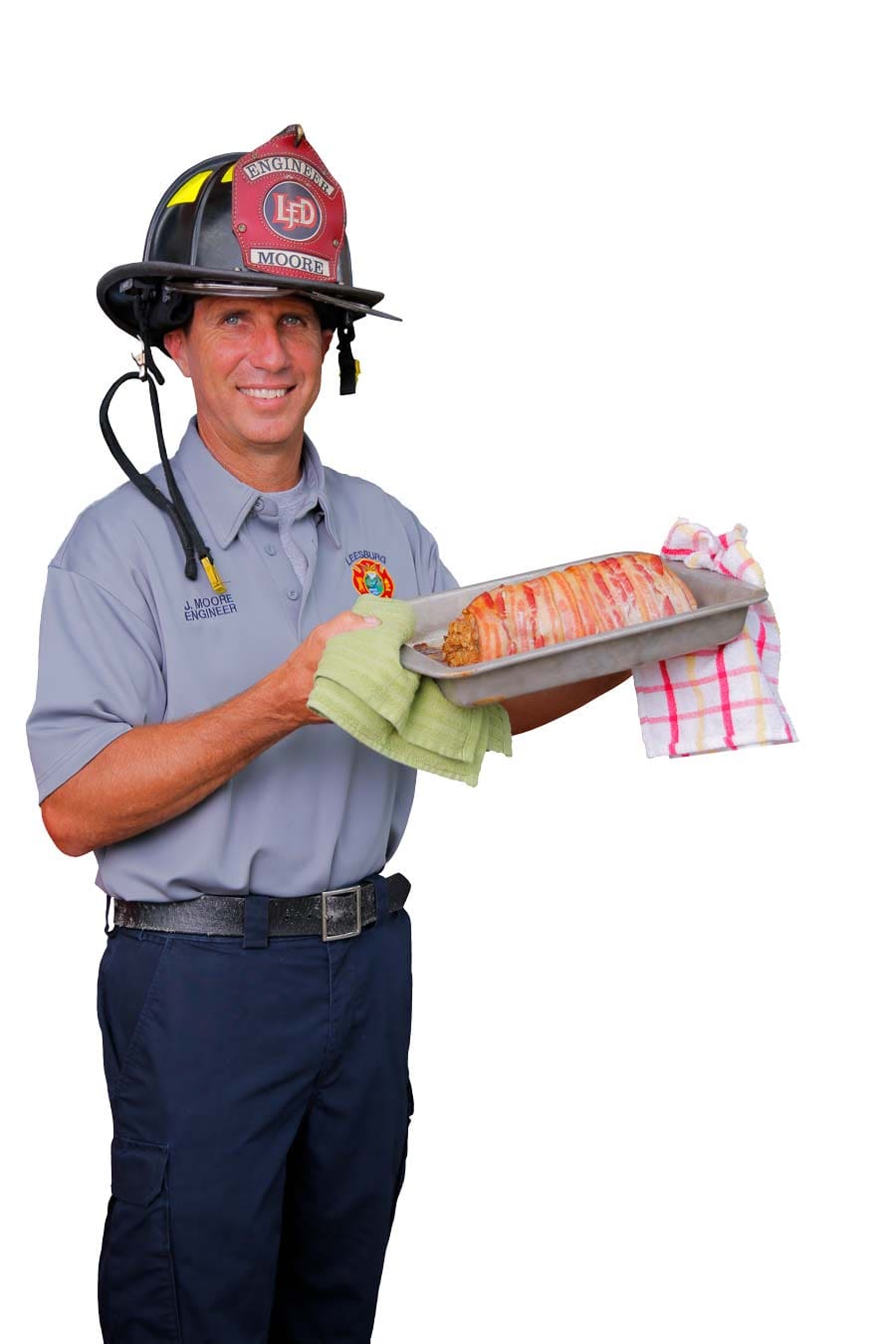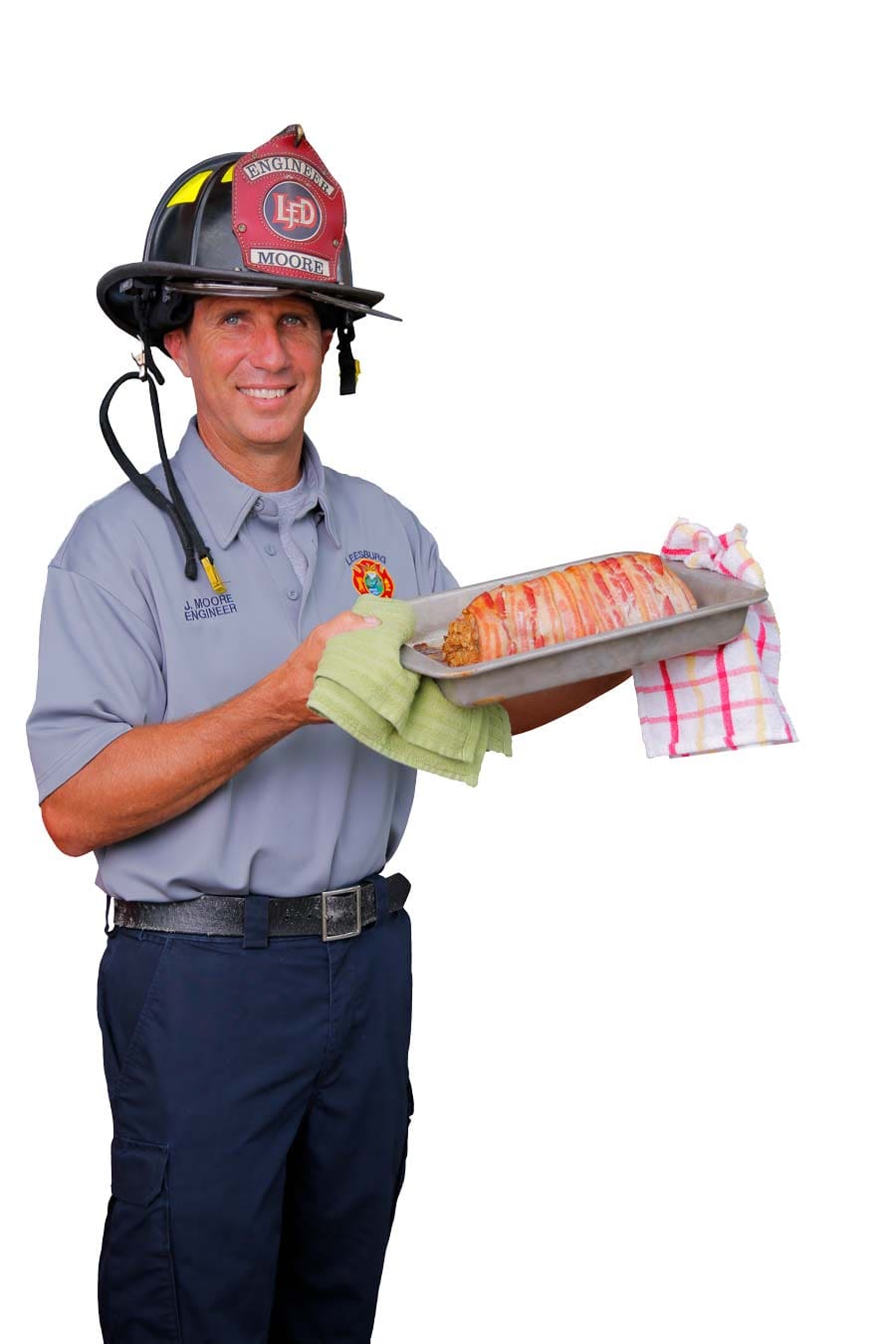 Firefighter Jeff Moore whips up comfort foods and award-winning chili and ribs.
Leesburg firefighter and EMT Jeff Moore enjoys cooking for his peers at Station 62, whipping up wings or tacos for friends at his home on Sunday nights, fixing spaghetti for his teenage sons, and checking with his mom on how to make the Southern comfort foods he craves.
"I'm not a chef, I'm a cook," says Jeff, who recently cooked 350 pounds of fish for the Leesburg Fish Fry, just as he has done for the past eight years. His kitchen is filled with trophies, plaques, and People's Choice awards he has won for his chili, ribs, pork, and brisket at the Chili Cook-Off and the BBQ, Brews and Blues food events.
"I like cooking because I like eating my food," Jeff says with a grin, yet he's quick to praise his favorite cook.
"I absolutely love my mom's cooking better than mine," says the younger of Gail Moore's two sons. "In the kitchen, I paid attention to what she did, and I'm always comparing my cooking to hers. I'll call her and say, 'How do I make this taste like yours? How do you get your
chicken crispy? How do you do this pork roast?' I'm asking her about food at least once a week. She gets a kick that I call her, and then she'll call me back later and ask how it turned out."
Jeff delights in making family recipes that have been passed down through the generations. He also loves the big food spreads that his mother makes for birthdays, family gatherings, and holidays.
"Mom will have the turkey and the ham, but she also has the fried chicken because turkey and ham are just kind of fillers that you have to cook because it's Thanksgiving and Christmas, so we have all of that with mashed potatoes, macaroni and cheese, peas, green bean casserole," he says. "She goes overboard."
Jeff also goes over the top when he prepares for food competitions.
"For the chili cook-off, I put everything together until it looks like chili, and then I put in spices until it tastes like chili," he says, often making chili with black beans, pork and ground beef, crushed tomatoes, tomato sauce, garlic, and pepper. "My chili is good, and it tastes like chili, and everybody wants something that tastes like chili. They don't want it too hot, and they don't want it too sweet. I got the perfect balance."
About two hours before judging, Jeff gathers a bunch of his friends for a taste test.
"We taste it and see if it needs more sweet or some more brown sugar, or heat with some little cayenne and chili powder. We just taste it to see where it needs to go and to perfect it," he says.
He has a good time interacting with the crowd at the food events.
"I really enjoy watching them get a sample. Then they'll walk about 10 feet, and I'll watch their face when they taste the food, and I like watching them shake their heads that it was good," Jeff says.
He savors his People's Choice victories the most, especially in knowing he created food that pleased the masses. "When you win judges' choice, you only please three people," he says.
"I want people to be honest in their judging; I don't want to win by a popularity contest. I want to have the best stuff out there," Jeff says. "I tell people to go around and taste everybody else's and come back and tell me what you think," he says, adding it's thrilling when they come back and say, "You have the best chili" or "Your pork is outstanding."
Spaghetti
"My boys' favorite." 
Ingredients:
1 pound ground beef
1 pound mild ground Italian sausage (or cut up link sausages)
2 cans Hunt's tomato sauce with garlic and herbs ("Don't buy high-dollar spaghetti sauce as a can of Hunt's only costs $1 and it is just as good once you spice it up.")
1 tablespoon garlic salt
1 teaspoon pepper
1 teaspoon salt
Directions:
Brown the meat and add Hunt's sauce and seasonings. Simmer 20 minutes and serve over thin spaghetti.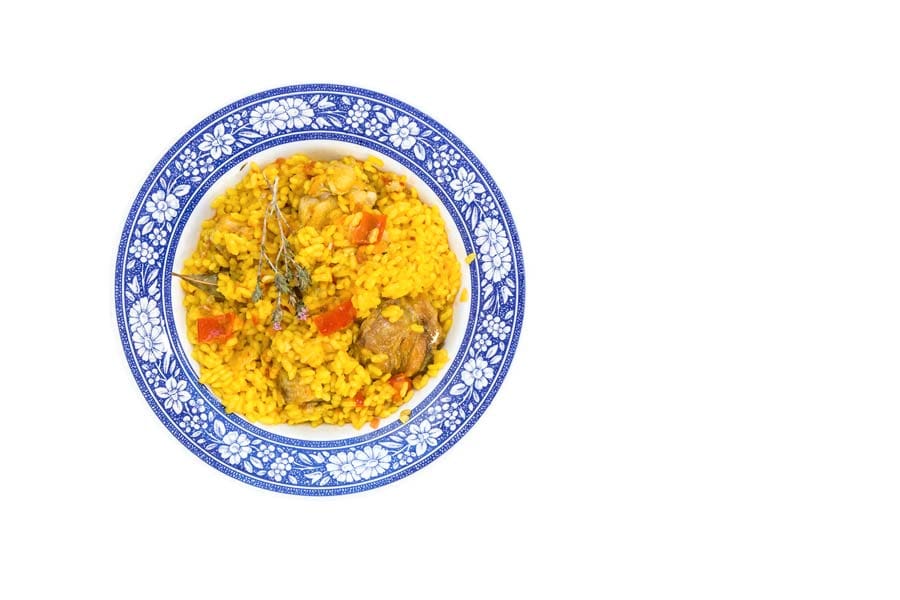 Chicken and rice
"It's cheap and easy, a favorite around the firehouse." 
Ingredients:
5 chicken quarters
1 tablespoon salt
1 tablespoon pepper
1 pound Vigo yellow rice
1 package smoke sausage
Directions:
Boil chicken for 1 ½ hours with salt and pepper, and in the last 30 minutes of cooking, add the smoke sausage.
(Often times go out for a call. Turn everything off and run medical call. Return to the station, heat everything back up.)
Remove chicken and sausage from pot. Using the stock from the chicken and sausage, follow the directions on the rice bag to cook the rice. Debone the chicken and cut up sausage and mix back into the cooked rice. Serve with Crystal Hot Sauce.
Run another medical call.
He plans to keep entering food competitions, and he encourages more contestants.
"All the chefs want more competition," he says. "We would rather have 30 people out there cooking than 11."
Jeff enjoys cooking for his peers at the firehouse, too, "unless we get somebody who wants to try something. I'll always step aside and let somebody do something."
Born in Alabama and raised in Leesburg, the firefighter has been working for Leesburg for 15 years. At age 30, he was inspired to go to fire school by his childhood best friend, Battalion Chief Jamey Ricketson, and Jeff completed his fire standards in 2000 at Lake Technical College.
"I love helping people," he says of working at Station 62, on Griffin Road across from Carver Middle School, which is noted as a busy firehouse with an average of 15 calls a day.
"We don't have an hour to sit in the kitchen, and we always get called out in the middle of dinner," he says, adding quick meals are a must.
"One of the favorites that we do is just a simple chicken and rice. We don't make a whole lot of money, so we got to have it quick, easy, and cheap," he says.
Other firehouse favorites are pork steaks or chicken on the grill, with some fresh green beans, and roasted potatoes.
Jeff savors tasting foods that he can try to duplicate and make at home or at the firehouse.
"I went to the Taste of Lake County that the chamber hosted and there were things that were really good, and I thought, 'I want to put my spin on that,'" he says. "Brookdale Assisted Living Facility did a shrimp and cheese grits and it had just the right spices. I don't know what all was in there, but I was trying to figure
it out, trying to decipher the spices. I could taste the cayenne, the pepper, and seafood seasoning. I like going around and tasting stuff and thinking, 'How can I do this better?'"
He loves making foods taste better for his friends and family, too.
"I have a little pond in my backyard, so I'll do Sunday nights at the lake with a group of friends and ask what they want for dinner, and everybody will bring something," he says, recalling he recently fried 130 wings with his "secret spices" for a group of 25.
The foods he craves the most are comfort foods, the meat-and-potato dishes, such as country fried steak with mashed potatoes and gravy. "All the unhealthy stuff," he says, grinning.
And like many men, Jeff loves grilling. His idea of a great meal is when he's grilling ribeye steaks at the outdoor kitchen he built with reclaimed wood and enjoying the tiki hut behind his home, which he calls the "Lake Triple J Bake Shack Bar and Grill." The triple "J" is for the first letter in his name and those of his boys, Justin, 17; and Jacob, 14.
"We don't eat out a lot; I usually cook at home quite a bit," Jeff says, adding the boys often want simple dishes, such as goulash, spaghetti, beef and noodles, fried pork chops, and country fried steaks.
Both sons are involved in sports. Justin swims and plays baseball, and Jacob plays baseball and is in a travel league with the recreation department in Leesburg.
"So, we are going a lot, and at the house on weekdays it's always something simple to fix and eat," Jeff says. "Spaghetti only takes a half-hour to throw together."
And if there's a question about how long to cook a dish, Jeff knows his mom is only a phone call away.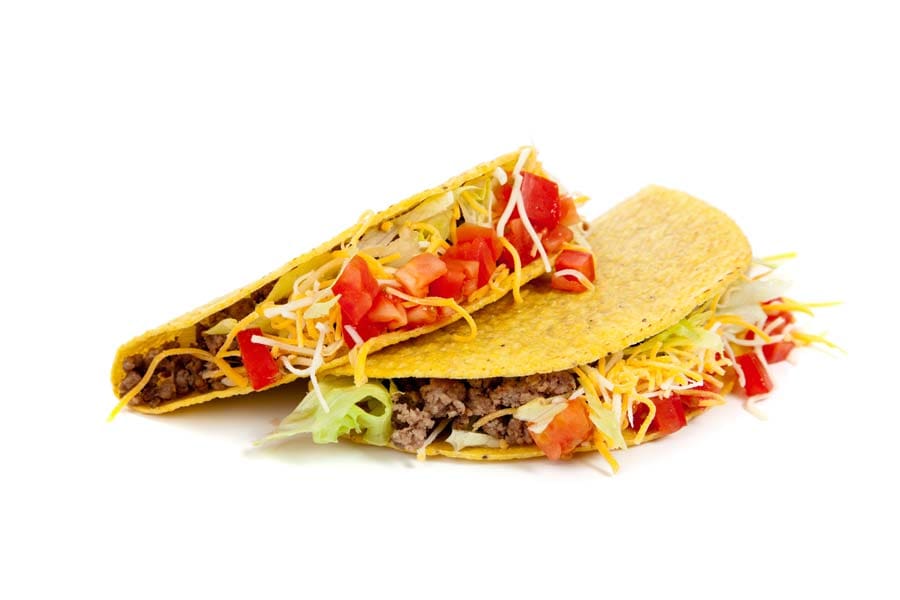 Tacos
"A favorite around the house and with friends." 
Ingredients: 
3 pounds Carne Picada meat (shredded beef chuck)
1/3 cup vinegar
½ cup soy sauce
4 cloves garlic, minced
2 limes, juiced
½ cup olive oil
1 teaspoon salt
1 teaspoon pepper
1 teaspoon white ground pepper
1 teaspoon chili powder
1 teaspoon oregano
1 teaspoon cumin
1 teaspoon paprika
Directions:
Mix the meat with all the above ingredients and marinate for 2 hours. Cook until done.
Fill flour tortillas with the meat mixture and top the filling with a mixture made from one chopped white onion, ½ cup chopped cilantro, and juice from one lime.
Top the tacos with salsa verde and shredded queso cheese.
Originally from Anderson, Ind., Theresa worked for The Herald-Bulletin for many years. After experiencing a winter with 53 inches of snow, her late husband asked her to get a job in Florida, and they headed south. Well known in the area, Theresa worked with The Daily Sun and The Daily Commercial prior to joining Akers.
Share This Story!