Cooking on the St. Johns River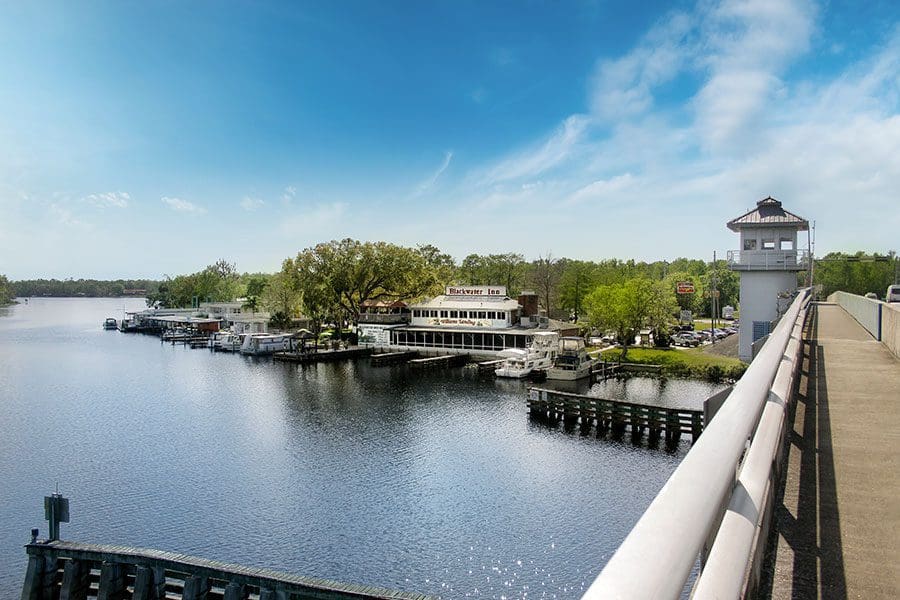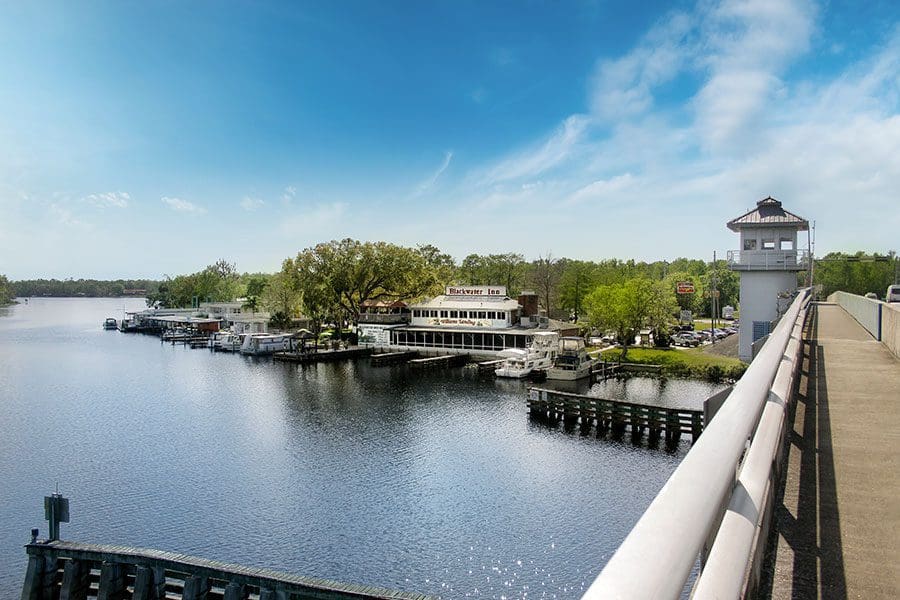 Prime rib and seafood dishes are chef Richard Coleman's specialties at Blackwater Inn. 

 A marquee at Blackwater Inn Restaurant & Lounge in Astor offers a welcoming invitation: "Come as you are—off the river, off the road—it's your choice."
And crowds do come to the eatery to savor tasty foods, drinks, and a picturesque view of the St. Johns River, where it's relaxing to watch boats slowly cruising by. Some vessels are filled with fishermen; others with people on sightseeing boat tours.
Fingerling catfish, lightly breaded in cornmeal and deep fried, is one of the most popular menu items at Blackwater Inn, along with alligator tails and frog legs from the St. Johns River.
"They could be swimming out here one day and on your table the next day," says Richard Coleman, Blackwater Inn chef and kitchen manager. "You can't get any fresher than that. We have a local supplier and all he does is catch fish out of the river, and we have a local trapper, Curtis Lucas, who has been supplying for us as long as I can remember. He does a great job."
Diners often compliment the view as they enjoy their meal, and Richard agrees it's special.
"You can't beat it. Anywhere you sit in our restaurant, you have a decent view of the river," he says.
The restaurant is open for the dinner crowd on weekdays (except Monday) and is busiest on weekends, when it is open for both lunch and dinner. However, the inn's second-floor restaurant, Williams Landing, offers casual dining daily for lunch and dinner (except Mondays) and features more of a sports bar theme.
"We have a lot of people who go down to Silver Glen Springs or Lake George to go fishing all day or Jet Skiing, and bass fishing. At end of the day, they come here," Richard says. "Even when the (University of Florida) Gators are playing in Gainesville, we have certain clients who go to an afternoon game and on their way back through, they stop here and have dinner."
The Florida Cracker Platter is a signature item of Blackwater Inn and comes with alligator tails, frog legs, and fingerling catfish.
"It's all local Florida cuisine," says owner Bill Nordle, who notes his favorite dishes that Richard prepares are lemon pepper scallops, prime rib, chicken marsala, and all of the restaurant's different soups.
"We do get compliments on our soup of the day," adds Richard, noting cream of mushroom is popular along with Cowboy Stew, "a cross from a chili and a stew" featuring ground beef with beans, typically pinto and kidney, along with corn, onions, peppers, stewed tomatoes, potatoes, and a variety of seasonings.
"I like to cook a good prime rib," the chef says of his favorite dish to prepare. "The secret is slow cooking—letting it season overnight and just taking your time with it. Prime rib isn't something to be rushed. Serve it with a nice au jus, and it's good to go."
Richard also notes the secret to preparing perfect scallops is not overcooking them.
"Put them in hot butter for few seconds on each side, depending on how thick the scallops are, and you're good to go, cooking them in a sauté pan on top of the stove," he says, adding his favorite to whip up are scallops with Cajun seasonings.
Holidays are the busiest times at Blackwater Inn, and the restaurant also draws crowds from The Villages and bikers in the area for motorcycle rallies.
"If there is something going on in Central Florida, we get something from it," Richard says, adding his kitchen crew is ready. "We've got a good staff and I can't say enough about them. They work hard and they care about what they do."
The best compliment, he says, is getting public feedback at unexpected times.
"I really appreciate when I am out and about on my day off and I'll have my Blackwater shirt on, and somebody will come up to me and say, 'Oh, we go there all the time. We love your food. We love to come out and sit by the river,'" he says. "It makes you feel good to hear the compliments."
Repeat business is always good, too.
"A lot of our customers we just know by name because they've been coming here for years," says Richard, who started working at Blackwater Inn as a dishwater in high school.
After he graduated in 1986 from Umatilla High School, he chose to stay at the restaurant where he worked his way up over the years.
"The more I worked here, the more I realized I had a knack for it," he says. "I had a lot of direction from Bill Nordle. He kind of steered me into what I am doing now. He was my mentor."
Managing the kitchen keeps Richard busy with everything from directing the staff, ordering food supplies, arranging work schedules, being responsible for inventory, to making sure the kitchen is clean.
"There are times when I have to cook on line, and times when I have to wash dishes," Richard says. "I do whatever needs to be done. I wear a lot of hats, as they say. I have always told my staff just because you're hired to work a certain position, be prepared to work any position. Don't ever forget where you came from." 
---
Pineapple salsa
Ingredients
1 cup pineapple, chopped
1/2 cup chopped green peppers
1/2 cup chopped red bell peppers
1 cup corn
1 can (15 ounces) black beans, rinsed and drained
1/4 cup chopped red onion
1/4 cup orange juice
1/4 cup chopped cilantro 
1/8 cup chopped jalapeños (seeds removed)
1/2 teaspoon ground cumin
Pepper and salt to taste
Directions
Mix ingredients together. This sweet and savory salsa is ideal as a dip for chips or topping tacos or grilled meats. 
---
Lobster bisque
Ingredients
3 tablespoons butter
1/4 cup chopped mushrooms
2 1/2 tablespoons chopped onion
2 1/2 tablespoons chopped celery
2 tablespoons chopped carrot
15 oz. chicken broth
1 1/2 cups half-and-half
1/2 cup dry white whine
1/2 pound cooked lobster meat
Salt and cayenne pepper to taste
Directions
Melt the butter. Add vegetables. Cook and stir until tender. Add chicken broth and bring to a boil. Then simmer for about 10 minutes. Pour this into a blender and 1/4 cup of the lobster and process until smooth. Put back into saucepan and stir in the half-and-half, wine, and remaining lobster meat. Cook over low heat until thickened. 
---
Chef Chat
Favorite cook:
"My mother, 84, is probably the best cook I know. Mom would make some of the best fried chicken around, and her lasagna couldn't be beat. Mom liked to bake. She was always baking something wonderful when we (four kids) were growing up. The house always smelled good." 
Favorite workday:
"I enjoy a nice smooth day where everything comes out like it's supposed to do, and the customers are happy." 
Favorite meals at home:
"Truth be told, my wife Deanna and I go out a fair amount. After cooking all day, it's not something I really want to do."
People would be surprised:
"If they saw me at a sushi bar. I don't do sushi."
Originally from Anderson, Ind., Theresa worked for The Herald-Bulletin for many years. After experiencing a winter with 53 inches of snow, her late husband asked her to get a job in Florida, and they headed south. Well known in the area, Theresa worked with The Daily Sun and The Daily Commercial prior to joining Akers.
Share This Story!