Cool, refreshing, nutritious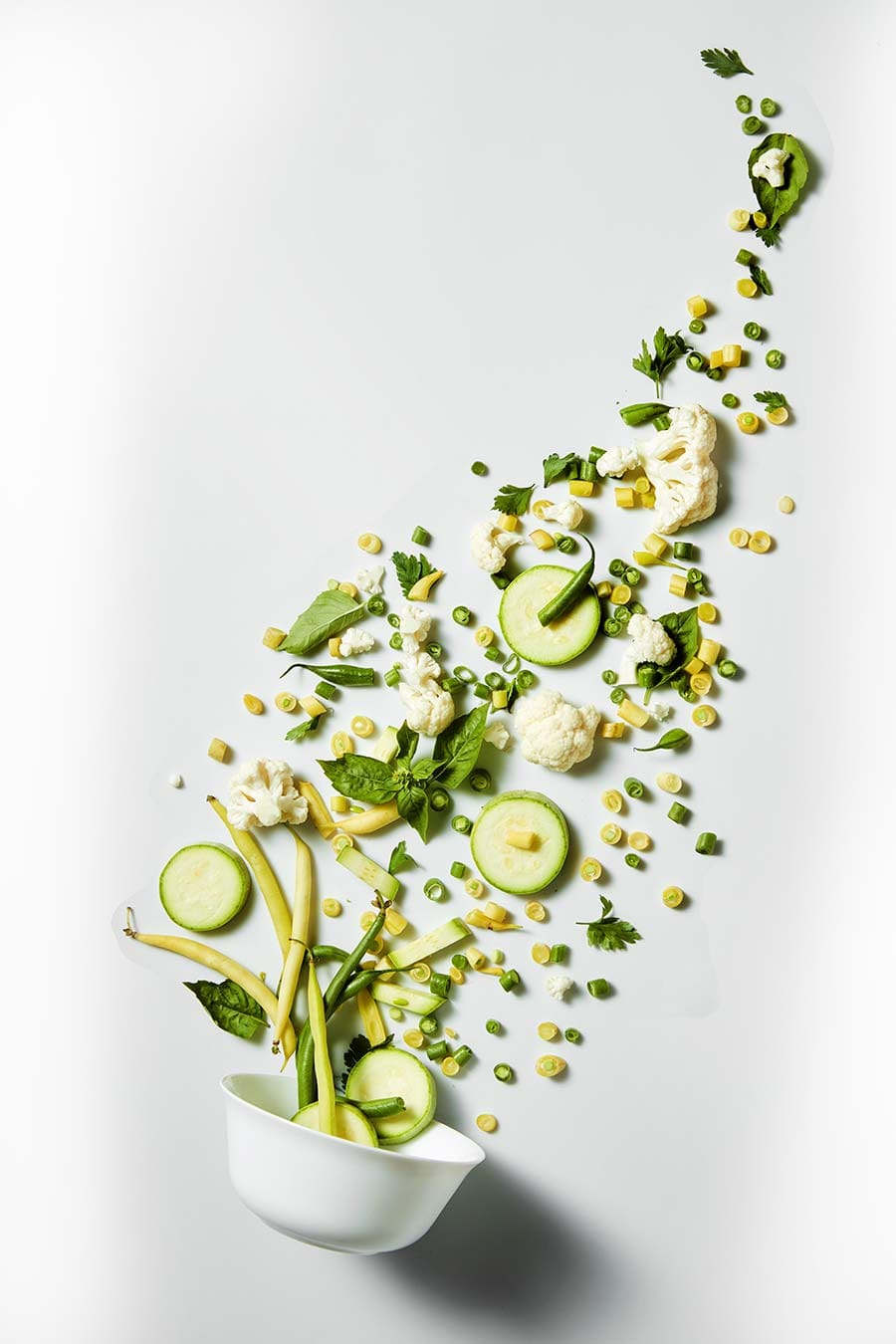 Extension agent Mia Wilchcombe turns salad greens into main summer dishes.
Mia Wilchcombe's job as an extension agent at the University of Florida Institute of Food and Agricultural Sciences Lake County Extension allows her to teach classes on nutrition, chronic disease and prevention, and family resource management. 
"I enjoy nutrition the most and teaching others about their health and well-being," says the 28-year-old mother, who often hears from other young parents asking how to get their kids to eat vegetables. 
Mia's 3-year-old daughter, Mackenzie, eats broccoli and avocado, but she picks at lettuce. "I found if I make smoothies and put spinach in the smoothies with strawberries and ice, it'll blend up to the red color, and that is kind of how I trick her to drink her vegetables."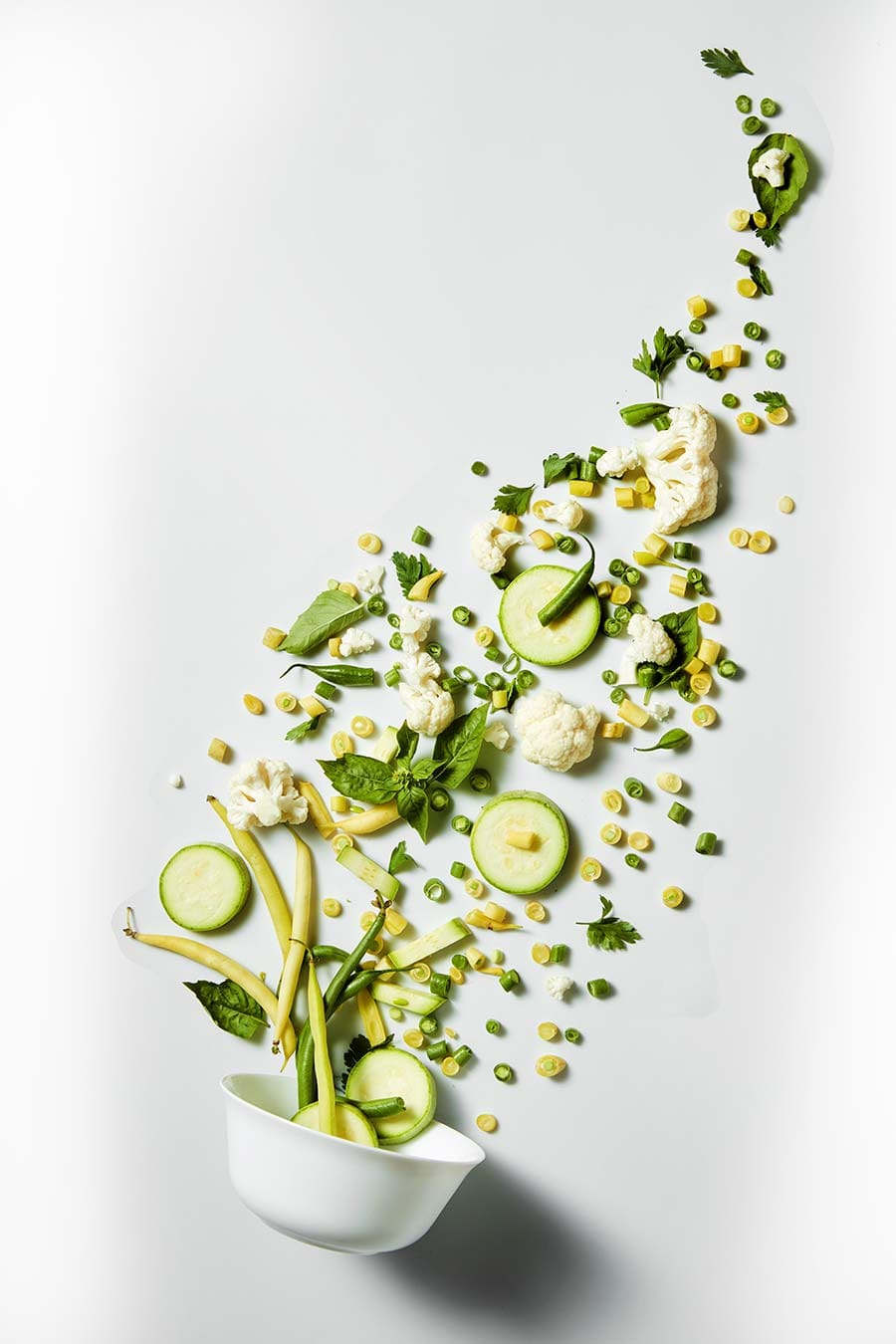 Hiding peas or other smashed-up veggies in some spaghetti sauce is another way she advises to get children to eat vegetables. "Most kids won't detect it," she says.
Mia has been fascinated for years by the vital role nutrition plays in overall good health. 
"I was actually a premed student and felt it would be great to know about the nutritional aspects of everything, because it can be very preventative for a lot of different diseases," says Mia, who graduated from the University of Florida with a bachelor's degree in food science and nutrition, with concentration on nutritional science. She went to the University of South Florida for her master's in biomedical sciences. 
However, once she got a taste of upper-level medical classes, she noticed the focus was more on treating certain diseases rather than understanding the patient as a whole. 
She wanted to make more of an impact in helping people, so Mia began working as a nutrition educator for the Women, Infants, and Children (WIC) program for the Florida Department of Health in Lake County, which led to her current job of the past two years as a county extension agent. Mia teaches many public and private classes throughout the year at the extension office in Tavares, libraries, and other sites throughout the county. She led a Steps to Good Health for Teens program in June in Groveland, where she highlighted nutrition-rich foods, along with healthy drinks that can be made in the blender to enjoy while exercising. 
"I love the choosemyplate.gov concept," she says of a wholesome, healthy diet, where half of the plate is filled with fruits and vegetables, and in the summer, Mia notes salads are a super-convenient way to eat light and healthy, and work in more servings of vegetables and fruit. 
Slender and fit, Mia strives to practice what she preaches regarding eating healthy and fitting physical activity into her daily lifestyle. She joins many other nutrition educators who encourage people to savor the health benefits of vegetables and fruits (especially dark green and orange vegetables) and legumes—those popular salad ingredients—in their diets. 
Eating a salad before a meal has health benefits. Since salad greens tossed with other raw veggies and fruits are high in fiber and rich in other nutrients, a salad can aid in feeling full and eating less of the remaining meal, ultimately helping in weight loss. 
WebMD also notes evidence that nutrient-rich plant foods contribute to overall health, and those who frequently eat salad greens with raw vegetables have higher blood levels of powerful antioxidants (vitamin C and E, folic acid, lycopene, and alpha- and beta-carotene).
Researchers attribute the consumption of fruits and vegetables towards lowering the risk of many diseases, including cancer. A study from the National Cancer Institute suggests a diet rich in fruits and vegetables lowers a person's risk of developing cancers of the head and neck, even for people who smoke and drink heavily. 
Foods found to be particularly protective include beans, peas, string beans, peppers, tomatoes, carrots, apples, nectarines, peaches, plums, pears, and strawberries.
Mia preps many healthy meals in advance, and she enjoys eating a variety of salads and produce that is in season.
"It's the freshest, the best, and cheapest," she says of enjoying the seasonal fruits and vegetables. Mia encourages residents to always look for the "Fresh from Florida" logo on fruits and vegetables in season at grocery stores. 
For July, she says the produce that will be in season includes avocados, star fruit, guava, mango, mushrooms, passion fruit, peanuts, and watermelon. 
Mia says summer salads can be turned into more wholesome meals. 
"Fruits and veggies are great, but sometimes they don't get you as full as you would like," she says. "So, incorporate some protein. Some cheaper proteins are canned beans, or you can go with some leaner protein of chicken or fish to top it off."
Here are her suggestions of ingredients: 
Turning salads into a main meal
Choose salad greens: romaine, red leaf, green leaf, spinach, spring mix, iceberg, cabbage, arugula, dandelion greens, or baby beet greens.
Add vegetables/fruits: broccoli, carrots, beets, olives, corn, celery, avocado, tomatoes, cucumber, onion, sprouts, peas, bell pepper, cauliflower, radishes, pineapple, apples, pears, mangoes, strawberries, dried cranberries, oranges, grapes, raisins.
Add a protein source of cheese or another protein-rich option: mozzarella, feta, Parmesan, blue cheddar, cottage choose, kidney beans, black beans, pinto beans garbanzo beans, almonds, pecans, walnuts, cashews, pine nuts, chicken or turkey, beef or pork, tuna or salmon, sunflower seeds, pumpkin seeds, hard-boiled eggs.
Add some crunch: croutons, seeds, nuts, crumbled tortilla chips, pepperoncini, small crackers. 
Mia advises to be cautious of bottled salad dressings that can add a lot of calories to your salad. "You definitely want to watch that," she says. "If you go to the grocery store, look on the nutrition label and make sure the dressing has wholesome ingredients, and that it is low in sugar, sodium, fat, and low in calories." 
Dressing can be made at home, too, she says, such as using olive oil, flavored vinegar, or fresh squeezed lemon or lime. 
"My personal favorite is super-easy, and it takes less than one minute to make," she says. "I mix 2 to 3 tablespoons balsamic vinegar with 1 tablespoon Dijon mustard, and it's a tangy dressing that I put over my salads." 
"July is watermelon season, and I found a watermelon and spinach salad recipe in our 'Simply Florida: A Taste of Flavors from the Sunshine State' cookbook that was created by all the UF/IFAS agents in Florida," she says, adding the cookbook is filled with extension agents' favorite dishes. The book is available through ifasbooks.ifas.ufl.edu/p-436-simply-
florida-a-taste-of-flavors-from-the-sunshine-state.aspx
Very berry fruit salad
Ingredients:
2 cups chopped fresh strawberries
1½ cups raspberries, sliced in half 
1 cup fresh blueberries
1 tablespoon fresh lime zest
1 tablespoon lime juice
3 tablespoons jam/preserves (Wild blueberry jam or any preserves) 
Directions:
Place all ingredients in large bowl and gently stir. Let sit for at least 15 minutes before serving. Can be served with cinnamon tortilla crisps, flatbread, or chips. 
Source: findingzest.com/very-berry-fruit-salsa/easy-berry-fruit-salsa-recipe/
Cranberry walnut coleslaw
Ingredients:
1 (1-pound) head cabbage
3 medium carrots
1 cup walnuts
1/3 cup cider vinegar
¼ cup canola oil
1 tablespoon sugar
1 teaspoon celery seed
¼ teaspoon salt
1 cup dried cranberries
Directions:
Rinse cabbage and carrots. Thinly slice cabbage. Peel and grate carrots. Chop walnuts. In a large bowl, use a fork to whisk together vinegar, oil, sugar, celery seed, and salt. Add cabbage, carrots walnuts, and cranberries. Toss to mix well. This coleslaw keeps well for up to 1 day.
Source: UF/IAF Family Nutrition Program uffnp.org/wordpress1/2016/07/21/recipe-of-the-month-cranberry-walnut-coleslaw/
Watermelon and spinach salad
Ingredients:
6 cups torn fresh spinach
3 cups cubed seedless watermelon
1 cup sliced fresh mushrooms
1 slice turkey bacon crisp-cooked and crumbled
Best paired with balsamic vinaigrette. 
Source: "Simply Florida: A Taste of Flavors from the Sunshine State"
Classic French vinaigrette
3-4 parts oil
1 part acid: vinegar and citrus
Salt and pepper to taste
Whisk together vinegar and any additional seasonings or flavorings. Add in olive oil and whisk or shake in a small jar with lid.
Classes with Mia
10am Aug. 18 – Lake County Extension Center, 1951 Woodlea Road, Tavares
"UF Roots UP Series: Fruit of the Vine" 
Join Mia and Dr. Juanita Popenoe as they discuss the fruits of the vine. Learn how to grow and harvest, and the health benefits associated with hops and grapes.
10am Sept. 10 – Cooper Memorial Library, 2525 Oakley Seaver Drive, Clermont 
"Florida Fall Flavors" 
Mia will share ways to incorporate Florida fall flavors at meal time. This class will discuss nutritional content of the foods, where to purchase them locally, and how to make them part of a healthy diet. 
Originally from Anderson, Ind., Theresa worked for The Herald-Bulletin for many years. After experiencing a winter with 53 inches of snow, her late husband asked her to get a job in Florida, and they headed south. Well known in the area, Theresa worked with The Daily Sun and The Daily Commercial prior to joining Akers.
Share This Story!