Could U.S. Hwy. 27 be renamed President Donald J. Trump Highway?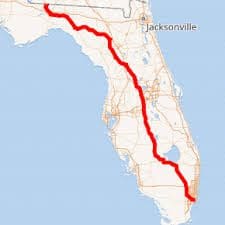 Though Donald Trump's presidency ended on Wednesday, one state lawmaker hopes to pay a lasting tribute by naming one of Florida's longest highways after Trump.
Florida Rep. Anthony Sabatini plans to introduce legislation that would rename U.S. Hwy. 27 as the "President Donald J. Trump Highway."
"I believe one of our great presidents and the first Floridian president needs to be honored," Sabatini said during a phone interview with Style Magazine on Wednesday. "U.S. Hwy. 27 is perfect because it's one of the most historic and longest highways in Florida."
The highway runs from Tallahassee to Miami, and In Lake County, it stretches from The Villages to Clermont.
"What I like about it is that the highway goes through my district, which is the top of Lake County to the bottom of Lake County," Sabatini says. "And it really straddles the heartland of Florida, just like Donald Trump represented the heartland of our country better than any president in a long time."
He says most of his constituents have embraced the idea.
"Some would rather have an interstate named after Trump, but I think U.S. Hwy. 27 is more appropriate," Sabatini says.
Akers Media Group's James Combs has been a staff writer for several local publications since August 2000. He has had the privilege of interviewing some of Lake County's many fascinating residents—from innovative business owners to heroic war veterans—and bringing their stories to life. A resident of Lake County since 1986, James recently embarked on a journey to lead a healthier lifestyle. He has lost 60 pounds and walks nearly five miles a day. In his spare time, he enjoys target shooting, skeet shooting and watching his beloved Kentucky Wildcats!
Share This Story!