Dancing with heart and soul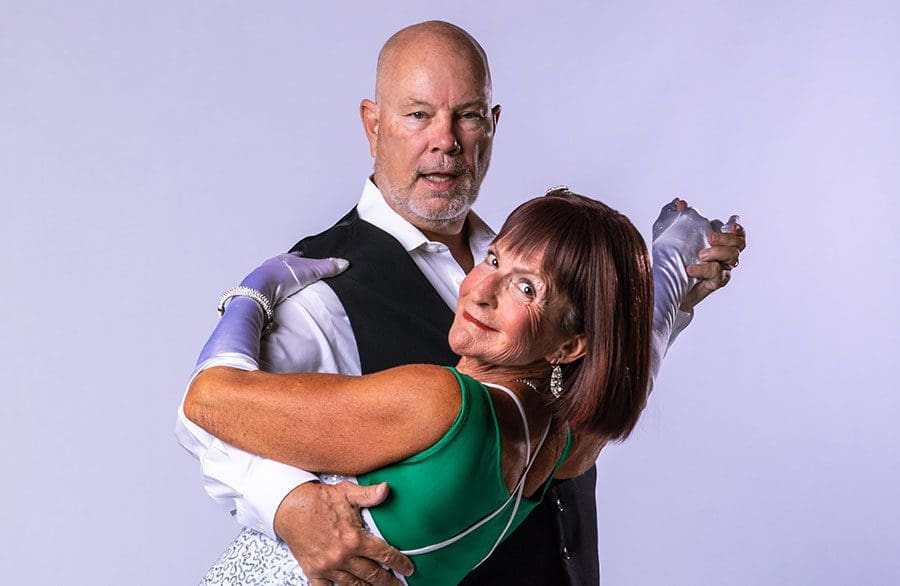 Villagers Mark and Susan O'Brien delight in making social dancing more fun, enjoyable and attainable for couples.
Photos: Volkan Ulgen
Professional dance performers and instructors, Villagers Mark and Susan O'Brien captivate audiences with their beautiful dancing, lifts in the air, and their love for dancing the tango, a sensual ballroom dance that originated in Buenos Aires, Argentina, in the early twentieth century.
"When we were in Argentina, we were working a cruise," Susan recalls of their favorite trip before the coronavirus pandemic broke out. "It was special because we got to tango in the streets of Argentina, and that was on my bucket list." 
The O'Briens also have been fulfilling the bucket list wishes of many of their Villages neighbors by teaching social dancing in easy, simple, and fun step patterns to a variety of rhythms and music. 
"The reason most people really enjoy our classes is that you're not in competition and I'm not going to tell you your hold is all wrong. It doesn't matter," says Susan, who notes she and her husband are giving social dancing a facelift. 
"At this age, we're working with bad knees, bad backs, and those who find it hard to memorize. We are working with what they're capable of doing. We will teach you basics, we'll even adapt and cheat on steps," she says, adding many women are delighted to learn steps with their partner. "Who doesn't love a guy who can dance?"
The O'Briens will lead eight weeks of social dance classes for couples starting Oct. 6 at The Villages Enrichment Academy, a continuing-education program of extra-curricular courses for residents and nonresidents of The Villages.
Social dancing is one of more popular courses at the academy, where participants may learn basic steps of swing, cha cha, foxtrot, waltz, rumba, tango, and more.
"We try to keep our beginning dances very simple, so after you do four basic steps in the waltz, the turn comes in. For rumba, the four basic steps, and a turn," says Mark, a retired machinist who believes by being older and a little heavier, he makes it more relatable for men to feel comfortable to dance. 
"Mark is an excellent dancer," says Susan, recalling the first time she danced with him over two decades ago. She says she immediately noticed "he had the music in him, he had the rhythm." 
Susan began dancing at age 3 and was one of the youngest ballet dancers at the Morgan Dance Company in Chicago when she was 8. After performing in theaters as a professional, she earned her bachelor's degree with dance concentration and later a master's degree in dance from the University of Michigan. She is proficient in ballet, tap, ballroom, Hawaiian, Tahitian, Irish, folk, African, Flamenco modern, and lyrical dance. Susan also has a master's degree in behavioral psychology and worked as a behaviorist for several systems.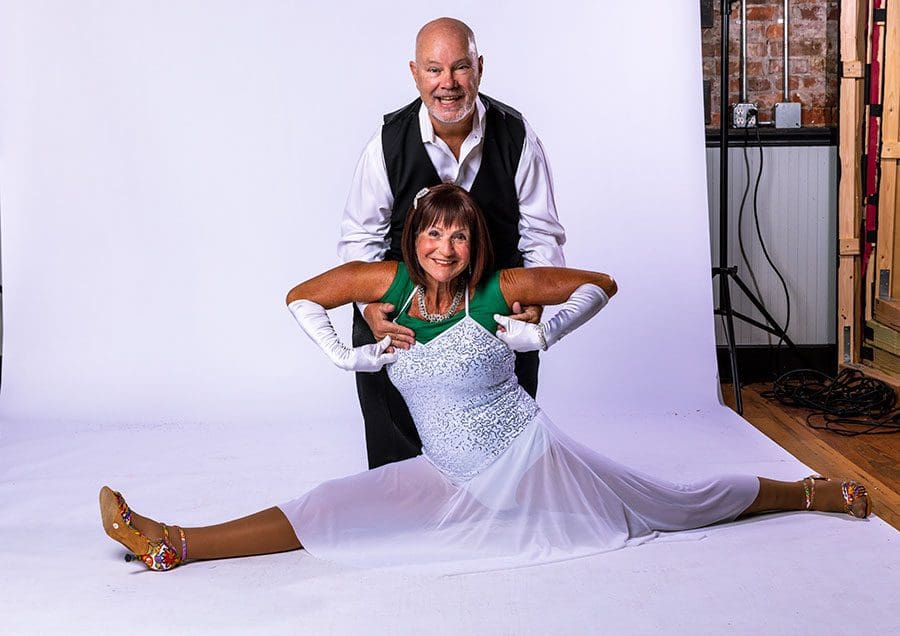 After Susan and Mark got together, he asked for lessons on dance techniques and ballroom dance. He learned quickly and for 20 years, the O'Briens have danced all over the world, mostly teaching and performing on cruise ships, which they hope to resume in 2022. 
"Without him, I could not do the things that I do. I need him as my base when he lifts me, and when he drags me," Susan says of the shows they do. "A lot of women ask me: 'Is Mark your husband or just your dance partner?' I say I'm lucky I got both in one!" 
Some of the O'Briens' students on cruise ships have been passengers afflicted with multiple sclerosis and Parkinson's disease, and they've taught couples a wedding dance in just four to five lessons. 
They've been invited to give mini rumba lessons at different 55-plus communities in the area outside of The Villages, and in all their classes, the O'Briens encourage students to have fun and enjoy social dancing, which they regard more as "jam dancing."
"Just like musicians jam, just get out there and jam and then you learn to be your own choreographer, because we won't be with you forever," says Susan, who believes dancing is most beautiful when the music is meaningful. 
"I don't dance with my feet, I dance with my heart and soul," says Susan. "You can see the difference of the people who dance with their feet and dance with their soul. I walk like a ballet dancer, and Mark looks like average Joe, and yet he's got it."
"The music is the motivation," Mark says of when he feels the most comfortable to get up and dance, and he believes social dancing is a delightful activity couples can enjoy together. "It just gives a different dimension to a relationship." 
To learn more about the social dance classes taught by the O'Briens, visit theenrichmentacademy.org.  
Originally from Anderson, Ind., Theresa worked for The Herald-Bulletin for many years. After experiencing a winter with 53 inches of snow, her late husband asked her to get a job in Florida, and they headed south. Well known in the area, Theresa worked with The Daily Sun and The Daily Commercial prior to joining Akers.
Share This Story!