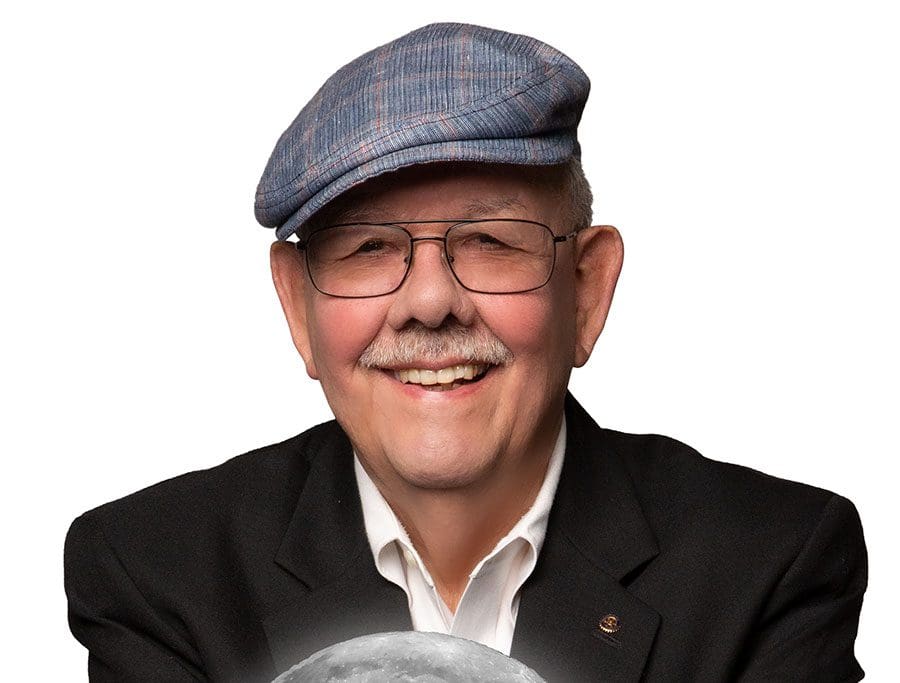 Dave van de Velde knows how to think outside the box… and world.
This month, Leesburg is going to space. 
It's all because of 81-year-old Dave van de Velde, a man who proves there is no cap on what the human mind can imagine. 
Dave, a resident of The Villages and founder of the successful companies Van Gogh Vodka and Ketel One Vodka, tapped into that imagination in 2020 while operating Pledge Against Bullying, a program he founded at Leesburg High School several years ago. Through the program, students put buttons and stickers on their backpacks that read, "I Pledge Not to Bully."
However, when the coronavirus pandemic struck, schools were closed and classrooms became empty. He needed a new avenue to effectively reach students. Dave found inspiration in a galaxy far, far away known as outer space. 
He reached out to students from all public schools in Leesburg to create a virtual City of Leesburg on the Moon. Students have designed computerized images of buildings and streets and parks, written essays, and provided photographs of their loved ones. The content they created has been stored on a micro-SD card with 2 million bytes. 
Dave has arranged for that micro-SD card to be placed aboard a rocket that will launch into space from Spaceport America in New Mexico on Nov.9 before returning to Earth. In February 2022, the chip will be placed inside a space canister and placed aboard a rocket leaving Cape Canaveral. After the rocket reaches the moon, a landing capsule will permanently place the canister on the moon. 
"I always felt I had a big imagination," Dave says. "My slogan in life has always been to find a hole and fill it. I fill that hole with a solution. My solution to continue engaging students after the coronavirus was getting them involved with learning about space. Helping them learn about space is very important because it's the only frontier unknown to us."
This isn't the first time Leesburg is being represented at faraway locations. In recent years, Dave has arranged for crews to take Leesburg High School's flag to beaches in Normandy and the South Pole. In addition, the flag has flown atop Mount Everest and draped the gravestone of famous explorer Ernest Shackleton. 
"Leesburg has been to Mount Everest and now the moon," Dave says. "There isn't a town in the U.S. that has been to both places. When Leesburg residents wake up every morning and see the moon, they can say we are there. That's very exciting."
Akers Media Group's James Combs has been a staff writer for several local publications since August 2000. He has had the privilege of interviewing some of Lake County's many fascinating residents—from innovative business owners to heroic war veterans—and bringing their stories to life. A resident of Lake County since 1986, James recently embarked on a journey to lead a healthier lifestyle. He has lost 60 pounds and walks nearly five miles a day. In his spare time, he enjoys target shooting, skeet shooting and watching his beloved Kentucky Wildcats!
Share This Story!