Defensive Player Of The Week Sophomore Blake Banks MDCA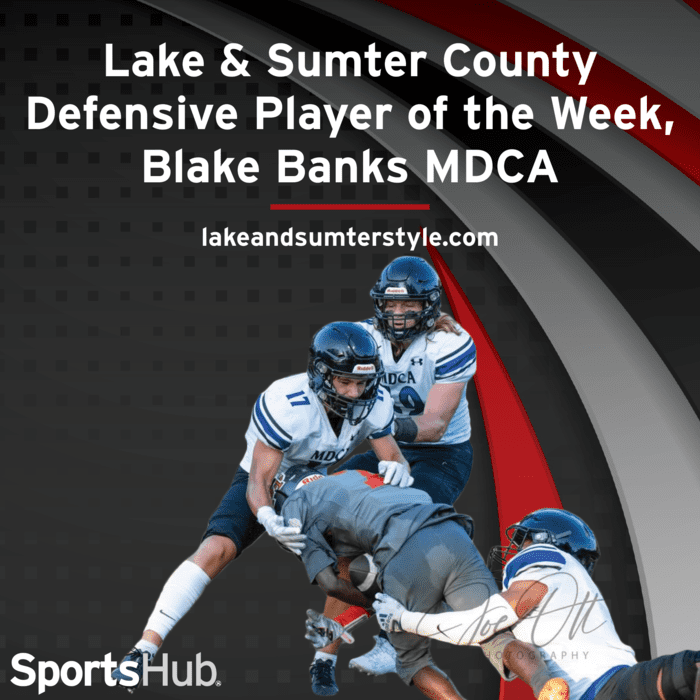 Our Defensive Player Of The Week Blake Banks MDCA
Blake Banks who plays for Mount Dora Christian Academy is our defensive player of the week. Banks has had a tremendous start to the 2023 season on defense for MDCA. Banks is just a sophomore but is already emerging as a leader on the team. He and senior #19 Connor Calfy have led the team in tackles this season.
Blake Banks has 24 total tackles this season and had the best game of his career this past week against Duval Charter. Banks made a handful of important tackles including a big interception that helped MDCA blow past Duval Charter with at 37-6 win.
MDCA could actually be 4-0 at this point. The Bulldogs lost to Mount Dora High 13-7 in the first game of the year and then lost a close one to P.K. Yonge 22-20. Other victories include Orangewood Christian 22-0 and Duval Charter 37-6. So the team is playing good and the overall and coach Tackett has the boys right where they need to be to contend for another state championship run in 2023.
There are plenty of players we could pick for defensive player of the week but we are picking Blake Banks due to his heart and the way he composes himself on the football field. This kid is always helping people up off the ground after plays, he is rooted in faith and he has a great career in front of him at MDCA.
While Blake Banks is our Defensive Player of the week we have to give a shout out to senior Connor Calfy who is having himself the best season of his career. Banks brings a ton of heart to the team but so does Calfy who brings that senior leadership to the defense. Calfy is a three-sport athlete and competes in Football, Soccer and Weightlifting. Between these two players, they are the backbone of the defense for MDCA.
Other Notable Defensive Stars in Week 4
Eustis
#6 Zsacari Minnis 8 tackles, 3 solo, 1 TFL
#12 Nick Chandler 8 Tackles, 3 solo, 1 TFL
The Villages
Maleek Williams
Jonathan Harding
Leesburg High
Aden Hall
Kyle Coppola was born in Newton, Massachusetts and received his Bachelor of Fine Arts in Communications from Curry College in 2016. After traveling to Florida on a family vacation, he decided he could not get enough of the warm weather and made the move from snowy Massachusetts to central Florida 8 years ago.
For the last decade Kyle has gained valuable experience in social media content creation, marketing and sales, writing, video production, sports announcing and even broadcasting for local radio stations, such as FM 102.9 in The Villages and FM 91.5 in Massachusetts. Every year he volunteers at The Villages Charter High School as a play-by-play sports announcer for the football games as well as a public address announcer for the basketball games, including the annual Battle at The Villages Tournament.
Outside the office Kyle is a husband and father to two beautiful girls along with their cat. In his spare time he likes to spend time with his family, travel, play golf and swim. He is also a huge sports junkie and even bigger motorsports fan and loves to attend racing events when he can.
Share This Story!