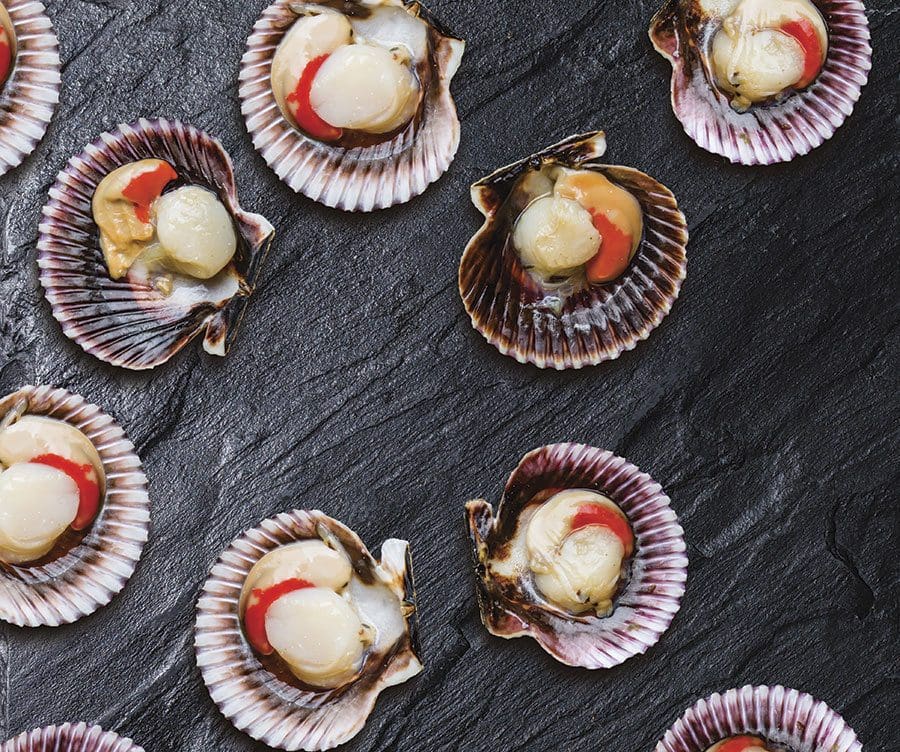 Delectable treats harvested in Florida to make great dishes for any occasion.
It definitely is summertime in this hot, glorious state we call home. I mean, let's be honest, it felt like summertime in January this year, but there is something special about the summer. For a lot of Floridians, the water calls to us.
Be it by boat, by beach, or by river. I have so many friends who love to take advantage of the cool water and ample sea life by going scalloping every summer. Homosassa, Crystal River, and Steinhatchee here on our West Coast come to life with people anxious to catch their scallops for the day. So, friends, I've got some great recipes for you to share after a great day on the water with your Gulf bounty!
Have you ever had ceviche? Ceviche is a Latin dish where the acid from citrus juices "cooks" the fish. It is a delightful, refreshing dish that screams summer. Ceviche is best used with smaller-sized fish, so bay scallops or even chopped larger scallops both work perfectly. The most important thing is to be sure your scallops are fresh. Being a Floridian, I'm using key lime juice for acid in this recipe. It's a little sweeter and works perfectly with the scallops. If you're scared about the raw scallops, don't be. You should be more scared of missing out on a fun summer salad.
Key Lime Scallop Ceviche 
Ingredients
1 lb. bay scallops, rinsed well
¾ cup key lime juice (I prefer using fresh key limes—this will be 16-18 of those little darlings)
½ yellow bell pepper, diced
1 jalapeño, seeds removed and diced
Salt and pepper to taste
Cilantro for garnish
2 scallions, chopped fine (I like to use both the white and the green part for this recipe)
1 plum tomato, seeds removed and diced
Directions
Place scallops in a glass bowl (metal bowls do not work well with the citrus and the fish). Next, add key lime juice and all those yummy things that are going to bring crunch and texture to your ceviche: yellow bell pepper, scallions, jalapeño, and tomatoes. Lightly season the ceviche with salt and pepper. Remember, you always can season the ceviche again after the acid has done its job and cooked those scallops, so go light on your first round of seasoning and then finish up with an additional taste test. Cover your ceviche with plastic wrap and place in the fridge for at least 30 minutes. I find it tastes best after about two hours, but I wouldn't hold on to the ceviche for longer than four hours as the scallops will start to get tough, and nobody likes that. I love to serve ceviche in a fun martini glass and garnish with cilantro and maybe a little crushed red pepper if I am feeling spicy that night.
Now that we've had our light and bright summery dish, let's get down to business and enjoy a luxurious dinner as well. I'm a firm believer in treating yourself at home when you cook, and often it is at a fraction of the cost of eating out. Even though scallops have a reputation for being difficult to make at home, I want to show you how these can be an attainable treat for you and your family.
The secret to a good scallop is the CRUST. The soft delicate texture of that scallop really needs that crisp, golden brown deliciousness to make it perfect. So here are some tips.
If you are lucky enough to have a seafood purveyor that can provide what is called a "dry scallop," definitely get those. Dry scallops have no preserving agents in them and will get a much better sear for your crust. (Side note: Did you know Leesburg is getting a fish market right on Main Street? YAY! I've been told by my friends at Stokes Fish Market that it will be carrying dry scallops frequently, so go support your local markets!) With that being said, if you need to get what they call "wet scallops," or frozen scallops, we can still make it happen. It just takes a bit more work.
Lemon Butter Scallops
Ingredients
2 tablespoons of canola oil (vegetable oil would work here as well)
1 lb. scallops (I like to use a U-12 for size; this is how many units are typically in a pound)
Kosher salt and pepper to taste
Sauce 
6 tablespoons unsalted butter
Juice of 2 lemons
3 cloves of garlic minced
Kosher salt and pepper to taste
1.5 tablespoons chopped fresh parsley
Directions
If you are using dry scallops, pat dry and season lightly with salt and pepper. To prepare wet scallops, defrost completely. Pat dry with a paper towel on a paper towel-lined surface. You will need to do this several times to remove as much moisture as possible from the scallop. Be careful not to press too hard, as this may damage the scallop.
Heat oil in a large nonstick skillet or cast-iron pan over medium-high heat. Here are two important tips for cooking the scallops: The oil must be shimmering and hot (but not smoking as this may burn the scallop), and DON'T CROWD THE PAN. It is better to work in batches because these babies cook in no time.
Now that I've panicked you, don't worry, the rest is all downhill from here. Add the scallops to the pan in a single layer and cook. Start to look for the crust to form on the bottom of the scallop. You will flip these only once, so if only one side gets a crust, let it be a good one. This should take about 1-2 minutes per side, depending on the size of your scallop. The center of a perfectly cooked scallop will be translucent and light and delicate in texture. Once they are through cooking, set aside and cover lightly with foil to keep warm while you make your sauce.
To make the lemon parsley sauce, first clean the pan of any additional oil from the scallops. Melt the butter over medium heat and add your chopped garlic and stir frequently until the garlic becomes fragrant (this smell should be bottled). Next, stir in your lemon juice and parsley and season to taste with salt and pepper. Serve your scallops while they are still warm and delicious and garnish with that decadent sauce.
When cooking a recipe that requires a lot of attention, such as searing scallops, I find that I like simple side dishes. Serve these scallops with a lovely summer salad and a warm baguette with really good butter and you will think you are in heaven.
May your summer be filled with water, sun, family and friends, and let's not forget—SCALLOPS!