Downtown Clermont is looking up as business is booming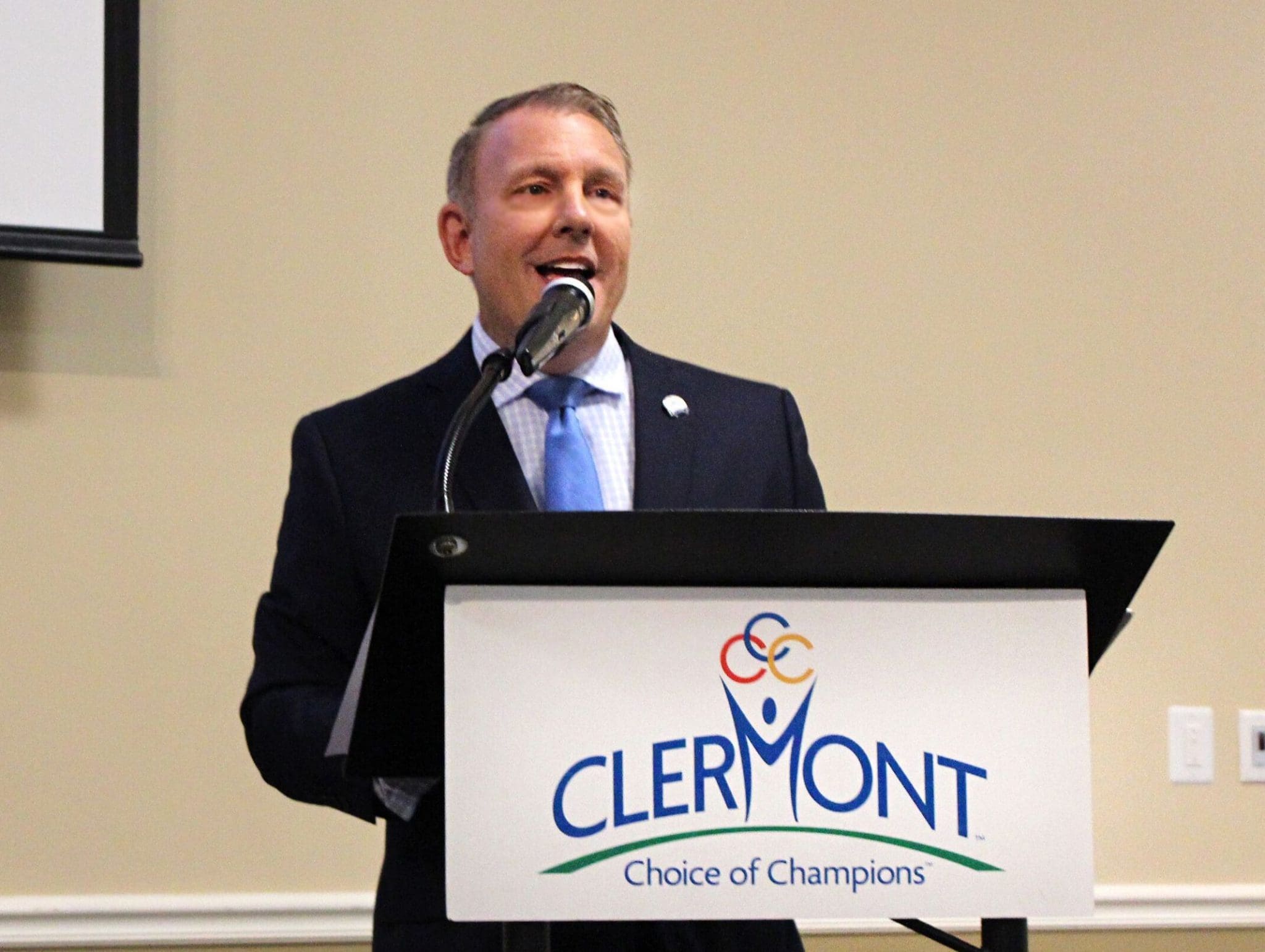 At a recent State of the City Address, City Manager Darren Gray highlighted Downtown-Waterfront Master Plan milestones, Wellness Way progress, department accomplishments and Clermont Champion citizens of 2019. Darren also premiered a downtown promotional video.
"This past year, we delivered on our promises," Darren says in a news release. "And we continued to make history in our great city." 
Mayor Gail Ash welcomed the packed room of business owners, real estate agents, nonprofit organizations, residents, elected officials and others interested in the future of Clermont.
"Clermont continues to lead the way in Lake County," Gail says. "We're proud of the progress we've made with our projects this year. We have a phenomenal staff and it's because of them that all of these wonderful, exciting things are happening in our city."
Darren thanked the mayor and council for leading the city to new heights, and acknowledged the death last year of Councilman Ray Goodgame, whom he calls "one of Clermont's most passionate champions."
Darren outlined the city's "incredible progress" on its award-winning, $22 million Downtown-Waterfront Master Plan. The City Council adopted the plan in 2015, and the city is on track to complete the 10-year plan in about seven years.
"Downtown Clermont is activating," Darren says. "What it comes down to is, the public sector is investing and the private sector is implementing." 
Darren pointed out that a record 176 businesses opened in Clermont in 2019, which is 37 more than in 2018; 21 of the new openings are downtown.
"The city of Clermont made strides like never before on the business front," Darren says. "That means more local jobs to fuel our economy." 
As for the largest project the city is involved with, Wellness Way is making strides, according to the release.
"The city is working with Lake County government and private developers to lead the way," Darren says. "A lot of behind-the-scenes work is being done to ensure a coordinated road network and a strategic mix of development." 
The long-term plan for the South Lake region covers more than 15,000 acres with serious potential for economic impact.
In 2019, city departments continued to preserve and enhance the quality of life for the Clermont community by providing exceptional services. Clermont's finances remained strong and stable while its taxes remained among the lowest in Central Florida. Crime dropped 7.5 percent from 2018 to 2019, and Clermont Fire brought 46 percent of its heart attack patients back to life in 2019, well above the national average.
Darren recognized a number of "Clermont Champions" who made national or international headlines in 2019.
"As a city, we like to cheer on our incredible residents," he says. "Our community members demonstrate what it means to be a champion in a variety of ways, from athletics to the arts."