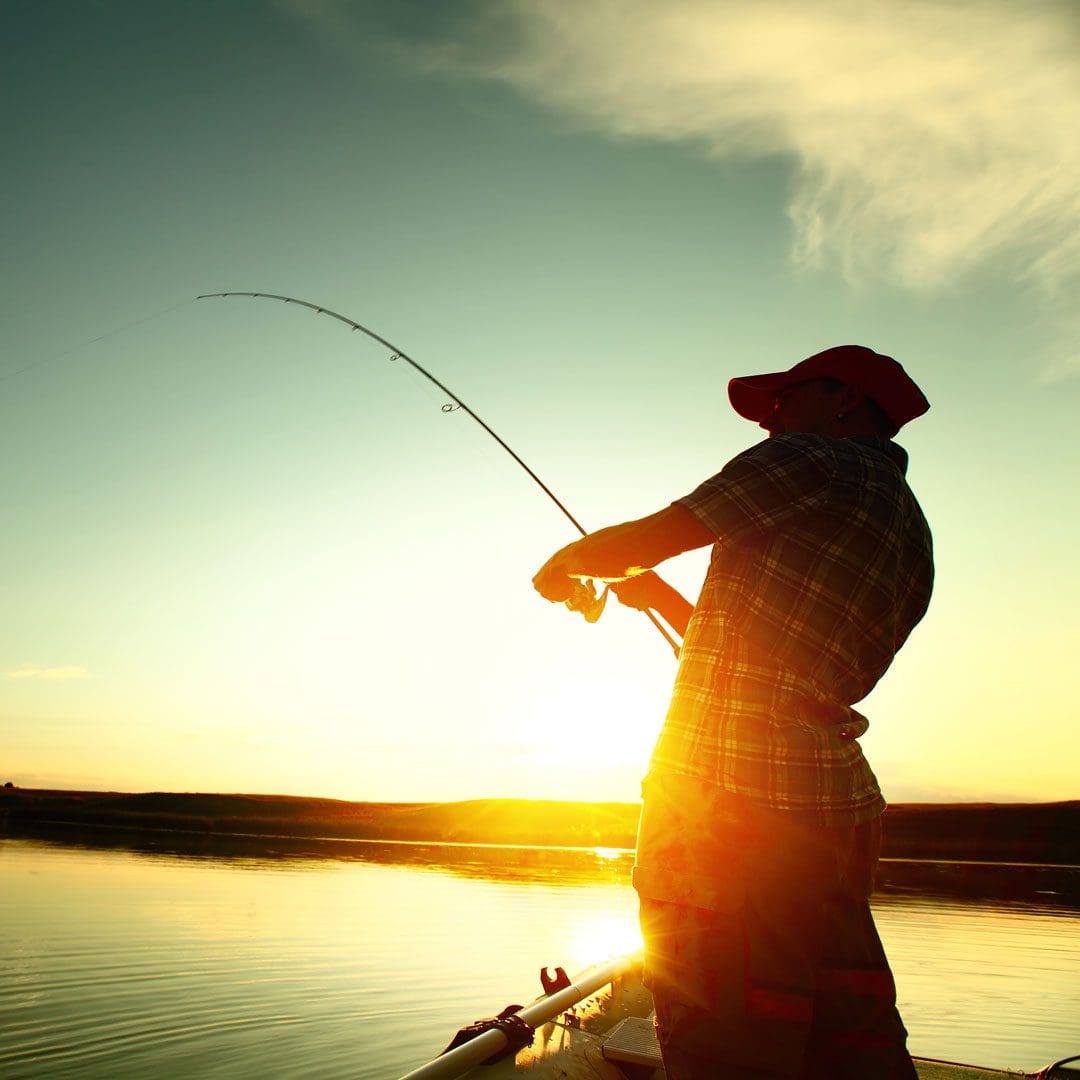 Old-Florida fish camps still hooking anglers.
Here in the Fishing Capital of the World, anglers may use modern gear and 21st century technology, but many seek out fish camps with a decidedly "old Florida" flavor. Locals don't have to look far. Classic fish camps exist on the Harris Chain of Lakes, Lake Panasoffkee and St. John's River, which rank among Florida's top 30 lakes in the number of fish caught.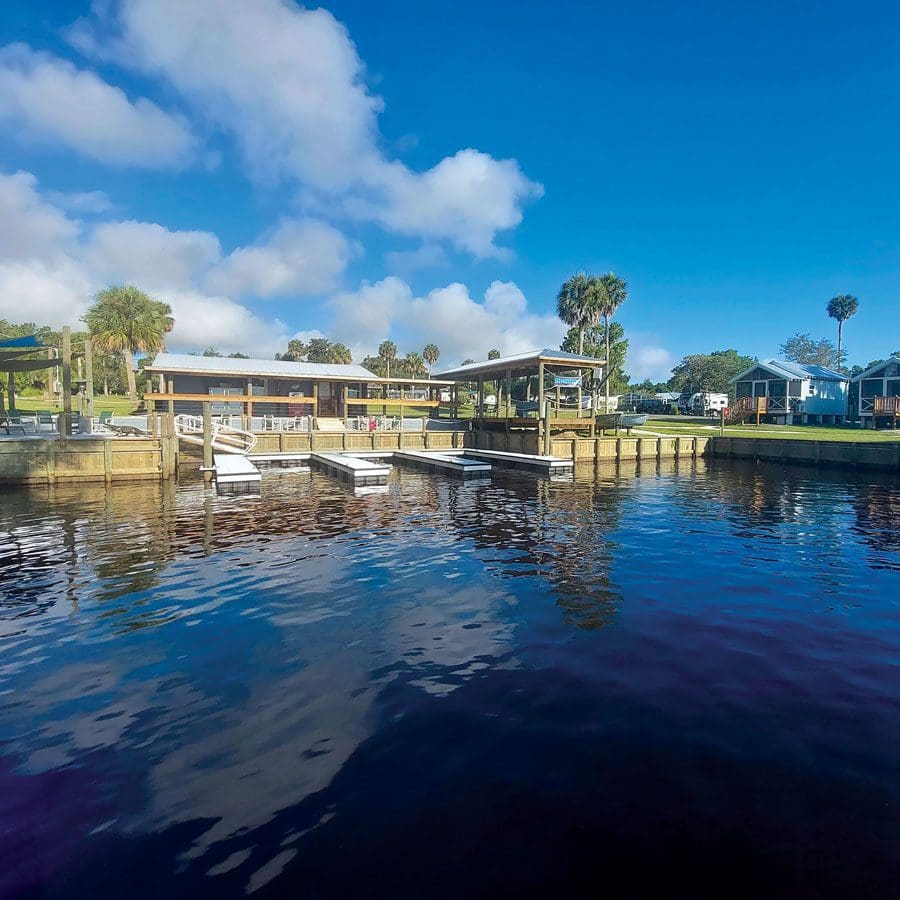 Pana Vista Lodge
Strategically located where the outlet to the Withlacoochee River joins 4,500-acre Lake Panasoffkee, Pana Vista Lodge comes by its "old Florida" feel honestly.
"We're one of the few old-time fishing camps left in the state; they're few and far between now," says owner and Lake Panasoffkee native Jim Veal, Jr., of the full-service fish camp, which has been in the Veal family since the late 1940s.
Originally, the lodge was a plantation home built in the 1880s. The property was home to a citrus packing plant until 1912. In 1923, Mr. and Mrs. W.M. Knight bought the operation and marketed it as a hotel for northern guests. 
After the hotel burned down in 1929, the property changed hands in the mid-1930s. The Savage family expanded the camp by building cabins before selling it in the early '40s to Sid and Bessie Lee. Mr. and Mrs. John Veal and Mr. and Mrs. Rufus Wysong bought the camp as partners in 1948.
After John's death in 1951, Veal's family bought out the partnership and Pana Vista Lodge has remained in the Veal family ever since.
The 40-acre property supplies everything needed to get on the water — boat ramp, gas, boat rentals (fishing and pontoon), bait, tackle, fishing licenses — and a place to stay. The shop has also sold and serviced Johnson & Evinrude outboard motors since the 1950s.
"All you need to bring is your food," says Jim.
There are 75 full hook-up RV sites, a primitive tent camping area, 15 mobile home lots and 15 rustic but modernized cabins, some dating back to the '30s and '40s. Although weekenders frequent Pana Vista Lodge to fish, there are plenty of winter residents and people who live there permanently.
"Lake Pan is spring-fed and shallow. It has a lot of shell bottom so the whole lake has fish habitat, whereas some lakes only have habitat around the edges," notes Jim. "It's well known for shellcrackers and bluegill in spring and summer. Speckled perch are mostly caught in the winter, but largemouth bass are year-round. In October the biggest fish are getting ready to spawn."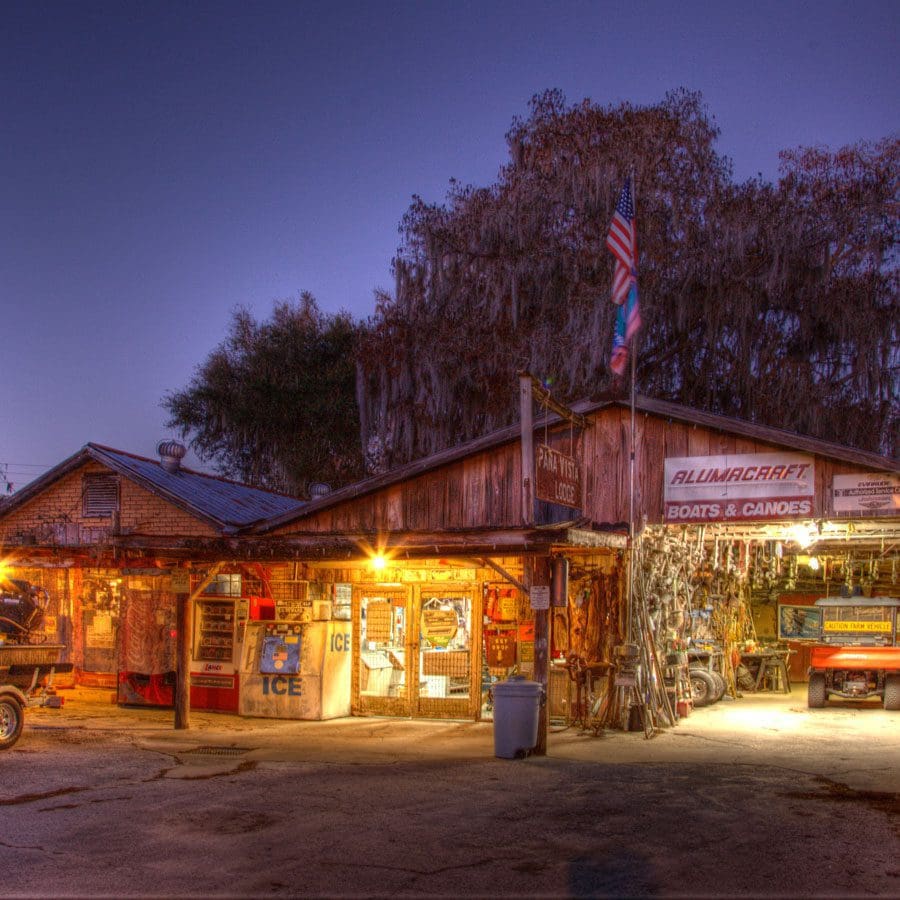 Lake Harris Lodge
Don and Debbie Mifflin and their son Steve bought Lake Harris Lodge in 1997 after they tired of Illinois winters and moved to the Sunshine State. 
Over the past 25 years, the Mifflins have made numerous improvements to the six-and-a-half-acre facility located on a short canal just off Lake Harris, which is visible from their dock.
Guests make good use of the marina, boat ramp and covered slips. Boat rentals (fishing and pontoon) are available with advance reservation. 
Lake Harris Lodge features 27 RV sites and 10 cottages (one-and two-bedroom), plus a screened pool. All cottages have been remodeled and guests appreciate the screened-in porches.
"Most of our guests do fish, and we also have people who come just to see the surrounding towns, like Mount Dora. We have out-of-state winter guests who have been coming here for 20-plus years," says Debbie, noting that their lodge appeals to people who love the lake, but not a hotel setting.
"Lake Harris Hideaway restaurant is right next door," adds Debbie, noting that boaters often tie up to the popular restaurant's dock.
Lake Harris Lodge
11924 Lane Park Road, Tavares  /  352.343.4111
Parramore's Campground
The scenic, north-flowing St. John's River is home to Parramore's Campground, which began as a logging camp in the 1930s before evolving into a fish camp in the 1960s.
Somewhere in the 1980s, "Old Man Parramore" sold the camp and the new owner added cabins to expand lodging options. Since 2017, Parramore's Campground has been owned by Kimzey and Jordan John.
"The St. John's is a bucket list item for a lot of people who fish. Photographers like it for the wildlife and birds," says campground manager Julie Bates. "It's an interesting ecosystem; it's considered brackish water until the Highway 40 bridge, so you can watch manatees, as well as catch shrimp and blue crab. There are two big crappie tournaments on the river and it's also good bass fishing." 
Bring your boat or rent one. Parramore's doesn't rent boats, but Julie can set you up with a locally-rented fishing or pontoon boat.
The campground is close to Lake George; it's only 30 minutes by water to Silver Glen from Parramore's boat ramp.
Lodging includes 15 guest cabins with nature-minded monikers like Bluegill Beds and Otter. 
Many visitors opt for a full hook-up RV site, of which there are 30 short-term and 70 long-term.
"Some of our RV sites are used by year-round residents; we have people who have lived here 15 years or more. It's a great little hideaway," says Julie of the tranquil setting.        
Parramore's Campground
1675 Camp South Moon Rd., Astor  /  386.749.2721  /  parramorescamp.com
Popular Freshwater Species and Florida Record Catches
All species pictured are found in Central Florida lakes other than the Butterfly Peacock Bass, which is found in south Florida.
Butterfly Peacock Bass
9.11 LBS
Largemouth Bass
17.27 LBS (larger largemouth have been documented, but not certified)
"There are specific seasons to legally catch certain saltwater fish, but none for freshwater species. You can fish for them at any time, but bass fishing tends to be better in fall and spring as water temperatures change," says Alex Aubuchon, public information director for the northeast region of the Florida Fish And Wildlife Conservation Commission.
"The Trophy Catch program (www.trophycatchflorida.com) offers prizes for anglers who submit data of catches of any largemouth bass eight pounds or heavier," he notes. "This data is crucial to FWC biologists, guides our agency's management decisions, and allows amateur anglers to be rewarded for their trophy catches."