East Ridge Volleyball Star Nayelis Cabello Committed to Louisville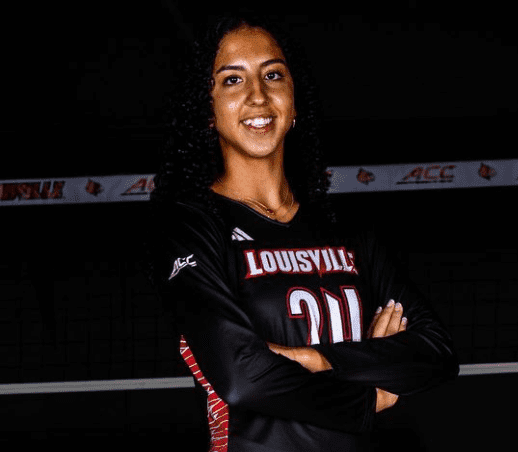 East Ridge High School volleyball standout, Nayelis Cabello, has committed to the University of Louisville to pursue her academic and athletic endeavors. In 2023, the senior has enjoyed an exceptional year, building upon her well-established reputation in the community due to her thunderous kill shots during her years on travel teams and at East Ridge High School.
Standing at 6 feet tall, Cabello has been a pivotal leader for the Knights this season. She has notched an impressive 224 kill shots, leading the team by more than half, with the closest player, Ashlyn Crane, having around 100 kill shots at the time of this report. Cabello has also been a force in the serving department, tallying over 40 aces this year, boasting an impressive 17% ace rate.
Her serving accuracy is remarkable, with a 94% serving percentage, and she seldom misses a serve. Moreover, Cabello's height advantage, as one of the taller players in Lake County, has allowed her to excel in blocking, leading the team with 56 blocks this season.
Cabello's exceptional performance has opened doors for her to join one of the nation's premier volleyball programs at the University of Louisville in Kentucky. This presents a significant opportunity for Cabello, and we eagerly anticipate her future success. Her dedication and hard work have truly paid off, culminating in this amazing opportunity.
Of course, Cabello's success wouldn't have been possible without the support of her teammates and coaches. Sophomore Breylan Fairley, serving as the Knights' setter, has been a key contributor with 278 assists this season, leading the team in that category. At the net, senior Andria Waite and sophomore Maria Martins Dutra have been instrumental, each contributing over 35 blocks this season. Sophomore Ashlyn Crane, with 100+ kill shots, is another valuable asset to the Knights.
The team camaraderie has been invaluable to her throughout the years. She now turns her focus to preparing for competition in the ACC conference, where she will face some of the top volleyball players in the United States. But the accolades do not stop there.
Cabello was recently made a member of the Under Armor All America Team. She is the 3rd East Ridge High School Player to be named an All American and will take place in Orlando Florida on January 1st-3rd of 2024. Some of her other accomplishments are being a East Ridge Volleyball MVP during the 20,21,22 and 2023 seasons. She was part of the 2023 AAU 17U runner up, All-America Tournament Team. She was a Team USA Volleyball Youth national training team invite. She also has a 3.82 GPA with a weighted 4.84.
We are thrilled for Cabello and her well-deserved opportunity and eagerly anticipate watching her on the court in the coming year.
Photo Credit: Mayra Cuebas
Kyle Coppola was born in Newton, Massachusetts and received his Bachelor of Fine Arts in Communications from Curry College in 2016. After traveling to Florida on a family vacation, he decided he could not get enough of the warm weather and made the move from snowy Massachusetts to central Florida 8 years ago.
For the last decade Kyle has gained valuable experience in social media content creation, marketing and sales, writing, video production, sports announcing and even broadcasting for local radio stations, such as FM 102.9 in The Villages and FM 91.5 in Massachusetts. Every year he volunteers at The Villages Charter High School as a play-by-play sports announcer for the football games as well as a public address announcer for the basketball games, including the annual Battle at The Villages Tournament.
Outside the office Kyle is a husband and father to two beautiful girls along with their cat. In his spare time he likes to spend time with his family, travel, play golf and swim. He is also a huge sports junkie and even bigger motorsports fan and loves to attend racing events when he can.
Share This Story!