Ethan Booz In A Patched Up Canoe Pulls The Ultimate Underdog Story In Lake County High School Bass Tournament!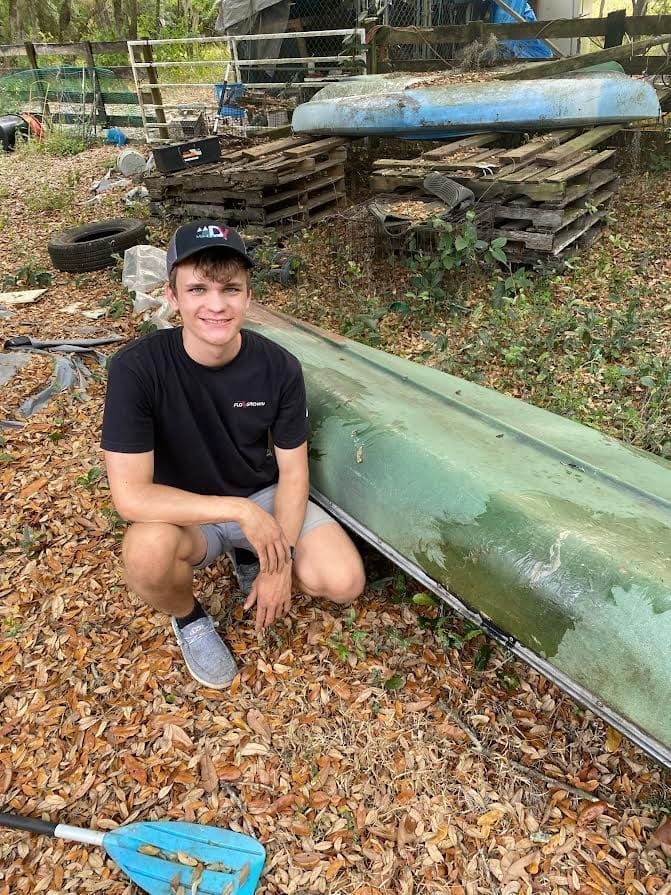 Ethan Booz In A Patched Up Canoe Pulls The Ultimate Underdog Story In Lake County High School Bass Tournament!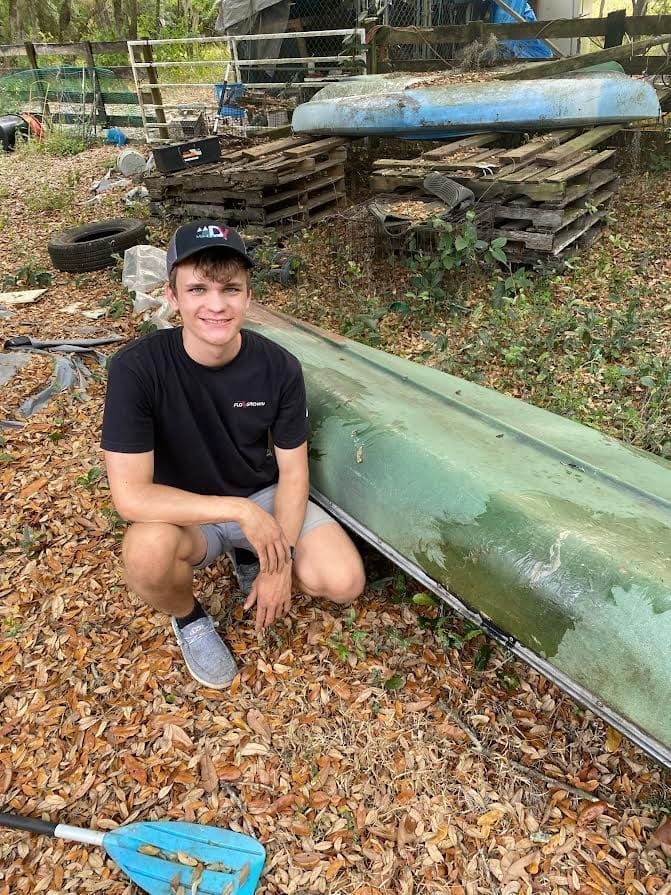 Perhaps in one of the biggest underdog stories of the year, Ethan Booz a Mount Dora High School student, surprised everyone by taking 2nd place in the inaugural Lake County High School Bass Tournament. But this is no ordinary 2nd place. This is a story about perseverance. The fact that Ethan Booz even made it out on the water is incredible in and of itself.
Ethan Booz wanted to fish. He just didn't have a boat to make that happen. The head coach of the Mount Dora High Fishing club is Randy Craft. "Randy told Ethan that I would love to have you on the team but there is no guarantee that a boat would be available for you to fish on." Many students in the area bring 12K-80K dollar tracker boats to the tournament. But only a few use Kayaks and only 1 would use a rather unique but not entirely unorthodox approach to wrangling in fish.
Ethan Booz decided he was going to be a part of this tournament no matter what. A few days before the tournament Ethan brought it upon himself to purchase a broken down canoe. The canoe was not in the best of shape and when Ethan put the canoe in the water it sank to the bottom. Although the float test was a failure that did not deter Booz from competition.
In fact Booz was so set on competing he worked days to repair the boat and patched the holes with fiberglass that he installed himself. The work was hard and there was still no guarantee that the boat would float. Last thing Ethan wanted was to be out on the water and to take on water. But there was little to no time to test it out and Ethan took the boat to the competition.
Competition Day Will The Canoe Float?
Coach Craft was in the middle of organizing the mass amount of boats that needed to be launched for competition. Tracker boat after tracker boat launched and even some smaller boats were launched for the tournament. As Randy Craft continued the launch procedure he looked over to the right and saw a car with a canoe on the top. Craft initially thought nothing of it but when he turned back around he realized that Ethan Booz was standing beside the car.
Craft went over to Booz and was absolutely stunned that he was at the tournament with this boat. In disbelief Craft went and helped Booz get ready to launch. Craft said to Booz "You know a lot of boats in this tournament have the ultimate equipment. They will get to areas that would take you the entire day to paddle to. Stay in the area near the boat launch ramp. There are some fish in this area you can catch. I can't guarantee anything but just trust your instincts and have patience."
As the launch commenced Craft and Booz loaded the canoe into the water and it floated!! Booz had nothing but a cooler and a bubbler in the canoe which is old school fishing. Some boats had coolers installed on them, they had storage space and shelter from the sun. Not Booz's canoe. Booz was going to be the ultimate underdog in this tournament. No one even gave him a shot. How could a canoe compete with 80,000 dollar tracker boats?
The tournament ran from 7am – 2pm when the competitors would need to weigh in. When the word was given, the powerboats roared to life and headed to their destinations. These boats have GPS, Fish tracking equipment and small motors for silent running so they don't disturb the fish in the area. But Ethan Booz had no engine. He sat at the start line as all the boats left the area. Ethan remained as one of the last off the start line.
Booz began to paddle around and headed for a marshy area not terribly far from the launch area. It took him nearly as much time to get there as it did for some of the competition powerboats to reach nearly across the lake. Booz found a nice little area and set up shop. He didn't know what to expect, but he cast out his rod and his competition began. Ethan remembered Coach Crafts words "Have patience and faith and no matter what have a good time." Coach Craft was all about having fun as one of the mottos of the tournament and the reason fishing is so enjoyable.
Booz waited and waited and eventually he hooked a bass! A very nice sized bass in fact. Then he cast out and caught another and another! As 2pm neared, Booz had 4 really nice bass in his canoe. He was unsure how he would be scored, but he headed to shore as the other powerboats made their way back to shore as well. Upon weigh-in, everyone's mouths dropped to the floor when Ethan showed up to the boat ramp.
Ethan Booz Cinderella Story!
Upon weigh-in many couldn't believe that a kid in a banged up canoe reeled in as big of fish as he did. Even some of the best fishing boats on the water that day didn't come near the amount Booz reeled in. Upon further review, he caught an amazing 9lb 14oz of fish! That was good enough for 2nd place on the day! Booz was shocked as was Coach Craft! The little boat that could did it!
This is a story that needed to be told. Ethan Booz showed us that it didn't matter what equipment you have. This was a Cinderella upset story. It goes to show you that all the technology in the world sometimes can't beat the old school approach of a small canoe and faith that the fish will bite.
Booz showed us that hard work pays off. He may not have won the tournament as Umatilla High School's Jayden Hampson and Tucker Pando brought in 5 fish for 10lbs 2oz. But he won  everyone's hearts because of his commitment. From having no boat, to having a sinking boat, to plugging the holes and on the day of the competition his boat floated… What an amazing few days it was for Ethan Booz! We want to congratulate Ethan and his hard work ethic. Here's to hoping Ethan can win one of these tournaments in the near future!
Not only was Ethan Booz a good story, but we had some female athletes compete as well. Addison King & Lacey Jones brought in a respectable 2lbs 3oz. More than anything else they had a great time and want to come back for more competitions which is the best thing Coach Craft could hear.
Lane Rutledge & Evan Meeks 1st place Fish
Lane and Evan are a team. Evan Meeks had never been fishing and wanted to give it a try. Coach Craft was thrilled as the program is growing every day. Although not the same tournament as the one we talked about above, this tournament happened this past weekend. Meeks is a quiet kid but he has a tremendous drive and although new to fishing is a natural. During one of his first competitions, Evan and Lane pulled in a monster bass. The bass was a 7 1/2 pounder! Coach Craft noticed that Meeks was reeling too fast and was afraid he would lose the fish.
But Craft was able to coach Meeks through the process and Meeks slowed his reeling down. Eventually the fish surfaced and coach Craft was in awe of what his boys caught! The fish earned the boys 1st place in the tournament! It was their first time at the top of the podium and we hope to see Lane and Evan win many more competitions in the future!
Lake County High School Fishing is Growing!
Coach Randy Craft is the co-head coach of the Lake County High School Fishing Club along with Umatilla head coach Al Nevarez. Coach Navarez is the coach of the ROTC program at Umatilla High and also instructs these kids on how to fish. Both Navarez and Craft are dedicated to growing the sport of fishing and getting more high school students involved. They plan for a summertime BBQ for the members and also plan a few night time fishing tournaments this summer!
The plan is to get a group of high school fishers and head to the national high school championships next year in Tennessee! We are so excited about this new organization that is becoming a bigger intramural sport every month!
If you are interested in joining the sport of High School Fishing you can contact Randy Craft. His number is 321-246-4451 He would be happy to talk with you and join the program as it continues to expand! We are excited for the future of these programs and excited to hear more great stories in the near future!
Photos Provided By:
Randy Craft
Kyle Coppola was born in Newton, Massachusetts and received his Bachelor of Fine Arts in Communications from Curry College in 2016. After traveling to Florida on a family vacation, he decided he could not get enough of the warm weather and made the move from snowy Massachusetts to central Florida 8 years ago.
For the last decade Kyle has gained valuable experience in social media content creation, marketing and sales, writing, video production, sports announcing and even broadcasting for local radio stations, such as FM 102.9 in The Villages and FM 91.5 in Massachusetts. Every year he volunteers at The Villages Charter High School as a play-by-play sports announcer for the football games as well as a public address announcer for the basketball games, including the annual Battle at The Villages Tournament.
Outside the office Kyle is a husband and father to two beautiful girls along with their cat. In his spare time he likes to spend time with his family, travel, play golf and swim. He is also a huge sports junkie and even bigger motorsports fan and loves to attend racing events when he can.
Share This Story!