Eustis' Amazing Race for Charity 2022 set for April 2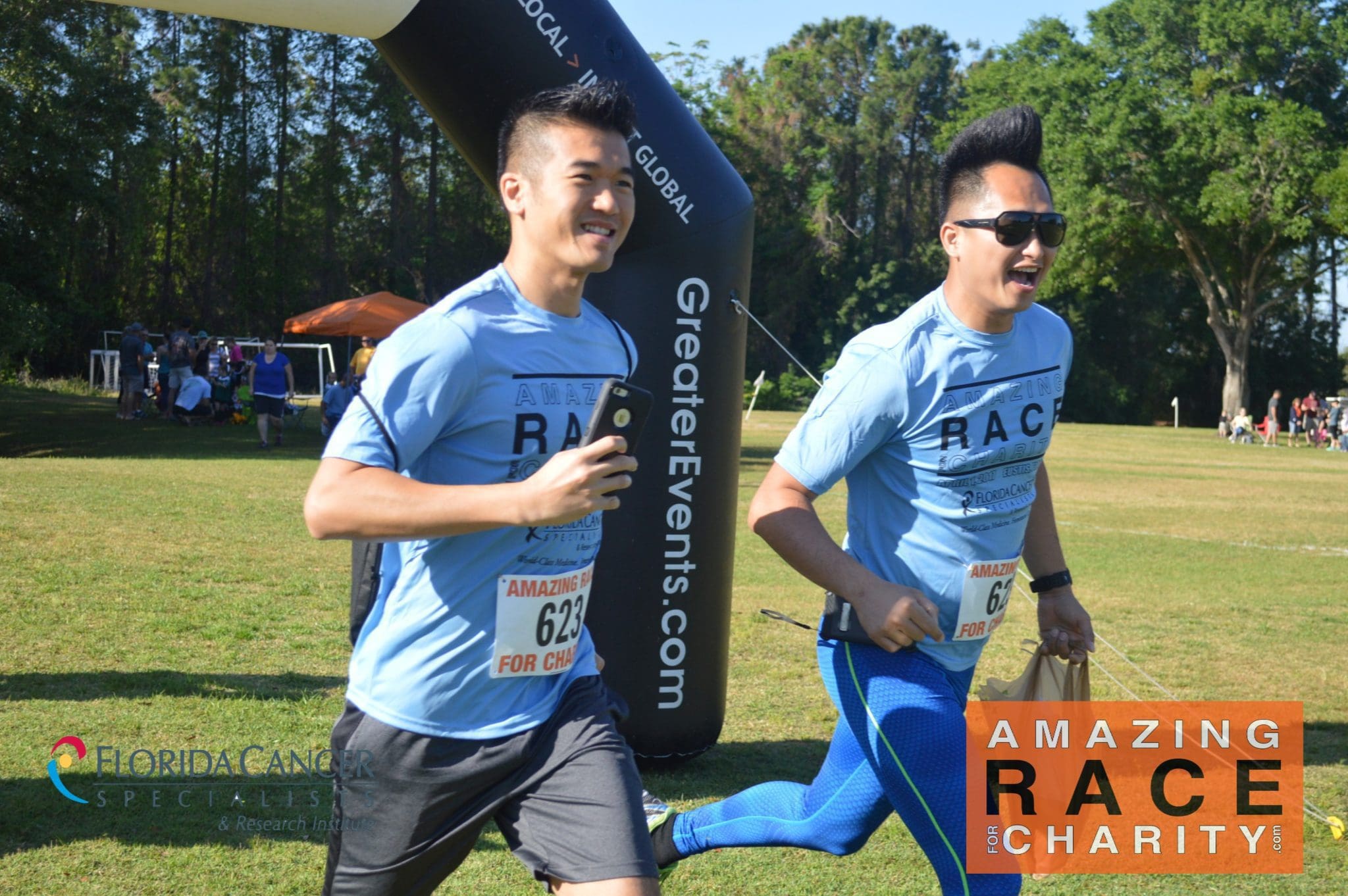 Each April since 2014, the City of Eustis has been overrun with hundreds of people wearing brightly-colored race shirts and unusual costumes while completing a series of twenty or more wacky activities along a 5-mile course across the quiet Central Florida town, all in an effort to raise money for local charities. The Amazing Race for Charity, presented by Florida Cancer Specialists, was the brainchild of local entrepreneur Timothy Totten, who has created the eighth edition with his group of dedicated volunteers to take place this year on Saturday, April 2.
"We're so glad to bring back an event that's raised more than $200,000 for local charities," says Timothy, who works with local sponsors and charities to plan and map out the event and all the obstacles and activities participants must execute. "It's also so much fun for racers to complete all the wacky challenges we create."
Timothy, who serves as race director and course designer, worked with the other board members — Jill Baker, Tammie Vinson, B.E. Thompson, Sandi Moore, Robin Richter, and Paula Jordan — to create an event that is both exciting for the participants, but also respectful of appropriate health and safety guidelines, while honoring the charity atmosphere of the race.
"We're taking important steps to ensure that everyone involved is safe and has a great time," says Tammie, who manages the 200+ volunteers who will make the race happen on April 2. "Our race is really about having fun while giving back to charity, so we are very focused on making sure we take all necessary precautions."
Each year the race features twenty or more unique race challenges that are seldom repeated in future races. Past challenges include racing lawn mowers through an obstacle course, defrosting a frozen t-shirt, navigating the world's longest Twister board, getting washed off like a dog at the groomer, and many others. In the end, all of the proceeds from the all-volunteer event are given to local charities doing work in Lake County.
In 2022, race organizers expect their total charitable donations over seven races to cross the $225,000 mark.
This year's selected charity benefactors are:
Alee Academy Charter School
Companions for Courage
Early Learning Coalition of Lake Co
Educational Foundation of Lake Co / Take Stock in Children Florida Cancer Specialists Foundation
Hand in Hand of Lake Co / Ruth House program
Lake Cares Food Pantry
LifeStream Foundation / The Open Door
Strut Your Mutt / Humane Society of Lake County
Trout Lake Nature Center
The race attracts serious competitors, marathoners, triathletes, adventure racers, and amateurs  from throughout Lake County, and the country. In fact, this year's Amazing Race for Charity will welcome participants representing eight states and more than 40 Florida cities.
Additionally, with cooperation and competition in mind, the course is designed to bring racers and supporters together. At its core, the Amazing Race for Charity, presented by Florida Cancer Specialists, is about celebrating community. Most importantly, everyone wins!