Eustis Girls Basketball Win District Championship!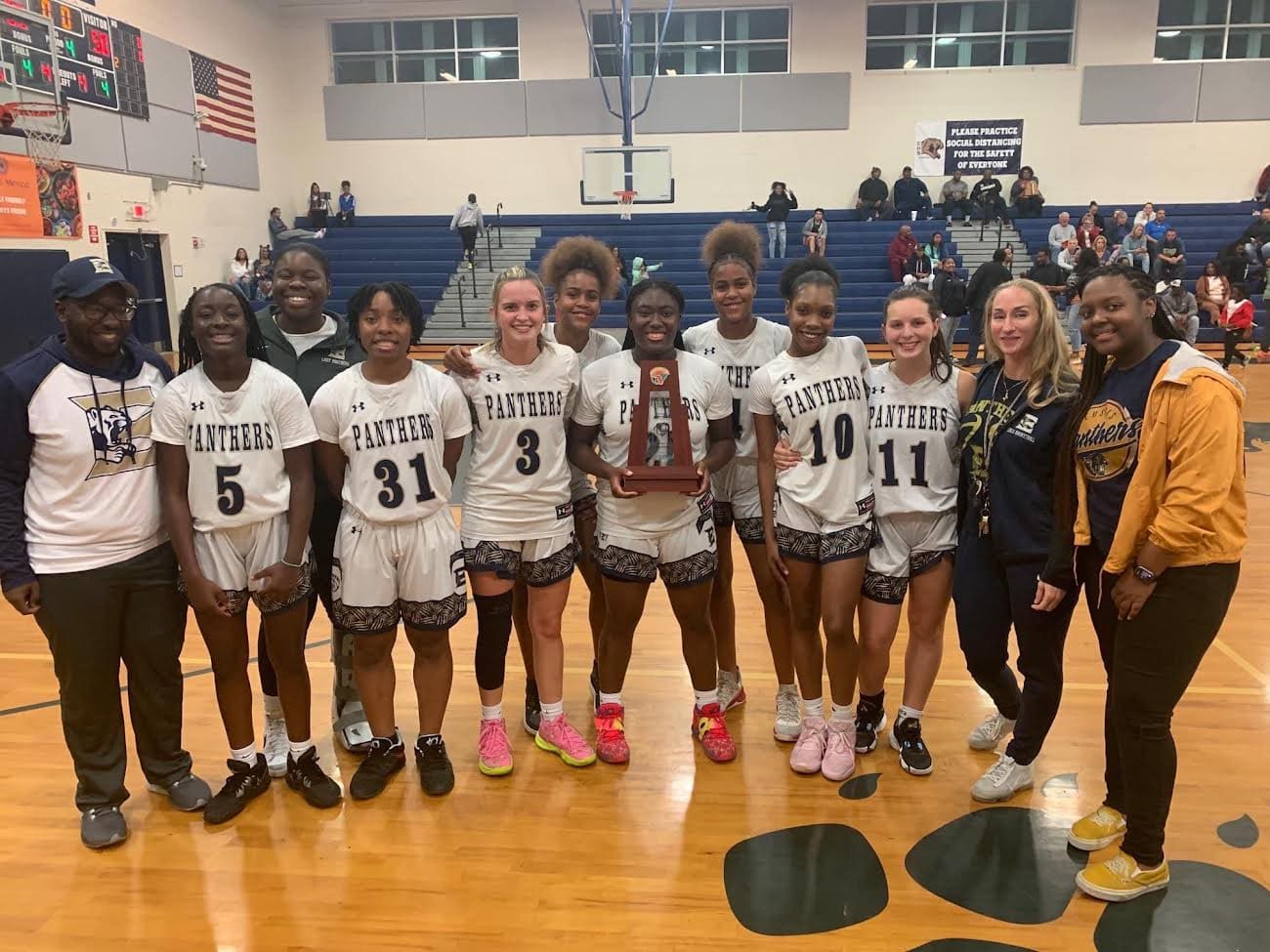 Lady Panthers Cap Off Fantastic Regular Season!
For the second year in a row The Eustis Lady Panthers took on The Villages Charter School in the District Championship Game! Eustis has been on a tear the last few years thanks to an amazing group of players and head coach Kelsea Brutton who has turned Eustis into a powerhouse girls basketball program in our region.
District Champions Class 4A District 6
The fact that The Villages even made it to the District Championship was a complete surprise. Injuries plagued the team down the stretch and Zoe Tennell held the team together by scoring 52 points to beat Lake Weir. Eustis came into the championship with #10 Alana Seward averaging 15 points per game. Meanwhile #25 Tanaujeah Brown was absolutely dominant against the Buffalo. Brown averages 21 points per game along with a district leading 9 rebounds per game.
Eustis controlled the matchup from the start and never faltered to The Buffalo. The Panthers would go on to win the district championship for the second year in a row by a score of 86-50. The Lady Panthers now turn their attention toward the playoffs where they will be facing their toughest opponent of the year Cocoa. That game could go either way as both teams have 15 wins on the season.
The Dominance of Tanaujeah Brown
Brown has been brilliant this season. She is involved in almost every play. She shoots 50% from the field which is incredible considering the national average is 34%. Meanwhile she has close to 500 points this year. She is an unselfish player and has made some great plays to Alana Seward, Dakeria Brown, and Payton Hyland to name a few. Brown also has blown pass the 1,000 point mark in her career. This is a massive accomplishment and we congratulate Tanaujeah Brown and her family on this wonderful accomplishment!
The game Thursday evening will likely be Tanaujeah Browns last appearance at her home gym. She has had so many memories at Eustis High School and we are grateful for everything she has done for Eustis. Many other seniors will also be playing in their final game at home including Payton Hyland, Jennifer Lopez, Tanaujeah Brown and Amaria Brown.
Come Out and Support Your Lady Panthers!
The game against Cocoa will be held at Eustis on Thursday night at 7pm. We hope everyone can come out and support The Lady Panthers for what should be an absolutely incredible game! The winner of the game on Thursday will most likely be feeling the love on Valentine's Day as they travel to Lake Highland Prep in Orlando next Tuesday at 7pm.
Photos Provided By –
Eustis High School
Son Of Harris Media
Kyle Coppola was born in Newton, Massachusetts and received his Bachelor of Fine Arts in Communications from Curry College in 2016. After traveling to Florida on a family vacation, he decided he could not get enough of the warm weather and made the move from snowy Massachusetts to central Florida 8 years ago.
For the last decade Kyle has gained valuable experience in social media content creation, marketing and sales, writing, video production, sports announcing and even broadcasting for local radio stations, such as FM 102.9 in The Villages and FM 91.5 in Massachusetts. Every year he volunteers at The Villages Charter High School as a play-by-play sports announcer for the football games as well as a public address announcer for the basketball games, including the annual Battle at The Villages Tournament.
Outside the office Kyle is a husband and father to two beautiful girls along with their cat. In his spare time he likes to spend time with his family, travel, play golf and swim. He is also a huge sports junkie and even bigger motorsports fan and loves to attend racing events when he can.
Share This Story!