Eustis High School Amare Williams Medals at FHSAA Track & Field State Championships!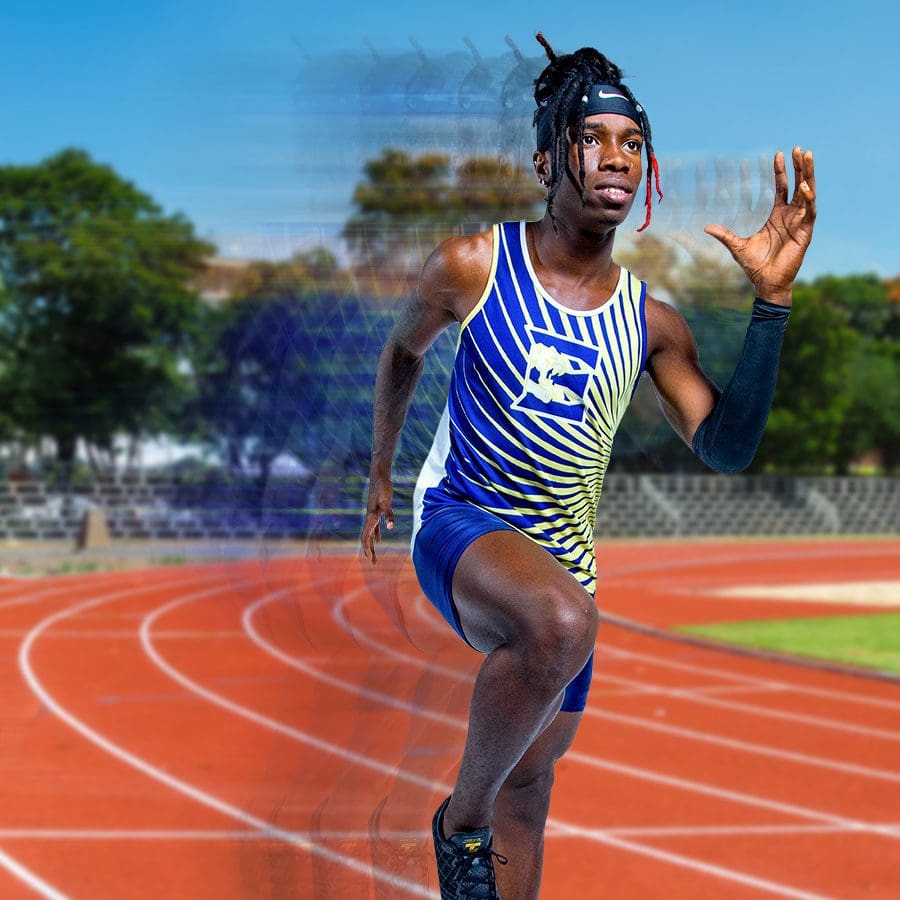 Eustis High School Amare Williams Medals at FHSAA Track & Field State Championships!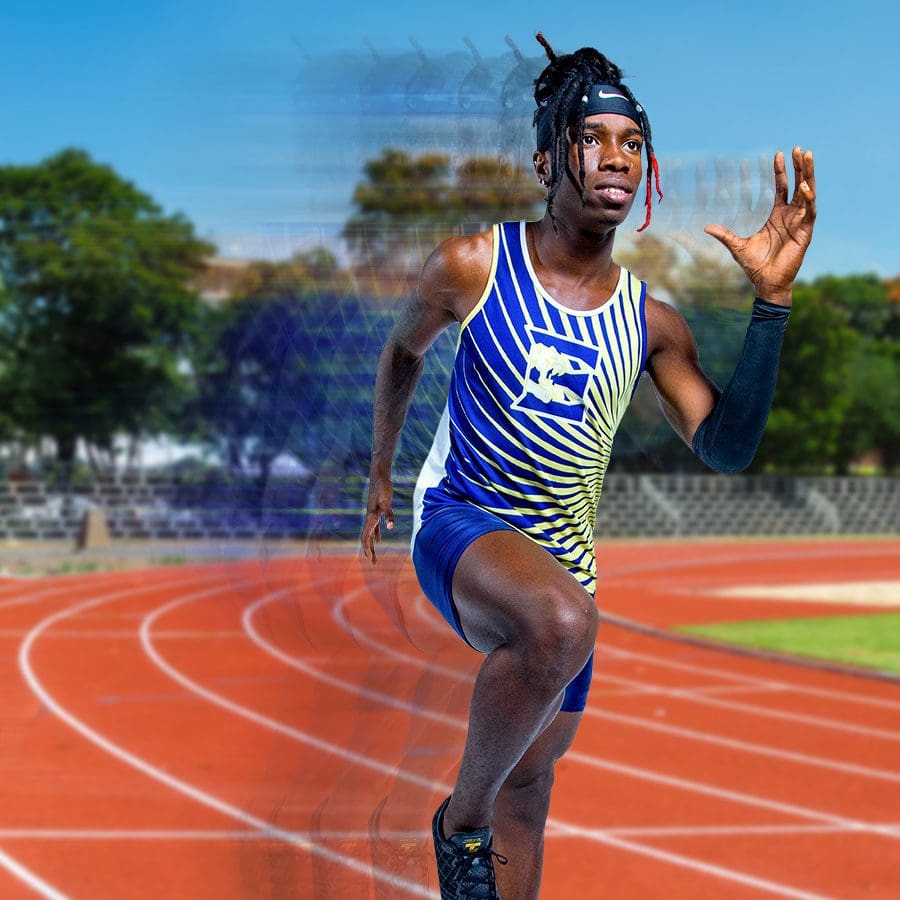 Amare Williams is the fastest man in Eustis! Not only does he hold the School records in the 100M and 200M races but he made the entire town of Eustis proud this past week when he medaled at States. Willimas is a first time Track & Field athlete! You heard right this is his first ever season competing in Track & Field. Williams has been a football player his entire high school career but transferred to Eustis too late to play football this year.
Williams was encouraged by his mother to try out for the Track & Field team and boy was Eustis glad he did! Williams was outstanding this year running in the low 10 second bracket for the 100M and the 21 second bracket for events like the 200M while also helping his team in relay events.
But Williams was all about the 100M and 200M focus. The field was stacked with competitors including one of the highest ranked athletes in state Jayden Dailey from Tocoi Creek and Kavon Miller from Bolles. The Class 2A Championships were delayed by weather a bit but once the competition got going it was clear that there were just 4 favorites to win the race including Amare Williams.
As the staters took their marks Williams was standing next to some of the most amazing runners the state has ever seen. No one could have imagined that this underdog of a competitor would be in this situation. His first Track & Field State Championships would also be his last as the Senior just recently graduated from Eustis and will be attending Webber International.
As the 100M race got going Jayden Dailey from Tocoi Creek got the best start of the year. The Sophomore is a freak athlete and could one day possibly be an olympic athlete. Dailey led from start to finish. No one threatened him for the win but the race was on for 2nd, 3rd and 4th place. Amos Oruamabo from Ribault, Kavon Miller from Bolles and Amare Williams from Eustis were neck and neck all the way to the final 50 to 25 feet of the event.
Eventually Kavon Miller from Bolles pulled slightly ahead and would finish 2nd with a 10.57. 3rd place went to Amos Oruamabo who finished with a 10.59 and Amare Williams finished 4th with a 10.65. Williams had nothing to hang his head about. He finished 4th in an event where some of the best runners in all of Florida participated. Williams is no longer an underdog, he is truly an athlete that can compete at the sports highest level.
But Williams was not done. He had another event that he would medal in. The 200M is also a brutal race. It's 200 Meters running as fast as humanly possible to the finish line. Williams ran a great race. Considering he took 4th in the 100M race less than 2 hours before running this one is a testament to how this young man treats his body.
Williams went out and would finish 6th in the 200M race and that was good enough for 3 points. Williams would score 8 points total for Eustis which would be their only points of the competition. Micahi Danzy of Florida High won the event with a 21.16 but Williams was only 4 tenths of a second behind the race winner. In fact 3rd through 6th place were separated by 5 one thousandth of a second. It was that close! Williams nearly took 3rd but honestly 6th is highly respectable considering what he was up against.
Many of the runners in the 200M did not run in the 100M so had Williams run just the 200M it would have been interesting to see what he could have done. Overall it was a great day for Eustis Track & Field. The girls 4X1 team came in 12th, the boys 4×100 team came in 16th. Meanwhile Skye Dias placed 15th in the High Jump.
Williams will hold the record as the fastest man in Eustis for at least a year. He delivered a school record breaking performance in the 100M & 200M this year. We are sad to see him go and although he only played 1 season at Eustis we are proud of what he accomplished in his time at the program. We can't wait to see what Williams does at Webber International University later this year!
Photos Provided By:
Akers Media Group
Courtney McCneeley
Nicole Neola
Shawnee Coppola
Kyle Coppola was born in Newton, Massachusetts and received his Bachelor of Fine Arts in Communications from Curry College in 2016. After traveling to Florida on a family vacation, he decided he could not get enough of the warm weather and made the move from snowy Massachusetts to central Florida 8 years ago.
For the last decade Kyle has gained valuable experience in social media content creation, marketing and sales, writing, video production, sports announcing and even broadcasting for local radio stations, such as FM 102.9 in The Villages and FM 91.5 in Massachusetts. Every year he volunteers at The Villages Charter High School as a play-by-play sports announcer for the football games as well as a public address announcer for the basketball games, including the annual Battle at The Villages Tournament.
Outside the office Kyle is a husband and father to two beautiful girls along with their cat. In his spare time he likes to spend time with his family, travel, play golf and swim. He is also a huge sports junkie and even bigger motorsports fan and loves to attend racing events when he can.
Share This Story!