Eustis PD Introduces Smartphone App for Enhanced Community Engagement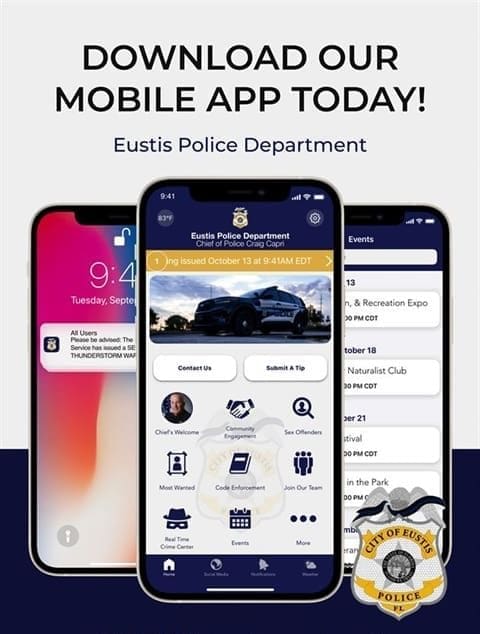 Eustis PD Introduces Smartphone App for Enhanced Community Engagement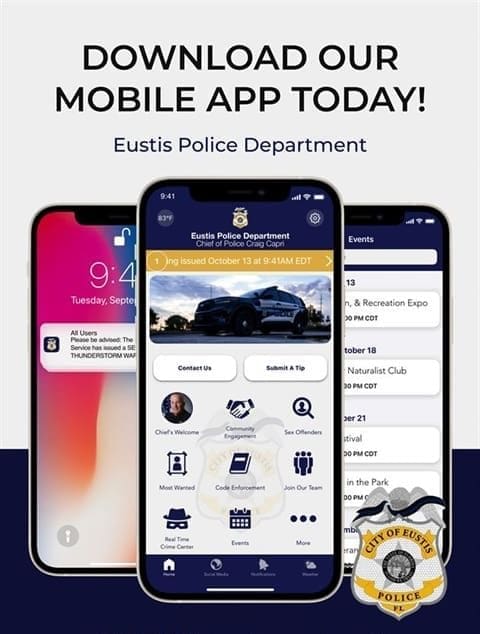 The Eustis Police Department announced the launch of a cutting-edge smartphone application, aiming to foster stronger connections between law enforcement and the Eustis community. This innovative app, available for download on both iOS and Android devices, offers residents and visitors quick and convenient access to a wide range of valuable resources and information.
Developed in collaboration with ThePoliceApp.com, a trusted brand under OCV, LLC., the Eustis Police Department's new app is designed to serve as a user-friendly gateway to enhance communication and engagement. It empowers users to stay informed, report concerns, and connect with the department effortlessly.
With smartphone ownership exceeding 80 percent in the United States, mobile apps have emerged as powerful tools for public safety agencies to interact with their communities effectively. Eustis residents can now conveniently access important features through the app, including:
Chief's Welcome: A warm introduction from the head of the Eustis Police Department.
Community Engagement: Stay updated on community events, programs, and initiatives.
Sex Offenders: Access vital information about registered sex offenders in the area.
Most Wanted: Help authorities locate individuals wanted by law enforcement.
Code Enforcement: Report code violations and access relevant resources.
Join Our Team: Explore career opportunities with the Eustis Police Department.
Contact Us: Connect with the department for inquiries and assistance.
Submit A Tip: Anonymously report tips and information related to criminal activity.
Kevin Cummings, Partner and Chief Revenue Officer at OCV, emphasized the importance of mobile apps for public safety agencies, stating, "Mobile apps offer agencies a better way to alert, inform, and prepare the public. Apps allow public safety agencies the ability to reach and serve their citizens where they are: their smartphones."
The Eustis Police Department app is now available for free download in both the App Store and Google Play. To access the app, simply search for "Eustis Police Department, FL" and install it on your smartphone.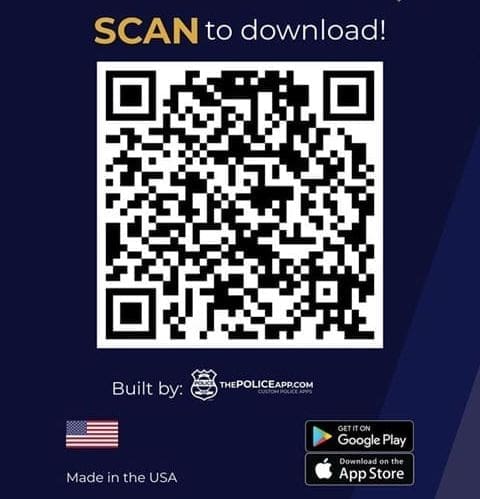 Originally from the small town of Berryville, Arkansas, Cindy has become a multimedia specialist in journalism, photography, videography and video editing.
She has a B.S. in Communications from the University of Central Arkansas and is a correspondent for The Daily Commercial, LakeFront TV and Beacon College's PBS talk show, "A World of Difference," where she received an Anthem Award and Telly Award.
When she isn't working, Cindy spends time with her husband, Ryan, and son, David, traveling and taking photos of landscapes and wildlife.
Share This Story!