Eustis Presents The 7th Annual Busker Festival March 25th, at Ferran Park.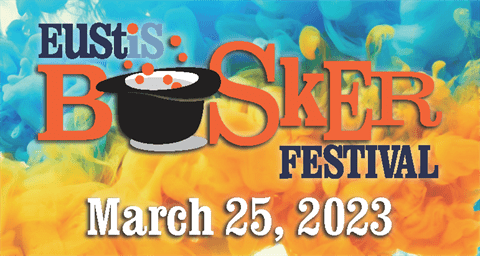 Eustis Presents The 7th Annual Busker Festival March 25th, at Ferran Park.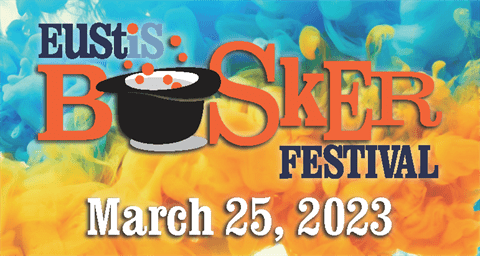 EUSTIS, Fla. – The City of Eustis welcomes talent from all over the World with street performers, also known as "buskers," at this year's 7th Annual Eustis Busker Festival on Saturday, March 25, 2023.
The free, family-oriented festival will be presented in Downtown Eustis at "busk stops" starting at 12 p.m. (noon) in Ferran Park (50 Ferran Park Drive). The Grand Finale, featuring top performers from each division will take place at 6:00 p.m. in Ferran Park on the bandshell stage. Performers will compete for the $3,000 grand prize, sponsored by Bay and Lake Pharmacy.
At the event, spectators will be given the opportunity to vote for their favorite act to receive the $1,500 People's Choice Award, sponsored by the Lake Eustis Area Chamber of Commerce. To vote, event attendees may show receipts from any Eustis business from the month of March 2023.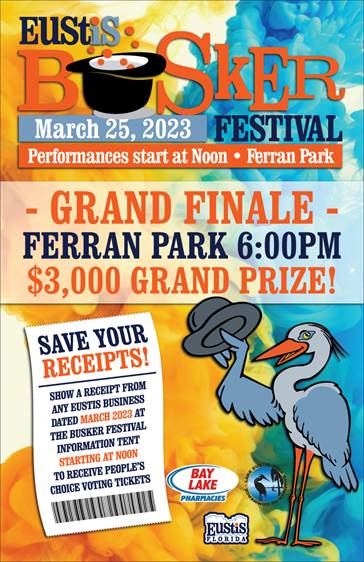 "By coupling voting for the People's Choice Award with showing a Eustis business receipt, we are encouraging residents and visitors to shop local," said Tom Carrino, City Manager. "People interested in voting should save their receipts from Eustis businesses to show at the event for voting tickets."
Receipts from a Eustis business or service can be presented at the City of Eustis information booth in downtown from 10 a.m. to 4 p.m. Voters will receive one voting ticket per $5 shown on the receipt with a maximum of 20 tickets per receipt. Voters will retain their receipts and the City will stamp each one shown in exchange for voting tickets.
The day-long festival will feature performers such as musicians, dancers, comedians, jugglers, artists, and acrobats. Each busker will perform two, 30-minute acts throughout the day. Judges will rate each act and invite the top performers to the Grand Finale.
For more information, please visit the City's website www.eustis.org or call (352) 483-5491.
Kyle Coppola was born in Newton, Massachusetts and received his Bachelor of Fine Arts in Communications from Curry College in 2016. After traveling to Florida on a family vacation, he decided he could not get enough of the warm weather and made the move from snowy Massachusetts to central Florida 8 years ago.
For the last decade Kyle has gained valuable experience in social media content creation, marketing and sales, writing, video production, sports announcing and even broadcasting for local radio stations, such as FM 102.9 in The Villages and FM 91.5 in Massachusetts. Every year he volunteers at The Villages Charter High School as a play-by-play sports announcer for the football games as well as a public address announcer for the basketball games, including the annual Battle at The Villages Tournament.
Outside the office Kyle is a husband and father to two beautiful girls along with their cat. In his spare time he likes to spend time with his family, travel, play golf and swim. He is also a huge sports junkie and even bigger motorsports fan and loves to attend racing events when he can.
Share This Story!