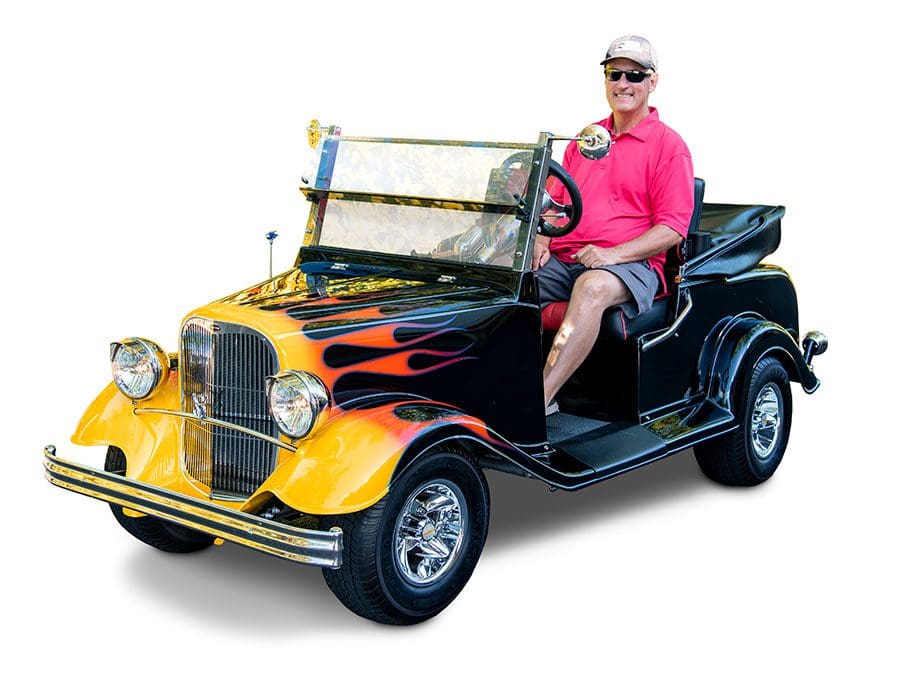 Replica street rods 'wheelie' carry Villagers in style.
Photos: Nicole Hamel
Gary Grahn, Jr. burned rubber in several high-performance rides before moving to The Villages – Corvettes, a Chevelle with a 4-speed 396, and an El Camino – so it's no surprise that he tools around in a custom golf cart straight out of American Graffiti. 
"When I go down to the square it always gets a crowd, especially if it's a time of year when all the grandkids are down here," Gary says of his one-of-a-kind roadster with custom-painted flames, no top, a short windshield, and hand-painted powder-coated orange wheels with baby moon hubcaps that were popular in the 1940s and '50s. It has a stick shift, your typical AM/FM/CD stereo, Bluetooth, tilt steering, and self-cancelling turn signals (which he jokes should be mandatory in The Villages). 
"When I was growing up my dad had a '32 roadster. It was turquoise with white interior, and something I remember from being young is we always had hot rods and Corvettes and all that," says Gary, who recently relocated from the Village of Belle Air to Duval.
Dad, who moved to The Villages in 2000, actually owned one of the first street rod golf carts in The Villages. When Gary visited he knew he would end up living in The Villages as well. 
He has been here for seven years full-time. Five years ago he purchased his own street rod, which still looks brand new because he doesn't take it out in the rain or cold or when he goes golfing. He has a regular golf cart he takes on those occasions.
Mitch Courte also keeps his customized cart in the garage most days. He and his wife live in Pine Hills, and while they do not use the cart as their primary mode of transportation, a 60- to 70-mile day trip in their one-of-a-kind black and gold street rod that's a 5/8 scale of a 1940 model Ford, is not uncommon for them. 
"We do about 5,000 miles a year in our street rod so we do get out and cover a lot of miles. I'll drive all the way to Orange Blossom Hills for a nice lunch. Not because the food is any better, but because it's a nice ride. It's not for the destination but it's the journey and the ride that's the part we enjoy," Mitch says.
When Mitch, a self-proclaimed "car guy," moved to The Villages he bought a normal golf cart, which he says looked great in his garage. When going to the squares he would tell his wife "either I look like everyone else or everyone else looks like me." When he started seeing street rods he knew he needed one for himself. His current cart (his second street rod), purchased in December 2020, looks like a 1920 model Ford pickup truck. It was designed to be on the cover of a street rod brochure and is the only one with that style and color.
Mitch got lots of compliments at The Villages' monthly golf cart events, which have been canceled for the last two years. "We go to the town square and we're always having people taking pictures. During the pandemic we would do picnics by the lake, and we still do that, and we get people stopping by asking for pictures," he says. "We go out and enjoy the open air, but also it gives us pleasure that other people get to see and enjoy it, that brings joy to us as well." 
If you see a 1942 deuce coupe golf cart around Bonnybrook, you're probably looking at Bill Svagdis' hot wheels featuring blue metal slate custom paint wife Kate picked. His cart was built water-tight, so rain isn't an issue, and there's a cooler under the front hood Bill especially likes. His cart is stretched a little longer than the average club cart, so it gives the ride more stability, he says. He and Kate enjoy riding to destinations, especially when the trip entails driving over new bridges in The Villages. "At my age, a deuce coupe would have been before I was old enough to drive, but it was a thing that was neat to look at, neat to have," Bill says of the cart purchased in July 2018. 
While some street rod owners use their carts only for special occasions, Bill takes his everywhere, which is why his includes a radio. Bill plays volleyball at Eisenhower and Rohan recreation centers so he is often taking 22-mile round trips. "Everything I do in my golf cart. We'll take rides over the bridges just to traverse the interstate," he says. 
People often take pictures, especially when the slate paint is sparkling in the sunlight. "It almost looks three-dimensional," Bill says. The couple frequently drives over the bridges to have lunch or dinner. 
Richard Norris of Pine Hills got his 1929 Ford street rod a year and a half ago after walking into a dealership on a whim. "I said, 'Let's go in there just for the fun of it.' And I went in there and saw the cart I have now, and I thought, 'Ok I'm done,' so I bought it," Richard says. His friend and fraternity brother from college works at Villages Street Rod, and he and Richard often attend street rod functions. 
Richard takes his cart all around The Villages, to restaurants, grocery shopping, and just for joy rides. "It's just phenomenal what you can do with it," he says. "I keep it absolutely pristine. People see it and just think it's beautiful, because it is. I will not take it out unless it's looking really good." The cart has been rained on just twice, which Richard says was two times too many. Richard and his wife take their street rod out just for fun and use their BMW as their everyday car. 
Greg Grahn jokes that he is jealous of his 2017 street rod because it had four miles on it when he purchased it "new." He's jealous because those four miles took place ferrying players at The Masters. "I'm a golfer and I would've loved to have been there but my golf cart was there," he says. 
Greg's radiator style cart is easily made into a convertible in less than a minute, and has a trunk you can store things, which he says also makes a good seat for his dog. He also enjoys the cooler under the hood, which includes a rubber stopper so ice can be placed inside to keep drinks cool, though the area can also be used for storage. 
Greg appreciates that street rods ride much smoother than typical club carts, which makes them worth their price in his opinion. He also says the longer wheelbase makes street rods ride better. He also appreciates the tilt steering and turn signals that cancel themselves, "because you'll notice that with all these old people down here, they're always driving with their turn signals on," he jokes. He also likes that he can attach a trailer to hold golf clubs to his street rod, or in his case, a flatbed to hold RC (remote control) racing equipment. "There's a remote-control track on one of the Everglades Recreational Centers and it's just for RC racing. You have to go over those two bridges to get there so I never could get there in my golf cart. Now I can," Greg says. 
With thousands of homes and continual expansion in The Villages, getting around in just a golf cart can be tough. The new bridges are a big help, as people can take carts over State Road 44 and the Florida Turnpike, so they can get from one end of The Villages to the other. "If you didn't want it, you truly could get by without a car. We started out with two cars and one golf cart and now we have one car and two golf carts," Greg says. 
The price of a street rod originally convinced Greg to start off with a used model, but he eventually got a good deal on a trade-in. "I'm glad I did because they really hold their value. I just don't think I'll ever get rid of this one. I love it so much, and the dog loves it." 
You can find your own dream ride at Streetrod Golf Cars, in Palm Ridge Plaza on County Road 466, or check out what's available at streetrodgolfcars.com. 
Originally from Buffalo, NY, Victoria graduated from Canisius College in 2018 with a bachelor's degree in English and Writing. In August of 2019, she relocated to Eustis, Florida, and soon began at Akers Media Group assisting with social media projects. Later that year, she was promoted to a full-time writing position at the company and has since found her niche telling the stories of so many of Lake and Sumter County's awesome people.
Share This Story!