Families rejoice with the unveiling of the Groveland Four monument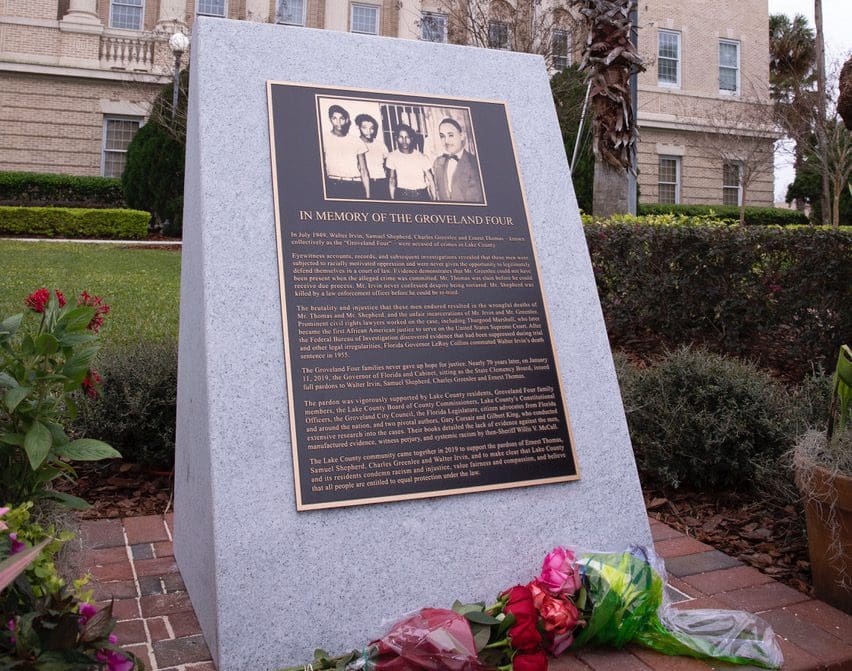 On a solemn yet joyful day, the families of the Groveland Four laid to rest demons and lifted spirits during a ceremony honoring the men who faced racial injustice in 1940s Lake County.
State and county officials unveiled the Groveland Four monument Friday, Feb. 21, before a large turnout outside the Lake County Historic Courthouse in Tavares. While the lineup of speakers included many dignitaries, the day belonged to the families of the four men: Charles Greenlee, Walter Irvin, Samuel Shepherd and Ernest Thomas.
In 1949, the men were wrongfully accused of raping a white teenage girl in Groveland. According to news accounts, Ernest was shot and killed by a posse of men shortly after the alleged crime, and Samuel was later killed by Lake County Sheriff Willis McCall. Charles and Walter served more than 10 years in prison before being paroled. Charles died in 2012; Walter in 1969.
In January 2019, the men were posthumously pardoned by the Florida Clemency Board, which noted that their convictions and treatment were a "miscarriage of justice."
Vivian Shepherd spoke at the ceremony on behalf of the Shepherd family:
"Our prayer today is that this monument, which has been erected for all four men, will be a constant reminder and provoke the hearts of mankind to treat humanity with the utmost respect that is so deserved no matter race or color, man, woman or child."
She also relayed a message from Aaron Newson, a nephew of Ernest Thomas' who could not attend: "I am grateful for what the state of Florida is doing to honor our uncle and I wanted to just give everybody love today and just say, 'Thank you.'"
The granite memorial features a bronze plaque imprinted with a written account of the men's ordeal, which was prepared with the help of their families.
Speakers included Gov. Ron DeSantis, as well as authors Gary Corsair and Gilbert King, who each wrote books that generated awareness of the case.
"I believed that issuing the pardon was the right thing to do and I do think that it brought justice to the historical record," the governor said at the ceremony, according to a news release. "And so, this monument here today will further serve as recognition of the miscarriage of justice that occurred in this case and will represent proof of Lake County's commitment for equal justice and a commitment to do better going forward."
Lake County Commission Chairwoman Leslie Campione delivered the closing remarks:
"This has been a long journey for so many, and I thank each person who played a role in bringing us to this place, where we can stand together in solidarity with the families of these four men. I realize the journey is not entirely over. It never truly is. There's always work to be done.
"And yet today, we are able to say that this monument will help us always remember Samuel Shepherd, Walter Irvin, Charles Greenlee and Ernest Thomas, and it will demonstrate that the lives of these four men truly mattered. They made a difference. They continue to make a difference.
"And while they suffered a terrible injustice, their memories remind us that we must guard and protect the rights we are guaranteed by our Constitution. We must always stand up for due process and equal protection under the law for all people."
Long after the ceremony, relatives and friends of the four men and other members of the African-American community continued to pose for photos at the monument, not wanting the day to end and knowing that the impact of the men's lives never will end.