Farm to Skin Plant-Based Makeup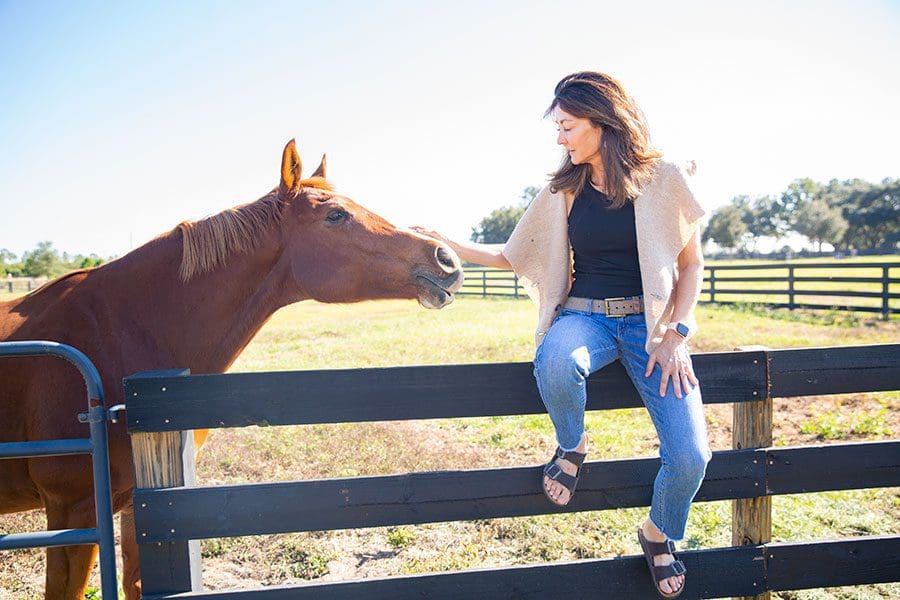 Health diagnosis leads Eustis woman to start skincare brand with natural, homegrown ingredients.
Photos: Anthony Rao
Patricia Walker began paying closer attention to what she was putting into and onto her body after being diagnosed with thyroid disease in 2004.
"My first symptoms were a noticeable puffiness around my eyes as well as shaking hands. Graves' Disease triggered my immune system to create antibodies against my thyroid which also led to inflammation behind my eyes. Having never heard of Graves' Disease, I was surprised when my ophthalmologist suggested I have my thyroid levels checked. I was 38 years old when I was diagnosed," Patricia recalls. 
Researching Graves' Disease, an autoimmune disorder that causes overactive thyroid, Patricia discovered that many so-called "natural" products are actually riddled with toxic ingredients. 
Inspired by the simplicity of her 600-acre plantation-style farm in Eustis, complete with a 40-acre tree farm, 20 acres of citrus, a greenhouse, and 200+ acres of pine forest and hidden trails, she decided to create her own plant-based skincare brand.
In 2012, she launched Board and Batten, now known as Farm to Skin, a product line Patricia has grown to encompass 10 products (and counting), each formulated with the purest organic ingredients, many of them from her farm here in Lake County.
"Our farm gives us the unique opportunity to curate at every stage of creation," says farmtoskin.com. "From propagation to distillation, we see first-hand nature's beautiful simplicity and complex variations."
Patricia's healthy living habits are about more than addressing her thyroid disease; it is about taking control of her long-term health. She ascribes to a daily regimen of exercise and a  plant-based diet, which prevents (as well as reverses) lifestyle diseases such as coronary artery disease, obesity, diabetes, and autoimmune diseases such as Graves' Disease, Patricia says.
"Keeping our bodies as healthy as possible is the best defense against any autoimmune disease. Studies have shown that chemicals and environmental toxins can impair our immune system. We are committed to providing the most beautiful, thoughtfully curated products using nature's purest ingredients to balance, treat, and restore your skin," Patricia says.
Looking back, she believes her former lifestyle played a role in her diagnosis. "My husband and I had four young children, and my eating habits were not so great. I basically ran myself ragged," Patricia says. She decided to switch to a plant-based diet and lifestyle in 2012 after reading "The China Study: The Most Comprehensive Study of Nutrition Ever Conducted and the Startling Implications for Diet, Weight Loss and Long-term Health" by T. Colin Campbell and Thomas M. Campbell.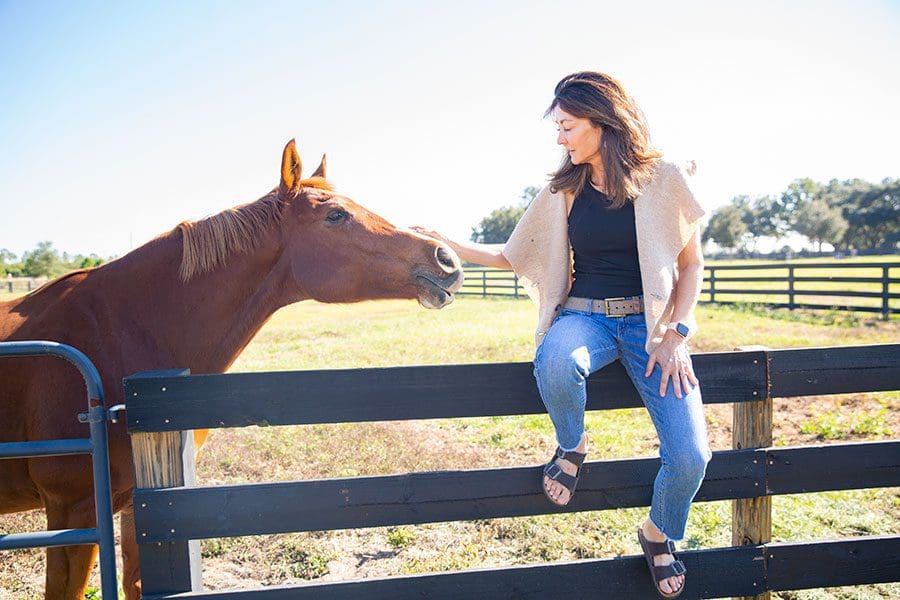 "Today I am in my mid-50s, still living an active lifestyle and feeling better than ever. I believe it is because I am taking better care of myself overall, including my diet, learning to rest when needed, and using my preservative-free plant-based skin care," she says.
In formulating Farm to Skin's products, Patricia researched plant oils and discovered that each plant contains unique compounds that provide numerous health benefits. "The role of phytonutrients in plants is to protect the plant from disease, drought, sun rays, and pollution, and many of these benefits can be applied to human health as well," Patricia says.
Applying these plant oils topically via skin care products gives our bodies vitamins and nutrients in whole form. "Flavonoids, flavones, and ferulic acid are just a few of the vital cofactors necessary to neutralize free radicals and prevent oxidative stress," she adds.
While Patricia's farm in Eustis is capable of producing honey, magnolia, nettle extract, rosemary extract and other ingredients, Farm to Skin partners with organic farms across the U.S. as well. Patricia found many of Farm to Skin's partners through a well-known teacher and researcher of aromatherapy who has first-hand knowledge of well-respected organic farmers from traveling all over the country conducting workshops and training sessions. 
Farm to Skin offers facial skin care that is chemical free, certified organic, synthetic fragrance free, and with the exception of the Get Fresh cleanser, preservative free. According to farmtoskin.com, "Never, ever, ever will you find parabens, synthetic fragrance, petroleum, sulfates, phenoxyethanol, animal by-products, or harsh chemicals." The products are handmade in small batches to ensure quality, freshness, and effectiveness, and hand-poured at Patricia's farm.
"It is a difference you and your skin can feel," Patricia says.
One of Farm to Skin's most popular items is the Discovery Set, which includes everything you need for a complete daily regimen, and a helpful guide to show you how to use each product. The set comes with two cleansers, a hydrating anti-inflammatory, skin-restoring moisturizer, facial oil, overnight facial balm, nourishing multipurpose balm, and an organic facial shammy for removing masks, cleanser, or makeup. "It is a great way to try our line and discover which products you like the best," Patricia says.
The Healthy Trio mix and match, with your choice of a cleanser, moisturizer, and essence, is also a best seller.
Farm to Skin also offers essential oils, skin buff and masks, body oils, eye cream, bar soaps, and gift sets such as the at home spa kit.
The therapeutic essential oils and plant essences display nature's subtle variations in color and scent, says farmtoskin.com. "These whole-food nutrients are blended with advanced formulation in their complex yet balanced form to work together and restore healthy skin." Farm to Skin's blends are precisely formulated without cutting corners. To maximize effectiveness, Patricia chooses organic unrefined oils and bioactive hydrosols, never water, aloe, or filler.
If you find yourself loving Farm to Skin's products, consider joining the Coop Loyalty Program. Points towards products can be earned by joining the program, following @farmtoskin on Instagram, leaving a review of a product, sharing on Facebook, and members will get points for their birthday as well. The Coop allows members to earn points towards product discounts and special offers, and you will gain access to exclusive Coop loyalty rewards promotions, savings, and discounts.
---
Find Online: 
farmtoskin.com
Find In Store:
Jarboe Inc.
1225 N. Orange Ave., Orlando
407.895.6878
facebook.com/farmtoskinpw
instagram.com/farmtoskin
Originally from Buffalo, NY, Victoria graduated from Canisius College in 2018 with a bachelor's degree in English and Writing. In August of 2019, she relocated to Eustis, Florida, and soon began at Akers Media Group assisting with social media projects. Later that year, she was promoted to a full-time writing position at the company and has since found her niche telling the stories of so many of Lake and Sumter County's awesome people.
Share This Story!