Find out how this popular Mount Dora chef went from street life to the chef knife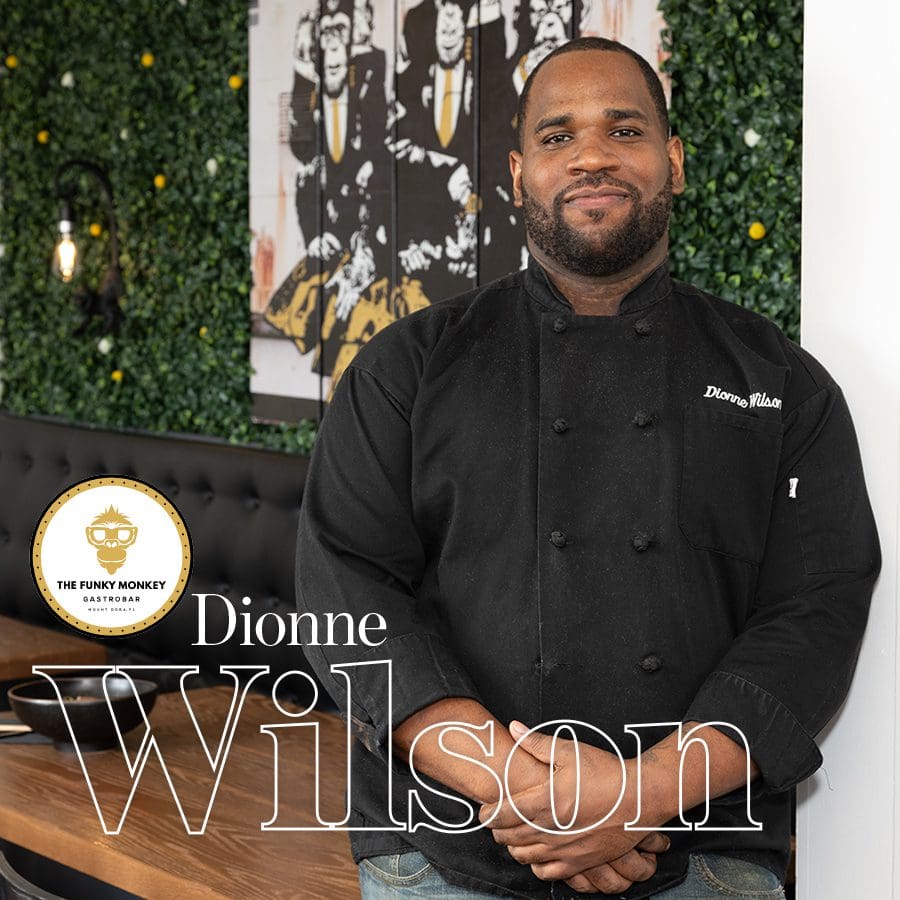 Find out how this popular Mount Dora chef went from street life to the chef knife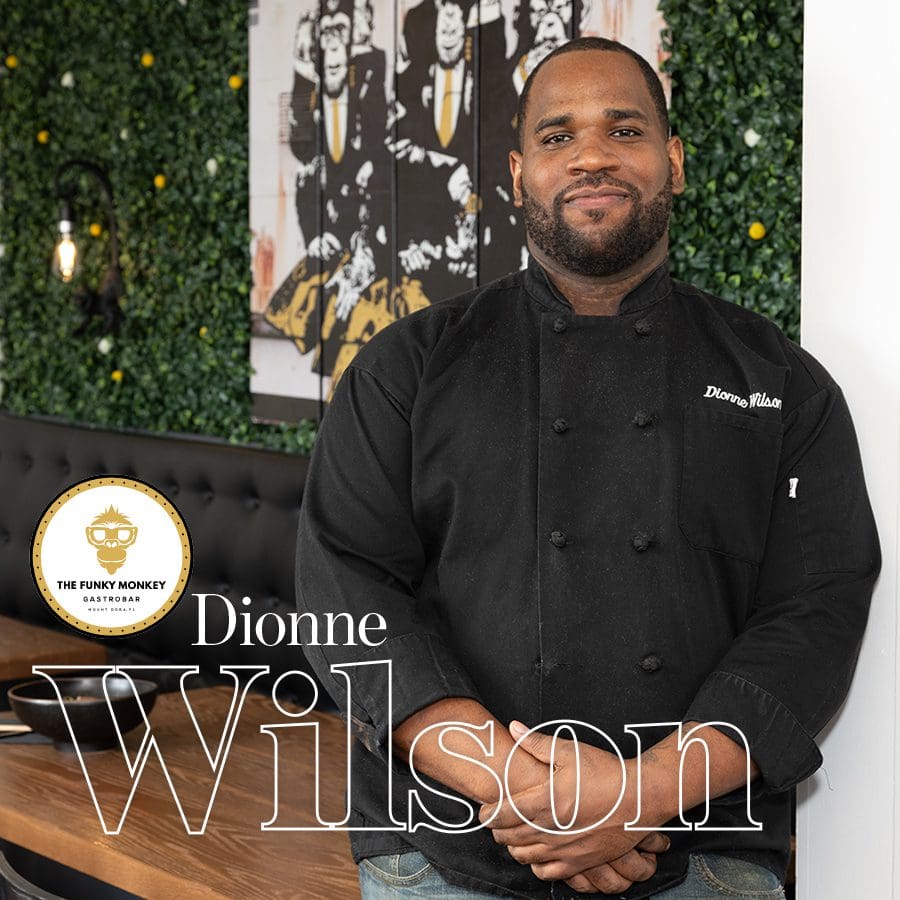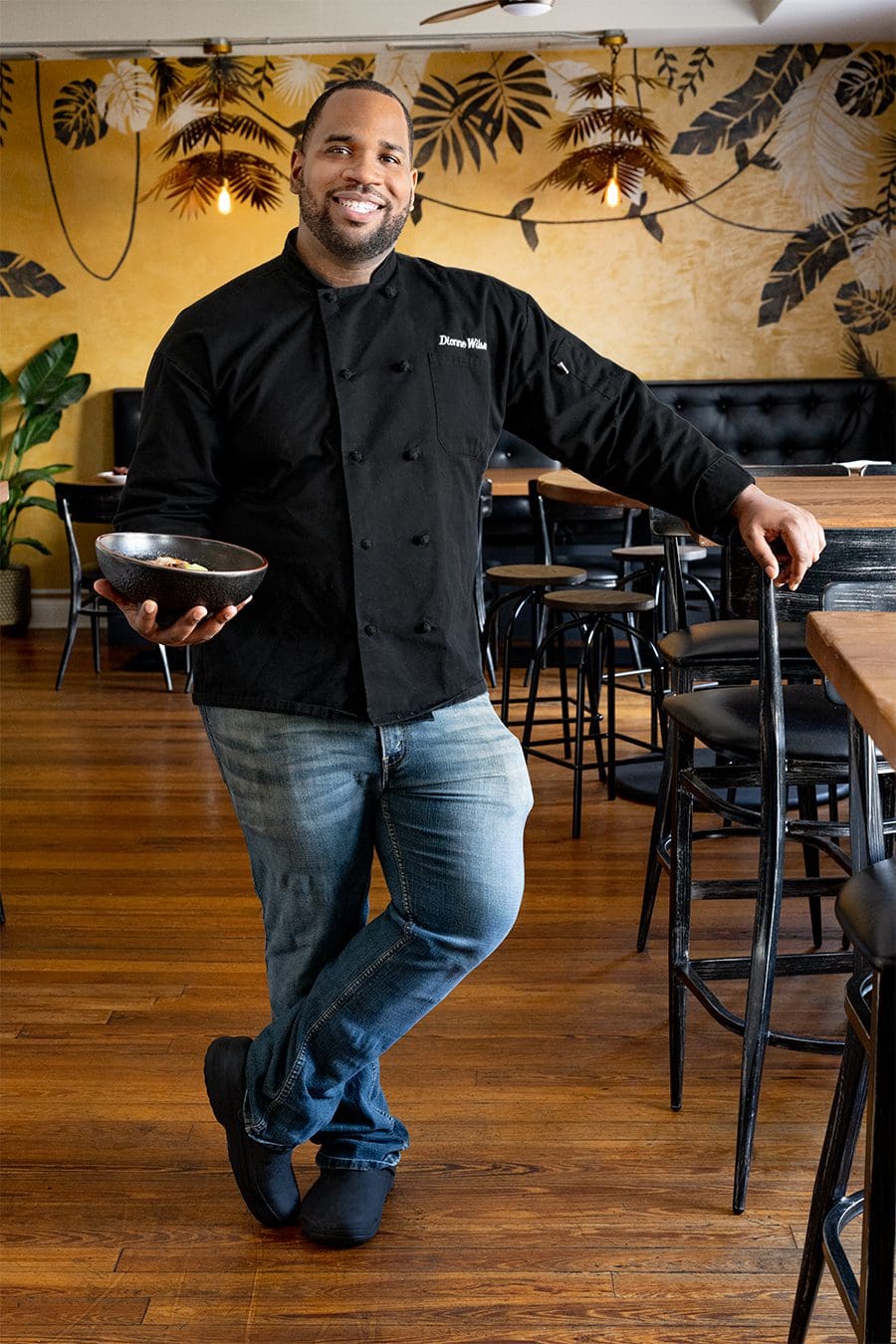 Meet the chef, Dionne Wilson
Dionne Wilson admits that he got into a lot of trouble as a young man growing up in the Bronx.
During his teenage years, Dionne found himself going down the wrong path and eventually joined a gang. However, when he found out that his girlfriend at the time was pregnant, he knew he needed to turn his life around and be a positive influence for his child. 
That's when he decided to attend culinary school . . . a decision that seemed like a recipe for failure considering that his first attempt at cooking – macaroni and cheese – turned out wrong. 
Fortunately, Dionne's grandmother saw his potential, took him under her wing, and taught him how to make mac and cheese, and other dishes, her way. 
Still, Dionne's journey to becoming a chef was not an easy one. He attended Star Career Academy, where he begged to do his externship at Thomas Keller's renowned restaurant, Per Se because he looked up to him and felt they shared a similar journey. His wish was granted, but as the saying goes, be careful what you wish for. 
"It was the hardest restaurant I've ever worked at," Dionne says. "I beat myself up all the time for not finishing my externship there. I believe I could have made something of myself if I had." 
He ended up finishing his externship at Giovanni Rana. 
After culinary school, Dionne's first job was at Ippudo, a Japanese restaurant. Although he didn't know it was a Japanese restaurant when he applied, he was able to joke his way through the interview and ended up being hired. Despite never having cooked Asian food, Dionne quickly proved himself, was soon training others, and became one of the head line cooks.
"I never thought they'd hire me," Dionne says. "But apparently, I was exactly what they were looking for. It was here I got my first taste of Japanese cooking, and I loved it." 
Dionne spent six months in Fukuoka, Japan perfecting the art of ramen, a technique he uses today at his current restaurant, The Funky Monkey in Mount Dora. This experience was one of the best decisions of his life. 
"I felt like it was going to be my life goal to be a Japanese ramen chef," he says. "Their process over there is very different. My teacher, his name is Masashi, he first threw me off the line because I didn't know how to use chopsticks properly. He said, 'Go home and practice.'" 
Dionne kept working hard and pushing to learn the Japanese culture and proper ways of making cuisine, before returning to the states. 
When Ippudo opened a second location in Hell's Kitchen, Dionne became one of the lead chefs. 
Dionne's talent in the kitchen didn't go unnoticed, and he was soon recruited by Michael Jordan's Steakhouse owner Peter Glazier to be a sous chef. 
Although it was a big challenge, Dionne rose to the occasion. "Only the greatest people worked there," Dionne says. "It was in the middle of Grand Central terminal and everyone working under me was 20 to 25 years older than me. It was a struggle." 
This experience groomed him for his next job and his first executive chef position at BarBacon, where he created a menu completely different from anything he had done before.
"Everything had to incorporate bacon," Dionne says. "Your desserts had bacon, even your water had bacon."
He furthered his career at Craveable Hospitality Group, formally The David Burke Group, where he oversaw five restaurants, managing the staff, and creating different dishes for each location. Around this time, he met his future wife and soon learned he would be a father once again. 
His wife suggested moving to Florida. Dionne refused. "You can see how that turned out," Dionne laughed. 
Dionne initially wanted to retire from the kitchen, but soon found out he couldn't sit still. He had to be making something. In 2018, he opened his own hot dog cart in DeBary with gourmet hotdogs topped with things like lobster or pulled pork. His food became so popular that it funded an upgrade to a food truck.
Unfortunately, a couple months in, the pandemic hit, and he was forced to close. 
"We made the hard decision to sell the food truck," Dionne says. "We had just bought a house and just had a baby. We didn't have much of a choice." 
When restaurants re-opened, Dionne began working at Mama Foo Foo in Daytona Beach. A few months ago, he became the executive chef at The Funky Monkey in Mount Dora, bringing his famous ramen dishes and rich culinary expertise with him.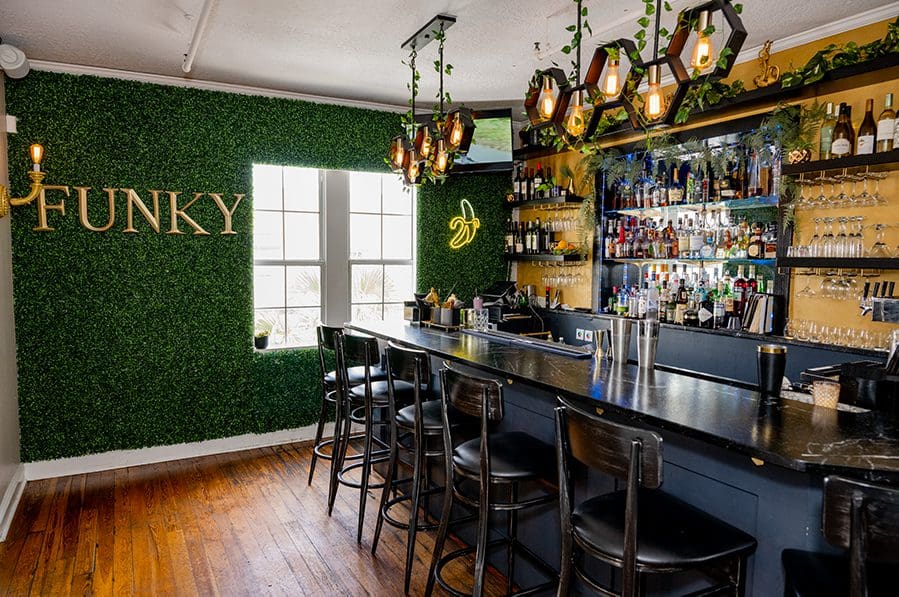 About The Funky Monkey
The Funky Monkey opened in 2021 in the upstairs dining area of the Renaissance Building in downtown Mount Dora. This is owner Rodrigo Morocho's second restaurant. The first is The Frog and Monkey Restaurant and Pub, located just two floors down. 
"Originally my brother-in-law and I opened it to offer a different atmosphere than The Frog and Monkey," Rodrigo says. "It's more of a laid-back gastrobar offering tapas, or small, sharable dishes."
Rodrigo was looking for something that no one else offered in the area, so Dionne was a perfect fit with his extensive culinary skills. 
The menu offers four of Dionne's signature ramen bowls – tonkotsu, spicy miso, short rib and veggie. Other "big eats" include chaufa, a Peruvian-inspired fried rice with vegetables and choice of protein, steak frites (marinated skirt steak with chimichurri and asparagus), and the Funky Burger with a ground beef and pork patty topped with coleslaw, cheddar cheese and chimichurri.
Their signature tapas (great for sharing) include charcuterie, empanadas, chicken or pork bao buns, chicken wings, potato croquettes, braised short rib, loco pulpo (braised and grilled octopus) and gambas (head on prawns with spicy butter). 
Recipes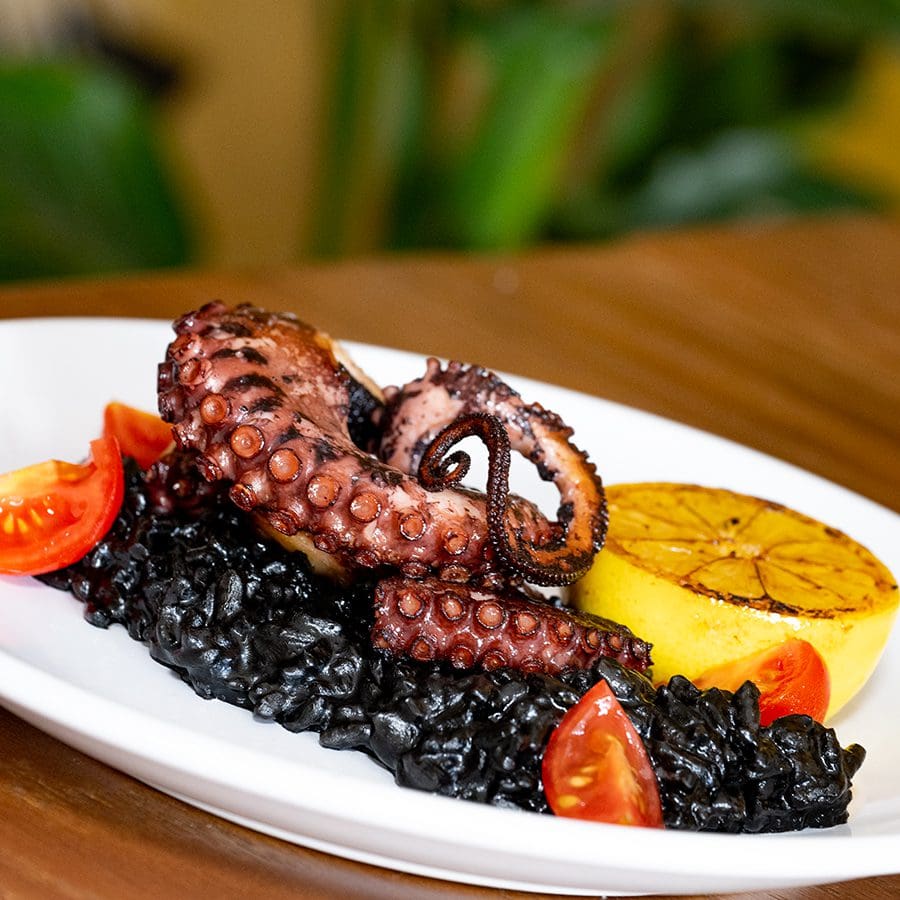 Loco Pulpo
Braised and grilled octopus, black "squid ink" risotto, handful of heirloom tomatoes, garnish of choice.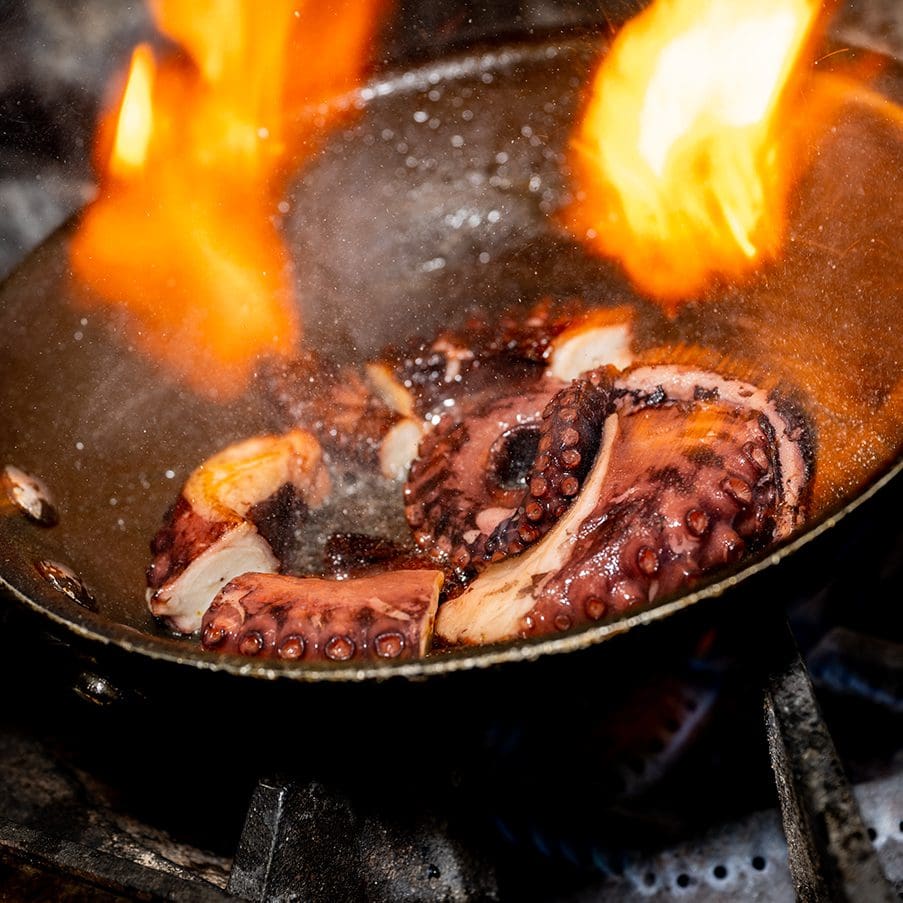 Octopus Braising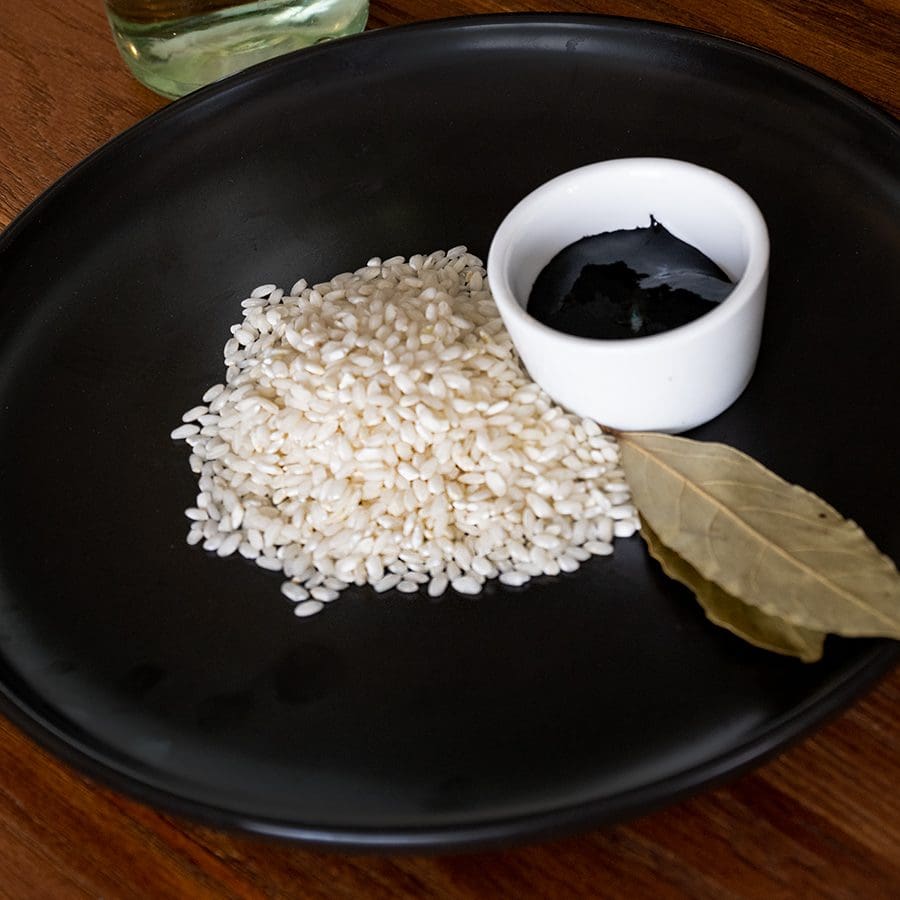 Squid Ink Risotto
Tonkotsu Ramen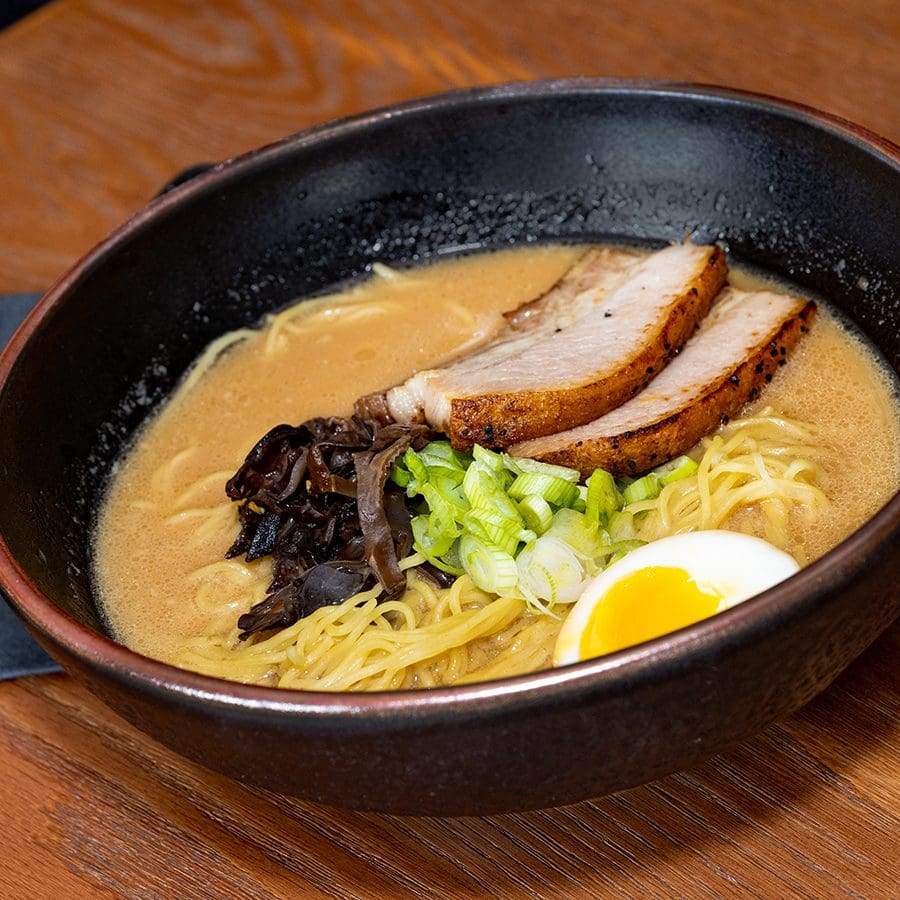 Tonkotsu Broth
Pork Belly
Mushrooms
Do you have favorite recipes or know a chef we should profile?
Let us know!
Do you have favorite recipes or know a chef we should profile?
Let us know!
Do you have favorite recipes or know a chef we should profile?
Let us know!
Originally from the small town of Berryville, Arkansas, Cindy has become a multimedia specialist in journalism, photography, videography and video editing.
She has a B.S. in Communications from the University of Central Arkansas and is a correspondent for The Daily Commercial, LakeFront TV and Beacon College's PBS talk show, "A World of Difference," where she received an Anthem Award and Telly Award.
When she isn't working, Cindy spends time with her husband, Ryan, and son, David, traveling and taking photos of landscapes and wildlife.
Share This Story!