First Academy Leesburg Bryce Norflee Offensive Player of the Week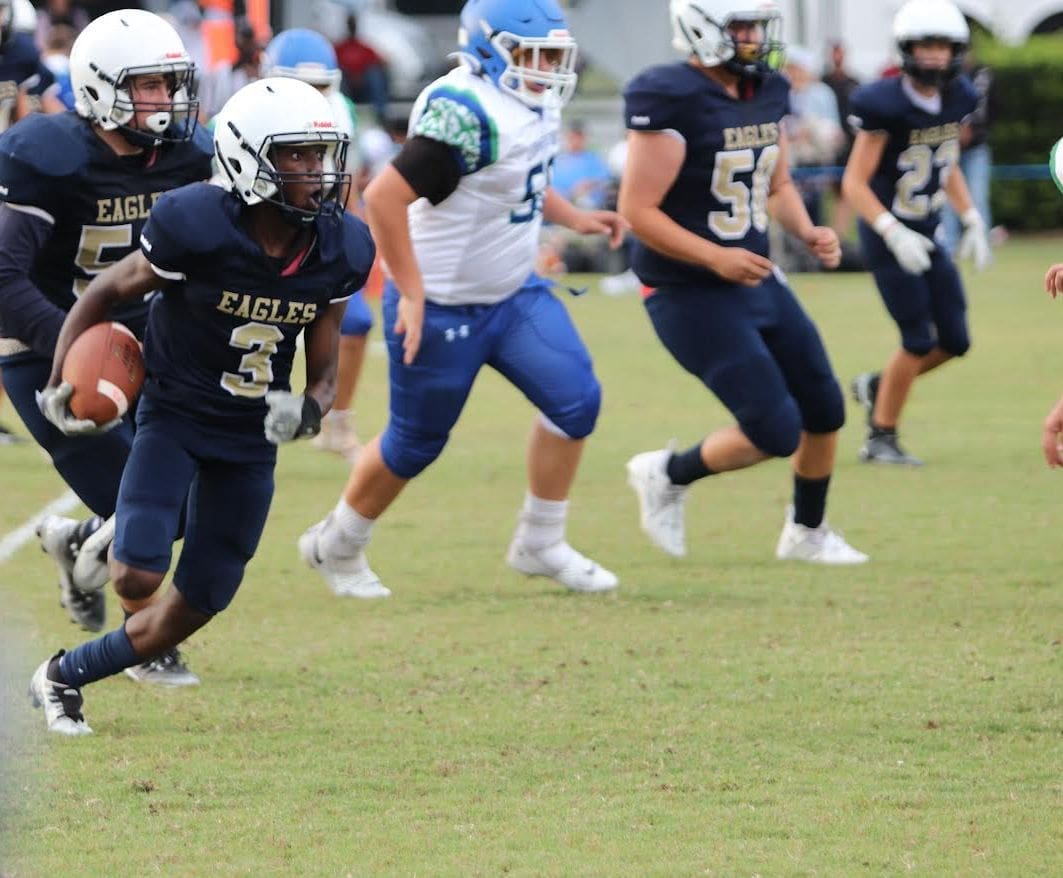 Bryce Norflee had an amazing week 2 on the football field as did the rest of the First Academy Leesburg football team. We will touch on some of those players nights in this article. Norflee is one of the most exciting young football players that First Academy Leesburg has had in a long time! The community has been buzzing about who this young man is. He recently had a standout performance in a 53-0 win against Trinity Prep this past weekend that we want to recognize.
#3 Bryce Norflee is a freshman. Not everyday that a freshman gets this honor. In fact last year we did not have a freshman player as a student athlete of the week for the high school football season so that is saying a lot! Norflee has been an instant game changer ever since stepping onto the football field this spring.
Bryce Norflee is currently 5"6 160lbs. But don't let his size fool you, he cuts, jukes and outsmarts his opponents on the football field. Sure he will grow into his body as the years progress, but right now this freshman is doing some incredible things. This weekend against Trinity Prep Norflee had the best game of his short high school career to date.
Norflee scored 2 offensive touchdowns while rushing for an average of 8.0 yards per carry. He had close to 150 yards that day offensively with a 48 yard touchdown reception to go along with his 2 touchdown rushes. Adding to that total is a defensive interception that Norflee has this season. He has been all over the field and head coach Canh Bui has been very pleased about what he has seen out of this young man.
Coach Bui says " He has shown some great promise in the rushing and catching game. He was a standout player in our spring game and he has worked hard to translate that to regular season play." Norflee is having a great year and so are his teammates! Quarterback #11 Cason Cherry has started the year with 2 rushing touchdowns and a throwing touchdown to Norflee. Cherry averages 5.6 yards on the ground. Norflee had plenty of help from #21 Case Ellison all night long. Ellison is a terrific downfield blocker. Meanwhile another freshman #50 Kyle Kirkland made some nice blocks. He will be one to watch on the offensive line in the coming years.
Coach Bui went on to say "Bryce Norflee is absolutely off to a good start. I've had the pleasure of coaching him in 6th-8th grade for the school's flag football team and now as a freshman he is stepping up big time!" He truly is and that is thanks to coach Bui who has been able to get the most out of his players this season. It is also thanks to a great team around him. Football is a team sport and Norflee was not the only running back who had a good night.
Senior #22 Bryson Barnett also has 2 rushing touchdowns. Barnett plays football and baseball and he is terrific at both sports. Barnett is averaging 6.7 yards per carry to begin the year. Barnett also leads the team in tackles with 16 so far. Sophomore #12 Logan Stalvey also has 16 tackles with 5 for a loss. #8 Alexander Cichielo has also been a standout linebacker for the Eagles. So the offense is getting plenty of help from the defense as we just witnessed a 53-0 win against Trinity Prep last Friday. It should be interesting how FA Leesburg continuest to use Barnett and Norflee together offensively.
Norflee has great promise in front of him. This freshman player is already turning heads. Sure FA Leesburg is not in the same category as a South Sumter, Lake Minneola or Leesburg High program, but they are looking for the teams first winning football season in the Sunshine State Freelance District since 2015 when that team delivered a 6-4 record.
Bryce Norflee will be a big part of First Academy Leesburg football success over the next few years. We look forward to seeing him continue to develop this year and hopefully FA Leesburg can ride this success to some more wins this year! Go Eagles!
Photo Credit:
Canh Bui
Kyle Coppola was born in Newton, Massachusetts and received his Bachelor of Fine Arts in Communications from Curry College in 2016. After traveling to Florida on a family vacation, he decided he could not get enough of the warm weather and made the move from snowy Massachusetts to central Florida 8 years ago.
For the last decade Kyle has gained valuable experience in social media content creation, marketing and sales, writing, video production, sports announcing and even broadcasting for local radio stations, such as FM 102.9 in The Villages and FM 91.5 in Massachusetts. Every year he volunteers at The Villages Charter High School as a play-by-play sports announcer for the football games as well as a public address announcer for the basketball games, including the annual Battle at The Villages Tournament.
Outside the office Kyle is a husband and father to two beautiful girls along with their cat. In his spare time he likes to spend time with his family, travel, play golf and swim. He is also a huge sports junkie and even bigger motorsports fan and loves to attend racing events when he can.
Share This Story!