First Academy-Leesburg Spring Football Game Was A Success!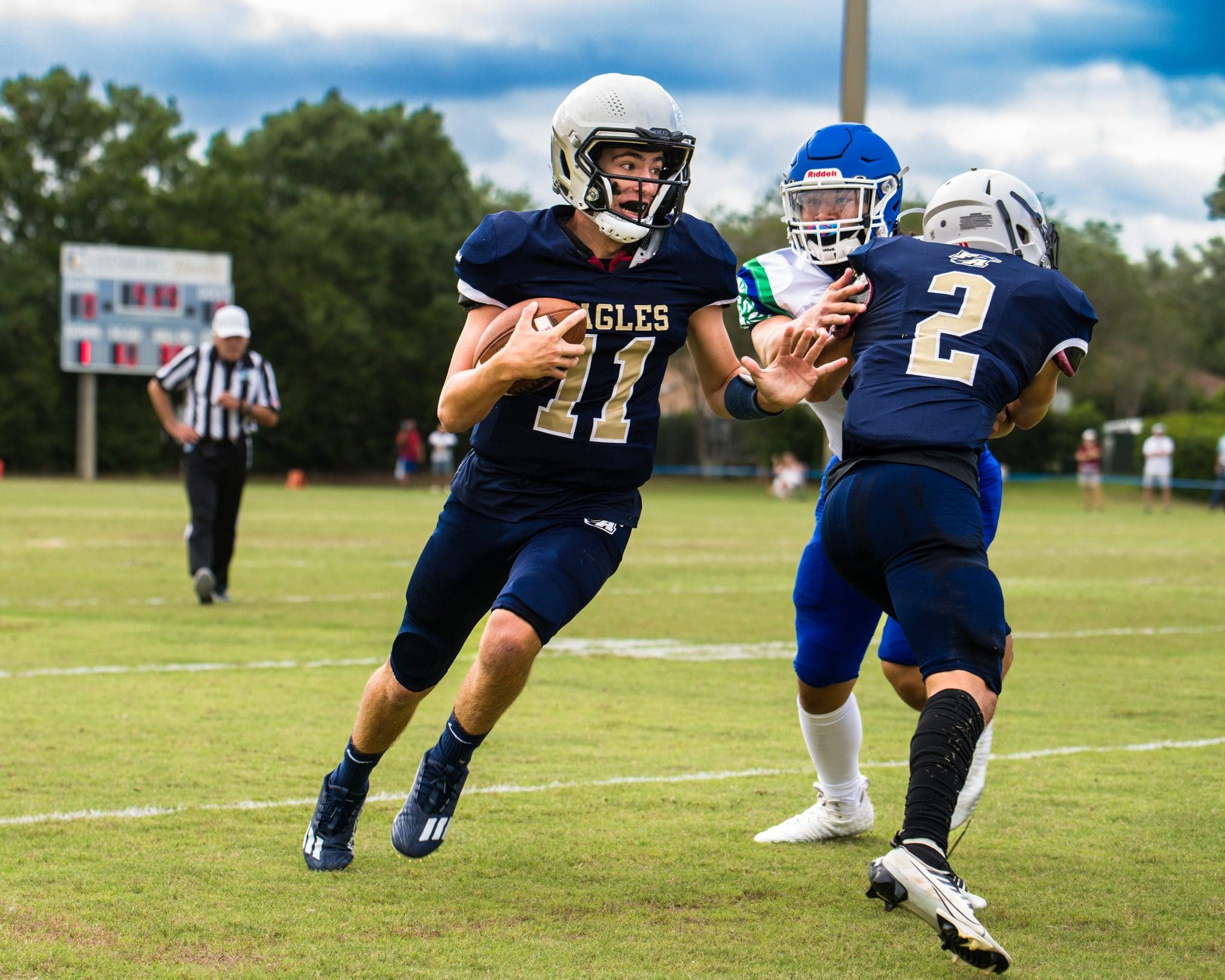 The First Academy Eagles Football program held their annual Spring Football Game. High School & Middle School students were on the field for the game. The theme for this year was a tropical one. Lets Kick off The Summer was the motto for this year and the Eagles kicked off the summer right. The game this year put First Academy against Cornerstone Charter School. Lots of lessons and information was learned for this upcoming August.
Sleepy Hollow Sports Complex is always a relaxing place to watch a baseball, soccer or football game. The cheer team sold concessions, and a Kona Ice truck complimented the tropical theme of the evening. Head coach Canh Bui and his staff will look to gain groud from last seasons record of 2-7. The Eagles have not had a winning record since the 2015 season and coach Bui wants to change that in 2023.
The Eagles return to the field in 2023 with Junior Cason Cherry. Cherry was mostly a backup last year but got in plenty of games. While the game was mostly played on the ground last season we will see if First Academy decides to air the ball out more this year. Cherry should be the front runner to win the quarterback starting position. Brother to Bryce Cherry, Cason has incredible speed. Hopefully The Eagles can give him an offensive line to work with next year.
Meanwhile the running back position is will be up for grabs this year. Senior Nelson Cox led the team last year with 5 rushing touchdowns and 284 yards on the ground. Bryce Cherry who was also a senior had 129 yards rushing and a touchdown last year. The Eagles suffered from an offensive line that underperformed last year but The Eagles hope they can get a good group in the trenches this season.
In 2023 Bryson Barnett who will be a Senior along with Devyn Leiva who will be a Sophomore will most likely be the candidates for running back. Leiva is also listed as a wide receiver so if First Academy can find a way to pass the ball next year, there is a chance Leiva could be utilized in the wide receiver role more often.
Defensively it will be difficult to replace outgoing Senior Bryce Cherry as he made 153 total tackles last season that led the team. But The Eagles will get Senior Alexander Cichielo back who plays Defensive End and return with Junior Matthew Dufresne who plays outside linebacker. Also worth mentioning Defensive End and Tight end Rhett Walsh who will return for his Junior year. The 6"3 height on Walsh makes him a good tight end. If he can add some muscle mass this off season he could really be dominant as a defensive end.
Overall First Academy is going to have its hands full next year trying to replace a few of the outgoing senior class team members. But there is a lot of talent to be had in this upcoming years team. The schedule is not in place yet for First Academy so we don't yet know the teams they will be facing.
The Spring game was a ton of fun for all in attendance. From the families, players, coaches and athletes, everyone had a fun time with the theme of the event. We look forward to Late July when the team begins it's practice sessions. The first game of the year will likely be in early August. Keep an eye on max preps for the schedule. Go Eagles!
Photos Provided By:
First Academy Leesburg Facebook
Kyle Coppola was born in Newton, Massachusetts and received his Bachelor of Fine Arts in Communications from Curry College in 2016. After traveling to Florida on a family vacation, he decided he could not get enough of the warm weather and made the move from snowy Massachusetts to central Florida 8 years ago.
For the last decade Kyle has gained valuable experience in social media content creation, marketing and sales, writing, video production, sports announcing and even broadcasting for local radio stations, such as FM 102.9 in The Villages and FM 91.5 in Massachusetts. Every year he volunteers at The Villages Charter High School as a play-by-play sports announcer for the football games as well as a public address announcer for the basketball games, including the annual Battle at The Villages Tournament.
Outside the office Kyle is a husband and father to two beautiful girls along with their cat. In his spare time he likes to spend time with his family, travel, play golf and swim. He is also a huge sports junkie and even bigger motorsports fan and loves to attend racing events when he can.
Share This Story!