First Academy's Kaden Herrell #1 Unsigned High School Baseball Pitcher In Lake & Sumter County!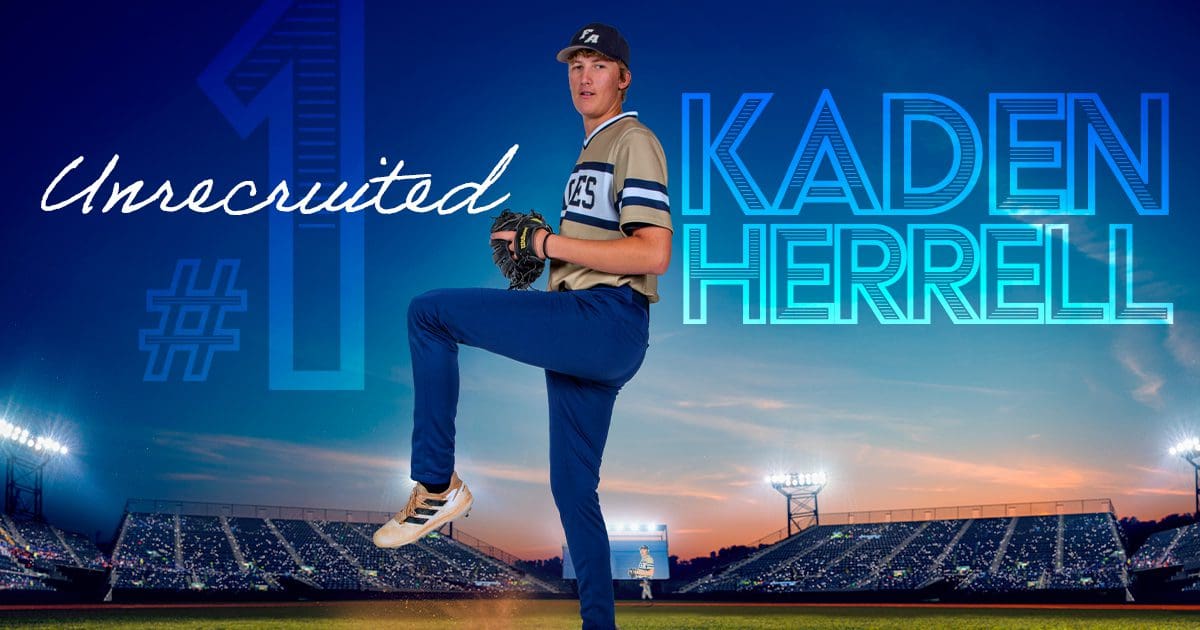 First Academy's Kaden Herrell #1 Unsigned High School Baseball Pitcher In Lake & Sumter County!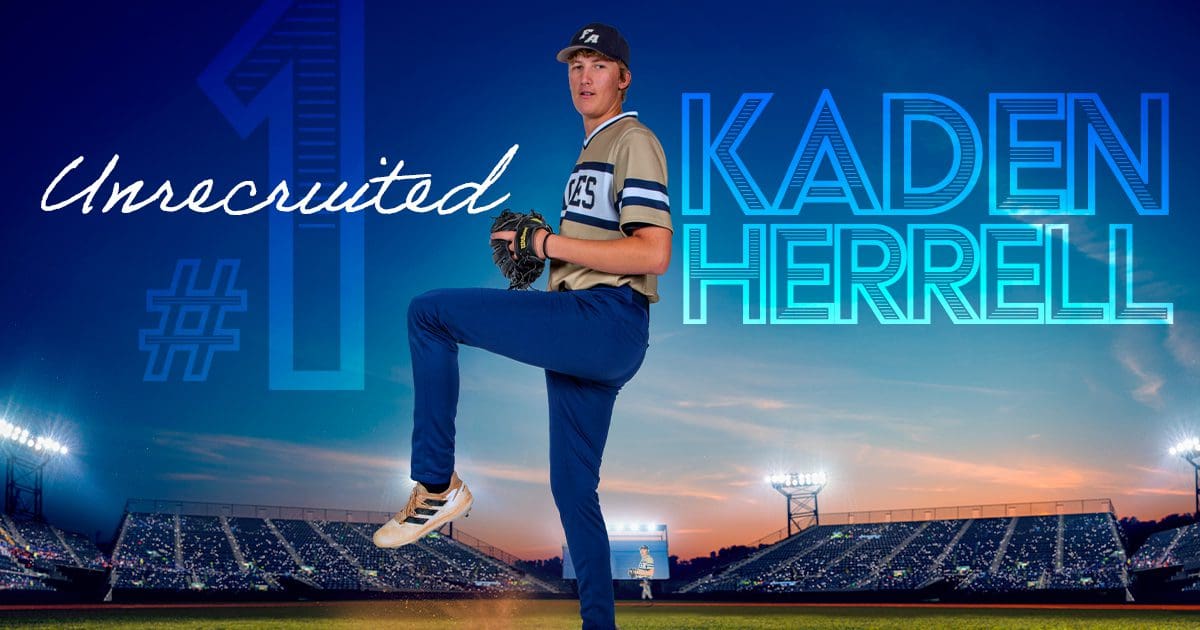 It's one thing to be a good baseball player, it's another to be a good human being. But perhaps what makes a player truly special is their resilience. Kaden Herrell epitomizes what hard work, commitment and faith is all about. Herrell is the #2 Pitcher in all of Lake & Sumter County. He stands 6"8 and plays for First Academy in Leesburg, Florida. He is a heck of a presence on the mound and he has an amazing story.
Kaden Herrell is home schooled. He is the first of 4 children in his family. His mother Nicki home schools all four children. Kaden has a younger brother named Collin Herrell who is a sophomore on the First Academy Baseball team and plays catcher. His sister Olivia is 10 and his youngest brother is Asher who is just 4 years of age but already wants to be just like his big brothers. His father John Herrell is a 27 year veteran of the Lake County Sheriff's office and works as a Public Relations Officer.
Asked what it's like to be homeschooled, Kaden says "It's a very good experience, I have lots of time to think and process the information I learn. I can focus on the school work and not have to worry about rushing from class to class. I also meet great friends and I am blessed that First Academy treats me like a member of their school no matter if it's asking questions or playing the sport I love."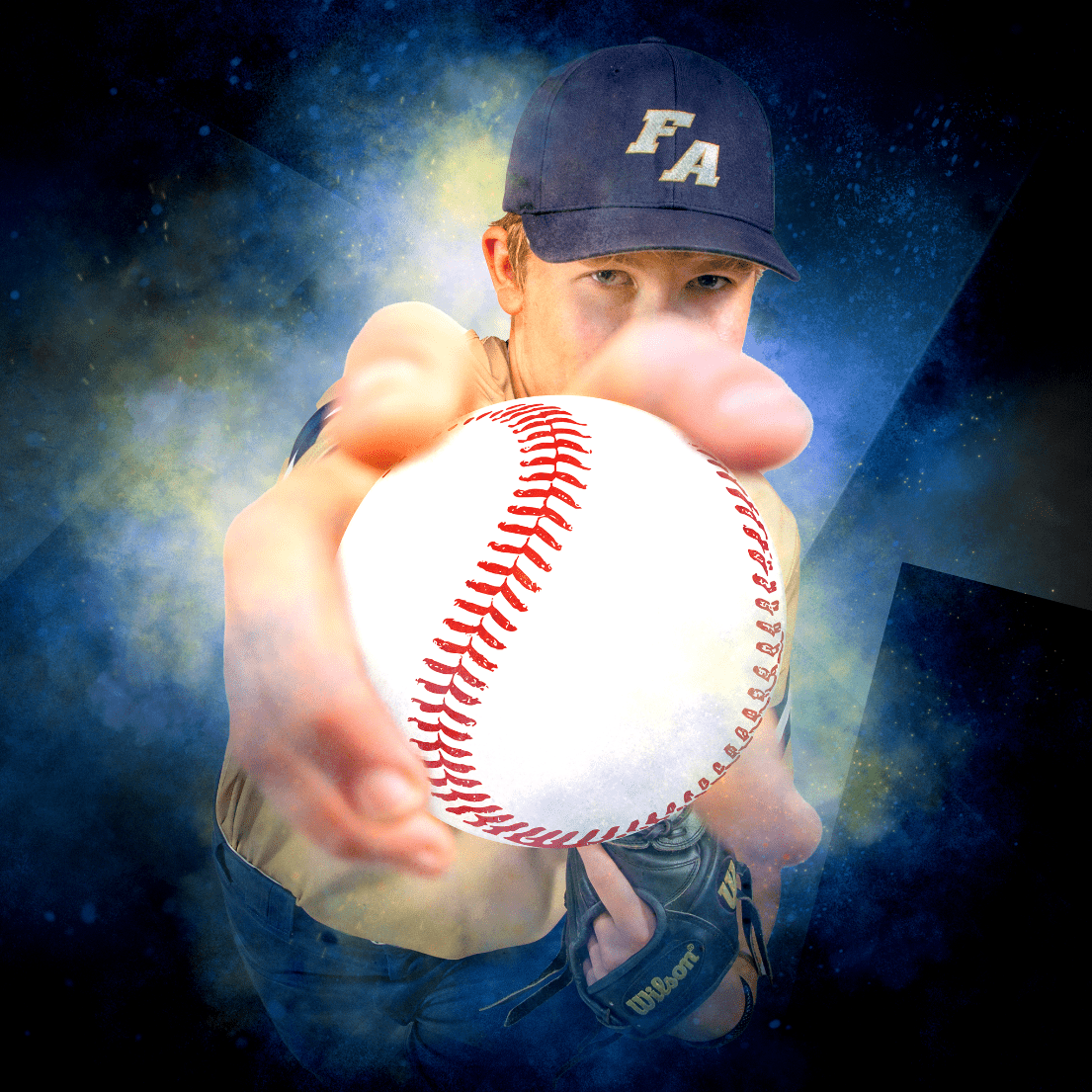 Kaden is something special. He boasts the lowest ERA in the area with an impressive 1.30. Having pitched to 128 batters Herrell has only given up 6 earned runs in 32 innings pitched. He also has 35 strikeouts. To say this kid is a stud on the mound is an understatement. Herrell played for Eustis High his Sophomore and Junior seasons but a challenging circumstance nearly forced Herrell to hang up his cleats for good following his Junior year at Eustis.
Herrell started the 2022 season in Eustis. In just 2 games but pitched many games in relief. He had 23 strikeouts that season. It was going to be Herrell's breakout year. Unfortunately that was not to be. Herrell was attending a birthday party early in the season. A bunch of kids were throwing a football and Herrell joined in. Unfortunately he and another kid banged knees together. Herrell ended up breaking his femur and tearing his MCL. Herrell's season was officially over. A tough break for one of the best all around pitchers we have seen in a long time.
Herrell thought long and hard about hanging up his cleats that summer. He was at peace with his decision to end his career. His father John was also at peace but told him just try and get back into the gym and see what happens. Incredibly, Kaden began to improve massively. Day by day he grew stronger and stronger until he was finally feeling well enough to throw on the mound again. Kaden Herrell was determined. His grit and faith would pay off as Kaden has come back to be perhaps one of the best pitchers ever to take the mound at First Academy in decades!
As Kaden was preparing for the 2023 season, he was at his church youth study group with other baseball players who played for First Academy in Leesburg. Youth group members Christian Hopke a Junior and Johnathan Scouten a Sophomore found out that Kaden was playing baseball again. Both of them invited him to play with the First Academy team in Leesburg. The Herrell family thought long and hard about the decision but made the choice to transfer Kaden into the program. It was likely one of the best decisions the Herrell family ever made.
Kaden Herrell's Dominance Ensues
Kaden's dominance has been so impressive, that the fact he remains unsigned is incredible! I asked Kaden what he wanted to do after High School. Kaden has said he would love to play baseball after High School and further his academic career. There are many programs that he could see himself fit in with. He is such an impressive talent and deserves an opportunity at the next level.
It's of course no wonder Herrell is so good. He attributes his fabulous play this year to his teammates and coaches. Coach Allen, Coach Jones, Coach Holt, Coach Patterson and Coach Singer. All of these men have had a tremendous impact on Kadens life up to this point. Kaden is also great friends with the best batter on the team Bryce Cherry. Cherry is one of the best batters in our county. He also loves his fellow starting pitcher Jacob Pishko who is hanging up his cleats after this season to focus on a christian rapping career. We hear he has a ton of followers so we wish Pishko the best of luck.
Herrell just has the natural ability on the mound to take control of the game. His teammates have had a great impact scoring runs and limiting the pressure on Herrell. His 35 strikeouts and 1.30 ERA are terrific. This athlete nearly took 2 years off and came back stronger, smarter and with more faith than ever before. Herrell is also a good batter. He has 10RBI's this year while posting a .355 batting average which is tremendous for a starting pitcher.
I asked Kaden who his role model would be and he said it was Shohei Ohtani. Ohtani is one of the greatest pitchers/batters in our era. He rivals the likes of Babe Ruth and has been called the Modern Babe Ruth. Ohtani pitches and bats for the Los Angeles Angels. The Japanese born pitcher is a role model to so many and Kaden can't help but be drawn to Ohtani's hard work and effort. It's the same values that Kaden puts forth each and every day.
The Best Unsigned Player in High School
Kaden Herrell remains as one of the best unsigned baseball players in Central Florida. He has an amazing family and a great story of perseverance. His father coached him in Babe Ruth Little league from the time he was 5 until he was 14. Herrell has a strong connection to god. He is part of a youth group which is how he was recruited to play for First Academy. The Herrell family is part of Grand Island Baptist Church located off CR44.
We want to thank the Herrell family for taking the time to talk to us. We wish Kaden Herrell the best of luck as he prepares to enter the playoffs for baseball. We also are excited to see him graduate later this year. This will not be the last we hear of the Herrell family. With Kaden's brother Collin entering his Junior year next season. Collin will also be a sought after catcher as he is also at the top of the list in all stat categories in our area while only being a Sophomore currently.
Thank you to John and Nicki for raising such an outstanding young man in our community. We look forward to hearing about all the great things Kaden Herrell will do in the coming years.
Photos Provided By:
Nicki Herrell
Akers Media Group
Kyle Coppola was born in Newton, Massachusetts and received his Bachelor of Fine Arts in Communications from Curry College in 2016. After traveling to Florida on a family vacation, he decided he could not get enough of the warm weather and made the move from snowy Massachusetts to central Florida 8 years ago.
For the last decade Kyle has gained valuable experience in social media content creation, marketing and sales, writing, video production, sports announcing and even broadcasting for local radio stations, such as FM 102.9 in The Villages and FM 91.5 in Massachusetts. Every year he volunteers at The Villages Charter High School as a play-by-play sports announcer for the football games as well as a public address announcer for the basketball games, including the annual Battle at The Villages Tournament.
Outside the office Kyle is a husband and father to two beautiful girls along with their cat. In his spare time he likes to spend time with his family, travel, play golf and swim. He is also a huge sports junkie and even bigger motorsports fan and loves to attend racing events when he can.
Share This Story!