Fork on the Road: A magical move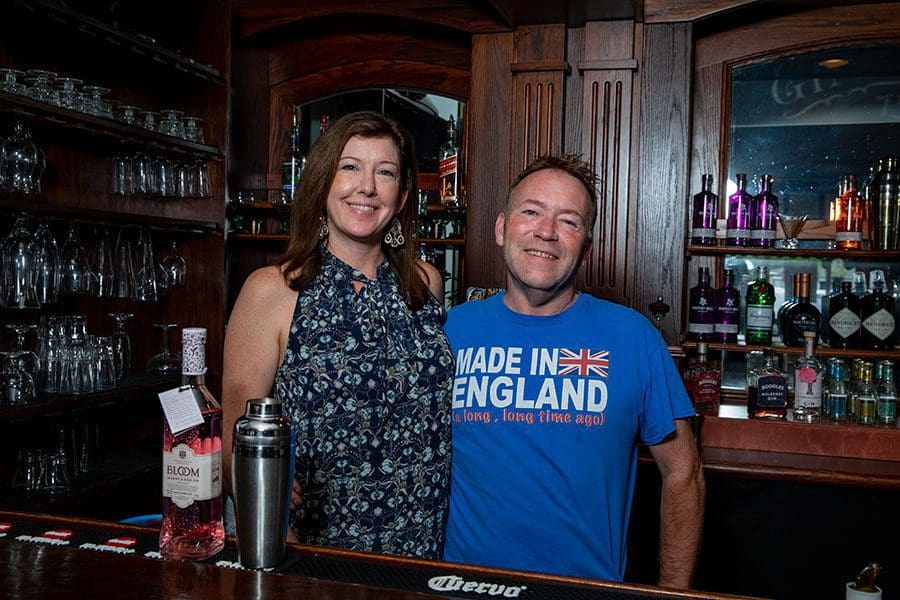 Visit a real British pub without leaving Lake County.
Photos: Nicole Hamel
Phil Barnard clearly remembers the final evening of a vacation he and his parents enjoyed 16 years ago. They were sitting outside on the patio of a restaurant in Mount Dora called The Gables.
Phil says they were visiting Florida from England and ended up in town while searching for a place to stay near Sanford, and finding the Lakeside Inn. During dinner, his mother commented on how much she'd enjoyed "the most amazing holiday of a lifetime," and expressed a desire to buy a vacation home in beautiful Mount Dora.
His mom's wish never came true. She died just months after returning home to England. Phil purchased a home in her honor.
About seven years ago, Phil moved to Mount Dora, met Kate and married her. Together they opened an English restaurant and gastro pub they named after a London butcher shop his dad ran in the 1960s called The Magical Meat Boutique, which quickly become a favorite hangout and restaurant downtown on Third Avenue. 
After realizing they needed a bigger space with more seating for their growing clientele, Phil's vacation memory came full circle. In the fall of 2020, and after celebrating its sixth year anniversary, The Magical Meat Boutique was relocated across the street to 322 N. Alexander Street and into the very building once home to the Gables.
Sitting on the patio where he sat with his mom so many years ago, Phil says he feels at home.
"I always thought this building was too big to rely solely on food sales and knew it had to be more of a pub and social place and it happened to be available when we wanted it. It was the right time," Phil says.
The new location has taken the popular restaurant from 1,400-square-feet to more than 4,600.
Phil says that concerns that cemented their decision to relocate had to do with much-needed upgrades and a vintage rail car used for outside seating. Phil explains that their needs were put in jeopardy when the rail tracks were sold so a cycle path could be built.
"It got to the point that we knew we needed to remodel. It was looking a bit tired over there," Phil says of their old location. "We were at full capacity inside with very limited seating and in the summer we struggled because no one wanted to sit out in the heat and humidity."
"Then, the loss of the railcar would have meant the loss of our liquor license, which is based on the amount of seating we have," Phil continues, adding that those concerns are no more now that they have tripled in size.
Phil says there is plenty of seating both inside and out, plus room for future expansions.
There is also a separate dining area (the McKenzie Room), reserved for private parties and events, and ample space for live musical entertainment, dancing, and fun, especially on karaoke nights on the weekends when the place is open until 2 a.m., and monthly for Scottish pub nights.
The main seating area is surrounded by a bar, located in the center of the room, which features taps from the UK and Ireland, and off to the side is a gin bar reminiscent of what you'd find in an actual pub in England.
"There are hundreds and hundreds of types of gin and we've brought about 30-40 of them over from England and Scotland," Kate says.
The two are also ecstatic about the size of their new kitchen, complete with a vast prep area for in-house orders and catering jobs, walk-in coolers and freezers, and plenty of storage space.
"Our guys used to produce miracles out of the tiny kitchen we had," Phil says, adding that with all the new upgrades, they can concentrate on finer dining, private parties, special events for Mother's Day, Valentine's Day and more, plus their signature Sunday Carvery, which features all-you-can-eat prime rib, turkey, and more for $18 per person.
"We were a bit casual over there but we've managed to cross the border a bit into having an area that's much nicer," Phil continues.
Additionally, the pair plans on expanding an already extensive menu to delight locals and British natives who come in looking for familiar tastes of home like very specific cuts of bacon, perfectly seasoned sausage (called bangers) and English style bread traditionally made with no sugar.
"There are a lot of the Brits in this area and we get them in all the time," adds Phil.
I, with fellow Style writers Theresa and Victoria, visited The Magical Meat Boutique's new location to sample some of its most popular dishes for ourselves.
We were not only taken by the food, but by the friendly service, British décor, delightful music, and relaxing ambiance. 
Victoria, who ordered the Camden Doner Burger, made with lamb and spices and topped with chopped tomato, onion, mint parsley, and garlic sauce, says: "The burger was tender and well-seasoned with fresh herbs, and the toppings added a tangy flavor to the distinct taste of lamb. I enjoyed a side of rosemary shoestring fries which were crispy and seasoned excellently." 
Theresa had the Real Shepherd's Pie, made with ground sweet Australian lamb, swede, carrot and onion in a bistro stock with red wine, cinnamon, French herbs, and a dash of chocolate puree, topped with mashed potato, leek and melted Somerset cave-aged cheddar.
Theresa says, "Overall, I found this 'real' Shepherd's Pie simply a delightful taste sensation of ingredients I would have never imagined melding together so wonderfully." 
I opted for breakfast, served all day every day, and after relishing the Full English that came with two eggs, pork sausage, back bacon, black pudding, saucy beans, griddled tomato, breakfast spuds, and fried Yorkshire bread, I can honestly say I thoroughly enjoyed a true English breakfast fit for a queen. 
---
Let's do lunch or dinner! → Tell us about a great restaurant by emailing roxanne@akersmediagroup.com. 
Originally from Nogales, Arizona, Roxanne worked in the customer service industry while writing independently for years. After moving to Florida in 1999, Roxanne eventually switched her career path to focus more on writing and went on to become an award-winning reporter for The Daily Commercial/South Lake Press newspapers for 16 years prior to coming on board with Akers Media as a staff writer in July 2020 – her dream job come true.
Share This Story!