FORK ON THE ROAD: Better Pub than Restaurant
I'm glad I hopped over to the Frog & Monkey Restaurant and Pub in Mount Dora, but I didn't go ape over the only underground pub in Lake County.
With that said, I visited twice for lunch and didn't drink anything stronger than iced tea. Frog & Monkey is clearly more pub than restaurant. On both visits my server recommended I return after dark for live piano music and adult libations.
But, Fork on the Road is primarily about food, and the lunchtime grub shouldn't be much different than the dinner fare, so let's dig in.
Frog & Monkey gets high marks for appetizers. The beer-battered mushrooms are among the best I've had. The batter that envelops large chunks of Portobello mushroom is crisp on the outside and chewy, but not mushy, on the inside. And the horseradish dipping sauce is excellent. This starter is well worth $8.95. The onion straws I enjoyed on a second visit (served with the same sauce) also get thumbs up.
The rest of the appetizer menu is interesting, to say the least. Baked Brie? Edamame? Clams in garlic sauce? Bruschetta? Wait a minute, I thought this was an English pub.
To find out, I ordered bangers and mash for my entrée … and was disappointed. For $14.95, I expected more than two hot dog-sized sausages (bangers) on a heaping pile of homemade mashed potatoes and a flavorless green glob of peas swimming in a sea of brown gravy and onion slices. I should point out that I am not an expert on bangers and mash (although I am Scotch and Irish), but the dish surely isn't meant to be so bland. The chewy sausages and the gravy provided all the flavor. The potatoes provided a nice contrast to the links, but the peas were a mystery. In fact, I had to ask my server what they were. I would have never guessed peas if they weren't mentioned on the menu.
It definitely didn't eat like a $14.95 dish. And I was wondering if the seafood pasta is really worth $24.95 or the steaks $20-plus. Some of the main dishes seemed to be overpriced.
On the plus side, the portion was generous. In fact, every plate that came out of the kitchen during my two visits was loaded. Sizewise, you get your money's worth at Frog & Monkey.
But pass on the bangers and mash if you fancy a bit of Britain. You should be happy with the fish and chips or cottage pie.
But that's about it for the English portion of the menu. Frog & Monkey's chef is all over the place. Seven different paninis, six types of burgers, four pasta dishes and three steaks are offered.
Pub food clearly is the house specialty. And Frog & Monkey does it as well, if not better, than most national chains.
I highly recommend the flatbread pizza. My wife's Philly flatbread was delightful with lots of thin-sliced beef, onions and mozzarella cheese. Perfectly cooked and loaded with flavor.
I also was pleased with the house salad, which was a nice spring mix. No iceberg lettuce here. Order the homemade honey mustard, which features stone-ground mustard.
The jury is still out on the burger. I enjoyed a burger topped with bacon, cheese and onion straws, but it didn't quite live up to its $9.95 price, nor the marquee outside the pub that proclaimed: "Best Burger in Mount Dora." The bun felt like it was a day old, and the burger, while juicy and flavorful, was overdone. I ordered medium rare, but there was no pink showing.
As for atmosphere, there are some interesting wall hangings and a few flatscreen TVs, but the place seems dark. I know, I know, it's an underground pub. Still, it feels serious, not fun.
Owner Eddie Parsons might just need to give Debbie more shifts. The bubbly blonde was knowledgeable and attentive. Unfortunately, Debbie wasn't working on my second visit. Debbie made us feel important. I didn't feel that next time. In fact, I had to get up to leave to get my check because the server was busy kibitzing with the bartender for six minutes while I stared at my cleared plate.
Frog & Monkey does a lot of things well. It's Facebook rating is 4.4 out of 5 stars. I can't rate it that high though, (perhaps after a pint of ale). With a little tweaking and more attention to detail, it could quickly become a 4-fork restaurant … I mean, pub.
---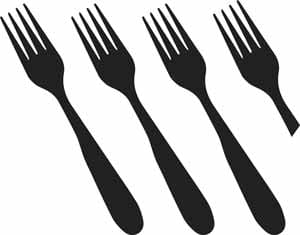 3 1/2 FORKS (OUT OF POSSIBLE 5)
Frog & Monkey Restaurant & Pub
411 N. Donnelly Street
Mount Dora
Sunday: 11a.m. – 8 p.m.
Monday-Thursday: 11a.m.-3 p.m. & 5-9p.m.
Friday & Saturday: 11 a.m.-10p.m.
Phone: 352.383.1936
Website: www.beerandbananas.com
Facebook:www.facebook.com/pages/Frog-Monkey-Restaurant-Pub
---
Fork Report
Lunch No. 1
Seated: 20 seconds
Wait for appetizer: 6 minutes, 20 seconds
Wait for meal: 14 minutes, 10 second
Recommended: Beer-battered mushrooms; flatbread pizza
Lunch No. 2
Seated: 15 seconds
Wait to order: 4 minutes, 46 seconds
Wait for meal: 17 minutes, 13 seconds
Wait for check and table clear: 8 minutes, 4 seconds
Recommended: Black and bleu burger, French fries.
Prices
Appetizers: $5.95 (edamame) to $11.95 (clams)
Entrees: $14.95 (bangers and mashed or cottage pie) to $19.95 (steak 'n chips)
Paninis: $7.95 (tomato & cheese) to $11.95 (salmon)
Pasta: $14.95 (baked spaghetti) to $24.95 (seafood pasta)
SPOONS UP
• Friendly staff
• Hearty portions
• Live music nightly
• Well-stocked bar
SPOONS DOWN
• No desserts
• Stairs
• Spotty service even though few customers
• Tiny restroom. And it didn't sparkle.
RECOMMENDATION
Let your server guide you. The servers knew their menu and made good recommendations. Opt for homemade salad dressings (not all are). Can't go wrong with beer-battered items – mushrooms, fish and shrimp.
---
How Fork on the Road works
Our reviewers are objective and unbiased. This is not a paid advertorial. Our reviewer makes two unannounced visits and we pay for our meals.
---
Gary Corsair began writing professionally while attending high school in Greentown, Indiana. He's spent most of the past 46 years in writing, reporting, editing and producing roles for newspapers, magazines, TV, and radio. He's served as publisher and editor of three newspapers, TV news director, and executive producer of two documentaries about The Groveland Four. Gary's earned more than 65 awards for journalism excellence.
Share This Story!