FORK ON THE ROAD: Burgers, Beer, and Bowling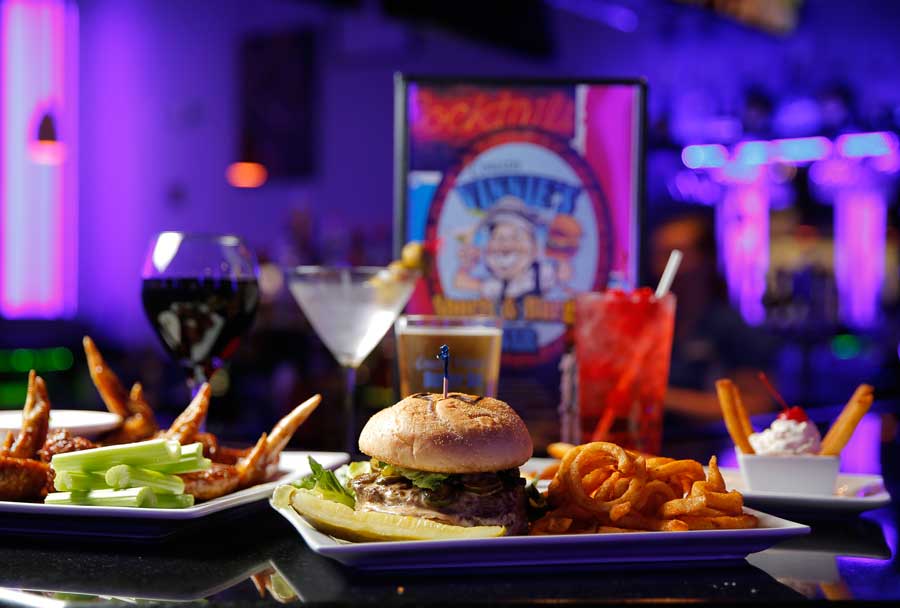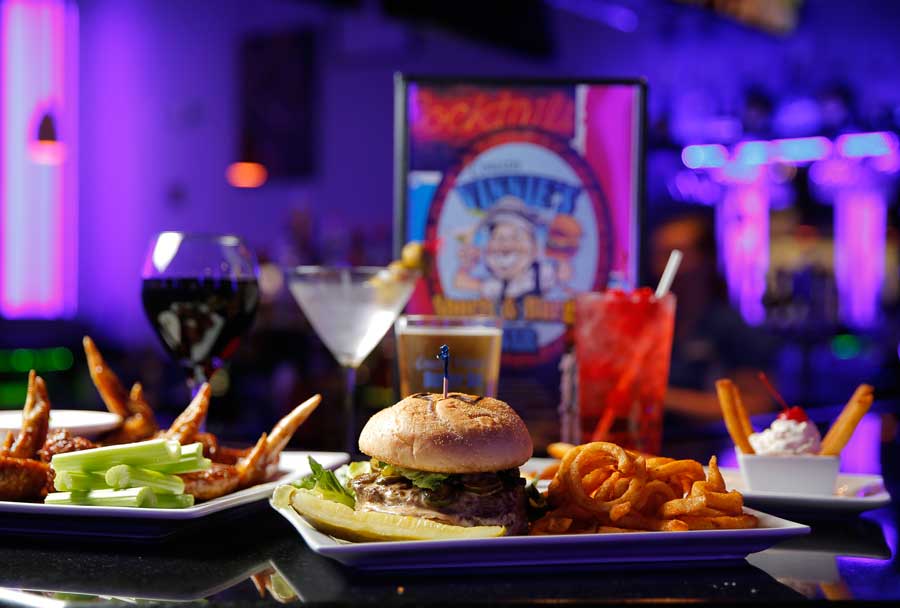 ---
PHOTO: Fred Lopez
---
For a great place to enjoy a savory burger and family fun, try Cousin Vinnie's Sports & Burger Bar inside Via Entertainment at ViaPort Florida. The dining area is near the arcade and faces the 22-lane bowling alley. There are also two party rooms for large groups and an exit leading to the main mall area.
Vinnie's menu features classic burgers, specialty burgers, spicy burgers, and health-conscious burgers. Don't want the carbs? You can also get the gourmet burgers in burger bowls filled with a blend of lettuce and cabbage topped with the burger of your choice.
My two companions and I enjoyed an array of food. I had the house salad with Vinnie's signature bacon and hot honey dressing. The greens were fresh and crisp, and the dressing was a nice blend of savory and sweet. For my entrée, I had an order of four mild buffalo chicken wings. You may be like me and say, "How can four wings be enough?" Well, they're whole jumbo wings, so saying jumbo is no exaggeration!
One of my friends had The Alaskan from the health-conscious menu, which is a homemade salmon burger with lime mayo sauce, lettuce, and tomato on a brioche bun. She enjoyed it with Vinnie's homemade pineapple coleslaw.
My second lunch companion had The Big Hot Mess burger, which includes Philly jalapeno cream cheese, Cajun seasoning, beer cheese, jalapenos, and lettuce on a sesame seed bun. She, too, had the pineapple coleslaw.
The beef burgers are a blend of brisket, short ribs, and ground chuck. You can get any burger with homemade potato chips, seasoned curly fries, or the homemade coleslaw—regular, pineapple, horseradish, or bleu cheese.
Our meals were served quickly and hot. The server was attentive and refilled drinks without being asked. After we tried our foods, we were immediately asked if everything was to our liking, and it was! For dessert, we shared the funnel cake straws topped with powdered sugar and served with chocolate sauce for dipping. It was excellent!
We were there for lunch, and Cousin Vinnie's does have a menu of lunch specials that has reduced prices and portion sizes.
The only problem we had was being sure we were at Cousin Vinnie's as there's a definite lacking of signage.
---
4 FORKS
(OUT OF POSSIBLE 5)
Cousin Vinnie's Sports & Burger Bar
10401 U.S. Highway 441
(in the old Target building)
352.314.3600
www.cvinnies.com
FORK REPORT:
Casual dining. $$//Seated immediately (lunch)//Wait for meal: 15 minutes//kitchen stays open for late events in the Fun Zone
OUT-OF-THE-ORDINARY STARTERS ($4.99-$12.99): Pretzel Logs (served with beer cheese and garlic butter); Seared Ahi Tuna (over a bed of sesame oriental salad, wakame seaweed salad, wasabi sauce, and a drizzle of soy glaze); and Vinnie's Secret Shrimp (grilled shrimp over wonton chips with Vinnie's sweet and spicy sauce).
ENTREES: ($8.49-$12.99) Mahi Fish Tacos (grilled with cabbage, homemade lime mayo sauce, cilantro in tortillas with a side of mango salsa); Spicy Shrimp & Chorizo Flatbread Pizza (boom boom spread, mozzarella cheese, bleu cheese crumbles and cilantro); and Tempura Fish & Chips (tempura battered Swai fish, homemade lime mayo sauce with cocktail or tartar sauce and curly fries). Kids Meals ($4.99-$5.99).
---
Leigh Neely began her writing career with a weekly newspaper in the Florida panhandle, where she not only did the writing, but delivered the papers to the post office and dispensers. She has been writing ever since for a variety of newspapers and magazines from New Jersey to Leesburg. With her writing partner, Jan Powell, Leigh has published two novels as Neely Powell.
Share This Story!