Fork on the Road: Comfort foods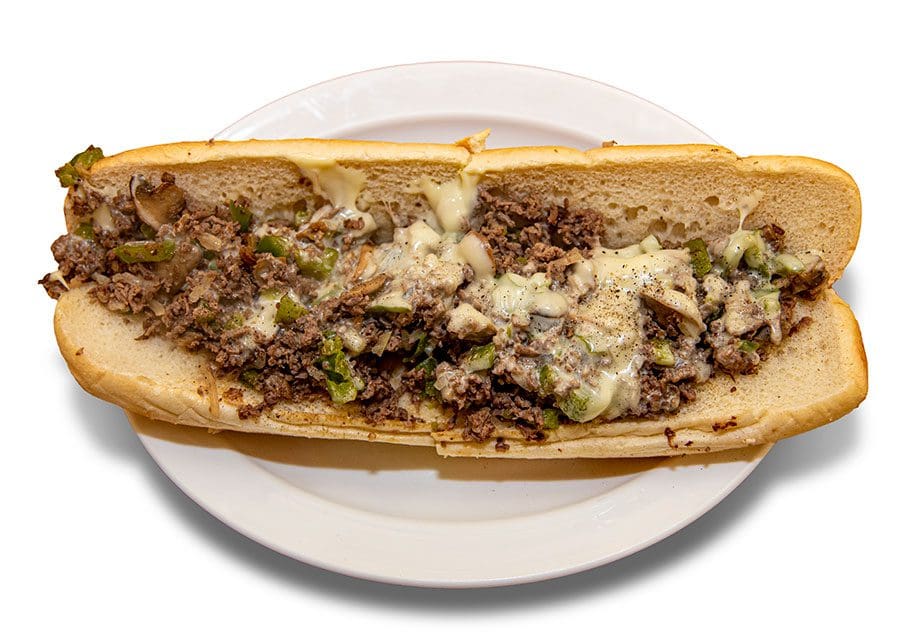 A Clermont couple finds great joy in serving customers heaping plates of flavorful foods with plentiful sides of friendship and the feeling of home.
Photos: Nicole Hamel
Marc and Brandi DeVita opened the doors to Clermont Café three years ago with the goal of bringing friends and community together in a restaurant setting that feels like home – right down to serving huge portions of made-from-scratch foods made with extra love and care.
"We want people to be happy with whatever they order, and to never leave hungry. That's my thing," says Marc, the chef at the restaurant, located in downtown Clermont at 824 W. Montrose St.
Previously, Marc owned a pizza shop in Boston, and after moving to Florida, he remained in the industry, cooking at various restaurants. Brandi was in charge of social media and marketing for different resorts in the Disney area.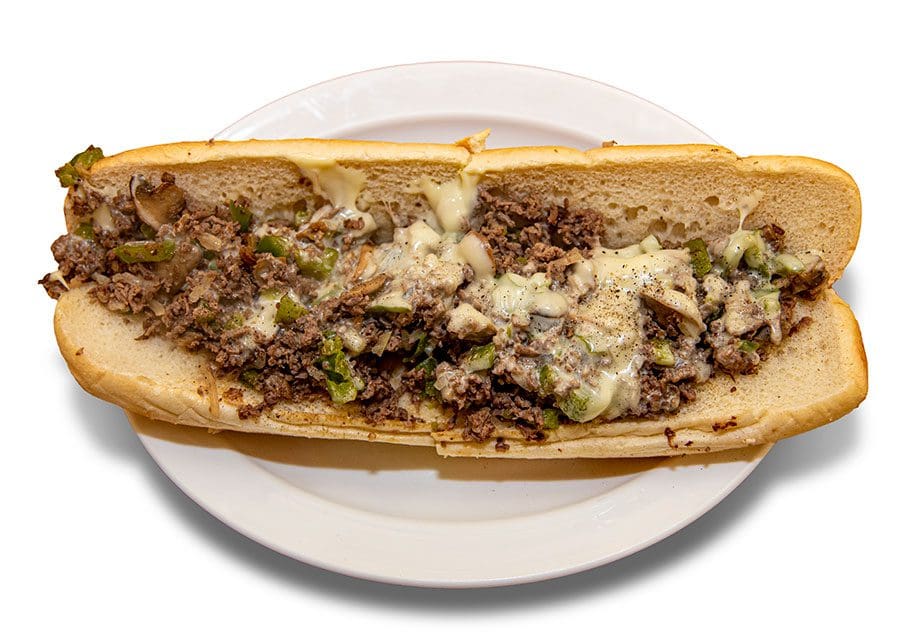 After tying the knot in 2018, the two made good on their wish of opening a restaurant together, and to this day, they have remained busy and satisfied with the venture.
"We just thought it was time to do something on our own and we found this little niche," Brandi says.
Personally, Brandi says she enjoys a couple of other perks.
"I think my favorite part is that my husband and I are always together. It's a little husband-and-wife team and everybody kind of likes that," she says. "It's also nice getting to know all our customers. After the first time you come in here, you're our friend and we're just thankful."
Brandi adds: "I especially like it when customers say, 'Tell your husband how good everything was,' then I say, 'I'll do that, and I'll even kiss him for you, too."
On weekdays only, from 8 a.m. to 10:30 a.m., the Clermont Café opens for breakfast with featured menu items like burritos with your choice of meats and veggies, a variety of omelets, biscuits and gravy, fresh bagels brought in from New York, and a hash brown casserole Brandi says is made using the one recipe she closely guards – her mom's.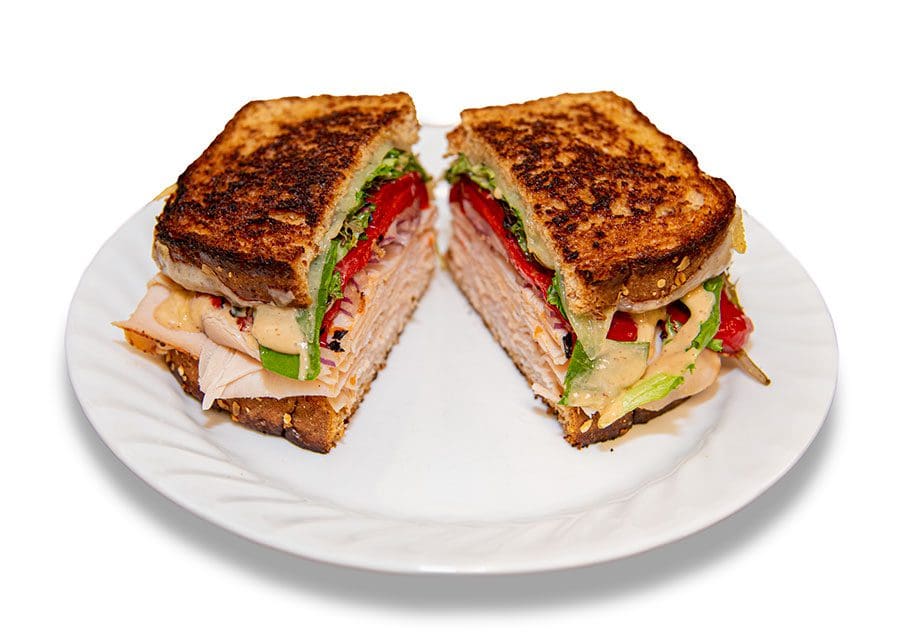 For lunch, served from 11 a.m. – 2 p.m. on weekdays and 10:30 a.m. to 2 p.m. on Saturdays, the menu is filled with all kinds of cold and hot wraps and sandwiches on bread brought in from New England, including unique takes on common favorites like Pastrami on Rye, French Dip, BLT, and Tuna Melts, and gourmet selections like Hummus and Veggie or Greek Salad Wraps, a Turkey Pesto, and a Veggie Caprese. 
They also offer a kid's menu, a variety of specialty salads, Marc's famous 'death by chocolate' cake, and other scrumptious desserts, plus his homemade horseradish and hot sauce served with a meal or by the bottle to take home.
Additionally, Brandi says a board behind the counter lets people know the day's featured soup.
"Lately, people have been calling Marc the 'soup master,' and rightfully so," she says with a chuckle. "If you are a soup person, you should definitely come in and try the soup no matter which flavor is on the board, because it will be delicious."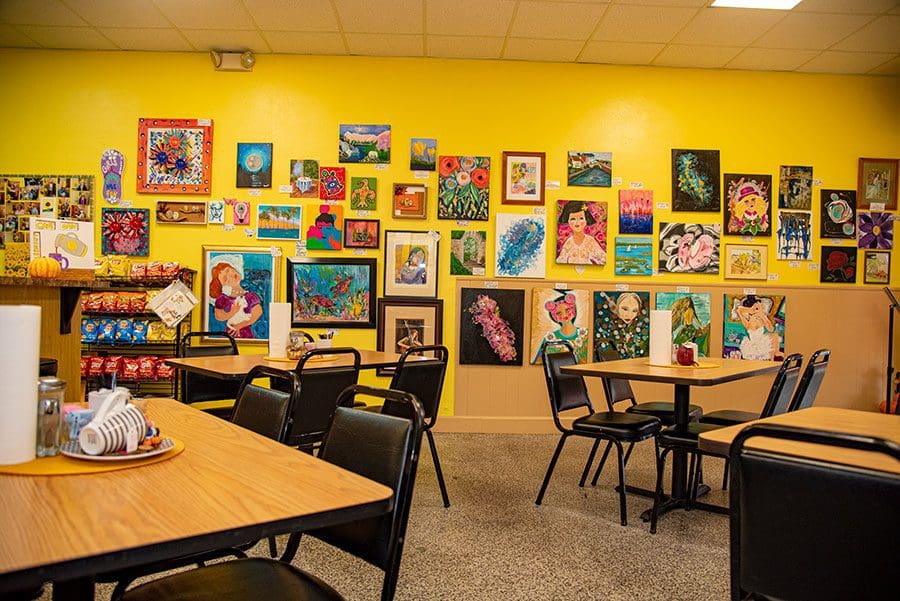 While there, Style photographer Nicole, ordered a Philly Cheese Steak Sub, and not only did she love the taste of it, but was in awe by the huge size. 
I ordered the broccoli cheese soup, which was delicious, and a Southeast Turkey sandwich on whole wheat bread, and let me tell you, it was loaded high with sliced turkey, roasted red peppers, red onions, spring mix, swiss cheese, and a delicious homemade tangy white BBQ sauce. 
What I enjoyed most about my sandwich, however, was how it was toasted to perfection, and Brandi told me why.
"Marc toasts everything on the grill. Doing that just adds an extra layer of goodness," she says, adding that their homemade muffins can be toasted too.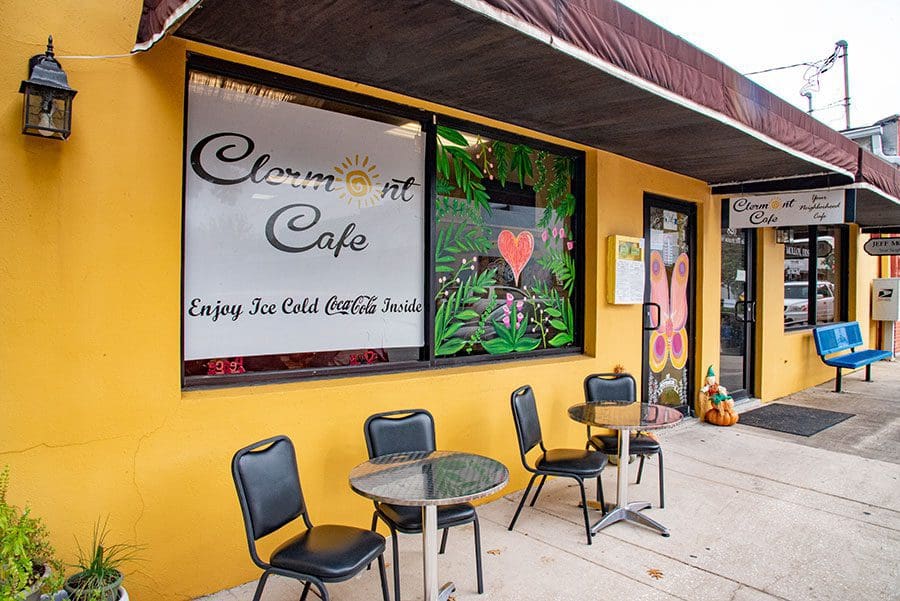 Groveland's Jacqueline Tice, a regular, says that besides the great food she's always served at the Clermont Cafe, she loves the atmosphere.
"The owners are very pleasant and they always know my name," says Jacqueline.
Eliana Ascolese, at the restaurant with her four children and mom Yvette Richardson, says that's part of what she loves about the Clermont Café too.
"My husband and I come pretty often and so we've tried every sandwich on the menu. The food is so comforting, and you get a lot, but what we like best about coming here is the friendly service we always get from Brandi and Marc," says Eliana.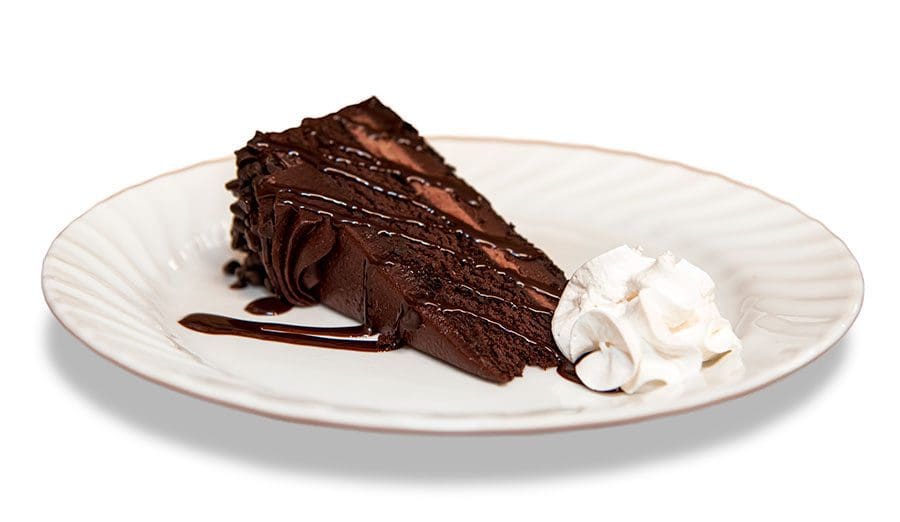 And if that's not enough, customers can shop for art at the Clermont Café, since the paintings – all by local artists – on the restaurant's walls are for sale. 
"We felt it was a good way to decorate, and help local artists at the same time," says Brandi explaining that they've sold more than 200 paintings since opening. "We are grateful for all the loyalty everyone has shown us, and happy we can do something for the community in return." 
For more information, visit clermontcafe.com, or visit their page on Facebook or Instagram. 



Originally from Nogales, Arizona, Roxanne worked in the customer service industry while writing independently for years. After moving to Florida in 1999, Roxanne eventually switched her career path to focus more on writing and went on to become an award-winning reporter for The Daily Commercial/South Lake Press newspapers for 16 years prior to coming on board with Akers Media as a staff writer in July 2020 – her dream job come true.
Share This Story!