FORK ON THE ROAD: Fast Feast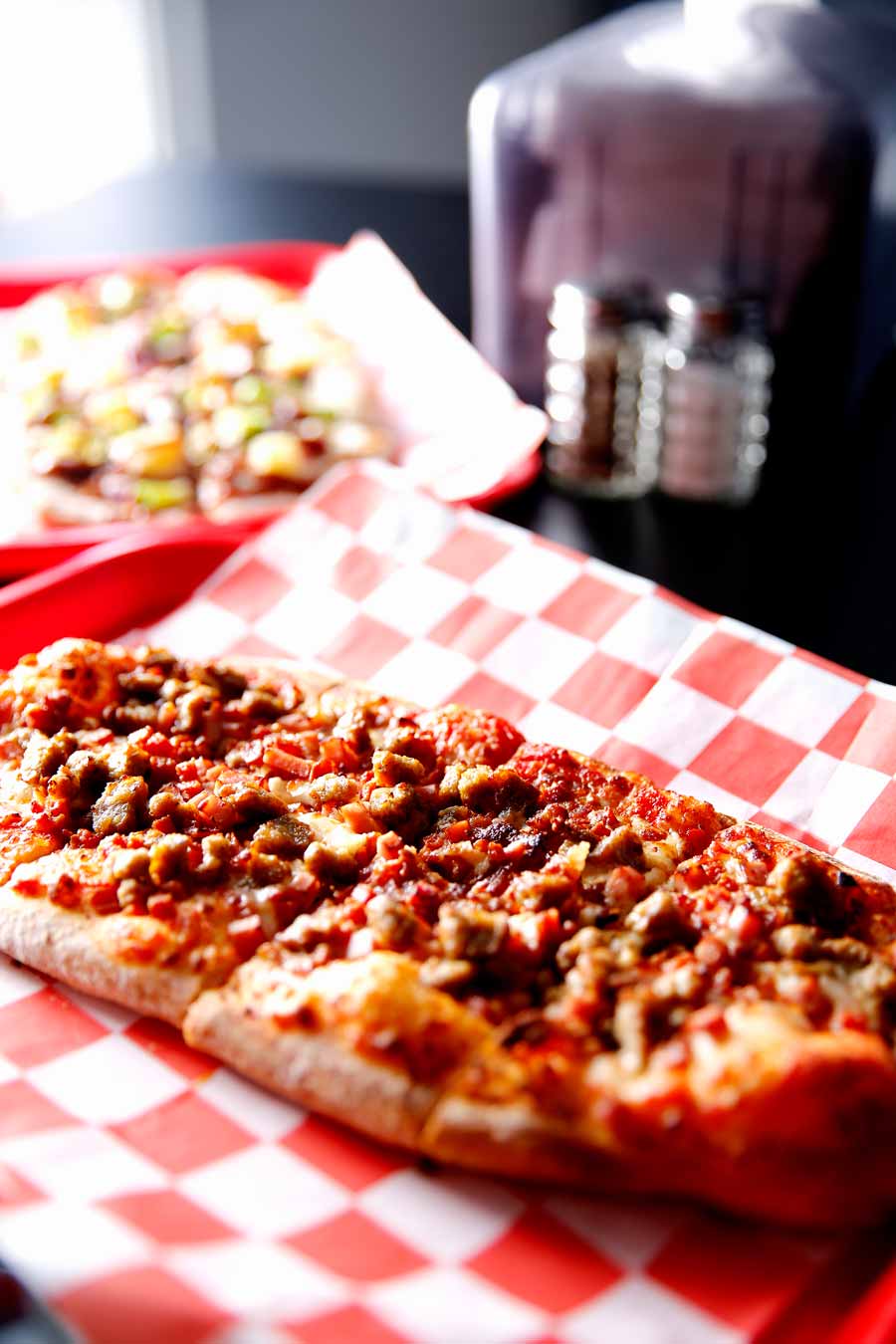 Perfectly punctual personalized pizza
---
It took 126 years, but pizza finally joined the fast food family.
I'm not talking reheated slices or those dreadful microwaveable disks. I'm shouting about whole, fresh, made-to-order, $7.92 pizzas.
Pizza@Tavares, which recently opened at 123 E. Main Street in downtown Tavares, uses a high-heat oven and a conveyor (think Quiznos) to eliminate the wait pizza-lovers have endured since Naples baker Raffaele Esposito first slopped sauce on dough in 1889 for King Umberto I and Queen Margherita.
From order to first bite takes just six minutes (less if cheese is your only topping) at the trendy new eatery where you can build your own pizza (think Subway) or order one of eight specialty pies, (or to be more accurate, flatbreads).
You're the boss at Pizza@Tavares, which promises "fresh and fast pizza YOUR WAY!" in its advertising.
But, it's more than a catchy slogan. You choose a dough, select a sauce, pick a cheese and choose your toppings. A few minutes later, after your cooked pizza emerges from the oven, you are asked if you'd like to add any of 12 free pizza toppers (capers, basil, oregano oil, etc).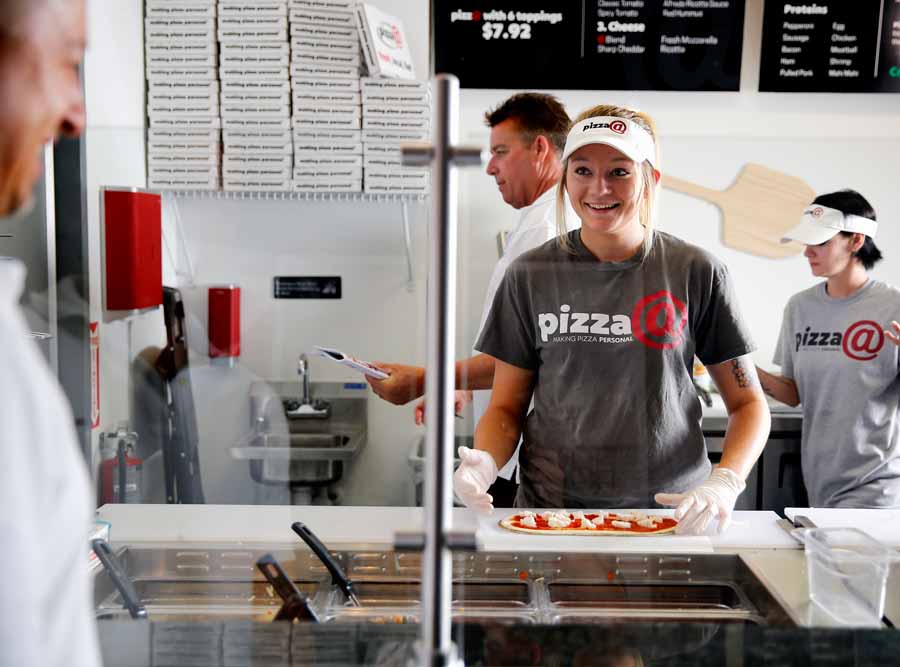 The assembly line approach to hot and ready pizza (sorry, Little Caesars) is a real game changer. It's a quantum leap from what we used to accept as pizza in an instant — the staple of mall rats everywhere — a reheated slice of pizza at Sbarro's, or perish the thought, a nuked disk. At Pizza@Tavares, your pizza is transformed from lump of dough to delectable delight, right in front of your eyes.
I must point out here that the six-minute meal only happens if you're at the head of the line. There are only two pizza-builders and one oven. On a recent visit, some customers waited nearly 10 minutes to order. But, none complained. After all, 15 minutes is pretty quick for pizza.
Pizza@Tavares pulls off the presto, chango approach to pizza with thin, thin crust that's a welcome change from the flopping New York-style dough most establishments serve. No deep-dish, stuffed or flavored crust.
The pizza is one size fits one, so everyone can have exactly what they want. And a variety of toppings are available, so the pepperoni traditionalist will be as pleased as the guy who wants chickpeas, Mahi Mahi and capers on red hummus sauce. Hundreds of combinations are possible.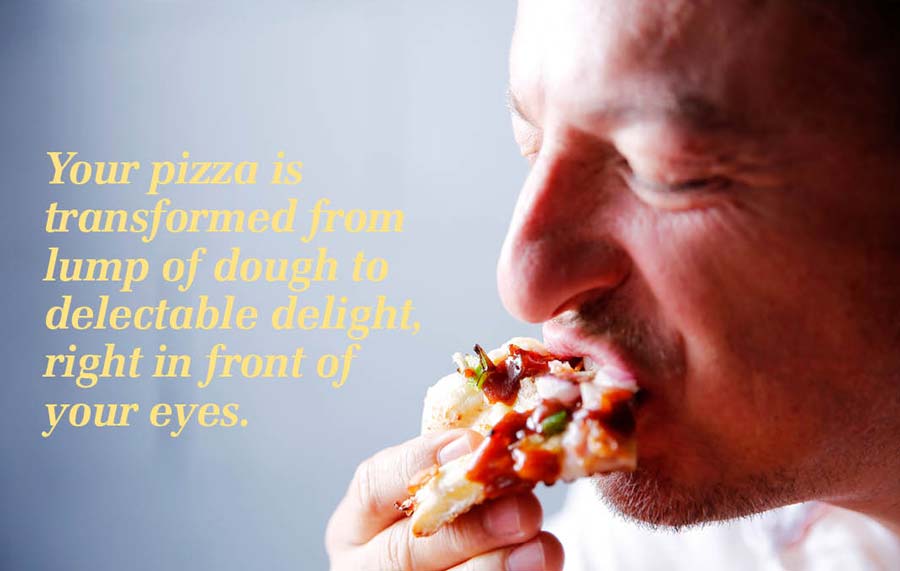 Sandwiches, however, are not an option. Pizza@Tavares is strictly pizza, salads (choose from three or create your own), chocolate cookies and beverages.
On my first visit, I opted for the Carnivore and was pleased with the generous amounts of ham, sausage and bacon that topped my whole wheat flatbread. With a bottle of water, my order was just over $10.
I went preppy on my second visit, choosing the Aloha Onie, and I'm happy I did. The combination of white Alfredo ricotta sauce, smoked BBQ pulled pork, ham, bacon, green peppers, red onion and pineapple (I wimped out and left off the jalapenos) made my taste buds dance. Mahalo, Pizza@Tavares!
Pizzerias come and go, but Pizza@Tavares is here to stay. I ran into repeat customers on both visits and Tavares' newest restaurant is getting great reviews and lots of likes of Facebook.
Does Pizza@Tavares make the best pizza in Lake County? Not as long as PizzAmore, Tony's, Mellow Mushroom and Mom and Dad's are in business. But, Pizza@Tavares clearly is the best pizza you can get in a hurry – no contest.
The wait for fresh, hot pizza is officially over. Long live Pizza@Tavares.
---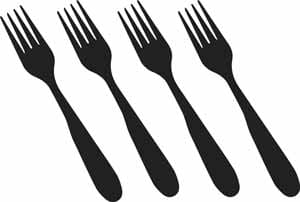 4 FORKS (OUT OF POSSIBLE 5)
Pizza@Tavares
123 E. Main St., Tavares
Weekdays and Saturday,
11a.m.-9p.m.
Sundays, 11a.m-8p.m.
352.253.0606
---
Fork Report
LUNCH
Greeted: 14 seconds
Wait to order: none
Wait for meal: 6 min., 15 sec.
Recommended: Aloha Onie
DINNER
Greeted: 9 seconds
Wait to order: 25 seconds
Wait for meal: 5 min., 40 sec.
Recommended: Bangkok Johnny: spicy tomato sauce, cheese blend, ham, green peppers, red onions, mushrooms and Asian sesame sauce.
PRICES
$5.92 to $7.92
Salads: $6.92 to $8.92
Drinks: $1.92-$2.32
RECOMMENDED
Build your own pizza. And experiment with toppings you don't normally associate with pizza. Start with Alfredo ricotta sauce.
DESSERTS
Big cookie or brownie.
SPOONS UP
• Choice of dough, sauce and cheese
• Fresh ingredients
• Speedy cooking
• Clean restrooms and dining area
SPOONS DOWN
• Noisy exhaust necessitates shouting your order
• Website expired
• No menu or hours on Facebook
• Expensive drinks
RECOMMENDATION
Step outside your comfort zone. You may learn that you enjoy chickpeas, truffle oil, sriracha hot sauce and black beans on a pizza.
---
How Fork on the Road works
Our reviewers are objective and unbiased. This is not a paid advertorial. Our reviewer makes two unannounced visits and we pay for our meals.
---
PHOTOS: Fred Lopez
---
Gary Corsair began writing professionally while attending high school in Greentown, Indiana. He's spent most of the past 46 years in writing, reporting, editing and producing roles for newspapers, magazines, TV, and radio. He's served as publisher and editor of three newspapers, TV news director, and executive producer of two documentaries about The Groveland Four. Gary's earned more than 65 awards for journalism excellence.
Share This Story!