Fork on the Road: Foodie-licious!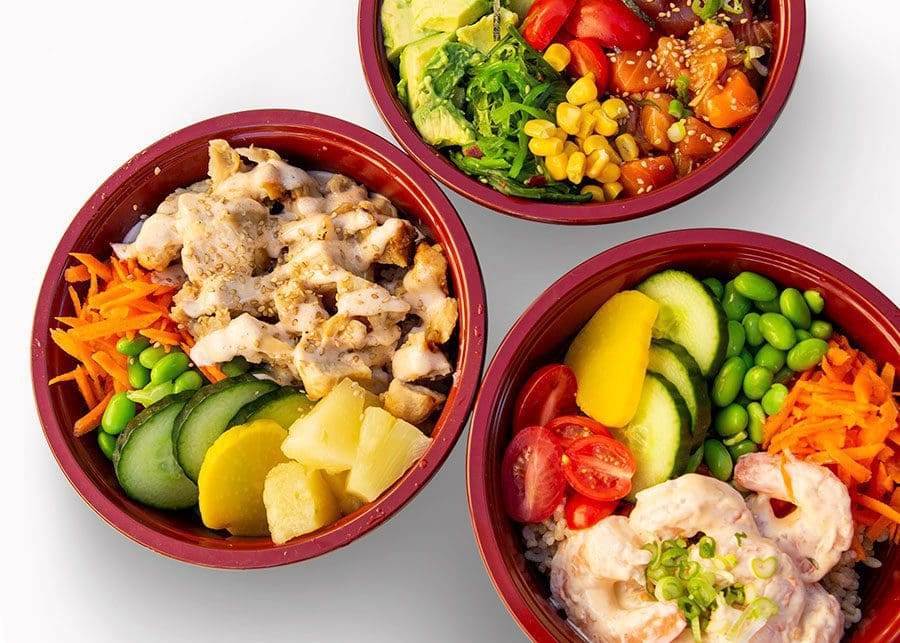 Local man perfects the art of Poke bowls, a popular Hawaiian trend he dishes out in downtown Mount Dora.
Photos: Nicole Hamel
While out getting their steps in downtown Mount Dora, Jayson Dagner and his mother Dixie Dagner came across a little restaurant inside the Marketplace called Fun-ko's Poke Bowls and Asian Snacks.
They were delighted to find a Poke spot, but most of all, they were overjoyed to see the one-man show behind the window doing the cooking.
"We stumbled onto Fun-Ko's, and I was like 'Oh my God, Takashi, where have you been? You're back!' Jayson says, further explaining that Takashi Kobayashi, Fun-ko's owner and chef, was once owner and chef of two other restaurants they had frequented over the years.
"Anything coming from his hands and knife, you know is gonna be fresh. If he's not going to eat it, he's not going to serve it. That's what I know about Takashi, and why I've been following him and his food since about 2008," Jayson adds.
Takashi says learning of such sentiments makes him happy.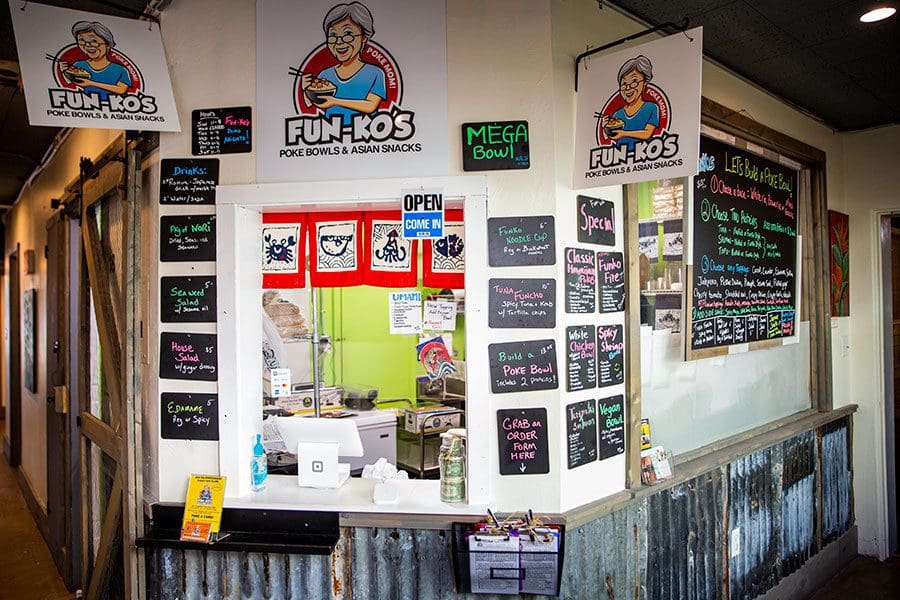 "All the time, I hear those things from customers, and it's such a great feeling to know that," Takashi says, adding that after many years of operating local restaurants alongside his wife Fumiko Gamoache, Fun-Ko's is the first place he's run solo.
"My wife was diagnosed with dementia about 10 years ago, and little by little, it got to the point that operating a big restaurant was hard for us," Takashi says, adding that Fumiko was able to visit Fun-Ko's once before her death in April 2021.
Reminiscing about their start, Takashi says he and Fumiko moved from New York to Mount Dora in 2007 and opened Mount Dora Sushi Company.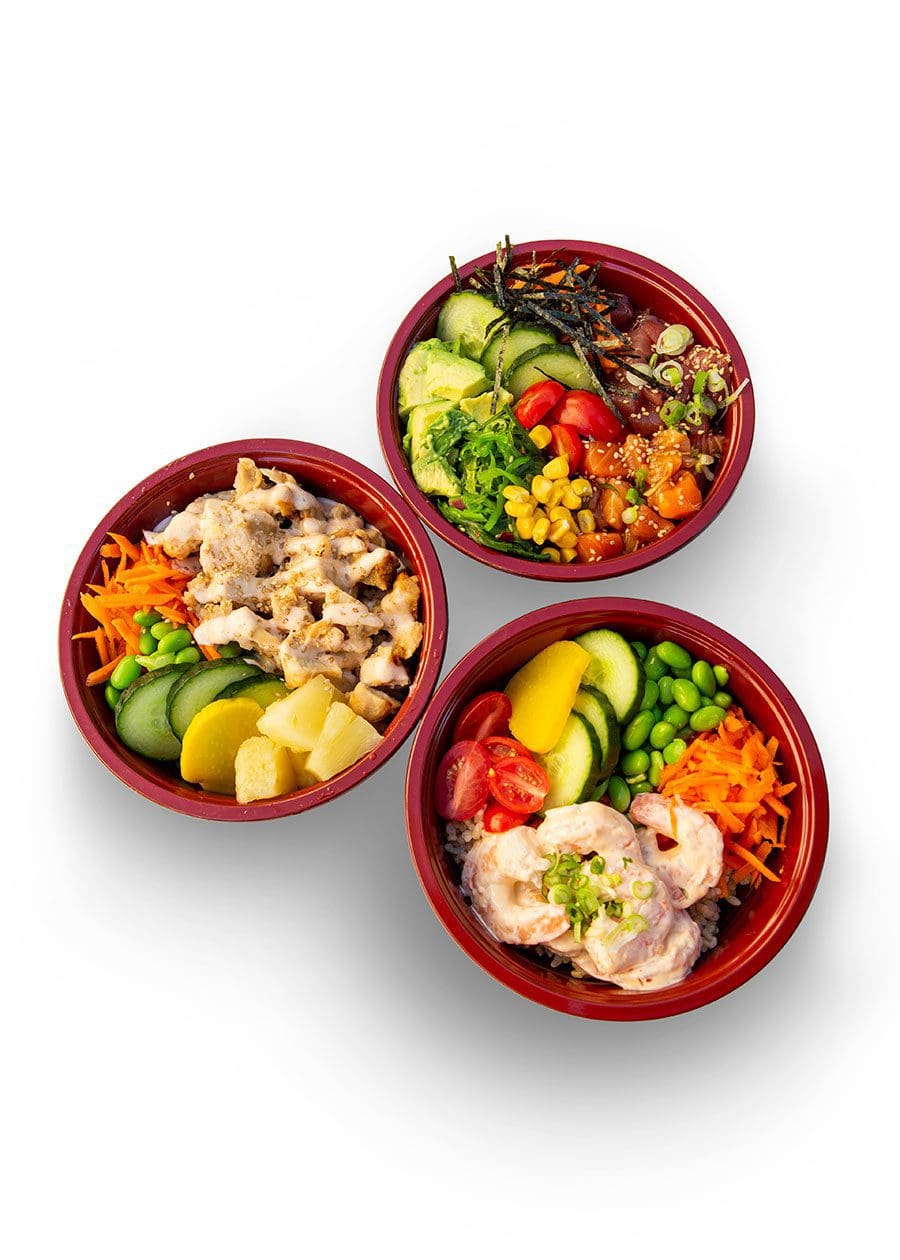 Three years later, they relocated to Tavares and opened Lake Dora Sushi and Sake, a successful restaurant they ran for eight years. 
Takashi says when Fumiko's health began declining, he and their daughter Janet Gamoache, who had heard of the Mount Dora Marketplace, decided to downsize.
Takashi says Janet came up with the name Fun-Ko's, a play on Fumiko's name, and designed the "Poke Mom" logo in her likeness to ensure she remained with them each day.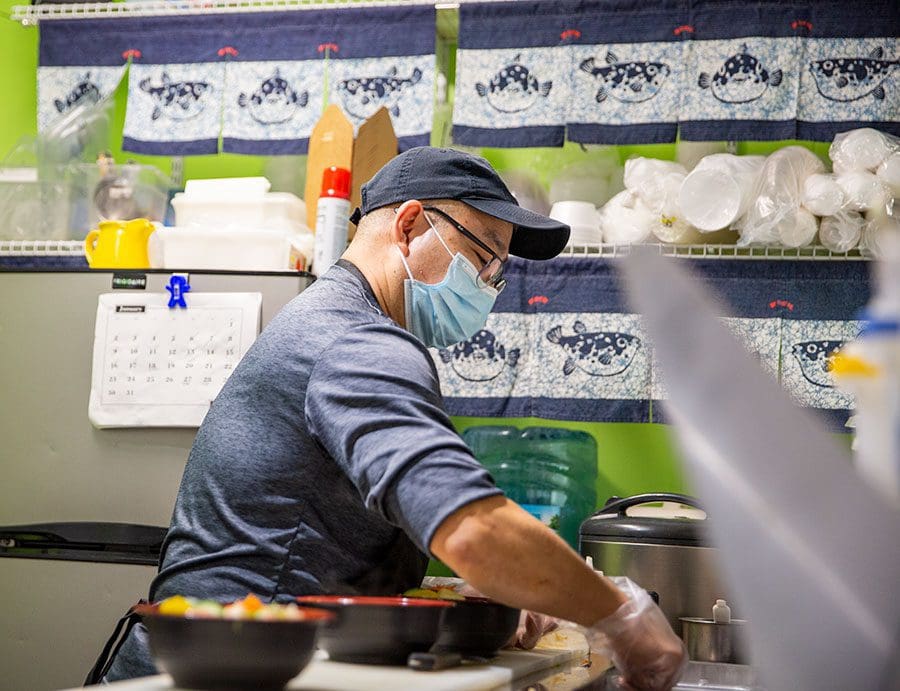 With those things as inspiration, they opened the doors to Fun-Ko's in January 2020, right before the pandemic, and have thrived ever since; serving Poke bowls and other dishes that focus on a fusion of fresh proteins, veggies, rice, and rich sauces.
"Get your fix! Eat healthy," reads the Fun-Ko's motto.
Takashi says the main thing he serves at Fun-Ko's are fully customizable Poke (pronounced po-kay) Bowls, a Hawaiian-inspired seafood staple that features marinated raw salmon, tuna, or tofu, either naked or Funko style (meaning it includes a topping made from oyster sauce, sesame seed oil and fresh garlic), served over a bed of white/brown rice, or mixed greens, and topped with one's choice of many fresh vegetables and side sauces.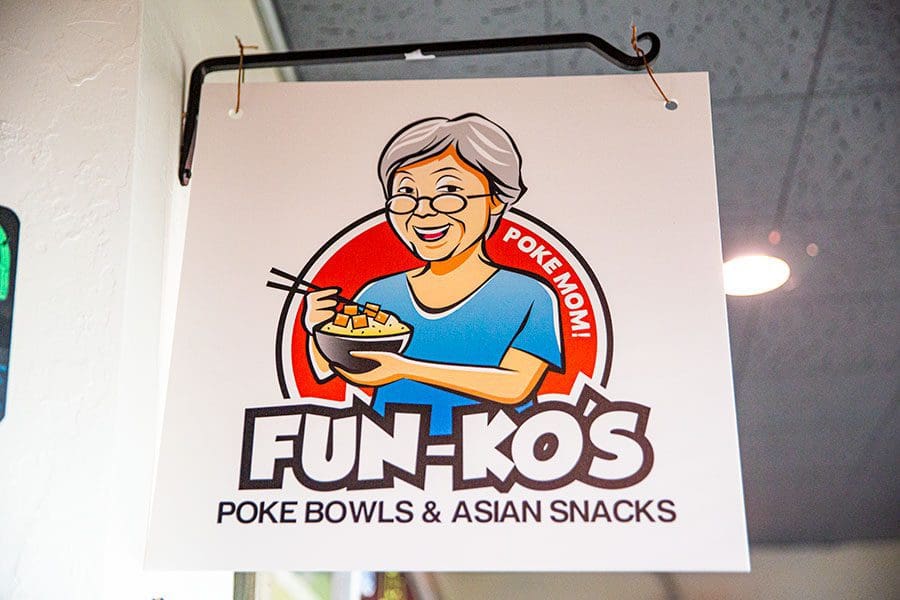 Kenneth Albury, a Sorrento resident who works across the street from Fun-Ko's, says when he visits, he almost always orders the Funko style salmon Poke bowl.
"I absolutely love it. I heard about it by word of mouth from a co-worker named Adam. He said good things about Mr. Takashi, and so I came in one day to get a bowl as I was working, and I keep coming back," Kenneth says. "It's a really good filling meal without feeling full, if that makes sense."
After hearing nothing but good things, I, accompanied by Style Photographer Nicole Hamel and fellow Style writer Theresa Campbell, visited Fun-ko's and enjoyed every bite.
Nicole, the bravest of the bunch, ordered the raw salmon Funko style Poke bowl, but Theresa and I went with cooked shrimp and chicken bowls.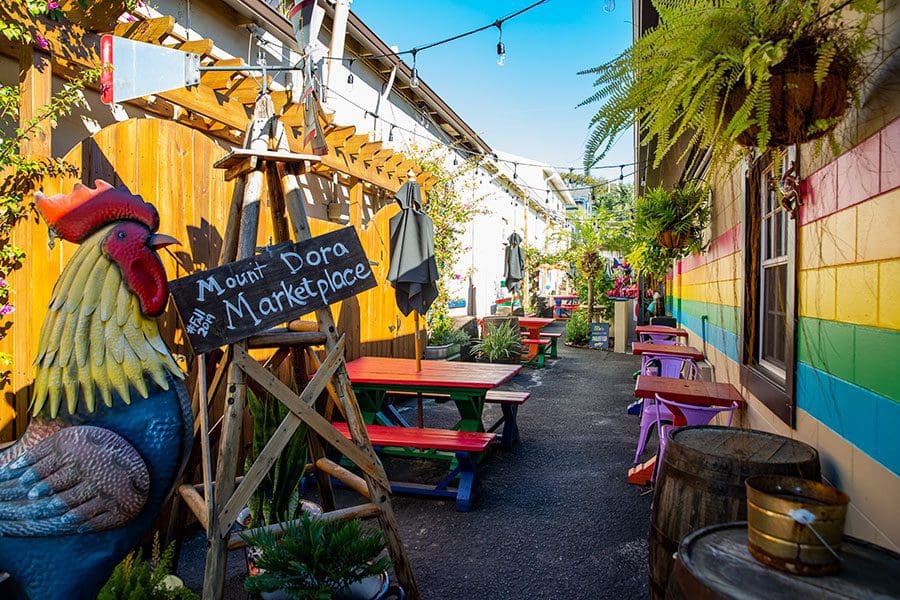 Either way, each bowl was colorful, fresh, and as flavorful as can be.
"It reminds me of sushi out of its roll," says Nicole.
Theresa, taken by the freshness of her bowl, says, "I like the melding of flavors coming from the fresh raw veggies, the brown rice and the flavorful and good-sized shrimp."
"It's very healthy and just a nice taste sensation," Theresa says, adding that the pickled radish bites were a nice surprise.
Fun-Ko's also serves a variety of salads and other bowls, including a Vegan selection, Asian snacks from Japan, where Takashi is originally from, including seasoned nori (seaweed), Ramune brand sodas in a variety of flavors, and frozen mochi.
All that is what Jayson and Dixie say keeps them coming back to Fun-Ko's at least once or twice a week.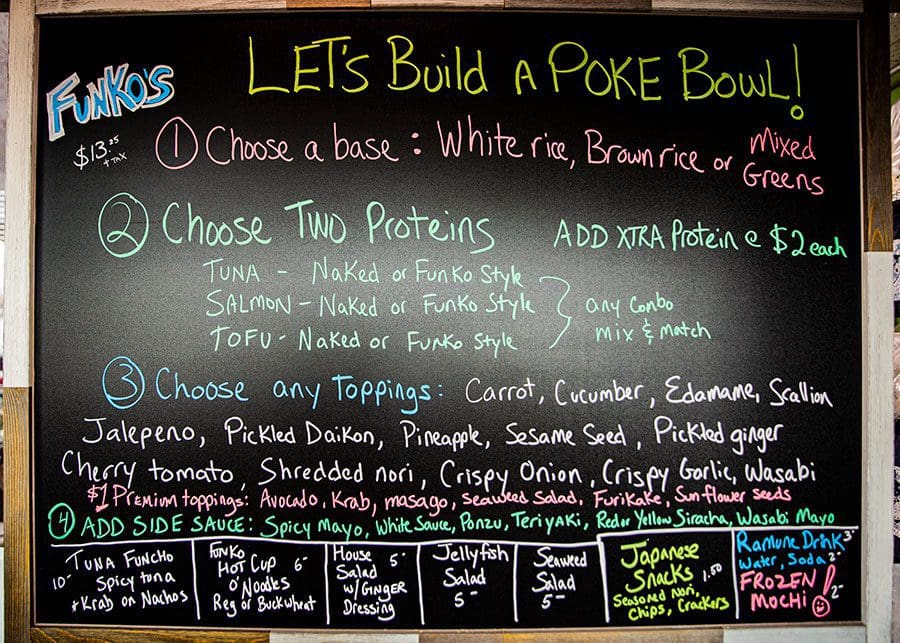 "I dream about these Poke bowls," Dixie says.
Jayson says sometimes, he's overcome with a craving for them.
"I'm an athlete, so this is perfect fuel for me. We always choose our own custom bowls and Takashi does it just like we want it," Jayson says. "My mom will send me a text and say, 'You want to go get Poke bowls?' And it's only ever a 'no' from me, if I'm out of town."   
---
Fun-Ko's Poke Bowls and Asian Snacks
334 N. Donnelly St., Mount Dora, FL
Hours (subject to change): 11 a.m. to 4 p.m. Sunday, Tuesday, Wednesday, and Thursday, 11 a.m. to 7 p.m. Friday and Saturday, Closed Monday.
For information, call 352.227.0811 or visit 'Funkos Poke Bowls' on Facebook.
Originally from Nogales, Arizona, Roxanne worked in the customer service industry while writing independently for years. After moving to Florida in 1999, Roxanne eventually switched her career path to focus more on writing and went on to become an award-winning reporter for The Daily Commercial/South Lake Press newspapers for 16 years prior to coming on board with Akers Media as a staff writer in July 2020 – her dream job come true.
Share This Story!