Fork on the Road: Is this heaven?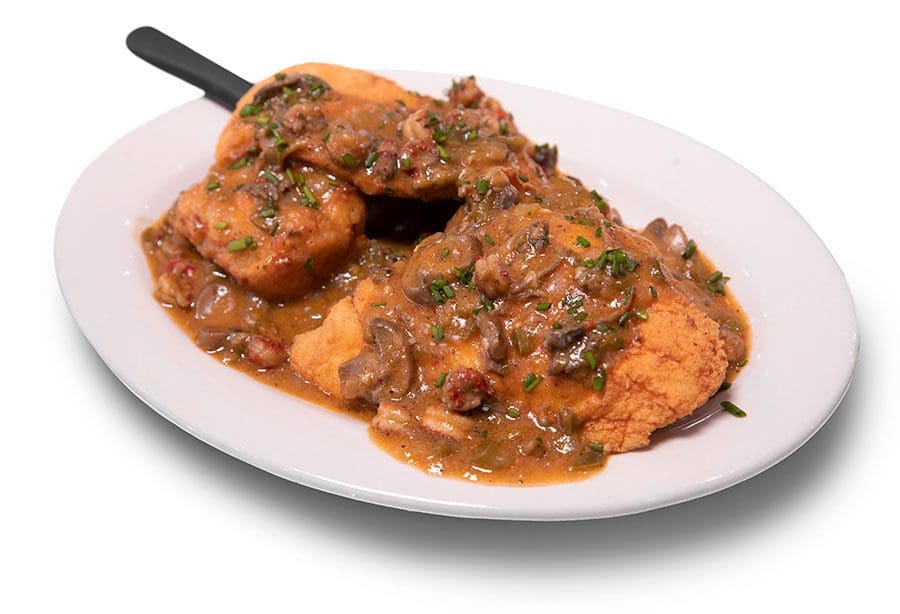 Newly opened Tavares diner making a name for itself with biscuits.
Photos: Nicole Hamel
To all you "mamas" out there, consider this fair warning. A slap may be coming your way should your children eat at the Twisted Biscuit Diner in Tavares.
"The 'Slap Your Mama' originated in south Alabama just over the Florida line," owner Don Wilson explains about one of his most popular dishes. 
"While there, I had a friend bring me over some tomato bacon gravy, which I had never had. I tasted it and immediately thought of my mom, who was in town, hence the name, 'Slap Your Mama,' 'cause she'd never made me anything like that," Don says with a chuckle, adding that his mother, now 87, still laughs every time she hears him tell that story.
The Twisted Biscuit Diner, a family business run by Don, a retired longtime president of Sysco Foods, wife Gail, and daughter Lyndsay Bray – the mastermind behind their twisted biscuit recipes – opened in November 2020.
Since then, they've been slammed with customers eager to check out the diner's large menu chock-full of cleverly named dishes. 
Most recipes are Don's or twists of dishes he's sampled throughout Alabama, Georgia, and North Carolina during his time with Sysco. All are prepared from scratch by himself, Chef Scot Norris, and Kitchen Manager and Chef Ronie Mcree. 
"I've seen some of the blending of flavors chefs do, so I thought, 'Hey, why don't we do something like that?'" says Don. "And you never know in the industry but both diners and biscuit-concepts are hot right now, so I just felt we could put a spin on it that's different than most people out there have ever seen."
When most people think of a biscuit, they probably think of a flaky little southern comfort food served as a complement to a main dish. At Don's diner, biscuits are stars of the show, and actually twisted as the name suggests.
"We call them twisted biscuits because the main ingredients in each one are literally twisted right into the dough," says Don.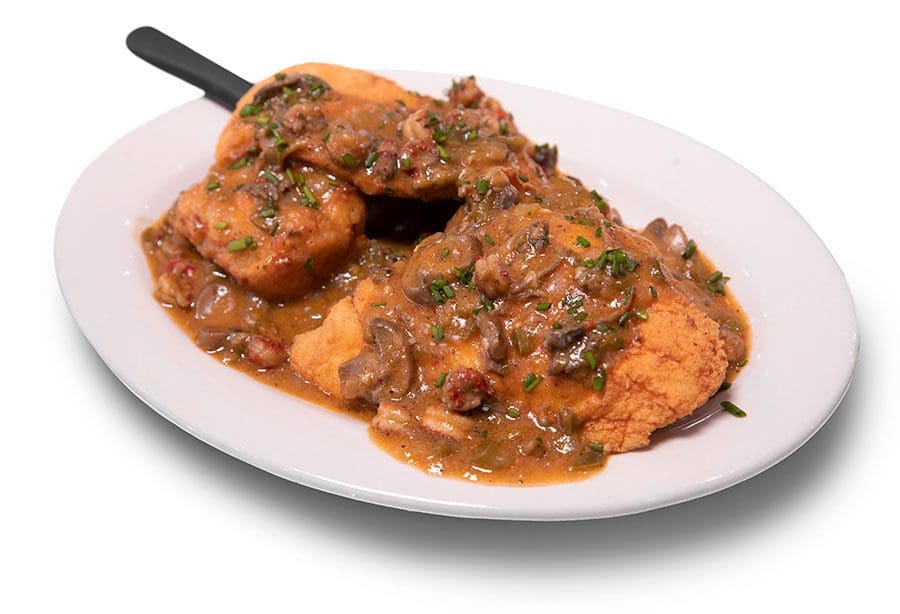 Don says Lynn bakes anywhere from 450-750 savory and sweet biscuits per day, including six staple flavors, like bacon cheddar, fruited, sage, and jalapeno corn cheddar. Several other flavors are featured on a rotating basis.
My colleagues and I recently visited the diner, and what we finally decided on ordering did not disappoint.
Akers' writer James had the Harley Biscuit, described as: "two biscuits topped with a generous serving of fried Gulf of Mexico hogfish and covered in a Cajun crawfish sauce."
He was sold after learning that the hogfish, not served at many places locally, is literally hand-speared and brought in fresh from the Bahamas.
Don says it's their top seller, and is named in honor of Lake County's many bikers who ride Harley Davidson motorcycles, oftentimes called 'hogs.'"
James says, "There are biscuits of the 'Yeah, they were OK' kind, then there are biscuits of the 'Oh, my God, those were the best biscuits ever kind,' and the latter, my friends, is what you will find at the Twisted Biscuit Diner in Tavares."
"I've seen some of the blending of flavors chefs do, so I thought, 'Hey, why don't we do something like that?'"

—Don Wilson
Writer Theresa, opting for lighter fare, thoroughly enjoyed the Caesar salad topped with succulent, large pieces of grilled shrimp and crunchy croutons made from the diner's own biscuits. Photographer Nicole savored Bacon Potato Pancakes topped with chives and spicy honey. 
Not able to resist the urge to utter the words for myself, I ordered the "Slap Your Mama Biscuit." 
The creamy gravy on my "Slap Your Mama," was unlike anything I'd ever tasted. I really enjoyed its rich flavor, and though I won't be slapping my mom, I plan on having a serious talk with her about why she never made me anything like that either.
The diner's menu, not limited to biscuits, serves all-day breakfast, including "Twisted Pancakes" in a variety of flavors, souffle omelets, fried grit cakes, and Don's biscuit-inspired take on favorites like eggs Benedict and French toast. 
Soups include a Grouper and Shrimp Chowder and a "to die for" Smoked Beef Brisket Chili (which I also had), along with hamburgers, Po' Boys served on French baguettes from New Orleans, tacos, homemade pimento cheese, and more.
The diner, equipped with a full bar, also offers an excellent Bloody Mary and a variety of deliciously flavored and beautifully served mimosas to wash your meal down.
Customer Lynn BeWitt, a retired Lake County Sheriff's Office analyst from Leesburg, who visited the diner 10 times in nine weeks, says her goal is to eventually try every menu item.
Her favorites so far are the Pig Licker; sage biscuits topped with sausage patties and sausage gravy, and the Grouper bites. 
"There's a large variety of wonderful choices, everything's made fresh, the restaurant is clean, and I've noticed great comradery between the staff, the waitresses and their customers," Lynn says. "That makes a difference because customers are not gonna come back if they don't like the atmosphere."  
---
Twisted Biscuit Diner
4101 CR 561, Tavares, FL 32778
Hours: 6 a.m.–3 p.m., 7 days a week for dine-in, pick-up or delivery.
For more information call 352.508.5331 or visit
twistedbiscuitdiner.com
---
Let's do lunch or dinner → Tell us about a great restaurant by emailing roxanne@akersmediagroup.com. 
Originally from Nogales, Arizona, Roxanne worked in the customer service industry while writing independently for years. After moving to Florida in 1999, Roxanne eventually switched her career path to focus more on writing and went on to become an award-winning reporter for The Daily Commercial/South Lake Press newspapers for 16 years prior to coming on board with Akers Media as a staff writer in July 2020 – her dream job come true.
Share This Story!